The good thing about weddings is that you can make the most of the season that they are celebrated in and create beautiful decorations and designs. This wedding photoshoot at Thicket Priory in Yorkshire is the perfect example of using the beauty of autumn to create a stunning backdrop for your wedding.
From a color palette of rusty orange and lush green to a hand-embroidered veil with wildflowers, this wedding photoshoot shows exactly how to use the elegance of the seasons to create an unforgettable wedding day.
Autumnal Colours
One of the main autumnal designs in the wedding was the creative colour palette used. It included pastel hues, dusty oranges, browns and forest greens that were evident throughout the ceremony.
The bride wore an orange wedding headdress that was perfect for adding a subtle hint of traditional  autumn undertones. The photographer, Josey Grace did a wonderful job at capturing all of the lively colours and making sure they created eye-catching images of the celebration.
A key tip: don't get too carried away with the color palette; a seasonal color balance is perfect for keeping the celebration sophisticated while continuing the theme throughout the wedding.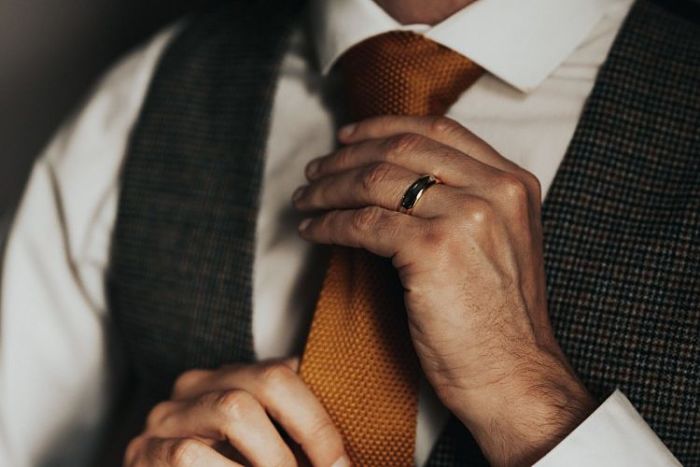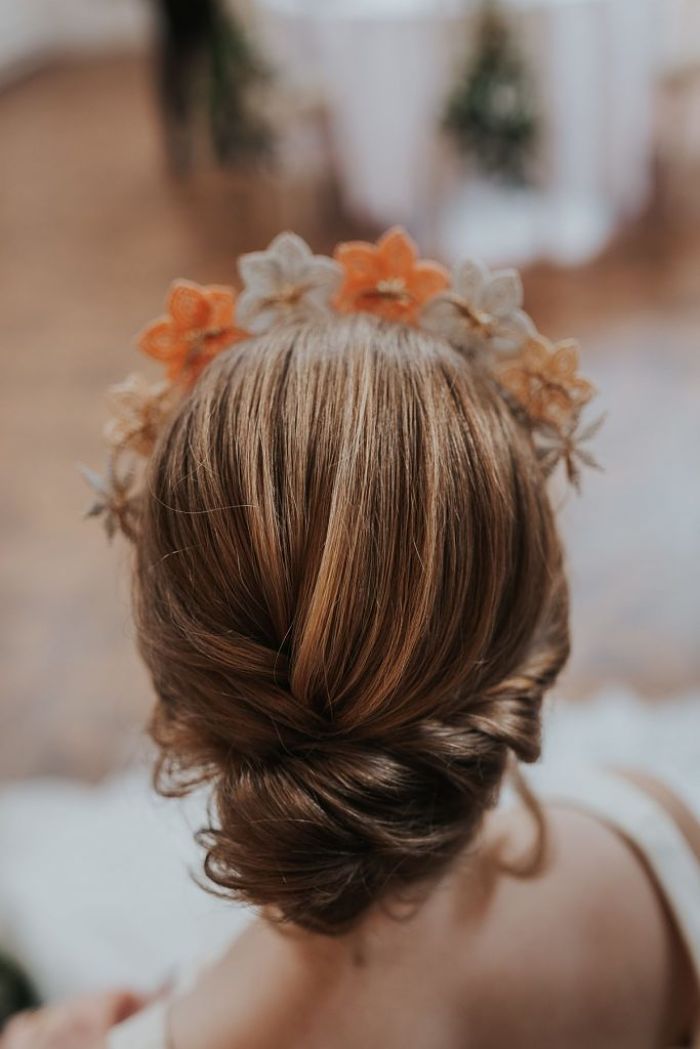 Thicket Priory: A Fitting Autumnal Backdrop
To enhance the autumnal feel, the venue is vital for the wedding as it creates the perfect backdrop for the theme. Thicket Priory was the perfect location for this autumn wedding photoshoot, as the exposed red brick wall and spacious grounds surrounded by forest were ideal for the setting.
Look at how wonderful it looks!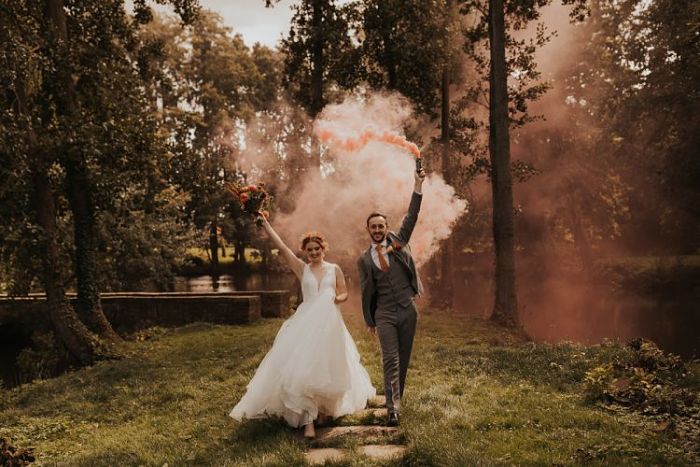 Floral Decorations
The color palette is one of the most vital parts of a fall wedding, so floral decorations also need to be planned very carefully. The flowers in this photo shoot were from Leafy Couture, who provided some amazing bouquets and flower arrangements.
These included
leaf garlands that hung around the entire venue, flowers scattered throughout the hallway, and green vines that crawled up the walls around the stained glass windows.
The floral theme continued through to the banquet room, where gold and copper china was on the table amid dark moss and elegant flowers.
Among all the delicate decorations on the table, Baba Ganoush Catering's tasty wedding dinner was highly enjoyed!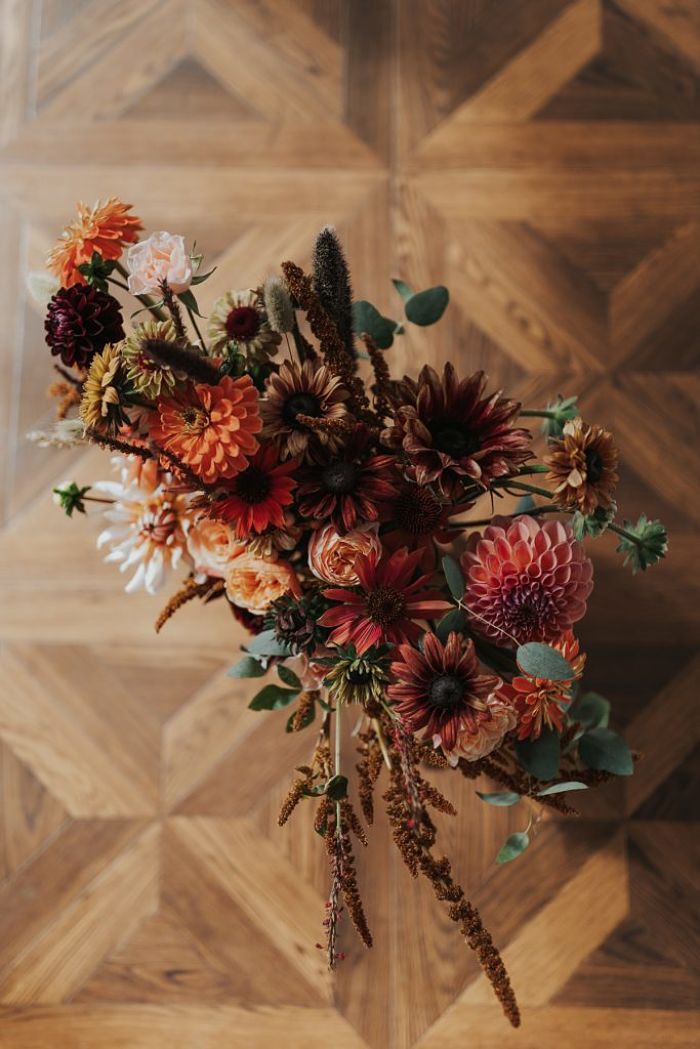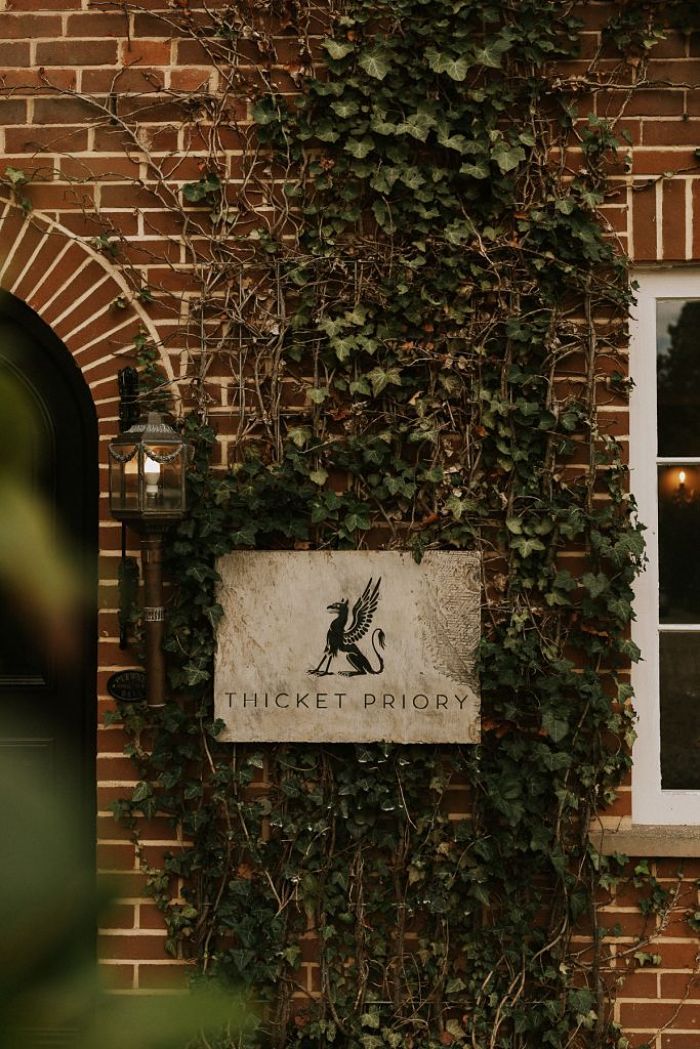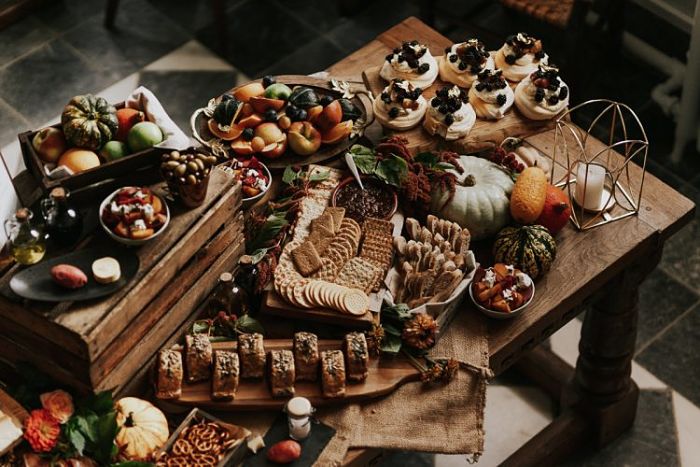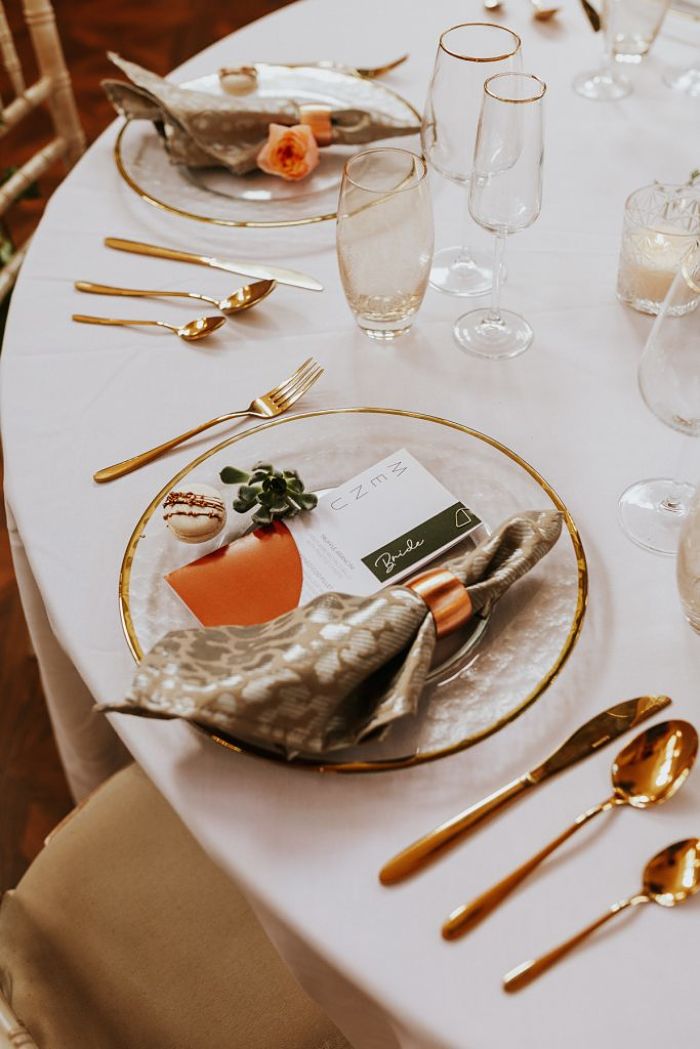 Wedding Credits:
Event Planning and Design: Dreamboats & Carousels // Photography: Josey Grace Photography // Videography: Dawn To Dark Films // Venue: Thicket Priory // Cakes: Poppy Pickering // Wedding Officiant: True to You Celebrancy // Florist: Leafy Couture // Catering: Baba Ganoush Catering // Hair: Paige Lauren Bridal // Wedding Dress: The Little Pearl Bridal Boutique // Makeup: FACES Makeup // Hair Accessories: Glorious by Heidi // Groom's Suit: Dandy Threads // Stationery: Raspberry Toast // Wedding Veil: Rebecca Anne Designs // Rings: London Victorian Ring Co.