Today, at Perfect Venue, we had the pleasure of interviewing Carole Anne, a French wedding planner with years of experience in the sector and founder and coordinator of her own blog, where you can find all kinds of tips for your big day … Let's start!
Tell us how your idea of becoming a wedding planner became a reality.
I did many internships in wedding dress shops, the world of marriage has always been a passion of mine, I had heard about wedding planners, it was my dream job but because it wasn't very widespread, I did not think too much of it.
After my studies, I found myself without a job and it was clear for me that I had to create my own company. I had the opportunity to have a financed training, I gathered my greatest skills and passion : organisation, decoration, flowers and the wedidng and I chose a wedding planner/designer training at the wedding academy and my dream became a reality.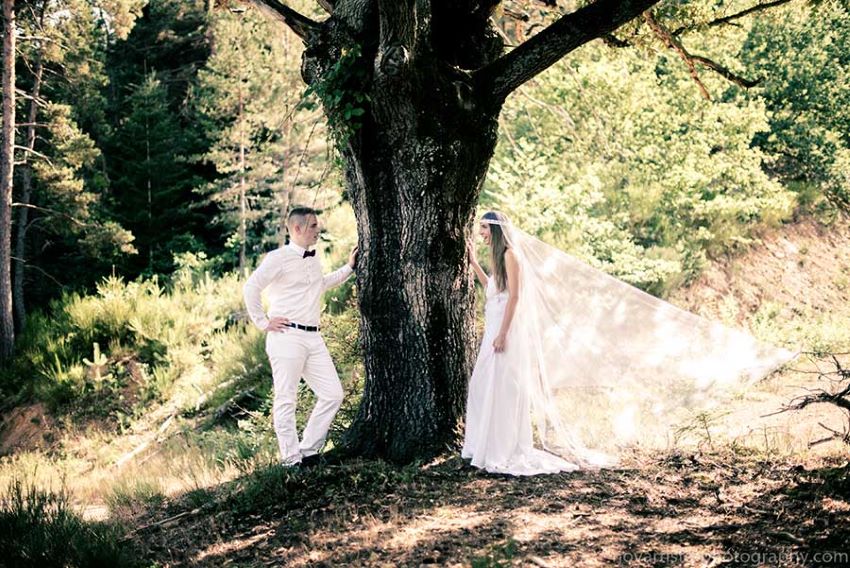 What are the 3 words that best define you and your work.
Passionate, creative and dreamy.
Is a wedding planner born or made?
Very good question ! It's a bit of both, we are born a little bit wedding planner, we mus have the fibre : be organised or dreamy or creative. I believe that every good wedding planner has the fibre in them before even starting to get into wedding planning.
Personally, I have always organised parties when I was younger, girls parties, birthdays…with themes or other.
However, we also become a good wedding planner thanks to the trainings that are essential to start a wedding planning career.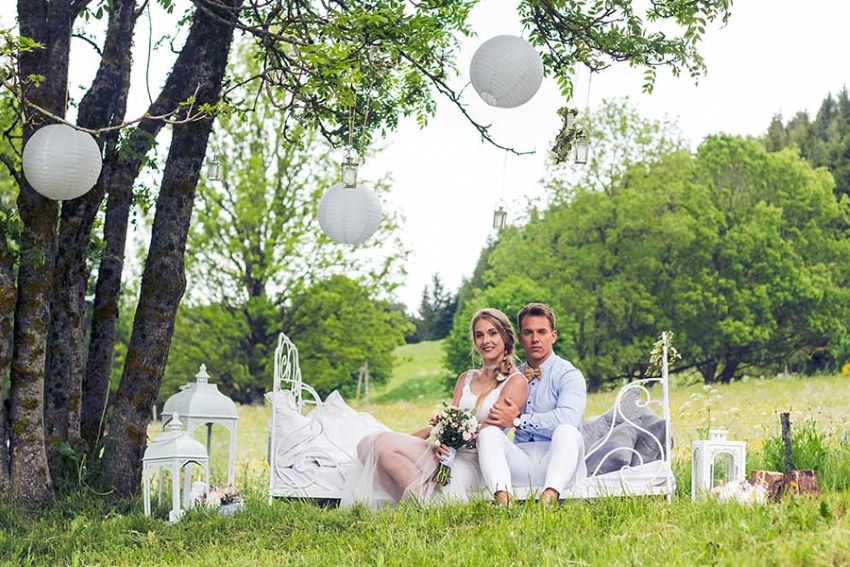 How do you manage to make each wedding a unique event, find new ideas and trends?
For every wedding, I start from scratch, every couple is unique and consequently they will have a unique wedding even if the theme is the same as another wedding. For example, the theme rural is very popular at the moment. Even if the theme is the same, we interpret it differently ! Our job is to reflect our clients' personality. Some are looking for an elegant rural wedding: top of the line, with a superb venue with charm, rural touches accompanied by very chic chandeliers and an elaborate meal…
Some are more into the nature style, traditional : with rural buffets, rustic elements, wildflowers rather than roses or peonies. Another example: rural bohemian inspired, a wedding organised in an unorganised manner, with free spirit, no stress with for example carpets and poufs outside for the reception and it's more colourful than a natural rural themed wedding.
So, the secret is: enter each couple's universe to create their perfect and unique celebration, I never do the same decoration twice!
What kind of weddings do you usually organise? What are the customers looking for?
The couples look to gain time and be accompanied in the process to not come across bad surprises.
I organise more often friendly weddings in beautiful venues with charm, like old barns. We also often find the idea of eco-friendly, local products and zero waste etc…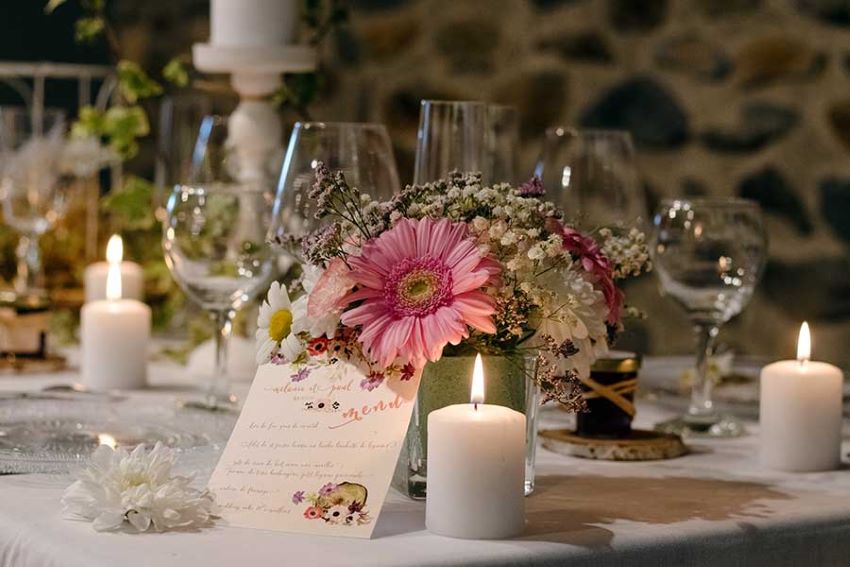 How do you differentiate from other wedding planners?
Each weddding planner is different by its character and its universe, it is important to be on the same page between client-wedding planner.
I think I differentiate myself by my great communicative joy of living and my desire to create the "waow" at each wedding.
How do you work with the couple from the moment you meet them until the day of the wedding? Meetings, suggestions…
After the first meeting with my new clients, I imagine what their perfect wedding would look like: suppliers meeting their criteria and their universe, decoration that reflects their personality, original ideas corresponding to their needs and desire that they never would have thought of. Then, we have meetings regularly until the big day so that they can choose what they like in the selections I show them.
Why do you consider it essential to use a wedding planner?
It is essential to use a wedding planner to save time and tranquillity, we are here to guide you through the process. Instead of organising a tone of different meetings with each supplier: florist, DJ, caterer, venue… you only have one with your wedding planner that sums up all the information. For a couple that lacks time, we are an essential service! Also, when the wedding planner takes care of every detail before the wedding, the couple can enjoy family time, free time or concentrate more on their professional lives and the day before the wedding, they can relax because we are here to manage every preparation and the last details. On their wedding day, they can fully appreciate the experience and their guests as we are always there to manage the suppliers and make sure everything goes to plan… No stress and a wonderful wedding!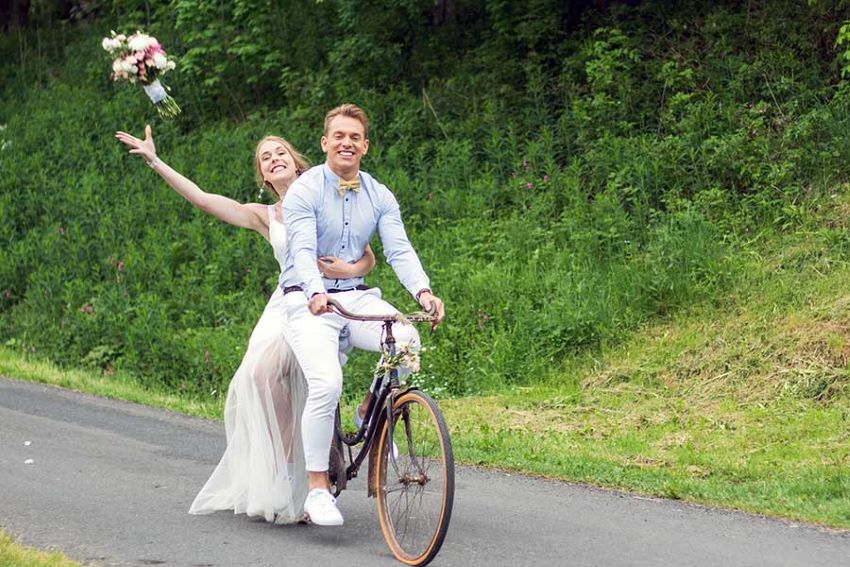 How long does it take to organize a wedding?
More than 200 hours of work, it depends on the project.
And finally, what do you value most when organising an event?
Discovering new people, their personality, projects, the challenge of managing to impress the happy couple and the guests and to always do better, go out of my comfort zone to innovate at every wedding.
Did you like this wonderful interview? If you want to know more about Carole Anne and her work as a wedding planner, don't hesitate to visit her blog Carole Anne Wedding You'll love it!