If there is a style that has come back this year and has settled to stay, it is the rustic style. Trust us, in 2020, this style will hold a major role, especially in weddings. For instance, it is the couple's favorite! 
Thanks to the welcoming and romantic environment created by its decoration, the celebration space and even the wedding outfits and the couples' accessories, rustic weddings are perfect for all the couples who love nature, the countryside and open air. 
Therefore, if you're getting married next year, don't lose any detail of what we're going to show you now for your rustic wedding in 2020. It will surely be a success.  In a rustic wedding, the decoration has a lot of importance, always featuring a mix of elements of nature with elements of the olden times. The DIY decoration will be a great ally!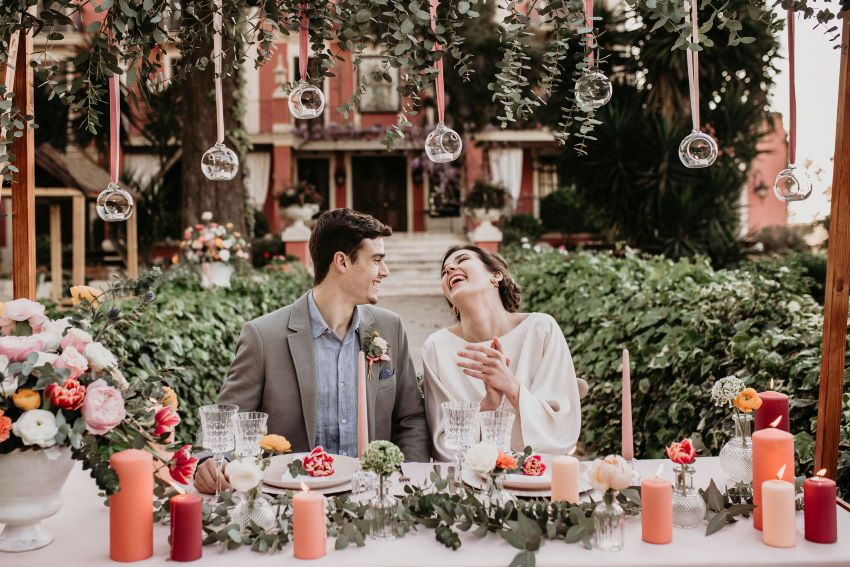 A very predominant material is jute, which you can use as a cover for cutlery, to surround vases or as strings tied around the chairs, with curtains, to wrap the guests' gifts and or as tablecloth. 
You can combine jute with white glass jars or with tin cans or aluminum showers where you can place the flowers, like a vase, which will give a completely old and rural touch.
Another essential element in your rustic wedding is the wood, which can be seen on pallets where to place the guests' sitting plan, in boxes or sheets of logs as table mats or candle holders. In this kind of wedding, trees can also be present throughout the decoration. 
The banquet chairs can also be made of wood, but if you want to make a difference, leave the chairs and surprise your guests with large blocks of straw or hay as the seats.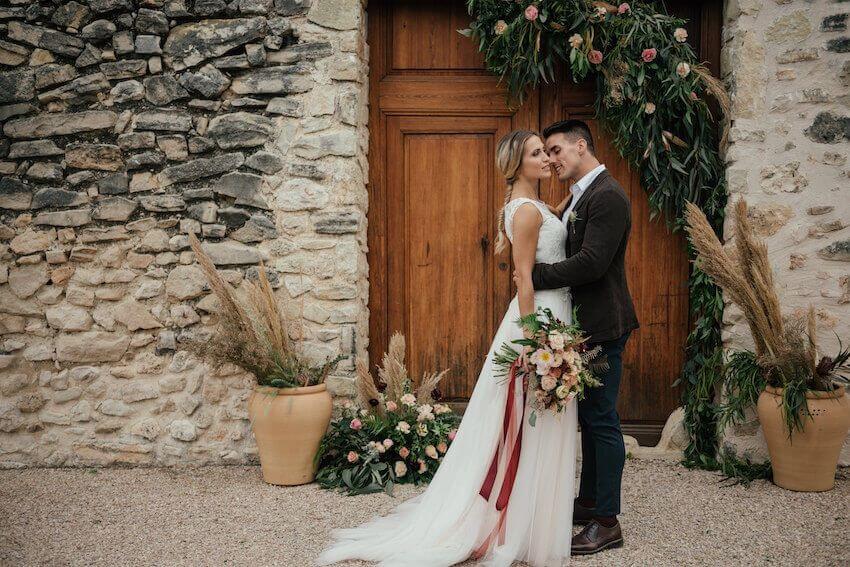 Regarding the floral decoration, which cannot be missing in any wedding, the infallible will be the one composed of wild flowers that remind the field and are natural, such as lilacs, paniculatas and even ears of corn. The best tones will be nudes, such as beiges, creams, roses …
A key element to make the best rustic space is lighting. Try to light the space up with a soft and warm light, whether you use lamps, candles or fairy lights.
Wedding invitations will also go with your wedding if you use recycled paper and antique calligraphy, wrapped in kraft envelopes tied with a thin jute string. Use blackboards, wicker or any other element that reminds you of the old, the natural and the rustic.
As for the spaces, this type of wedding is generally celebrated in woods, fields or gardens full of vegetation, as they are a decorative background that fuse perfectly with rustic decorative elements.
At Perfect Venue Manager we have a series of perfect venue for your rural wedding, such as Finca Mas de Sant Lleí, located in a protected natural park, Finca Monte de Cutamilla, also with large green areas, La Farinera Sant Lluís or Villa Delia, between gardens, ponds and forests full of vegetation, or castles such as Tous or Torre Cellers.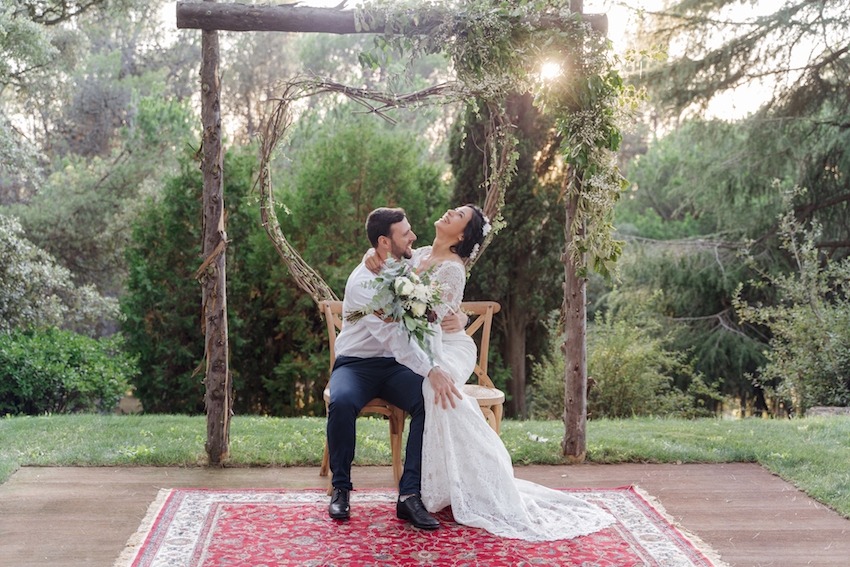 If you are trying to figure out which dress would be ideal for this type of wedding, choose a pattern that also remembers the country style with a smooth and simple fabric, loose sleeves and a skirt along with some embroidery, fringes, tulle, feathers or lace that give that vintage and bohemian touch. 
And if you add to this a half-up half-down hairstyle with braids decorates with spikes, you will look casual, fresh and wild! Now you know how to celebrate your rustic wedding, that relaxed atmosphere, warm and full of happiness with which you had always dreamed of for your big day, with every corner completely personalized. A safe bet with which you will make a difference!
_______________________________________________________________________________________
Photo1: Photographer Cotton Blue foto, Wedding planner: Weddings and Events by Natalia Ortiz, Photo2: Photographer Cristina Martin,  Wedding planner: Weddings and Events by Natalia Ortiz, Photo3: Photographer Anastasia Reut, Wedding planner: Weddings and Events by Natalia Ortiz