Along with the dress, the shoes are also extremely important for the wedding day. They play an essential role in every bride's wedding, as they are going to guide her through the most special day of her life!
It is clear that, over time, this accessory has become more and more relevant, developing and modernising with plenty of new trends for each season so that now the shoes have become one of the central features of the complete bridal look.
Bridal shoes speak for themselves in every look and more and more brides are keen to show them off. Who wouldn't notice the bride's shoes?
The possibilities are endless, but once you have come up with a series of requirements for your shoes, the vast range of options will get smaller.
If you don't know where to start, don't worry! Would you like us to lend you a hand? Well, don't miss this post!
Think about your wedding style
Given that celebrating a hippy wedding where your perfect shoes should be lace, is not the same as celebrating a more traditional wedding where your ideal shoes would be sandals, nor the same as a rural wedding where you can even risk wearing boots.
Your shoes have to suit the style!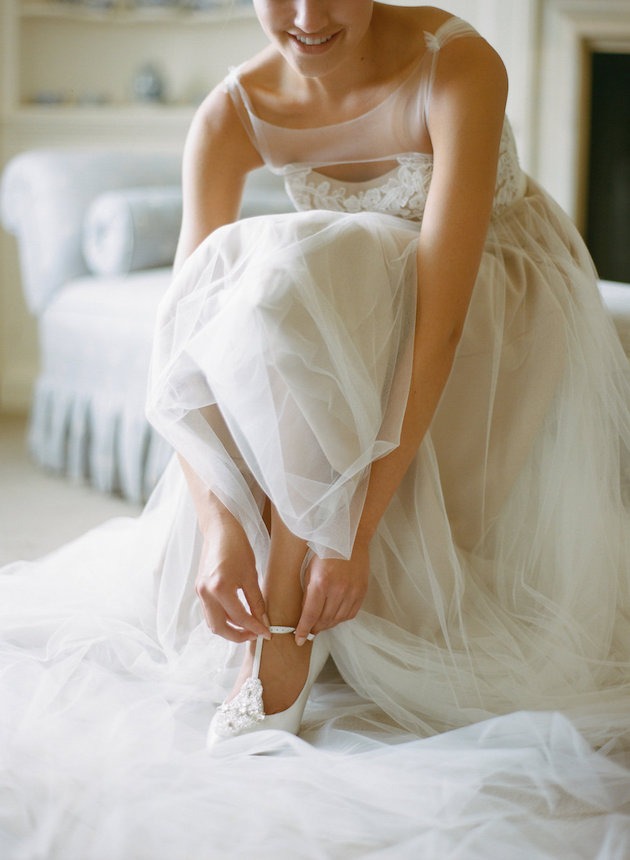 The time of year is also important
Mainly because it affects the material of the shoes and also whether your shoes are open-toe or closed-toe. If your wedding is in the spring or summer, satin sandals would work very well, whilst if your wedding is in one of the colder seasons such as autumn and winter, velvet, suede or leather closed-toe shoes would be more appropriate.
Where will your wedding take place?
Although it is hard to believe, knowing the location of the wedding allows us to be aware of the type of terrain on which we will be walking, since there is a big difference between walking down the aisle on sand, stones or grass.
If your wedding is on rocky ground, the best thing would be to choose shoes with a block heel in order to avoid stumbles, whilst if you get married on the beach, you could always choose a flat shoe, or even go barefoot!
And you could always try to walk through the venue before the big day!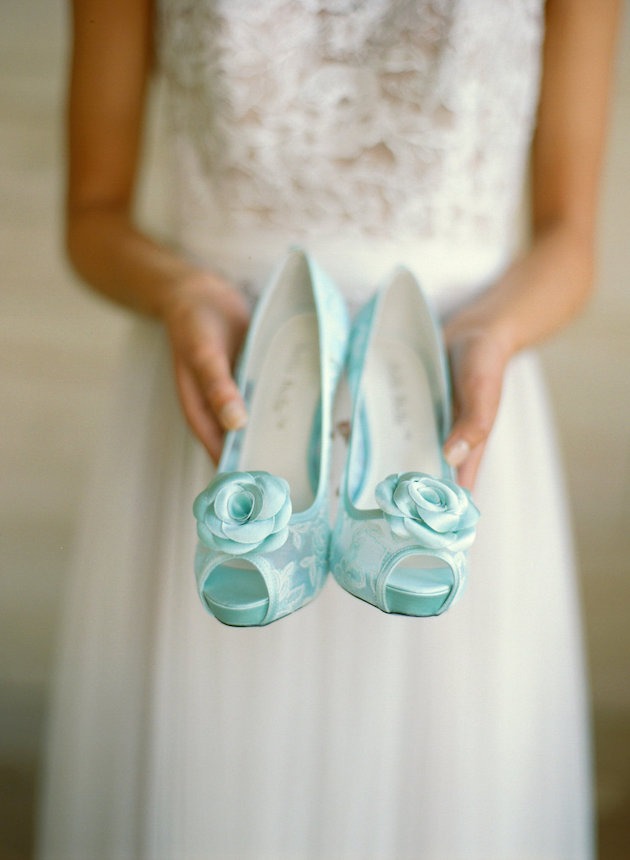 Choosing shoes that match your dress
If there is one good thing to come out of this era, it is the freedom to choose whatever we fancy, without rules or regulations, so on our wedding day we can live in sandals, trainers, boots, heels, all in whatever colour. We can choose anything!
Boots: A transgressive choice that has started to appear in the last year: Cowboy, combats, high or low heels, with studs… The perfect option for a rural or rockstar wedding!
Sandals: for the summer and for the most stylish women: with straps, laces, high heels, low heels, in white or any other colour, with pearls or any other type of detailing. Furthermore, you can re-wear them after the wedding.
Open-toe shoes: For the brides that want a classic wedding and choose a high heel to enhance their legs, a platform heel is always worth considering, in order to be more comfortable! The good thing about this style of shoe is that they work with every style.  
Classic shoes: For the more traditional brides and those who don't want to wear anything too risky, choosing a white, flat shoe would be a safe option, and will suit the dress you choose!
Colourful shoes: Brides are tending more and more to leave white shoes behind and dare to choose shoes that match their bouquet or wedding decorations. It's original and fun!
Wedges: Perfect for uneven ground, as well as for the party after the ceremony, these are the comfiest shoes that save any embarrassment and guarantee the stability you need all day.
Trainers: Yes, this isn't a joke, some brides already get married wearing their favourite trainers, such as converse! A very relaxed and daring touch, but comfortable without a doubt.
And what heel height works best for me?
If you are shorter and want to elongate your figure, your best heel height would be 12 centimetres high. If you can tolerate them, why not?
Although the most common heel is at medium height (between 8 and 12cm), the lower ones (between 5 and 8cm) are becoming more popular among brides that prioritize comfort and aren't accustomed to wearing high heels in their day to day lives. Even flat shoes are beginning to stand out from the crowd!
Try various heights, take a walk in them and choose the ones that feel the most secure.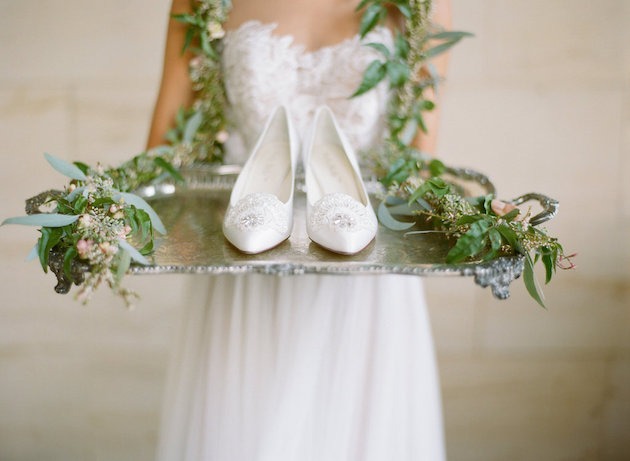 Make a note of these extra recommendations
        Bear in mind that

white doesn't come in just one shade

, so think hard about the shade of your dress before choosing the shade of your shoes, to ensure that they match perfectly.

        Don't wear your shoes for the first time on the day of the wedding.

Wear them at home in the days leading up to the wedding to wear them in

, and always bring them to the dress fittings to ensure that they match and that the dress length is correct.

        The best thing would be to

choose the shoes once you have chosen the dress

, so that later on there are no issues. Do you know about the

trends for the wedding dresses of 2020?

        On the day of the wedding,

make sure you do bring a spare pair of shoes

to change into, just in case you get any injuries or your feet end up hurting from your heels. A good tip is to always carry Compeed. We love it!

        Your shoes should make you feel like yourself and always

reflect your personality

.

        Always prioritise

comfort

, because whatever the shoe, the most important thing on your wedding day is that you can be lively and dance the night away.
If you don't end up finding an outfit, at Perfect Venue we will accompany you and advise you throughout the entire process until you find the one that suits you the most.
And quickly!
_______________________________________________________________________________________
Photographer: White Loft Studio / Bride's Shoes: Bella Belle