Ibiza, since ancient times, is one of the most requested wedding destinations, and not only in Spain, but worldwide! But why does everyone want to get married in Ibiza?
To a set of numerous factors, such as its crystal clear waters, the magical sunsets, the Mediterranean climate and the sun rays that leave the golden skin, it's easy access, (since it can be reached directly by plane or by boat), the Mediterranean cuisine to lick your fingers, in addition to its great cultural heritage.
However, that's not all! But if you want to know it … you have to discover it for yourself by visiting the island! And what better way than to get married?
That is why, below, we reveal the best spaces to get married in Ibiza, grouped by type of space. Which one goes with you the most?
Restaurants / beach clubs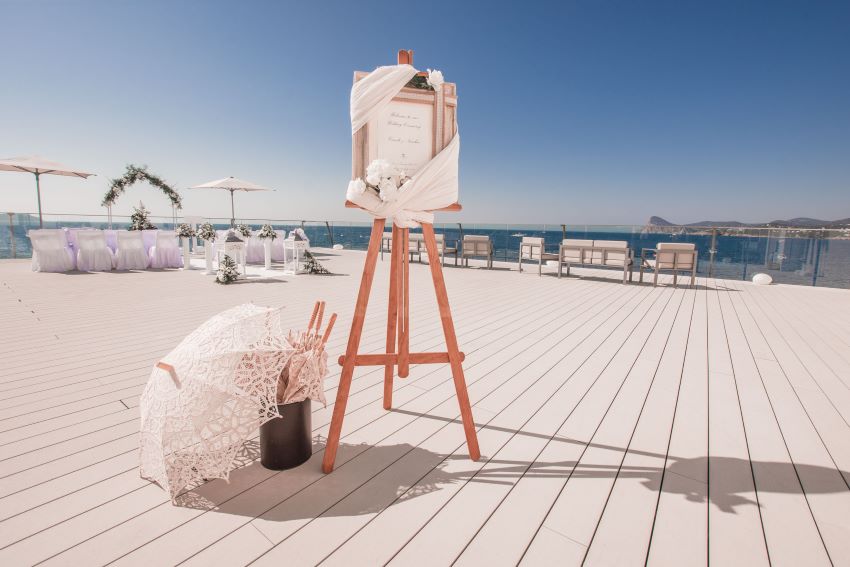 The Sirenis Seaview Country Club is considered to be one of the best hotel complexes in Ibiza. Located on the beachfront, at the end of the famous Bay of San Antonio, you can find this four-star aparthotel, which offers apartments and studios distributed in different small buildings and Mediterranean style.
Aiyana Ibiza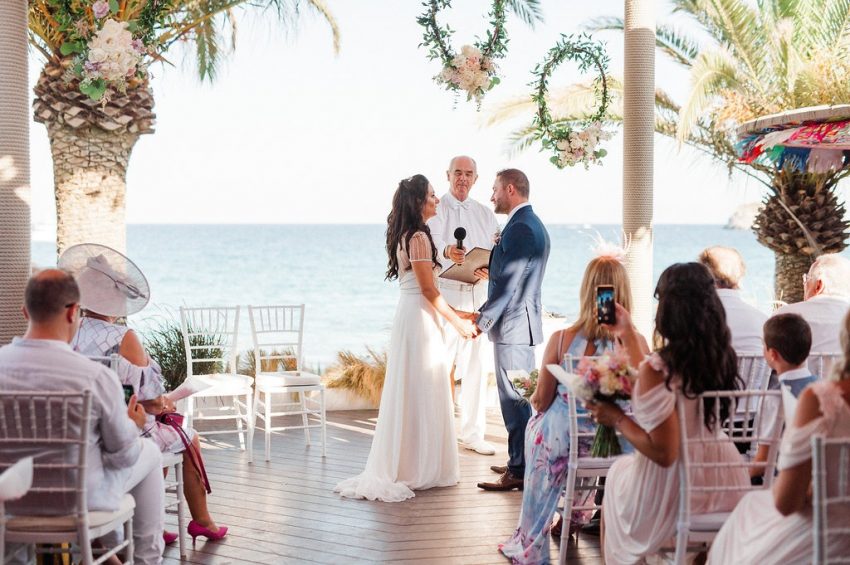 With panoramic views over the Mediterranean Sea and wooden covered terraces, the Aiyana is a space inspired by modern design and nature, perfect to celebrate your wedding surrounded by delicious food.
Nikki Beach Club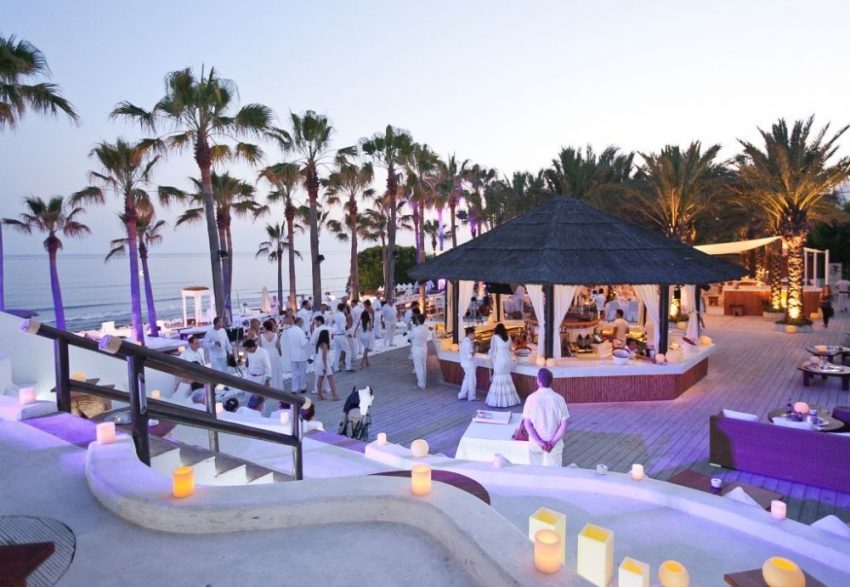 This club has VIP service, an excellent food menu, but, above all, a lot of glamor. It is located on the east coast, on the outskirts of Santa Eulalia, so it has direct views of the sea, and you can also have candlelit trails and confetti bombs that fall from a helicopter.
Aguas de Ibiza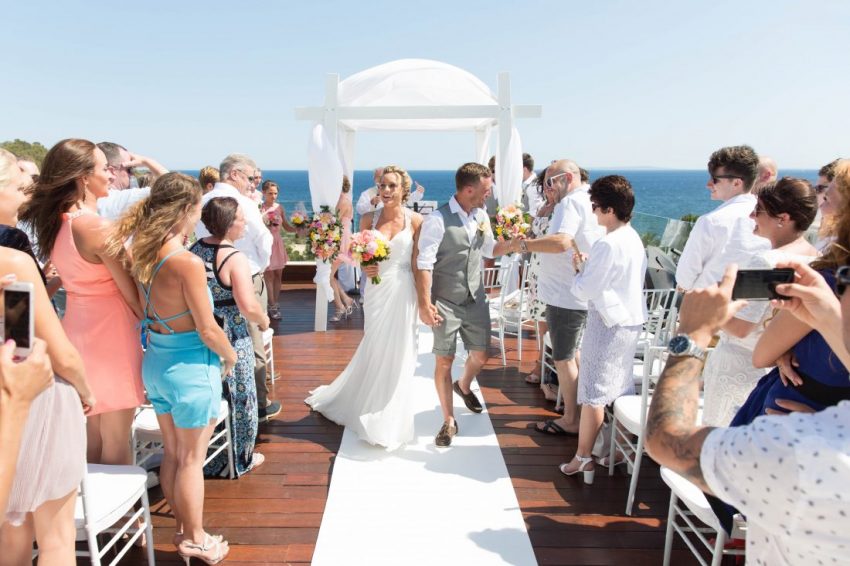 You and your guests will be at the altar with spectacular views, with the sea as the backdrop and the white light of Ibiza illuminating the ceremony. Not to mention the cocktail, which can be located around the pool and with live music. In addition, the hotel offers a 50-minute complimentary massage for the couple.
La Escollera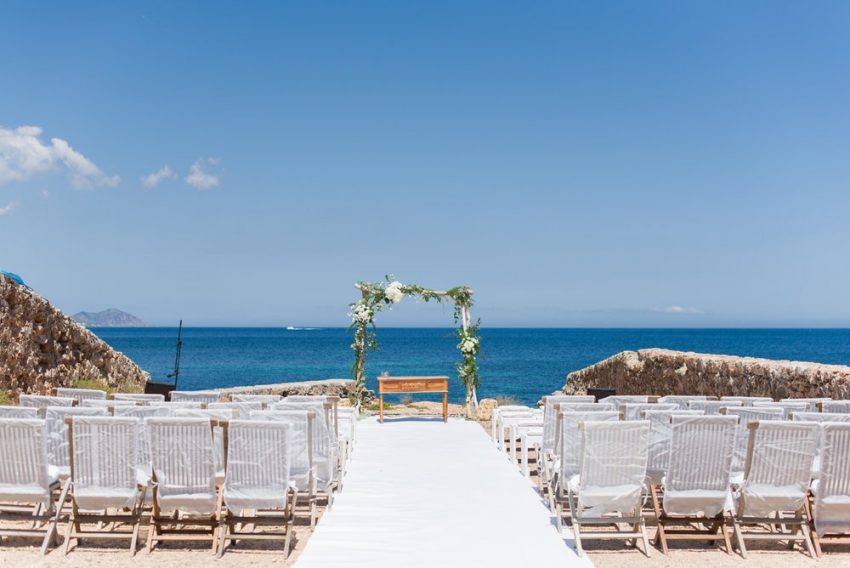 If there is something worthwhile here it is the famous paellas, worthy of Spanish food and accompanied with seafood, meat and a wide vegetarian and vegan selection. La Escollera is in the heart of the Ses Salines nature reserve, and with views of Formentera!
Amante Ibiza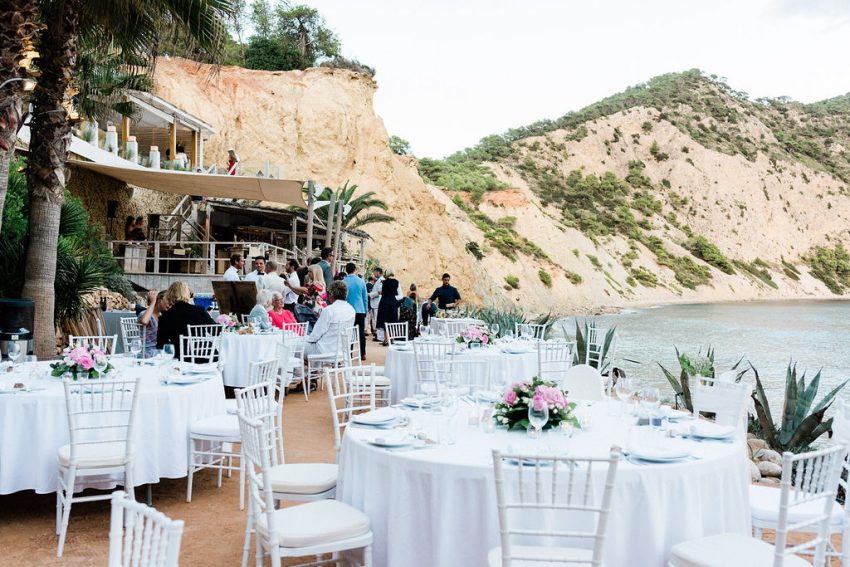 The Lover has the perfect corridor to walk in wedding dresses, with the Mediterranean as the background, where to say "yes I do" between impressive cliffs,lush vegetation, clear skies, bright turquoise waters, golden sands … And at night: incredible lighting that creates an atmospheric atmosphere.
Rustic hotels
La Granja Ibiza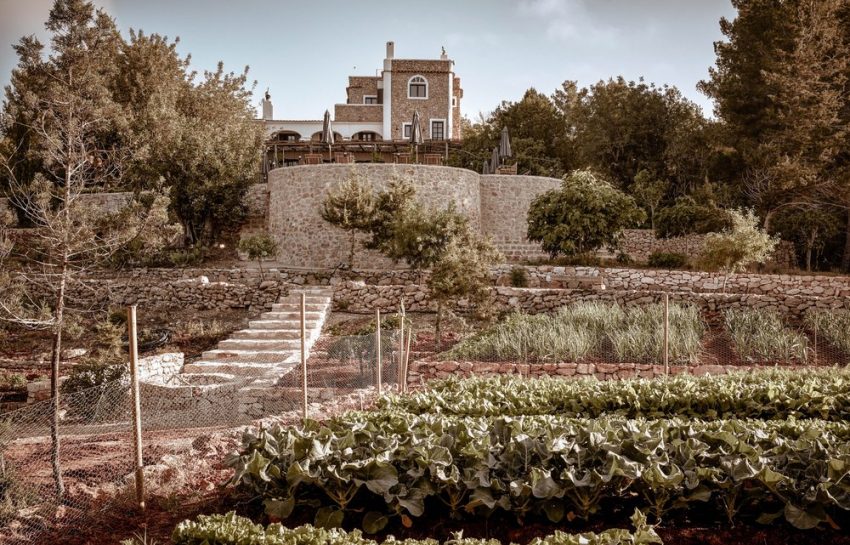 This farm is located between the pasture lands of Ibiza, which is dedicated to the cultivation of art and gardens. The farm adopts the Mediterranean diet, which can be enjoyed in a nine-room country house or in a separate two-room guest house with a pool and kitchen.
Sa Talaia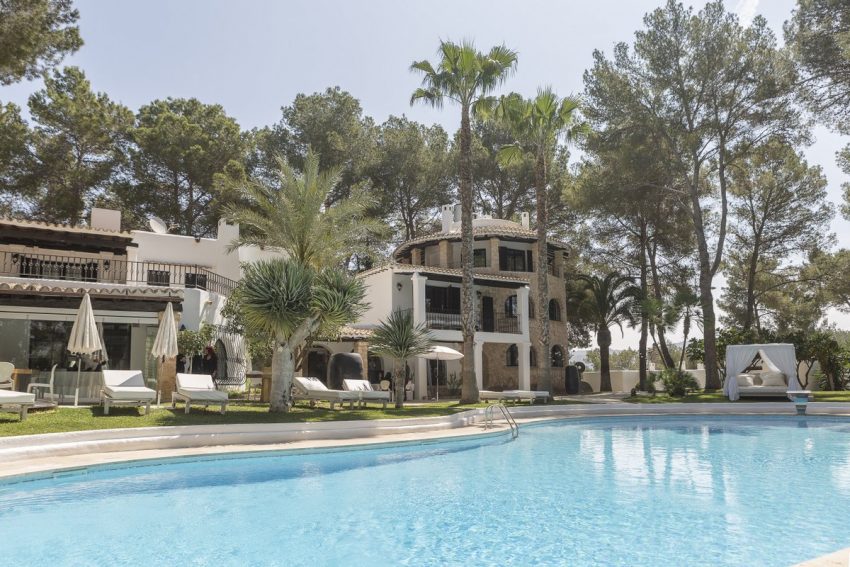 Close to the party town of San Antonio, but away from the hustle and bustle of the city is this rustic hotel surrounded by pine trees and well-kept gardens. Sa Talaia is a traditional farm that has been converted into a rustic hotel.
Can Gall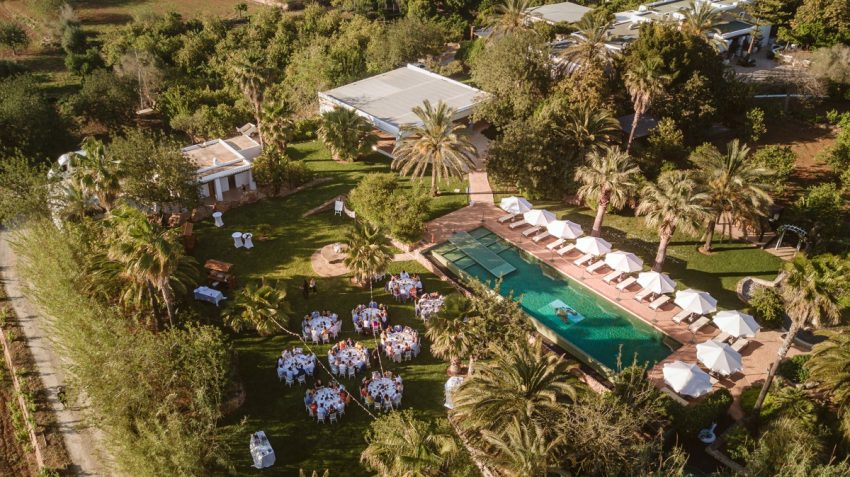 For food lovers who are incredibly passionate about the taste of Ibiza. Can Gall offers seasonal products from the surrounding farms, which are perfectly complemented by deluxe rooms with spacious sea.
Private villas
Villa Martinet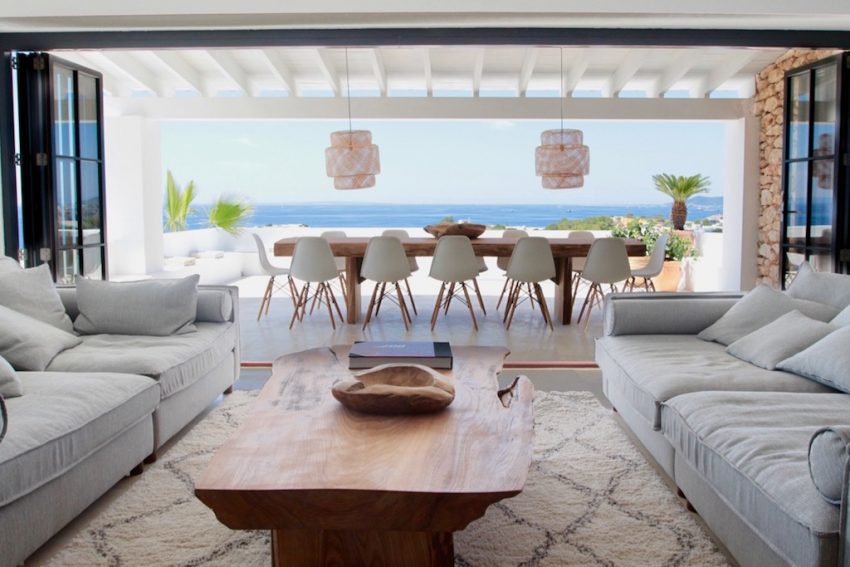 This villa is for enjoying privacy while enjoying the comforts and services of a five-star hotel. The panoramic sea views are sublime to marry, and the state-of-the-art cinema, games room, swimming pool, equipped gym and the three luxury cars complement this fabulous villa.
Bahía Azul / Blue Bay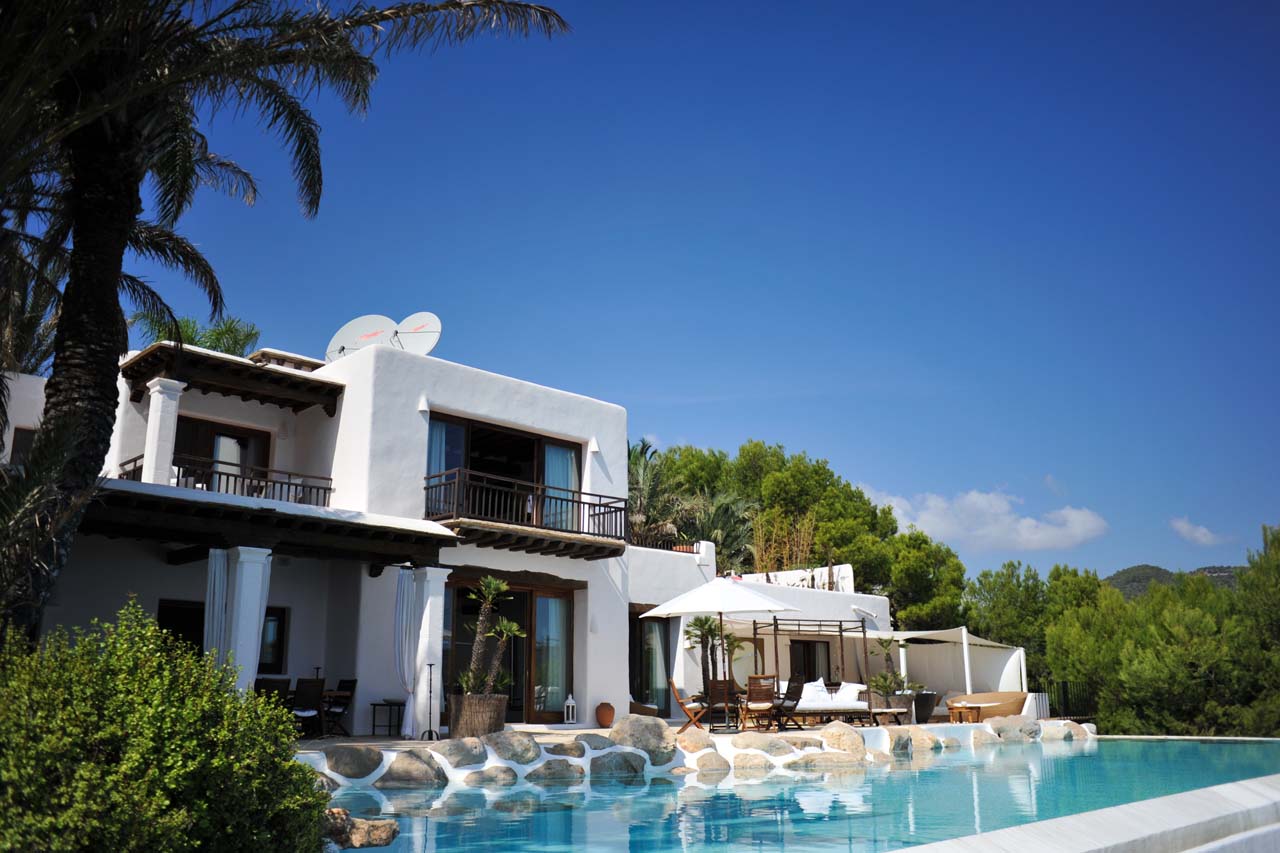 Did you know that there are villas with direct access to the sea to get to the house from your yacht? This happens in Blue Bay, which also has lush vegetation, a tennis court, a golf course and an Olympic swimming pool facing the sea. How not to marry in Ibiza with this environment?
Roca Azul / Blue Rock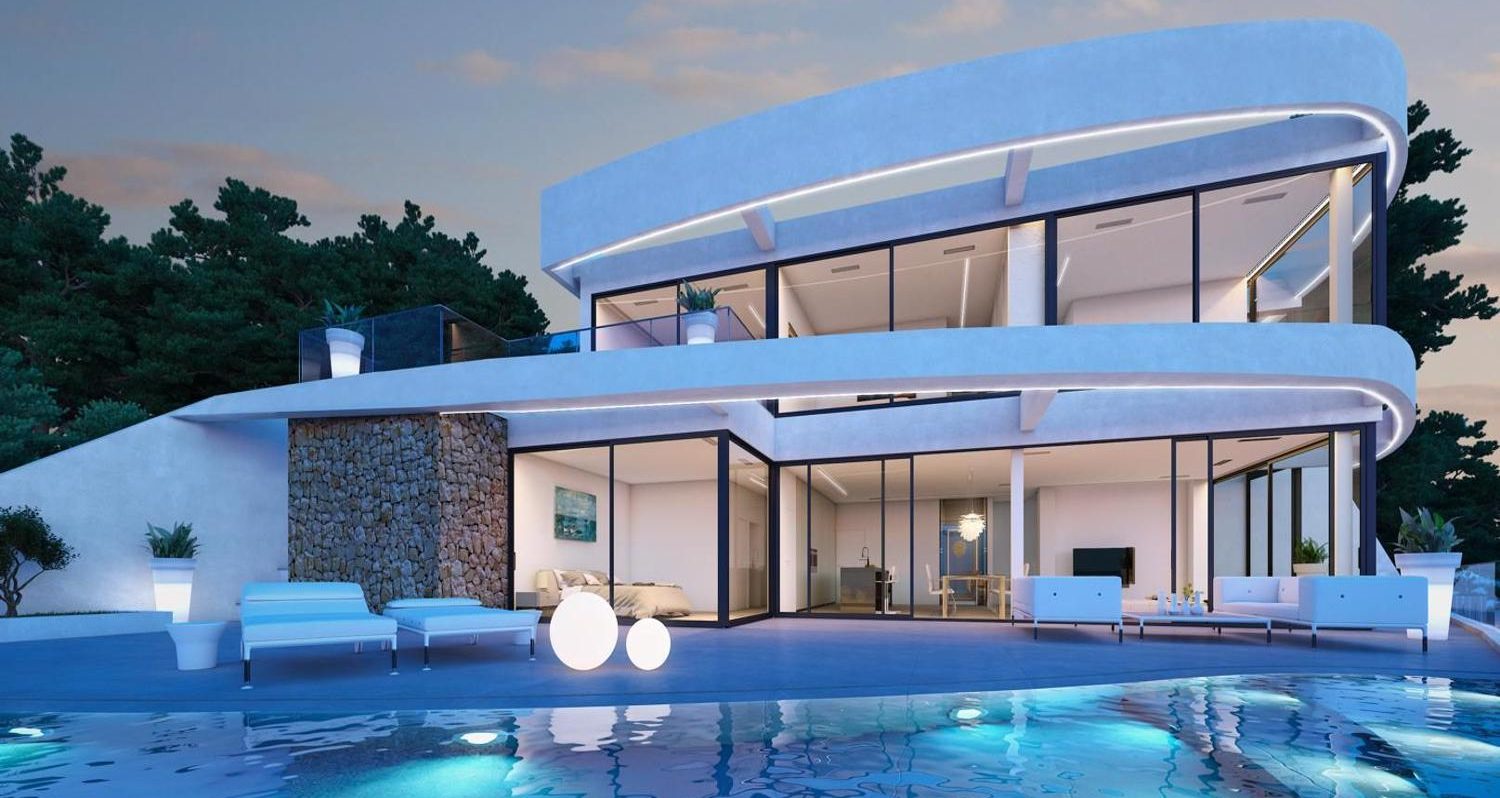 With a living room and a gigantic kitchen, with floor-to-ceiling windows that provide the magnificent views, or with the infinity pool on the main terrace, who would say no? Nobody! especially if we tell you that there is also a hamman inside.
Boutique hotels
ME Ibiza is a fantastic resort located a few metres away from the S'Argamassa beach in Santa Eulalia in Ibiza. Its location is perfect and has a multitude of venues ideal for romantic getaways or any other sort of celebration or event.
Ca Na Xica Hotel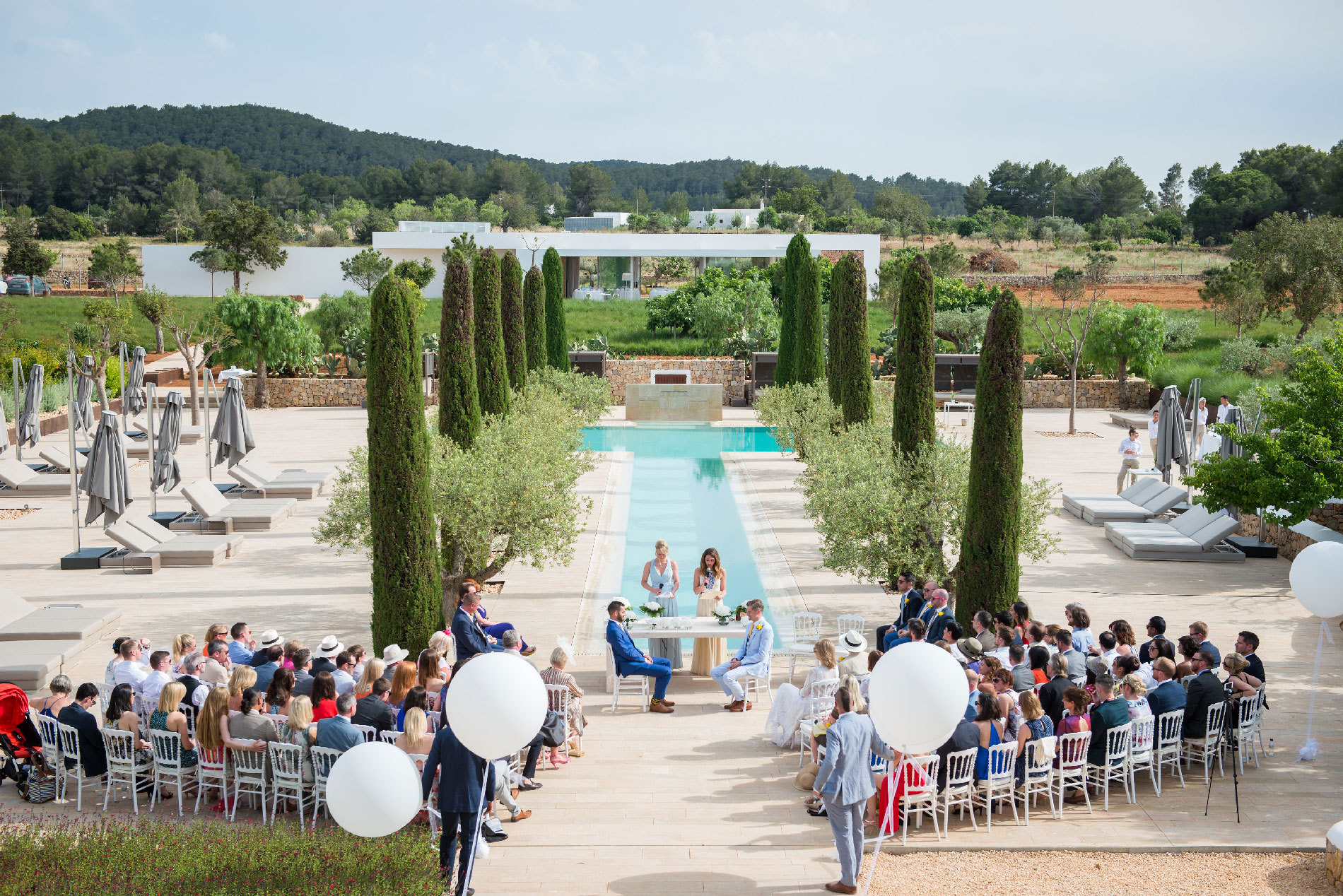 This incredible boutique hotel is surrounded by nature in the form of ancient olive trees and beautiful fruit trees, an ideal hotel to savour the products that come directly from the land on the table, and always paying homage to Mediterranean cuisine! But that's not all, because the Ca Na Xica also has luxurious spas and suites.
Ocean Drive Hotel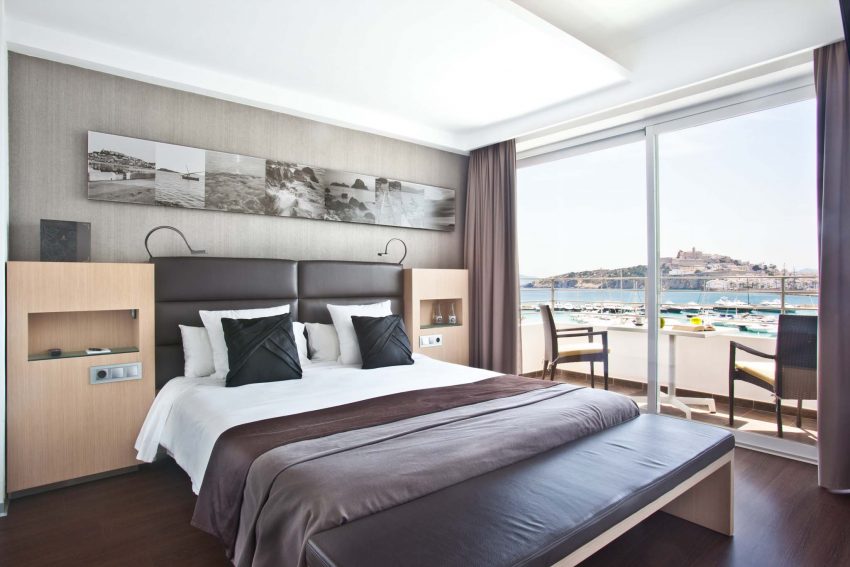 This modern art deco hotel is located in Marina Botafoch, close to Talamanca beach and Ibiza town. To build it, inspired by the architecture of Miami's South Beach, as well as the crazy 1920s in New York, for a vintage wedding!
Ses Pitreras Spa & Hotel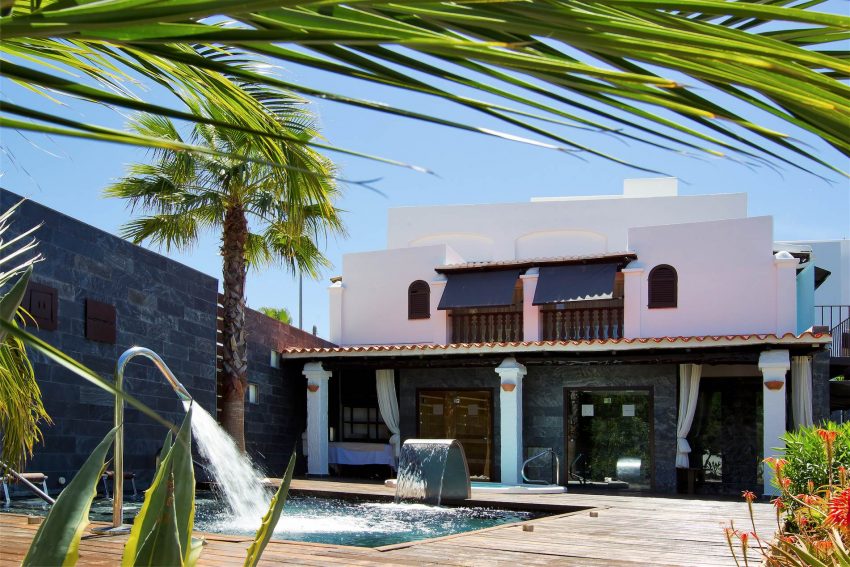 This hotel is the result of rescuing a building from the 70s and turning it into an impressive contemporary space. The Ses Pitreras is a unique proposal for design, comfort and excellent service, where it has a magnificent spa where you can enjoy a hydromassage pool, water jet massages, waterfalls and waterbeds, bubble baths, Turkish baths, sauna … Who said weddings were at odds with relaxation?
Gardens
Païssa d'en Bernat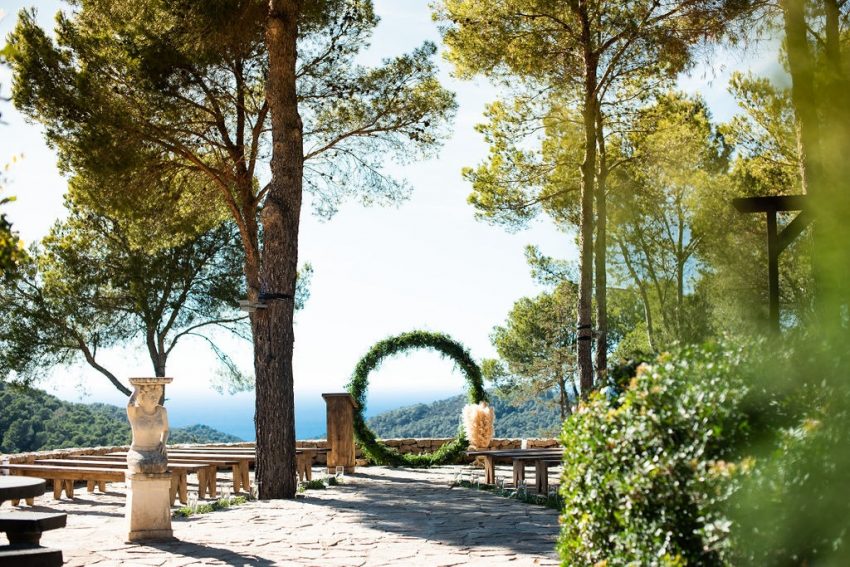 This is the perfect hideaway for getting married in Ibiza, as this oasis is located within 15 acres of unspoilt nature that surrounds the perfectly manicured gardens of the villas. In addition to its infinity pool with ocean views and its romantic Gazebo ceremony space that, combined with the catering team itself, form a harmonious environment.
Atzaró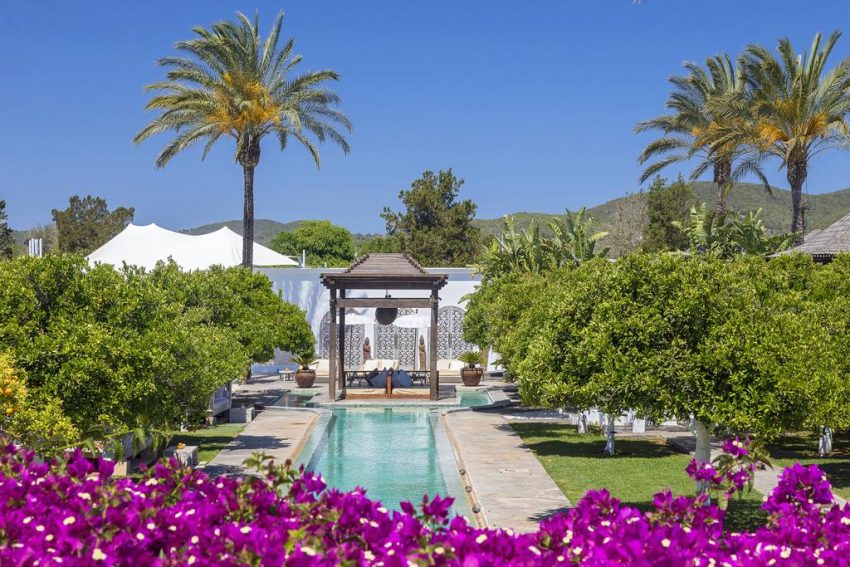 In the heart of Ibiza is this magical estate with its own style and glamor, which is also the best and most beloved luxury agritourism hotel on the island. The property has thirteen hectares of extensive well-kept gardens, restaurants, spas, swimming pools, patios, terraces, pavilions, orchard …
 Surely now you do not know which of all these wonders to choose! Are you more of clubs on the beach, of more rustic or rural hotels or of vegetation and flora of some gardens?
Tell us about it in Perfect Venue! Because what is clear is that Ibiza … is a destination for everyone! There is no reason not to fall in love with this island or any of its spaces.
Do we start with the preparations for your destination wedding?
_______________________________________________________________________________________
Photo on the top: Aljosa Petric