A wedding in Algarve is to get lost among golden beaches, stroll through fishing villages, look out over large cliffs and raise your head towards whitewashed chapels. Because yes, all this and more can be found in this little piece of the country.
Located in the south of Portugal, the Algarve has become one of the destinations that receive most couples and not just to get married but also to enjoy their stay, tourism, to rest and even to celebrate their honeymoon.
If you and your partner are also thinking about a destination wedding in Portugal, the Algarve can be one of your options, so in this article we tell you everything you need to know to get married in this region, so you have it much clearer!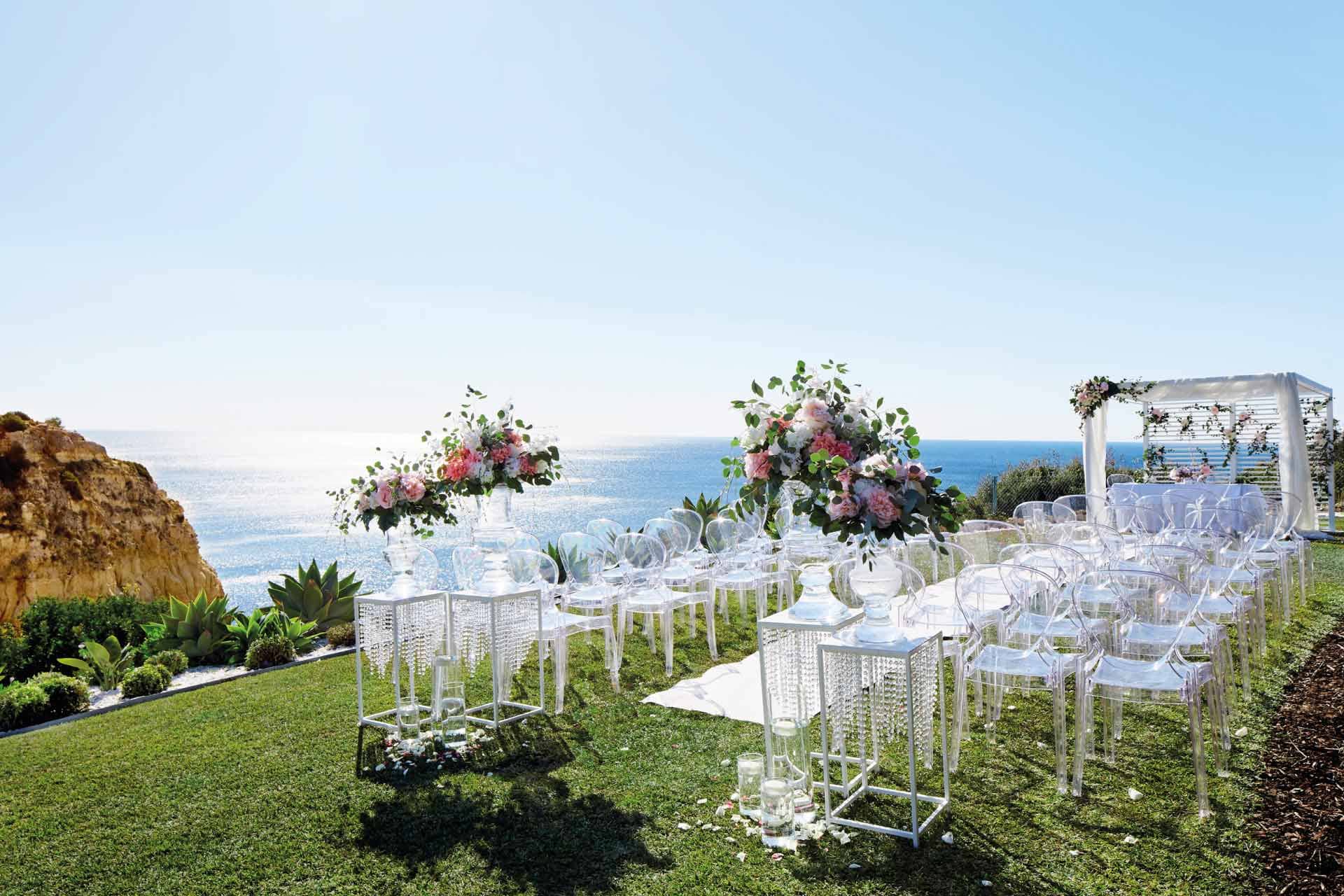 What is the best time in the year to get married in Algarve?
If there is one good thing about Portugal, it's its pleasant climate throughout the year, so any month you choose will be great. However, we advise you to avoid the month of August as it is when Algarve receive the most tourists.
The months of May, June and September are highly recommended as temperatures are high, but not scorching.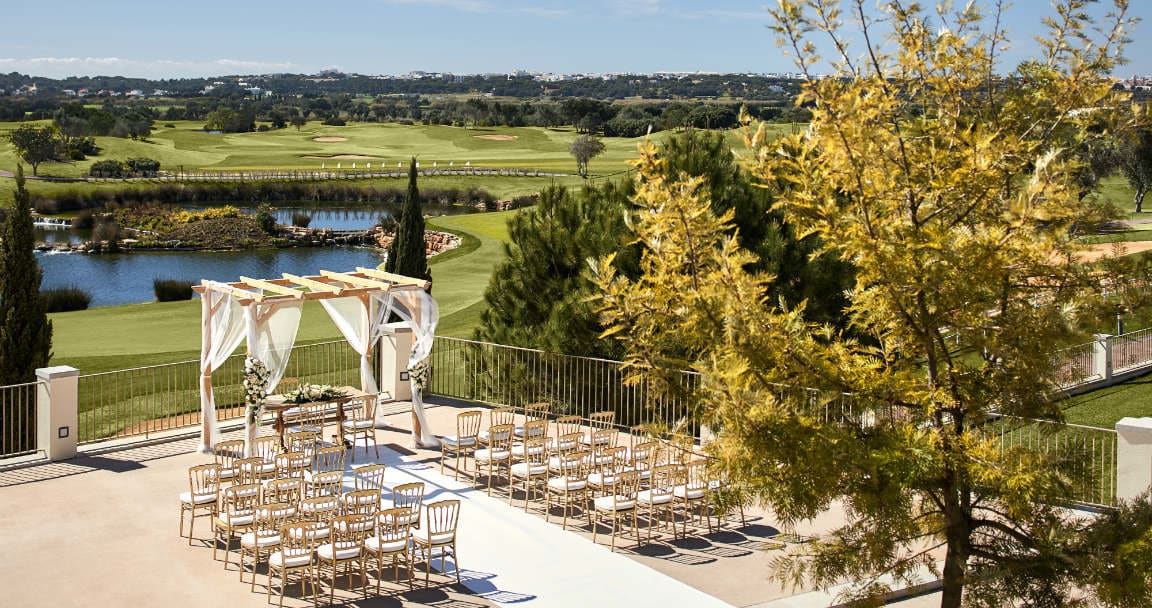 Where can I celebrate my wedding in the Algarve?
The most privileged places to marry in the Algarve are the beaches, it's the first choice of many couples, because the cliffs and the large rock formations form a magical environment.
But if you prefer another landscape that is not a sea view, there are also plenty of places with views of landscapes, vineyards, rustic villas in the countryside, private tents…
The Algarve offers incredible places among which it is easy to choose the one that goes the most with the style of the couple, wherever it is, everyone will find something special and the sun's rays will accompany you all the time until you witness a magnificent sunset.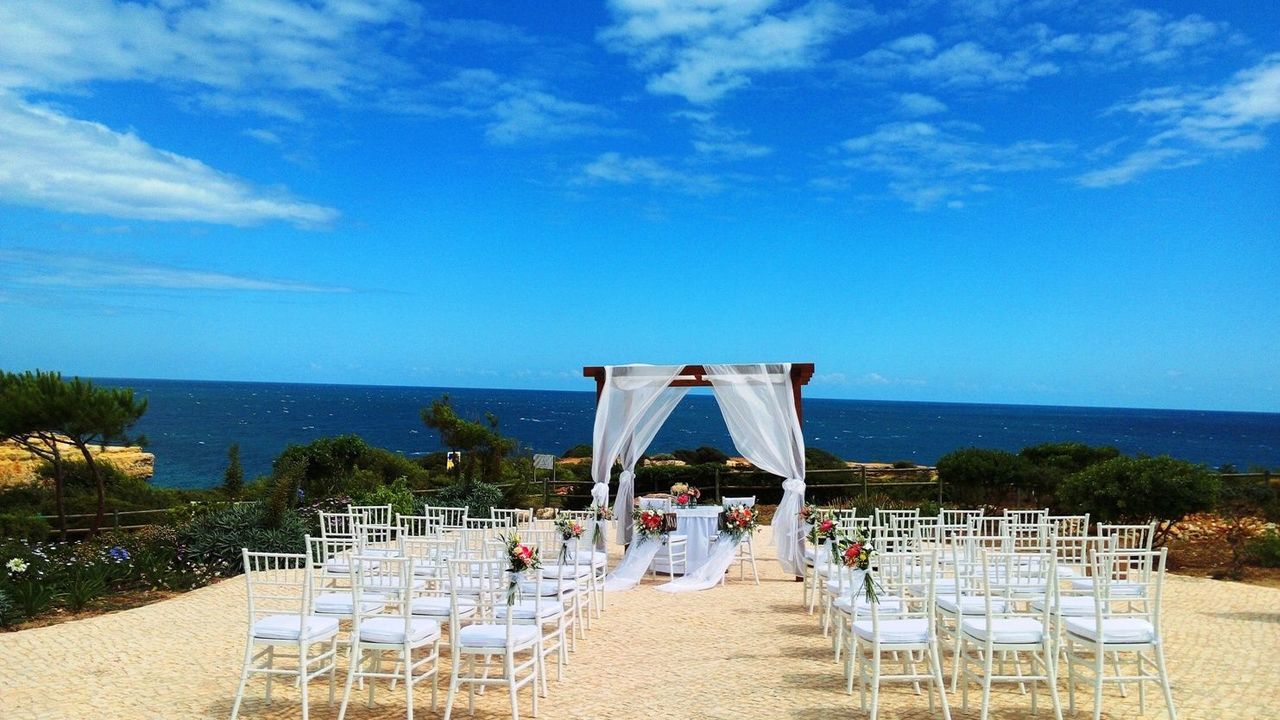 How to get to the south of Portugal?
The most convenient and easy option is to travel by plane to Faro International Airport. There are flights from the capital Lisbon, there are also many airlines that fly directly to the Algarve from a lot of European airports, because it's a popular destination!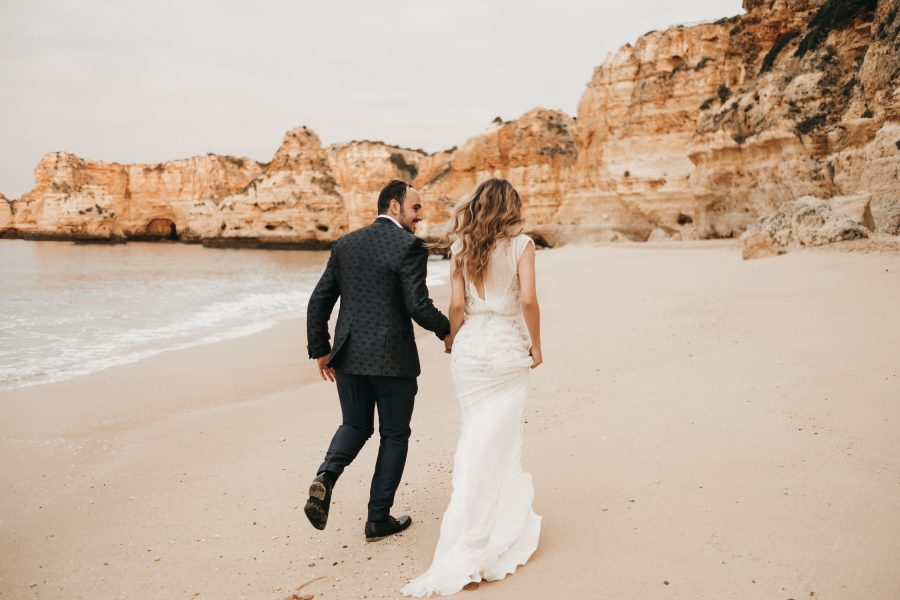 What gastronomy will we find at our banquet?
The most typical are fish and grilled meats. But there are also rice dishes based on fish, seafood or octopus, such as the arroz caldoso with seafood, one of the most typical dishes in Algarve.
As fish, the best known is the bacalhau à brás, which is prepared with pieces of dried cod accompanied by peppers and boiled potatoes, but also sardines, which are usually cooked on the grill and accompanied with a slice of bread.
And we can't forget the cataplana, another fish or seafood stew that can also be made with meat and that can also accompanied a slide dish steamed in a copper container called cataplana, that's why the dish is called like that.
But wait, because if you haven't had your mouth watered yet now is the time, because if we are talking about desserts typical of Algarve we are talking about almond bolinhos, filled with ovos moles and covered with almond dough. As well as the morgadinho, made with almonds, filled with angel hair and covered with white fondant.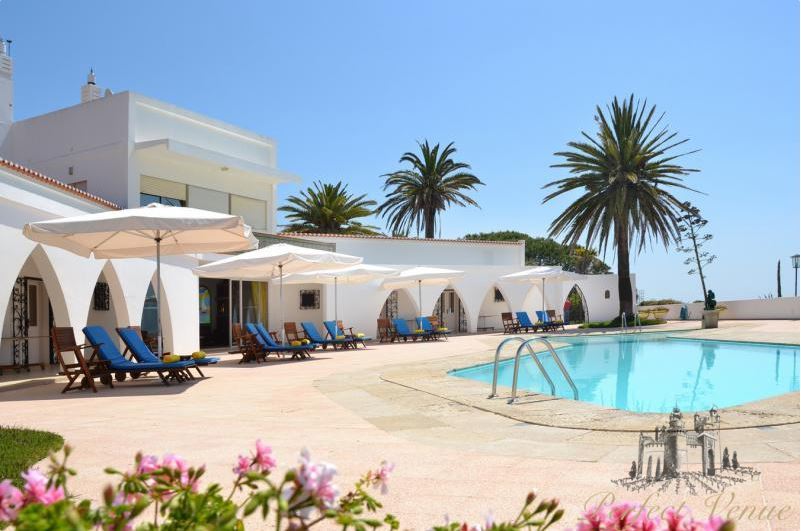 What are the best places for a wedding?
Villa Oasis is a luxurious villa located in a quiet neighborhood facing the Algarve beach, with stunning sea views and a capacity for up to 10 people.
This amazing house is located just 100 meters from beautiful white sand beaches, and 2 km from Alvor and Praia da Rocha, known for the rock cliffs and white sand beaches, where there are also many restaurants.
The villa has a beautiful swimming pool, barbecue and a parking which is just a 5-minute drive from the centre of Portimão and 20 minutes from Lagos and its marina. It is a real gem to say "I do" in the Algarve!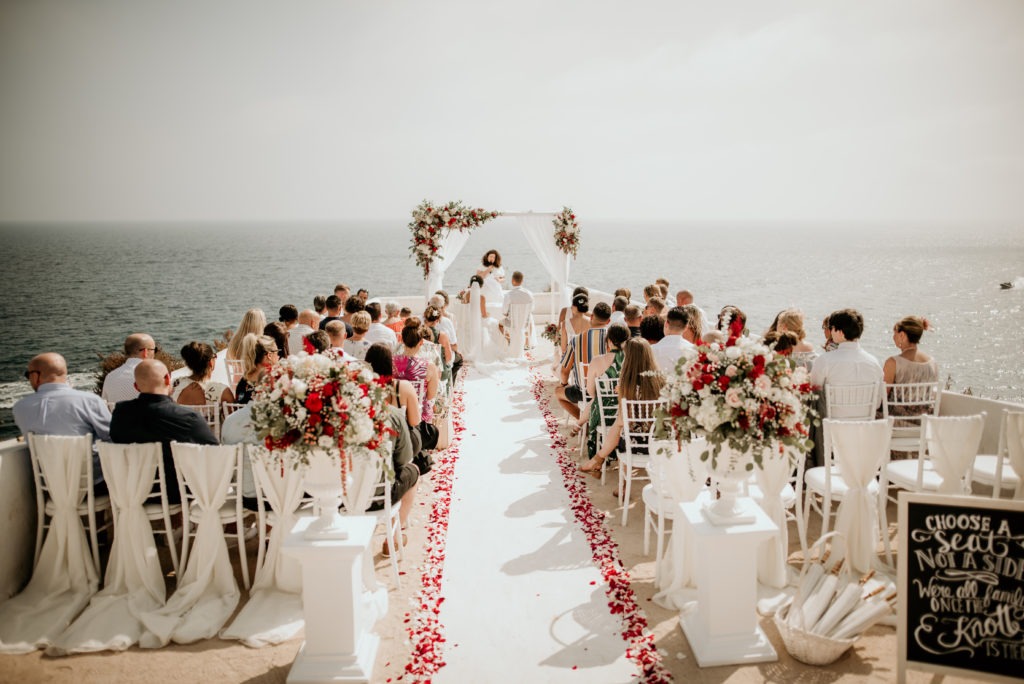 How much can a wedding in Algarve cost?
Although Portugal is not usually an expensive country to get married, it all depends on the number of guests and the place where the wedding will be held.
It usually costs between 20.000 and 25.000 € for approximately 100 people, including drinks during lunch, welcome drinks and canapes for an hour and a half, four hours of open bar, full day photos and videos, live music, wedding cake, flowers and decoration as well as wedding planner fees.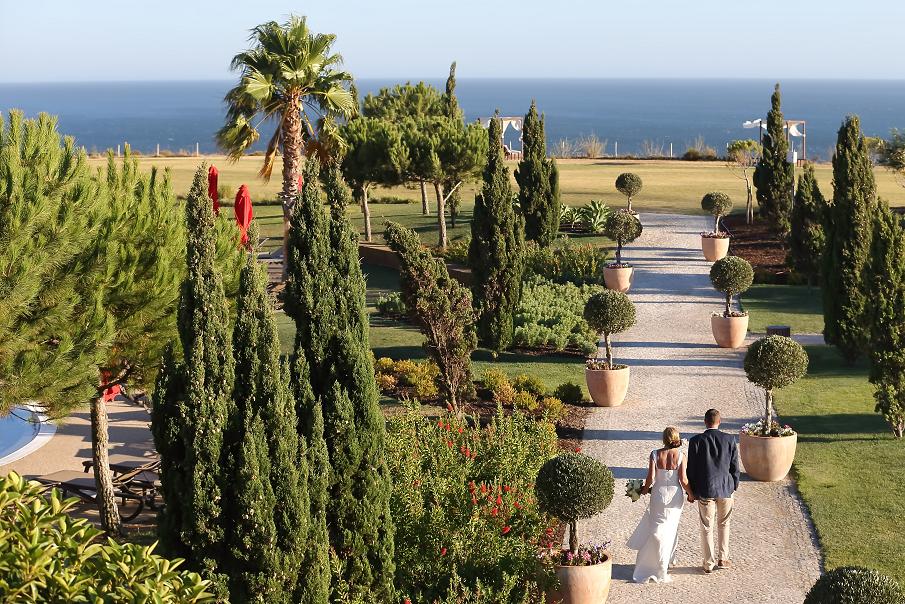 What formalities must be fulfilled to be legally engaged in Portugal
We have good news! The procedures are very easy when it comes to getting married in Portugal, because it is not necessary to be a resident of the country to be legal, it will only be enough to hand over a series of documents to the Portuguese Registration Office, which will approve the wedding.
Check out this article because we tell you exactly what the formalities are to get married in this wonderful country!
And don't hesitate to contact us at Perfect Venue to help you with your formalities, decoration, research of places and everything you need! Come and visit us.