Do you dream of having a fairytale wedding surrounded by forests and fairy lights? If you do, take a look at Victoria and Ronan's wedding in Sicily in a beautiful citrus grove, you will find all the inspiration that you're looking for!
The unique, exciting aspect of this wedding is that the couple decided to make the venue a surprise for all of their guests. We currently live in a time where the internet makes it so easy for us to look places up and it means that there are fewer surprises with wedding venues. Therefore, Victoria and Ronan kept their wedding venue a surprise for their guests; transport was organised to take them to the secret location, and it made the whole day so much more exciting!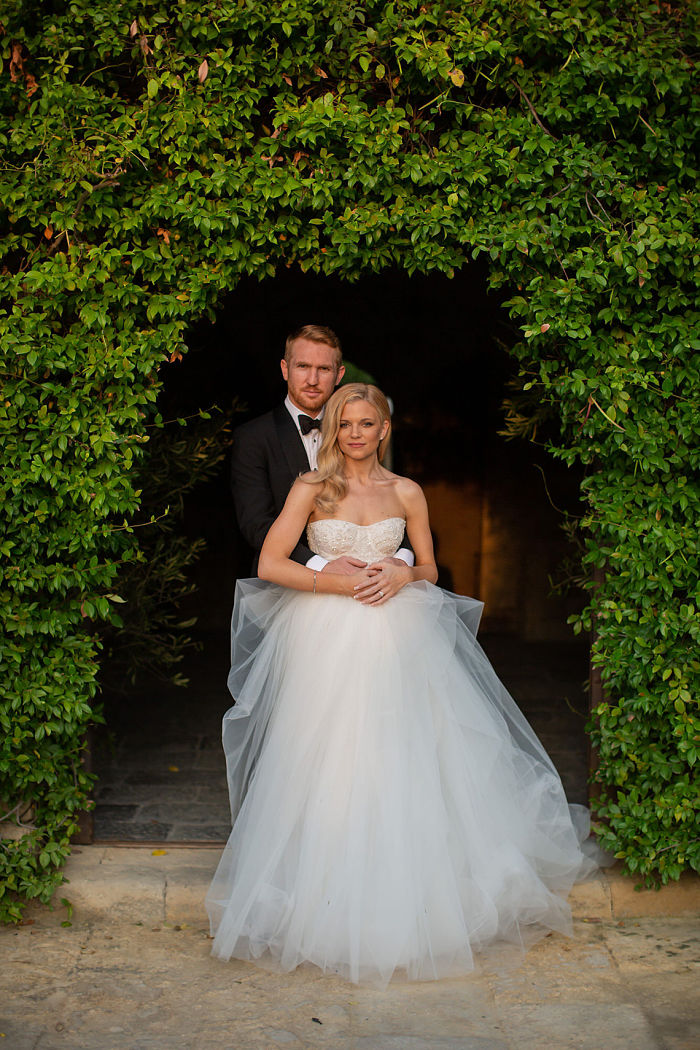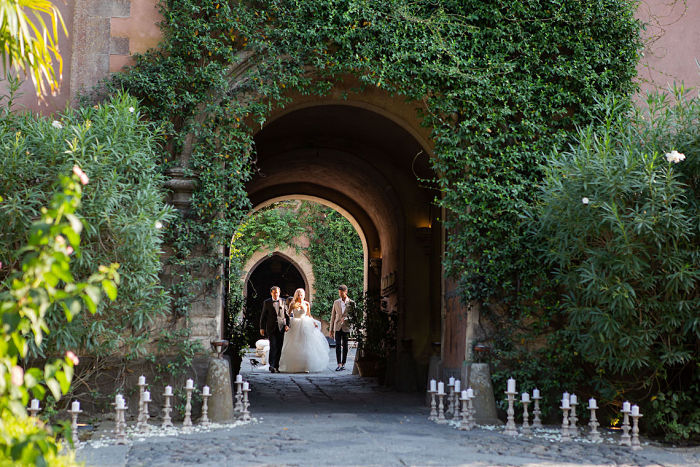 Victoria's Recommendations
One of Victoria's biggest tips is to make sure that you hire a wedding planner who lives near your venue. Wedding days are stressful given the amount of planning and thought that needs to be put into them, and this makes it even harder when your venue is somewhere far away.
Therefore, hiring a professional who lives locally enables you to have a much more enjoyable, stressless experience. They are trained to take your chosen styles and aesthetics into their own hands and create a personalised wedding day that suits you perfectly.
A Castle Perfect for Fairy tales
Victoria and Ronan chose Italy as they knew there was no doubt that the cuisine and wine would be phenomenal, and it was a location suited to their international backgrounds which made it easy for everyone to be able to attend. Specifically, they chose Castello Xirumi in Sicily, a castle 40 minutes from Catania surrounded by a stunning citrus farm. This created a beautiful backdrop for the ceremony, and they finished their night in Asmundo di Gisira, a boutique hotel in Catania.
The ceremony fulfilled all of their fairytale wedding dreams, as it was held beneath the trees which had candlelight chandeliers hanging from the branches. The song "My Lagan Love" played while Victoria walked down the aisle which was a tribute to Ronan's heritage and complemented the intricate details of the setting.
The reception followed in the castle, where guests were taken to explore more of the venue. The whole surprise idea was continued throughout the evening, as the starters, main course, wedding cake and dancing all took place in different rooms. A local band, Mizzica Mizzica, played during the antipasti part of the meal, and later on a London band, "Beat" were flown in; everybody got up straight away and the dancing continued into the early hours of the morning!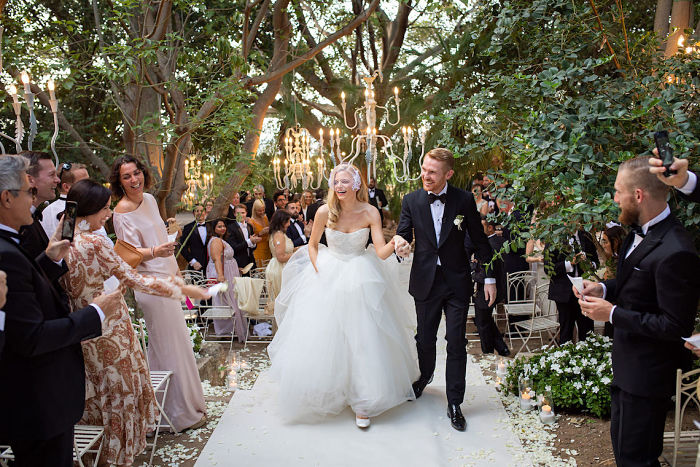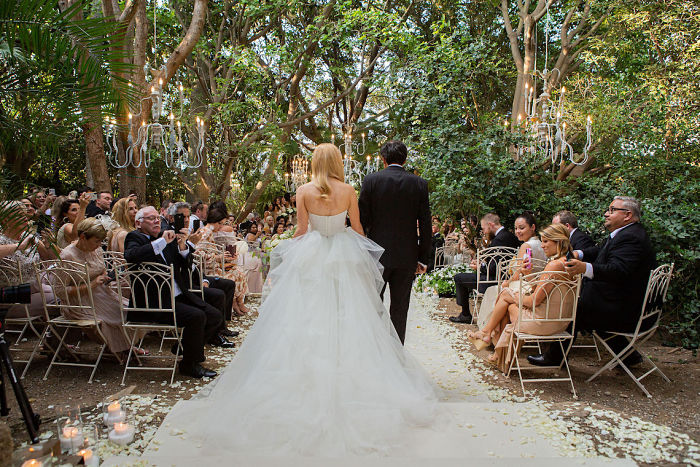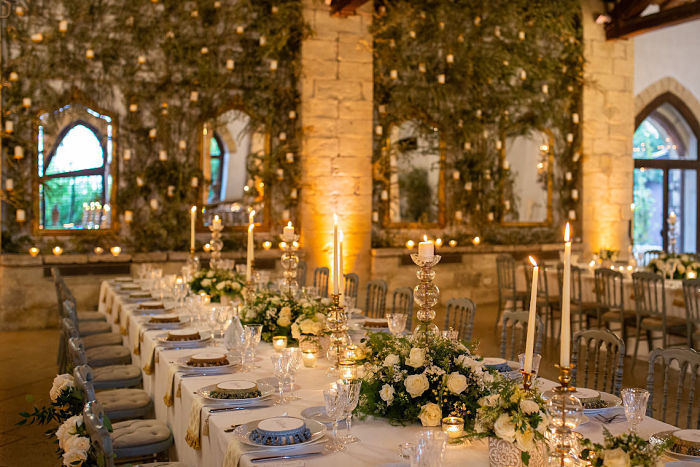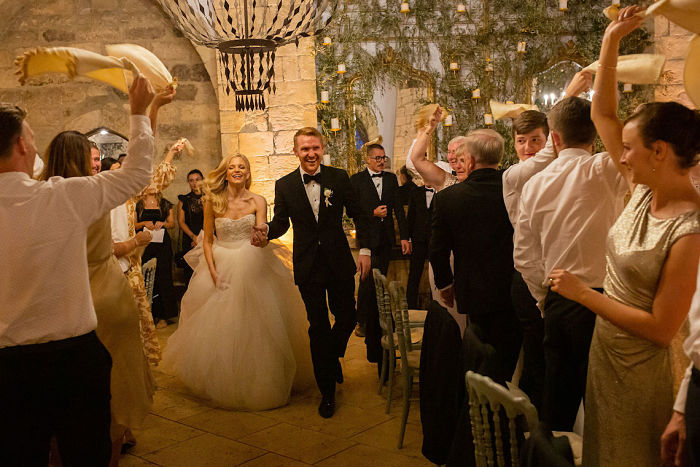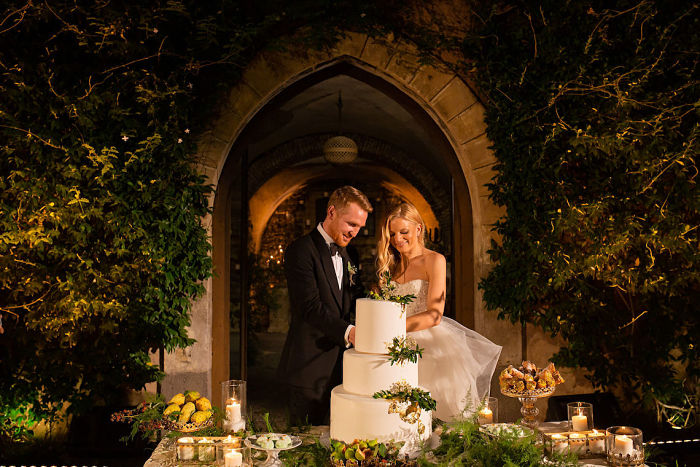 Hair and Makeup
Victoria recommends that if you are a bride to be, it's a wise idea to find a hair and makeup professional who you can rely on. This is because it can be so stressful on the day to look your best, and you will spend a lot of time getting ready with them in the morning. It's also important to find someone who you really enjoy being around, so that even getting ready is a fun part of the day!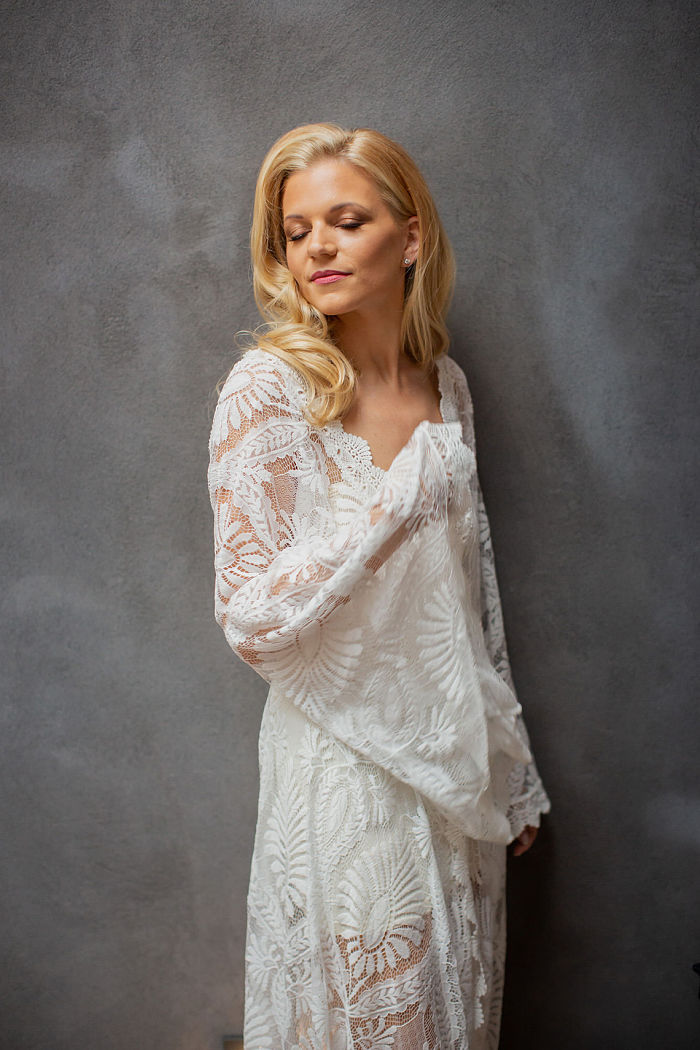 Floral Arrangements
Victoria was keen to have floral arrangements that complemented the existing charm of the surroundings; she opted for ivory, cream, beige, almond and gold colour tones. She requested that her guests also wore colours to match these colours, which meant that the whole event looked spectacular and everyone was part of the beauty of the wedding.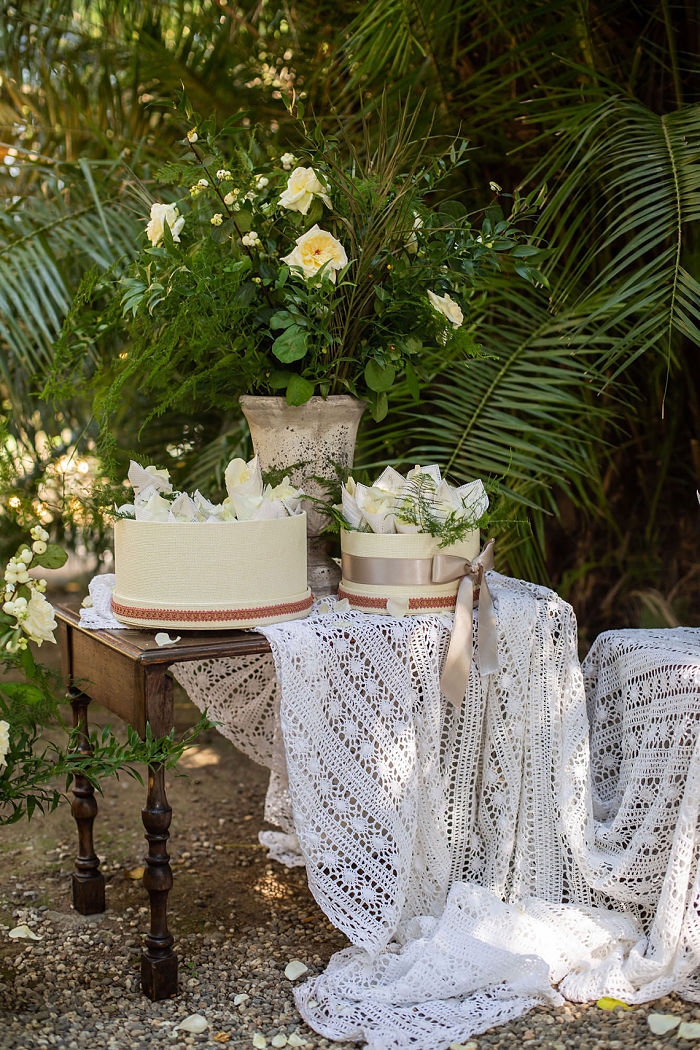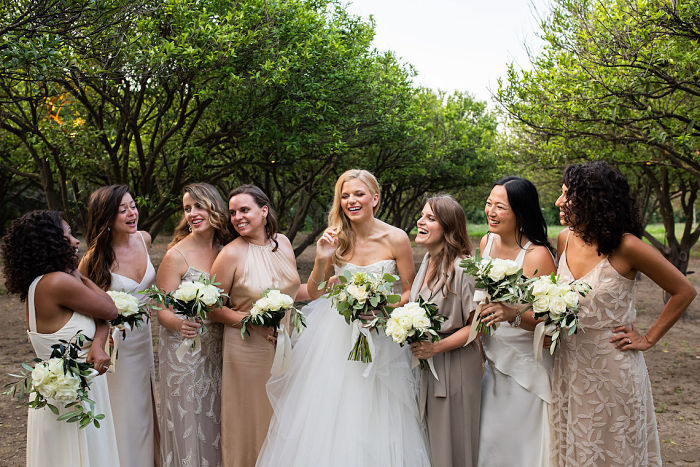 Decorations
Another unique part of Victoria's wedding was her choice to send hand crafted invitations to only the guests who she knew would really appreciate it, which is a good way to prevent going over your budget.
She sent specially made origami invitations to a few of her guests which followed the surprise theme of the wedding and sent electronic invitations to the rest of the guests.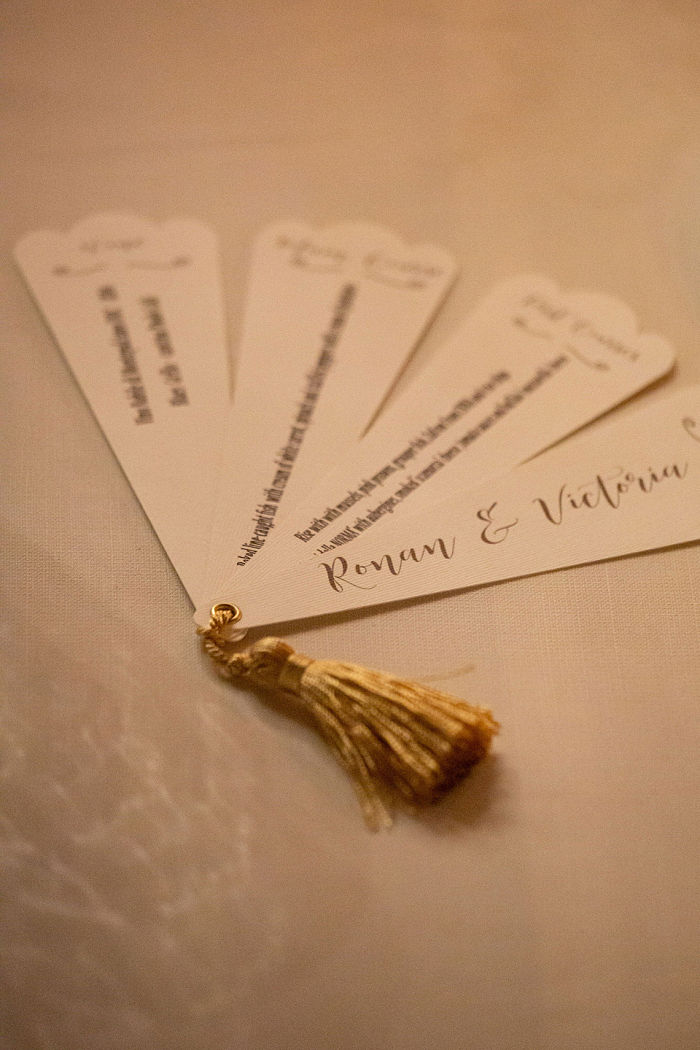 Photography
The couple knew that selecting photographers and videographers was an important process, as they knew that in the future, they would like their children to be able to visualise their special day.
They chose Daniele as their photographer, who did an awesome job at creating a range of images that captured the authenticity of their wedding. For the video, they chose Marco and Claudia, who filmed them on Mount Etna at sunrise just before the wedding.
A Never-ending Fairytale
For their Honeymoon, the couple visited the Aeolian Islands for three days for some relaxation. For Victoria and Ronan, this was the perfect way to relax after their wedding and they believe that this was better than going travelling straight after. It allowed them to have quality time together, while they relaxed and chatted about the wedding.
Wedding Credits:
Photographer: Daniele & Edgard // Wedding Planner & Stylist: Style A Wedding // Bride's Dress: Ersa Atelier // Bride's Robe: Bibiluxe // Groom & Groomsmen Attire: Gieves & Hawkes Custom Tuxedos // Hair & Makeup: Harold James // Videographer: Lunofilms // Bride's Hotel: Asmundo di Gisira // Wedding Venue: Castello Xirumi // Catering & Cake: Squiseating // Flowers: Noi Due // Invitations & Stationery: Jay Monique // Antipasti Music: Mizzica Mizzica// Dance Music: Beat from London UK