Do you dream of a tropical wedding, filled with brightly coloured flowers in the warmth of the sun? Look no further, because in this article we will tell you all about Stephanie and Andrew's tropical wedding!
The couple got in touch with skilled professionals who helped them to create a stunning Italian wedding with an insane tropical backdrop. Event designer and organiser, Danila Stella made sure to transform every part of the venue into a vintage style, with particular plant and flower choices that fit the theme perfectly.
Rossella Putino was the photographer for the event, and alongside her worked Studio Putino who created a video montage of all of the most magical moments. Take a look at the pictures and you can use them as inspiration for your own tropical wedding!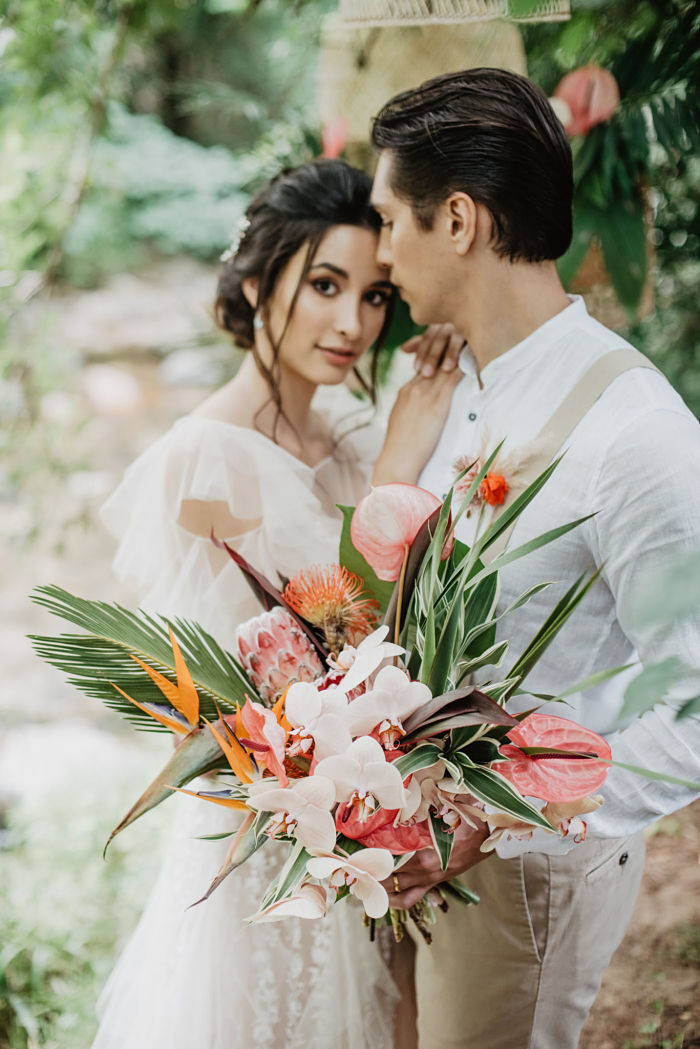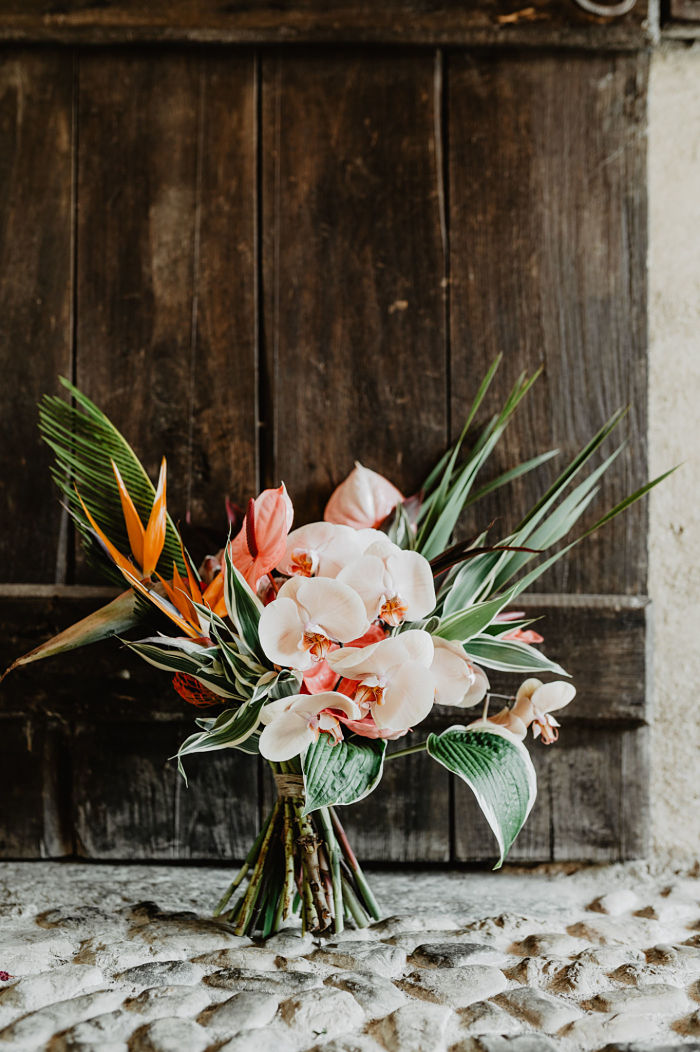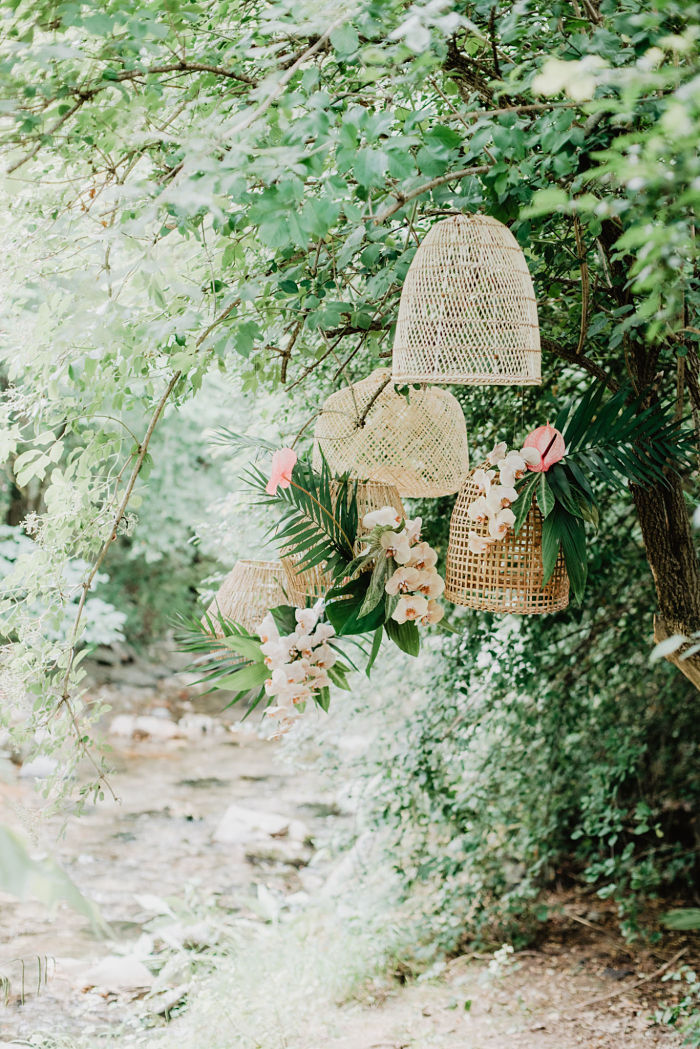 Romantic Ceremony
The venue, Mulino dell'Olio, was originally an olive oil factory but has recently been renovated into a venue for events. The greenhouse, along with its ivory curtains, created a stunning backdrop for the pictures and provided instant inspiration for the design idea.
Ludovina of Cerimonie Laiche was the officiant who designed the ceremony with illustrative water and floral elements. The couple combined these elements to portray an idea of a new beginning full of happiness.
The ceremony was romantic, with a reading of poetry written by Ludovina which told the story of how Stephanie and Andrew met, whilst a violinist played peacefully in the background.
Due to Covid creating many difficult obstacles for the wedding industry, Stephanie and Andrew had to change their whole event. They originally had over 200 guests, but the restrictions made them cut their number drastically. Although this was initially a big problem, it ended up being a blessing in disguise as it meant that they spent their day with the people they truly wanted there and had a wedding that felt more like a "family dinner" rather than a huge event.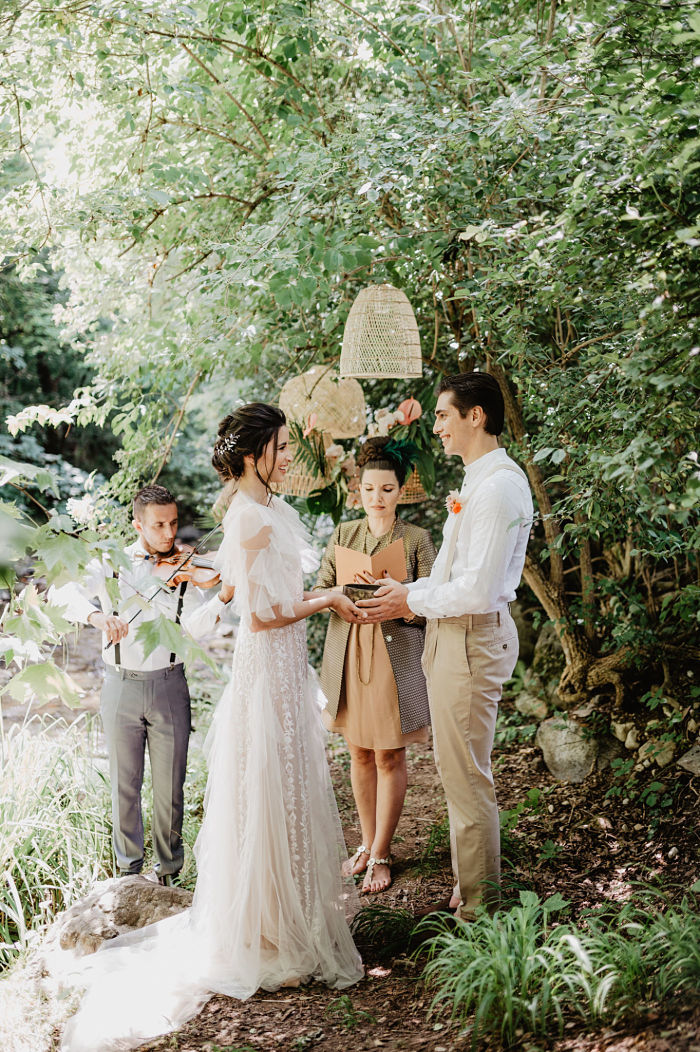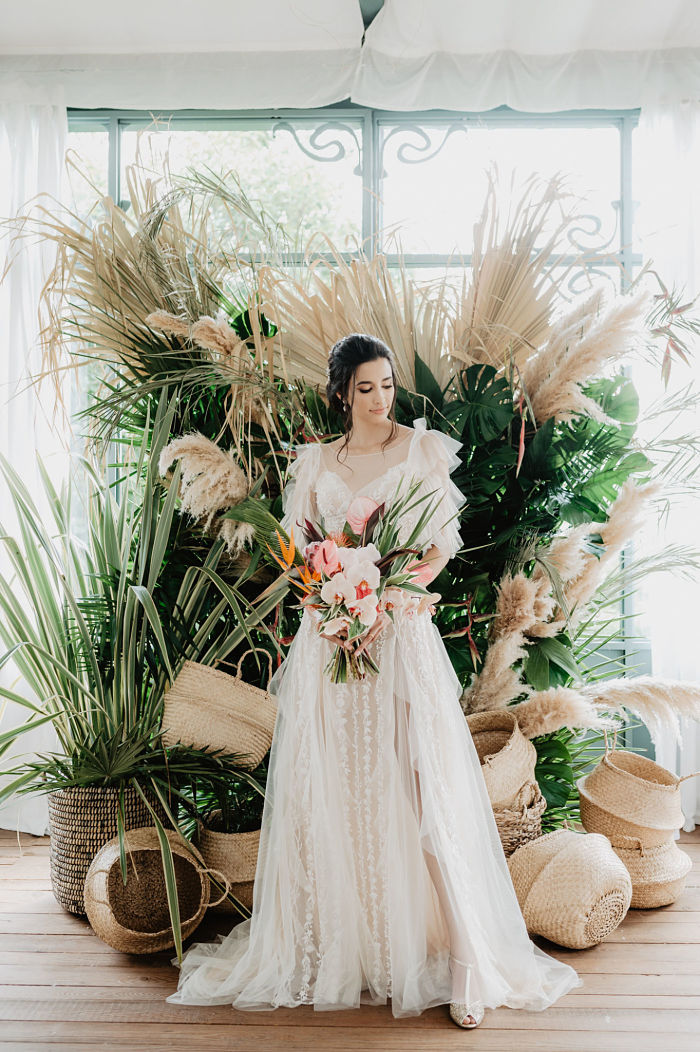 Boho Wedding Style
In terms of clothing, the couple chose an overall boho style with some unique quirks. Stephanie sported a dress by Yoliah Spose with ruffles made from tulle fabric, and for her shoes she wore glittery heels with t-straps by Anniel.
Throughout the event Stephanie changed her outfit numerous times. She modelled a range of boho styles and at the end of the event she put on a lovely dress that had sleeves made from macramé. Her hair and makeup were skilfully done by Francesca Scalera, which perfectly complemented her look.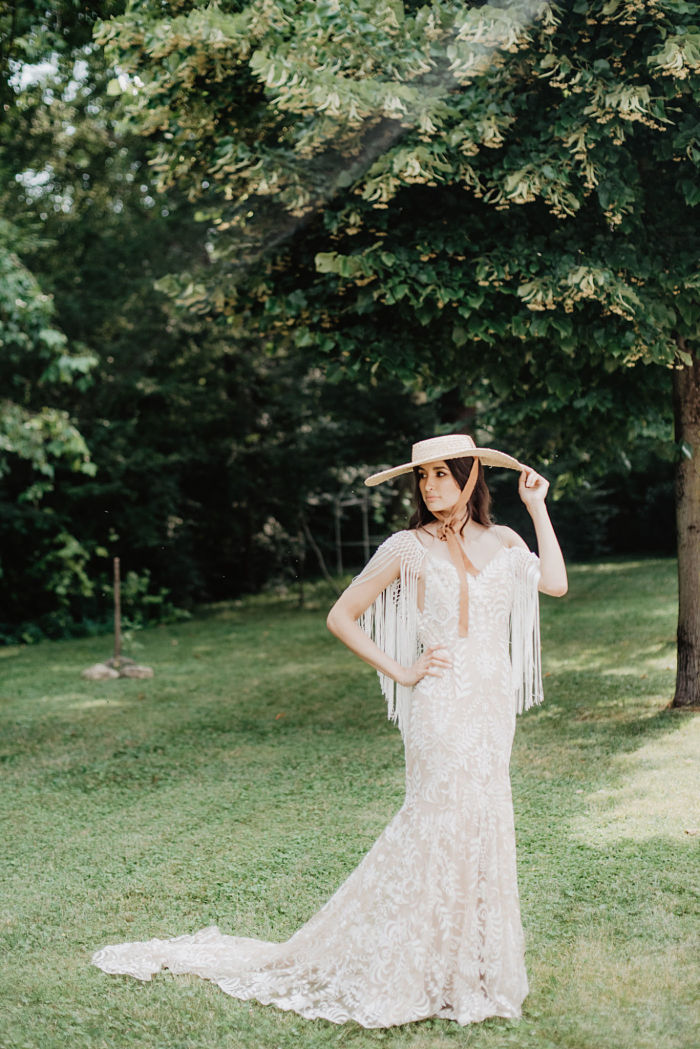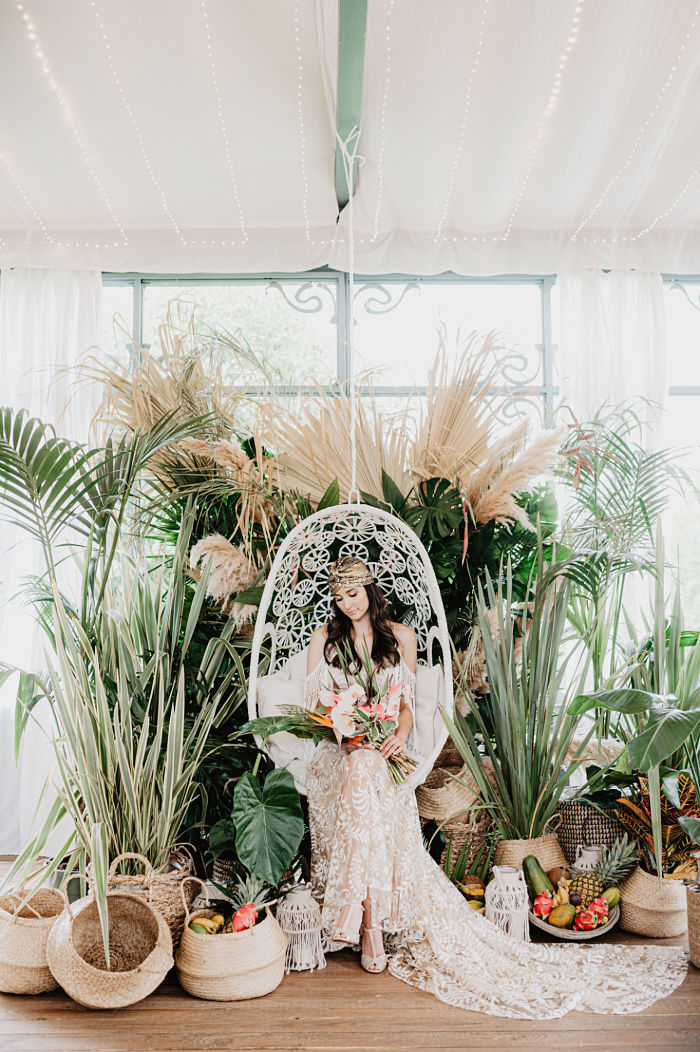 Tropical Details
The wedding had numerous tropical details which created a warm, summery feel. Il Profumo dei Fiori produced an insane array of tropical flowers which created the perfect backdrop for the wedding.
Alongside the tropical theme, there were also numerous vintage decorations which were found all over the venue. From the invitations made from handmade paper and wax stamps by Studio Alispicals, to the vintage chandeliers placed on the modern table… this contrast of modernity and vintage produced a unique design that we had never seen before!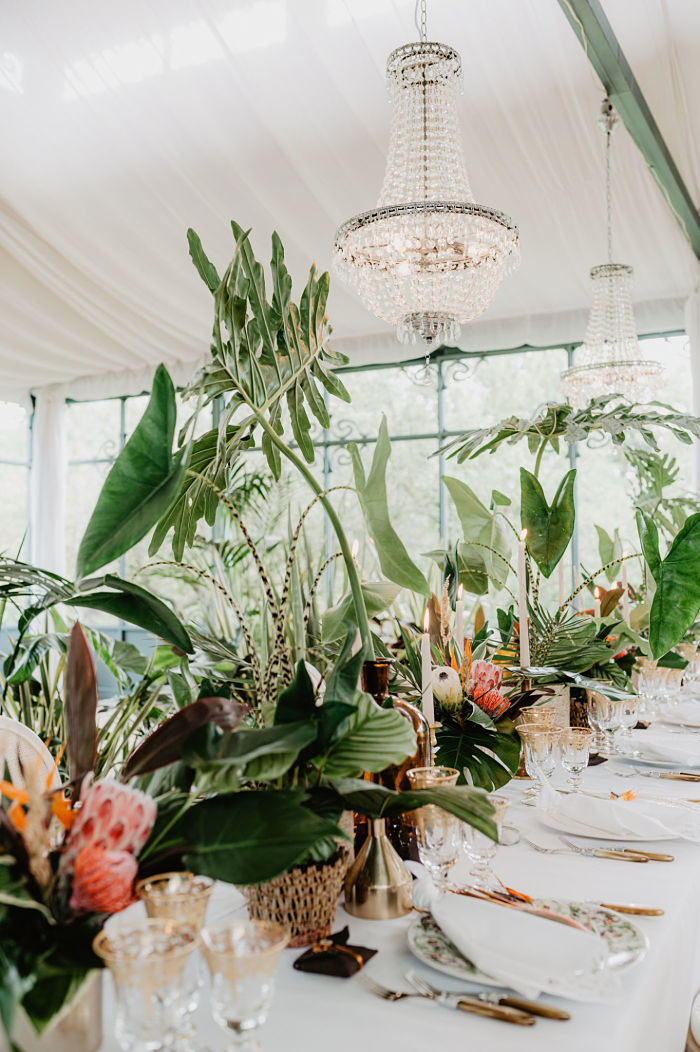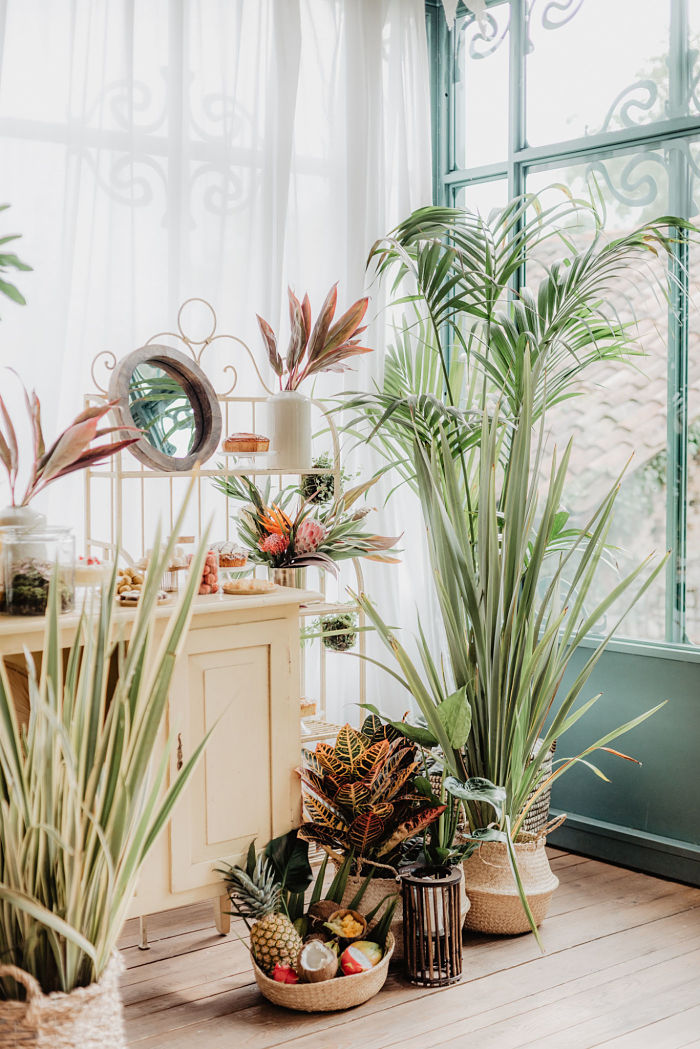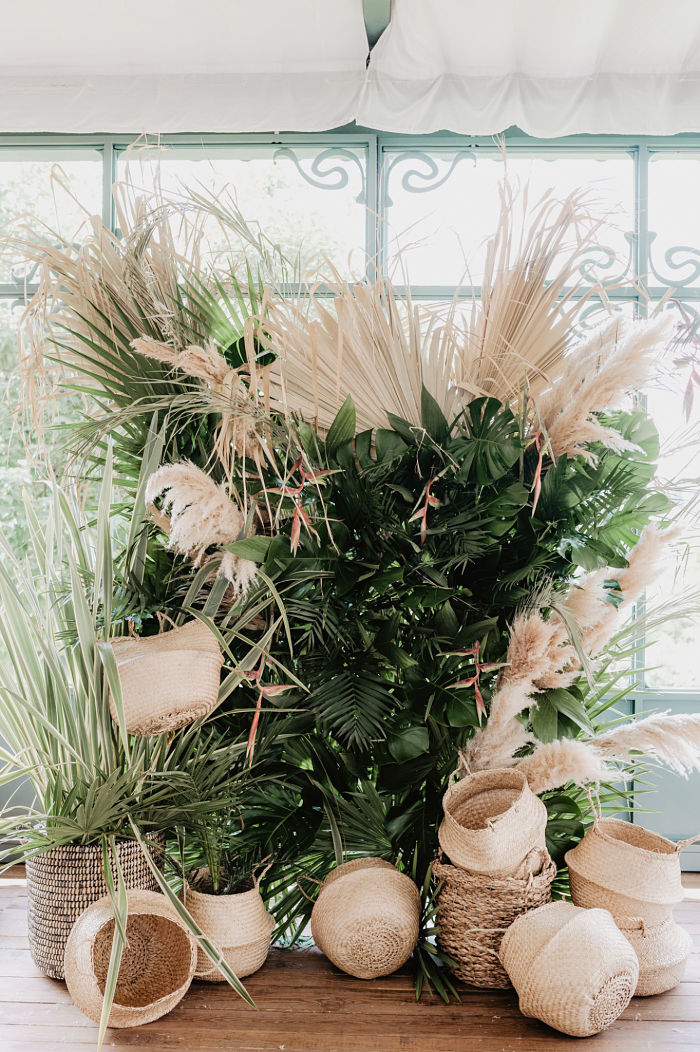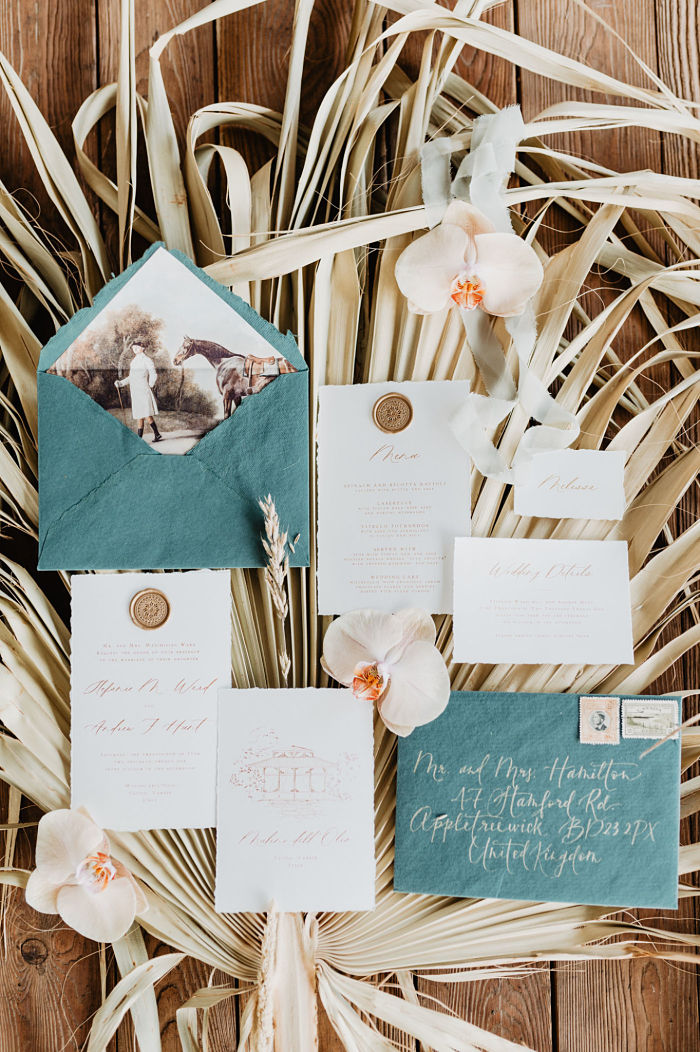 A Cake Inspired by Simplicity
The tropical backdrop was not only a feature for the guests to pose in front of, but it also created a stunning background for the wedding cake!
Instead of choosing an extravagant cake that we typically see at large weddings, Stephanie opted for a straightforward Victoria sponge cake with passion fruit and cream, and Qualcosa di Dolce made a superb effort.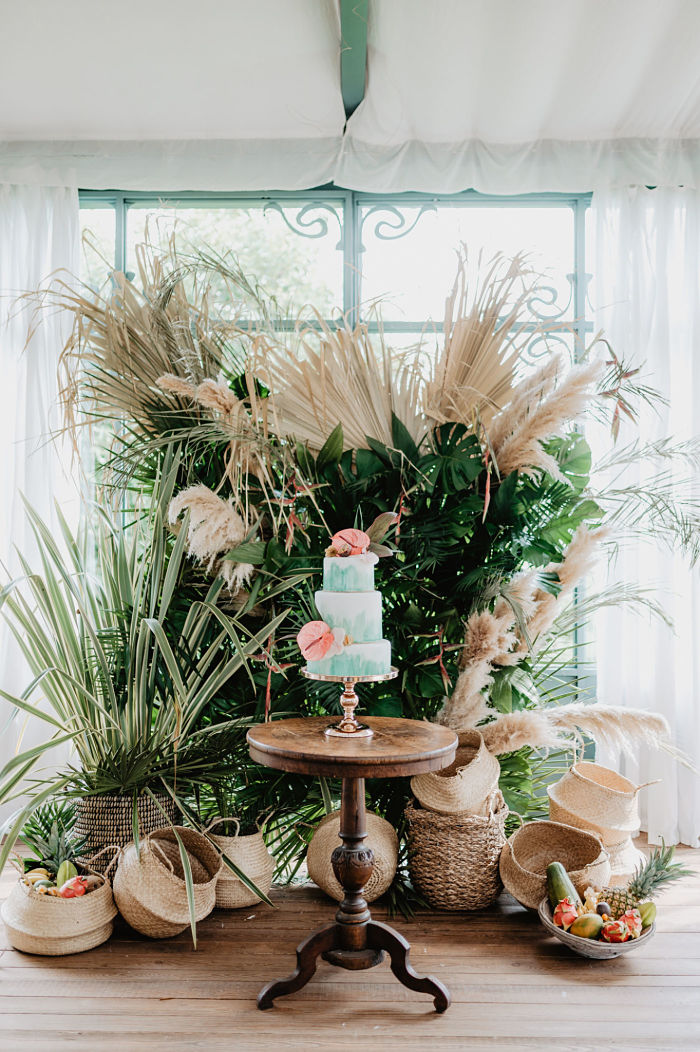 Post Wedding Adventure
Andrew decided to surprise Stephanie at the end of the day with her beloved horse, Fieno! This was a beautiful surprise for her as she loves horses and the outdoors, and the photos perfectly portray her excitement towards this activity along with their walk with the alpacas from a local farm.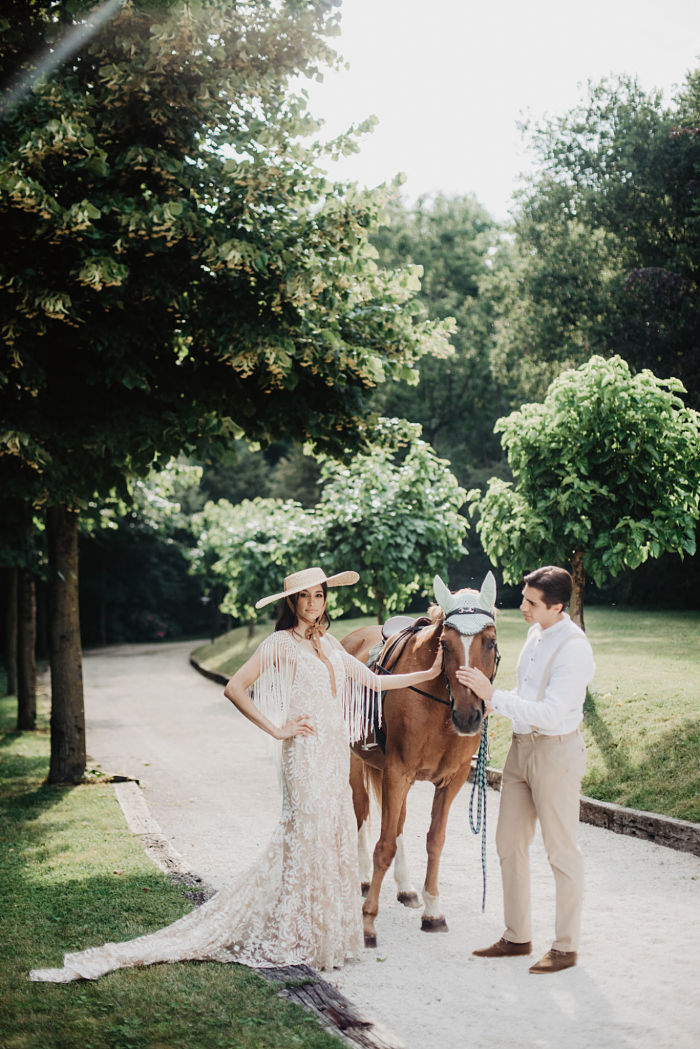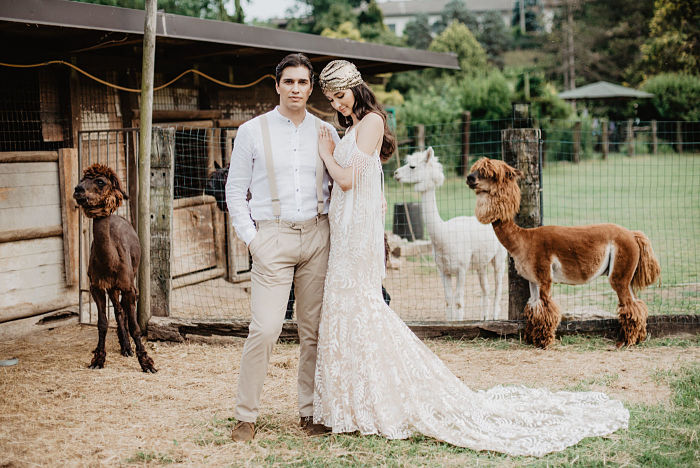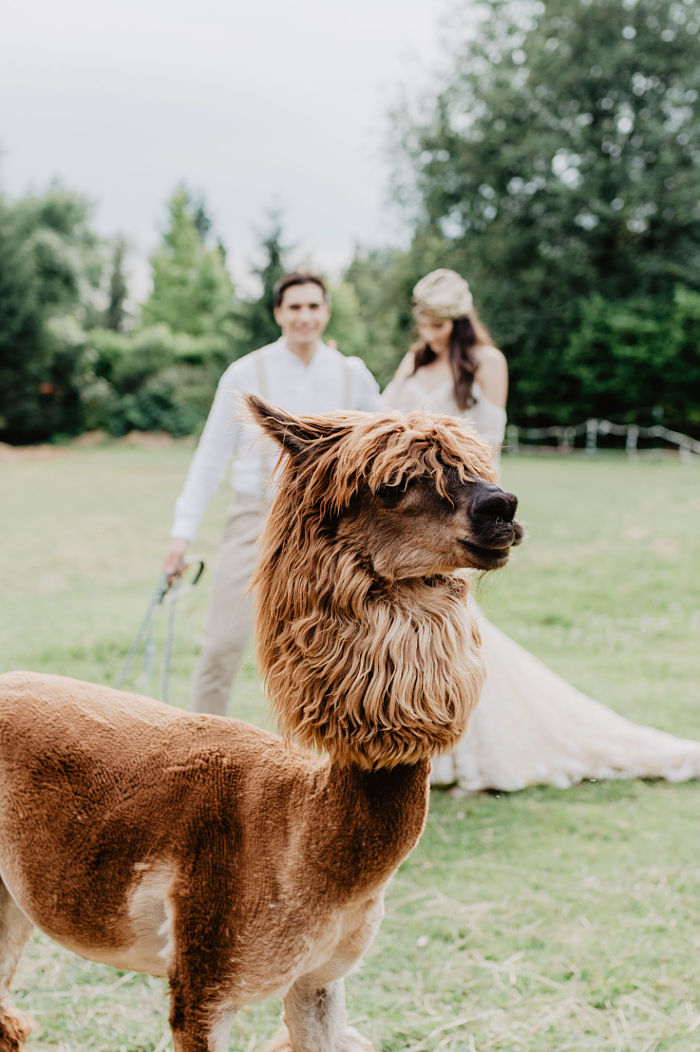 Wedding Credits:
Photography: Rossella Putino // Venue: Mulino dell'olio, Varese, Lombardy, Italy // Event design: Danila Stella // Planning: Danila Stella // Florals: Il Profumo dei Fiori // Wedding dress: Yoliah Spose // Hairpiece: Francesca Scalera // Bride's shoes: Anniel // Bride's ring: Machia Creazioni // Hair stylist: Francesca Scalera // Makeup artist: Francesca Scalera // Groom's shoes: Anniel // Groom's ring: Machia Creazioni // Videography: Studio Putino // Paper goods: Studio Alispi // Catering: Ta Milano // Cake: Qualcosa di Dolce // Tabletop rentals: Born to Rent // Furniture Rentals: Smacrent // Linen rentals: Set Up my Table // Music: Dj Funky // Officiant: Cerimonie Laiche // Lighting: Croval Service // Terrarium: Melina PepperLup // Ribbons: Allegoria Textile // Violinist: Alessandro Apinti // Scents: Locherber Milan