Morgan and Luke wished for an outdoor wedding full of adventure, and that's exactly what they got!
Most people would prefer to get married surrounded by sunshine and warmth, but Morgan and Luke had their eyes on a better idea. They chose Wyoming as their location to host their dreamy Narnia-like wedding, surrounded by a pure white coat of snow where they could go on a hiking adventure before their ceremony.
Their advice to future brides and grooms is to plan your wedding how you as a couple want it to be, rather than prioritising family and friends' suggestions. That way you'll definitely achieve a truly personalised wedding, which reflects your interests and creates a much more exciting day for you!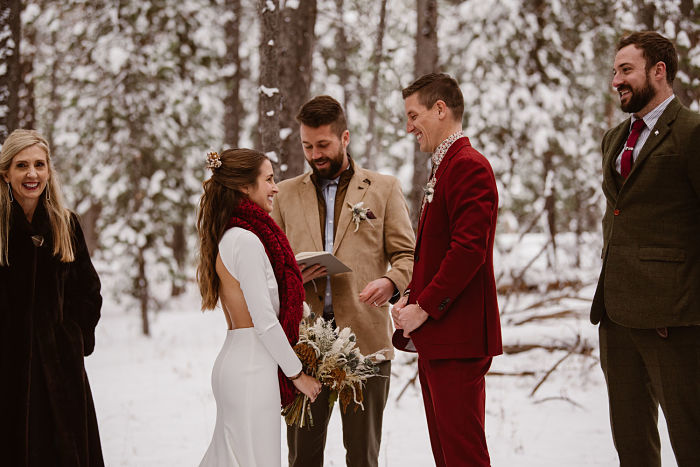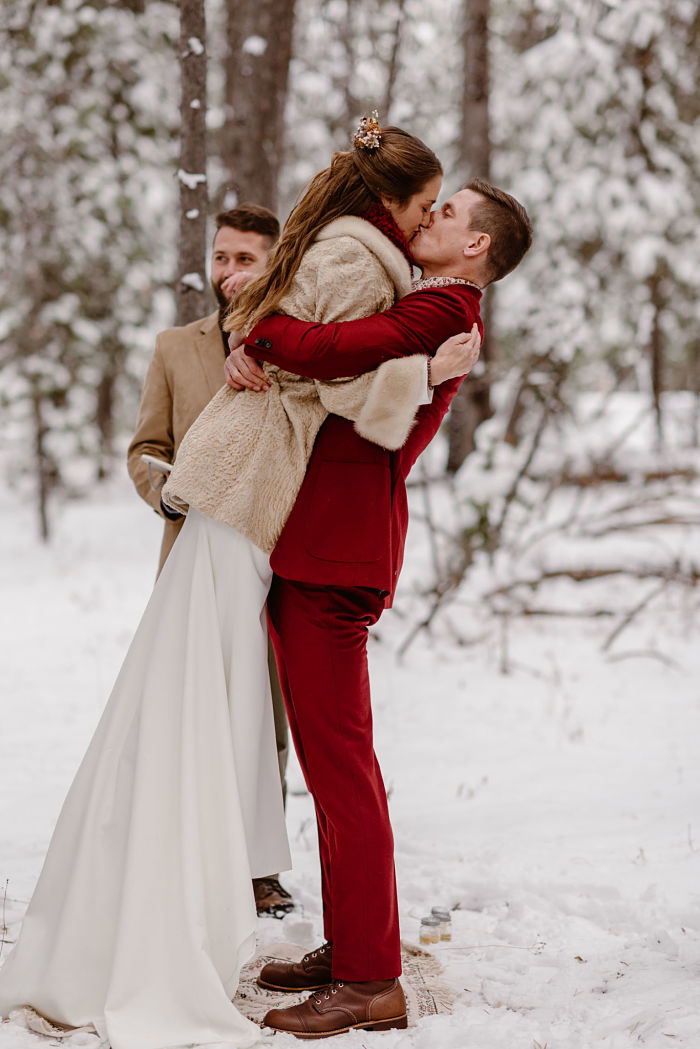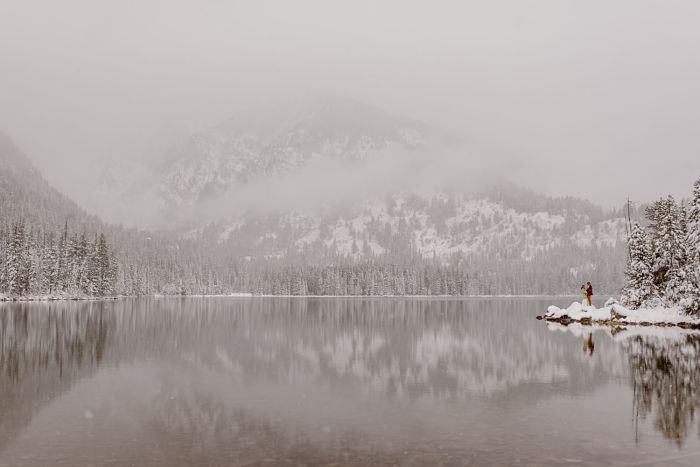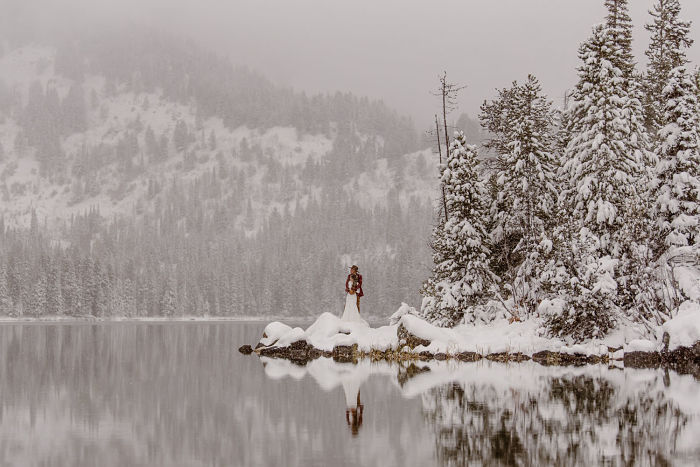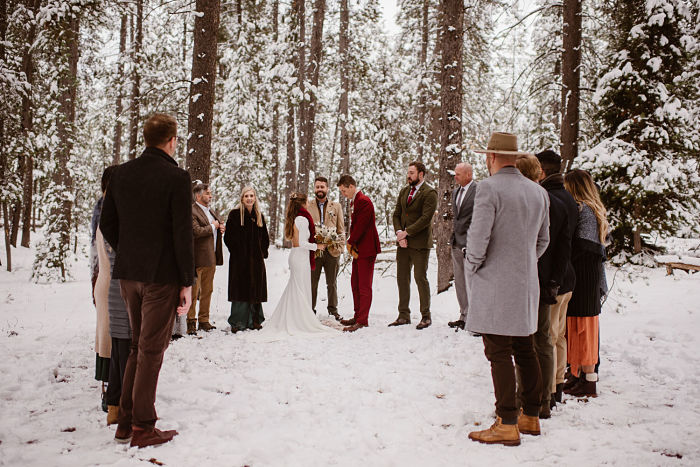 Winter Wonderland Style
Morgan opted for a long-sleeved wedding dress, designed by Sarah Seven, which provided her the perfect balance of warmth and comfort while she gracefully walked down the aisle. In her hair she wore a delicately put together hairpiece by Custom From Mallaret and carried an elegant floral bouquet by Lily and Co. which was full of natural white, brown and green tones to complement the snowy forest that surrounded her.
The groom, Luke, chose an incredible red suit which boldly contrasted with the white snowy background, and matched Morgan's scarf. Just like a match made in heaven!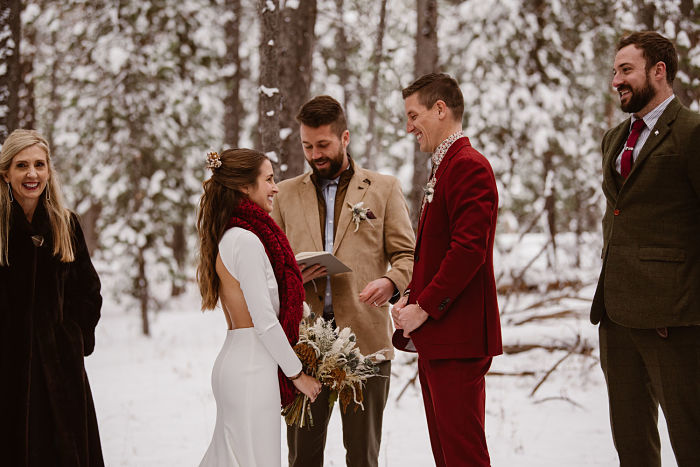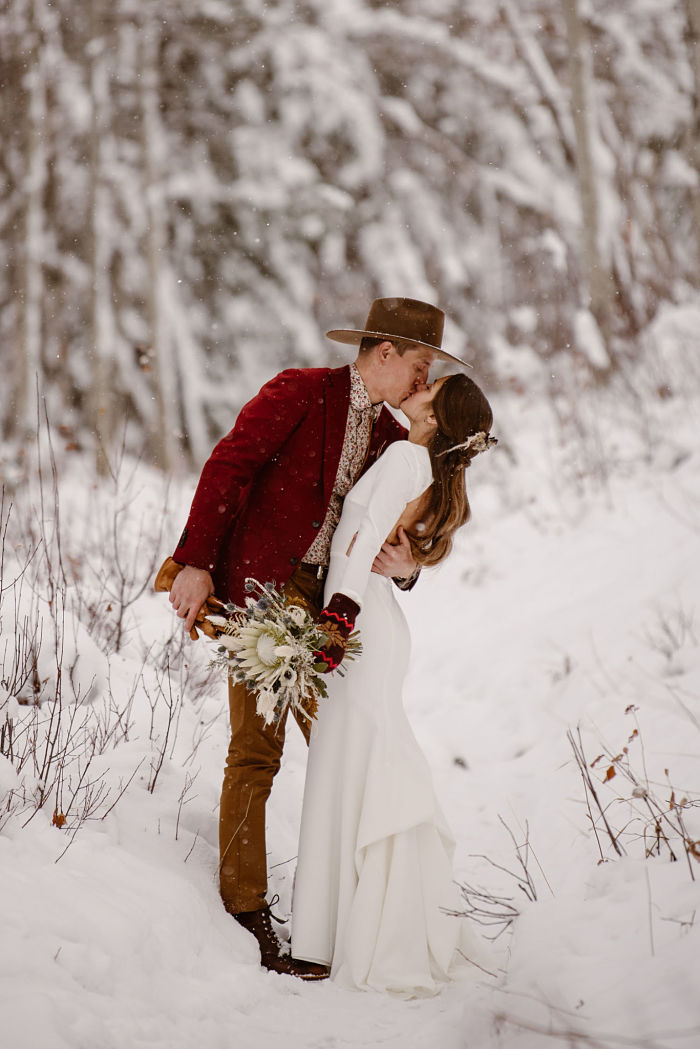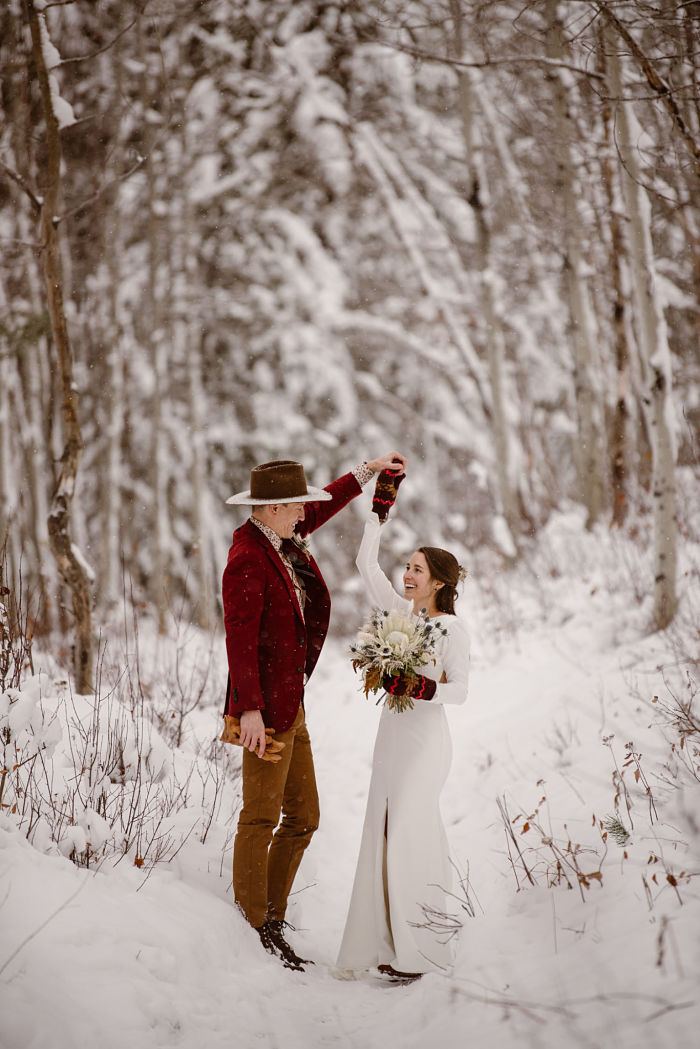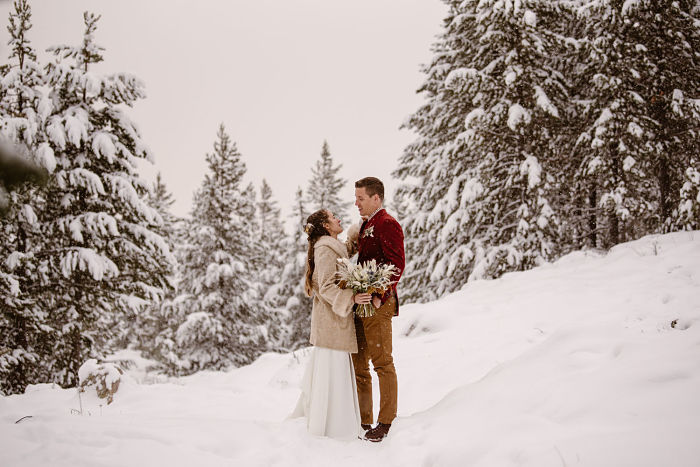 A Wedding Hike Through Enchanting
Snowy Forests
As it is one of their favourite activities, Morgan and Luke chose to hike through the forest together to enjoy each other's company before arriving at the ceremony with all of their friends and family.
For them, choosing to partake in an activity they love during their wedding gave it a more personal feel and allowed it to be much more enjoyable between them both as their special day.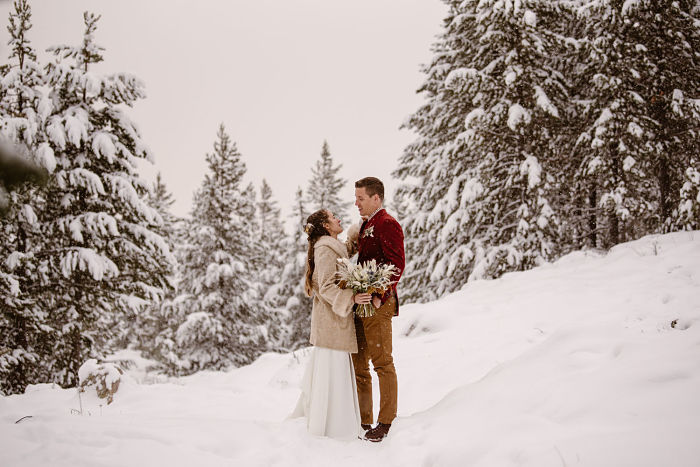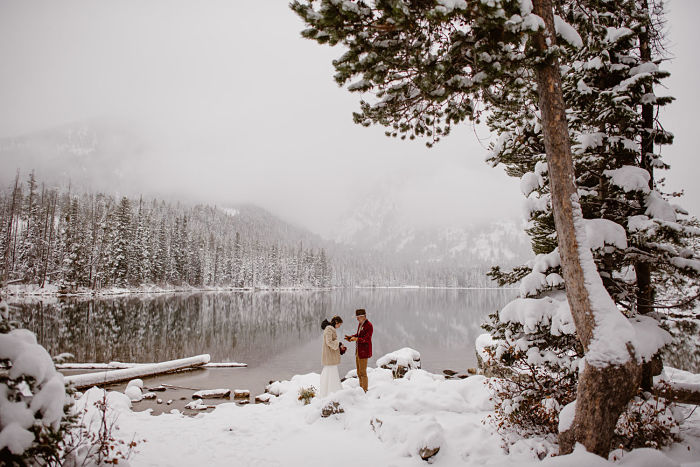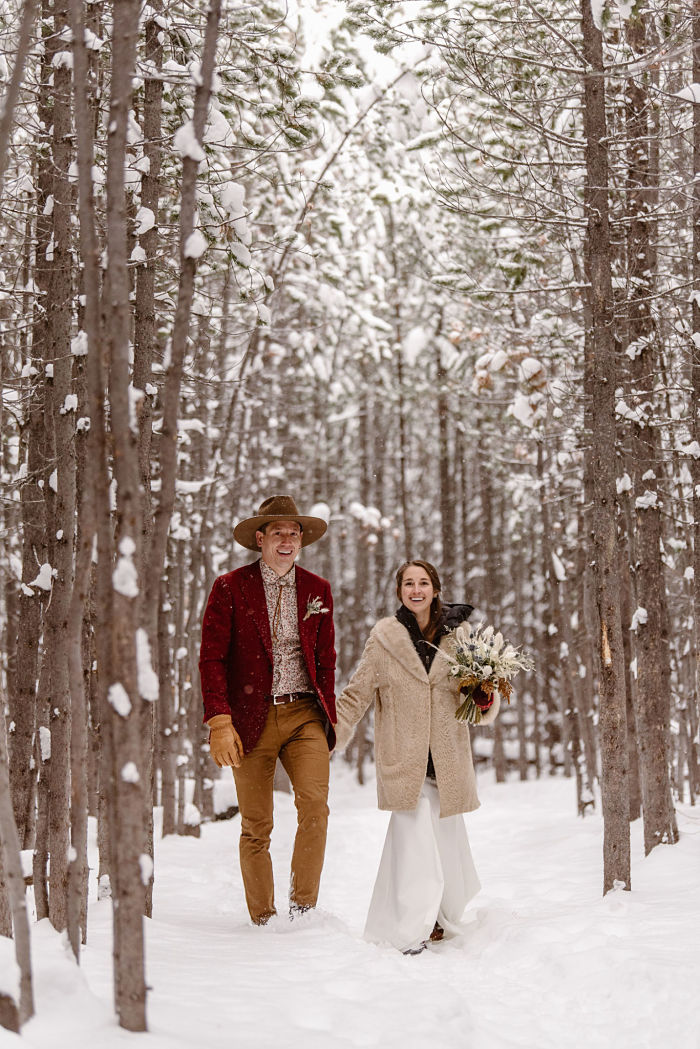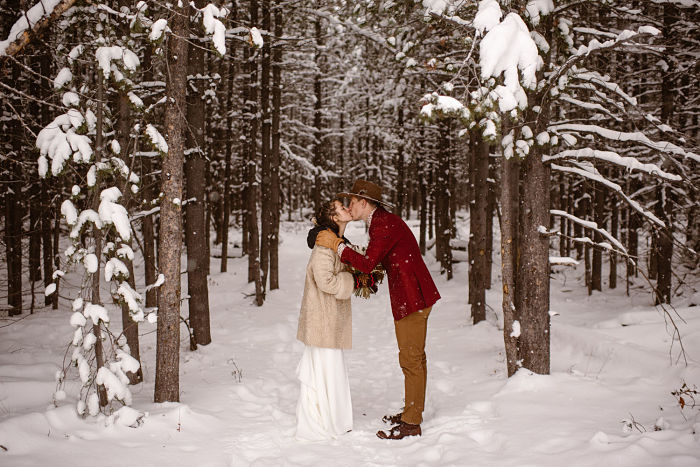 Wedding credits:
Photography: Adventure Instead // Event design: Morgan & Luke // Wedding Planning: Morgan & Luke // Floral Arrangements: Lily and Co. // Wedding dress: Sarah Seven // Hairpiece: Custom From Malleret // Hair stylist: Tanya Crocker // MUA: Tanya Crocker // Groom's shoes: Red Wing Shoes