There are many places where to celebrate weddings and in the Valencian Community we are fortunate to have exceptional facilities. It is not possible to choose just one place, so we have gathered some glamorous places where to have wedding celebrations in Valencia, dreamy decorations for a classic, rustic, industrial, etc. wedding.
The most beautiful farmhouses in the Valencian Community, Spain
The Masia is a type of country building, very common in the east of the Iberian Peninsula and the south of France, which has its origins in the ancient Roman villas. We have selected three of classic and romantic style that we love! 
Masía Campo Aníbal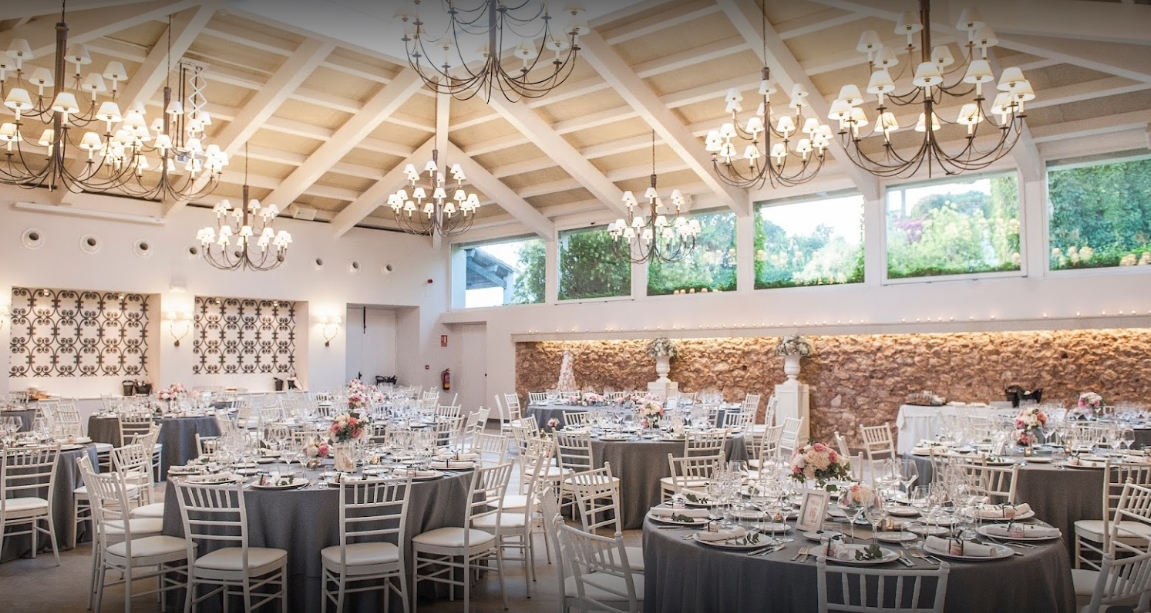 It is located in Puig de Santa Maria, 21 km from Valencia airport, and during the years 1905-1910 the current architectural complex was built and the area was formalized as a farm for agricultural use. 
The Casanova family purchased the property in the 1930s and since then four generations of the family have been committed to the site and its preservation. Without a doubt, this is a unique venue for your wedding whether your guest list is short or very long, as it can accommodate between 50 and 800 people.
Masía San Antonio de Poyo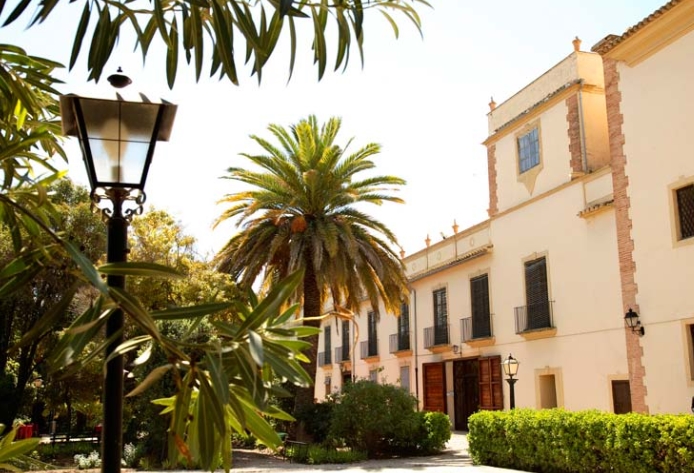 Masía San Antonio de Poyo is located in Ribarroja, just 10 minutes from Valencia. It is a typical Valencian farmhouse of the XVIII century that, like the previous ones, is surrounded by orange trees.
The entrance gives access to an inner courtyard that communicates directly with the house, which makes for many great spaces for weddings. For example you can have the ceremony in the inner courtyard, later the cocktail in the garden and finally the meal in the tent.
The greenhouse has windows on the sides and on the front, from which you can see the garden, and is also prepared to accommodate up to 450 people. And, as we have already mentioned before, the wide variety of spaces available, the fact that they celebrate only one wedding per day and that there is no exclusivity in terms of suppliers (which is quite important so that you can choose the ones you like the most), make this the ideal place to celebrate your wedding. 
Menu price: from 97€.
Masía Villa Rosita o Huerto de Montesinos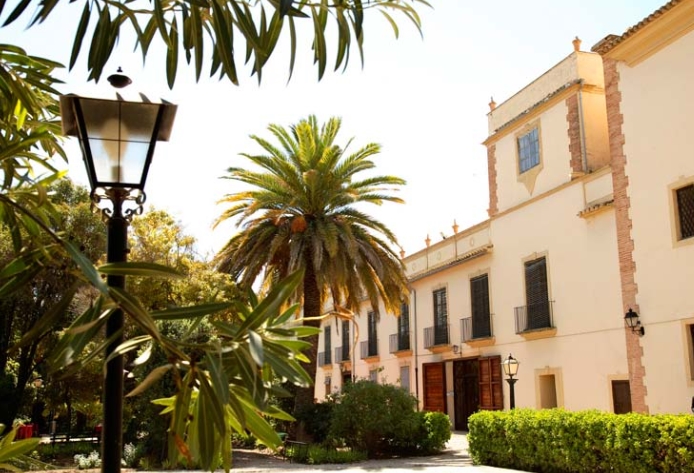 This farmhouse with a capacity of 200 guests is an 18-minute drive from Valencia airport and 20 minutes from the city center. The main building, centered on an area of 8 hectares, is certainly outstanding and its main entrance, surrounded by cypress trees, leaves no one indifferent.
Valencia's most unique hotels and buildings for weddings
If you want to stay in the city, a great option is to celebrate your wedding in a hotel with a very cosmopolitan atmosphere. If you are not going to celebrate a religious wedding you can give the long-awaited "I do" in its facilities, you just have to think about how you want to decorate the civil wedding. Some of the venues where you can celebrate your wedding in Valencia are the following: 
Hotel Balneario Las Arenas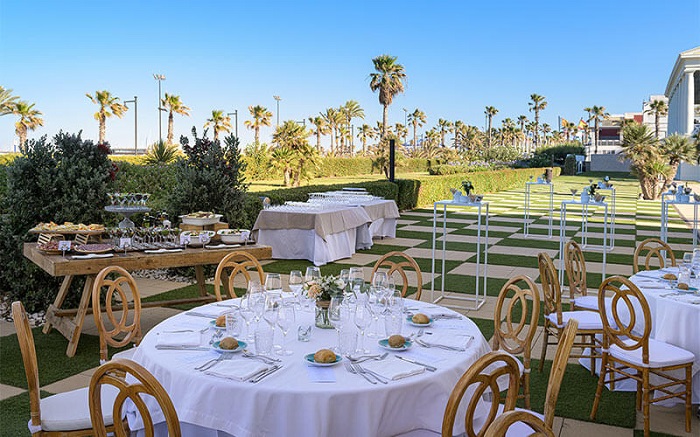 The old Balneario Las Arenas, founded in 1898, has been converted into a luxury hotel. And they have all the services, equipment and furniture for events that you need with stunning views of the beach. 
It also has a restaurant and terrace, as well as a large garden, outdoor pool, heated pool, several rooms for events and events with capacity for 500 people (minimum 100). It also has a large spa with steam bath, jacuzzi, relaxation rooms, beauty salon … And it is only 30 minutes from the airport!
Menu price: from 110€.
Hotel The Westin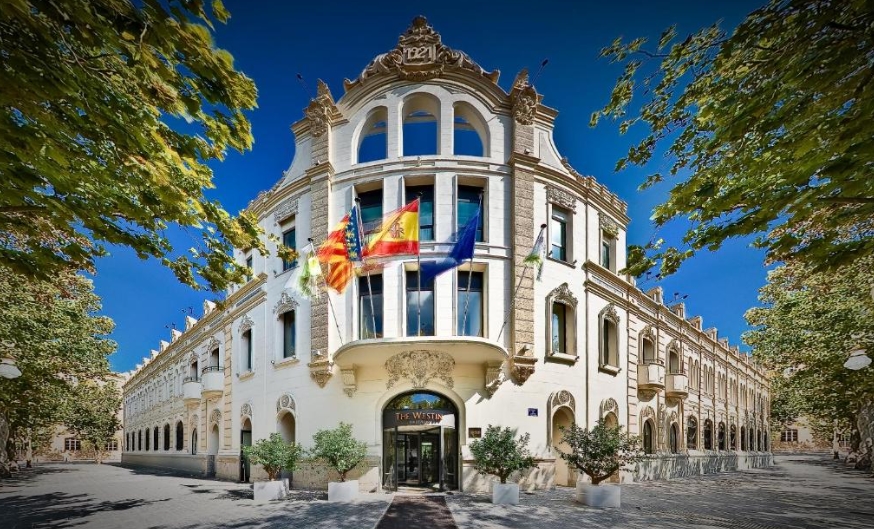 The Westin Valencia is only 7 minutes from the city center and 20 minutes from the airport. A Hotel that will make sure you can enjoy your big day without stress or worries because they have a plan B for any problem that may arise.
They have a perfectly prepared hall for the event located in one of the most iconic buildings in Valencia and a unique Mediterranean style garden. At The Westin Valencia you and your guests will live a memorable experience that will make you all satisfied and happy for having been able to share this great day together.
Casino de Agricultura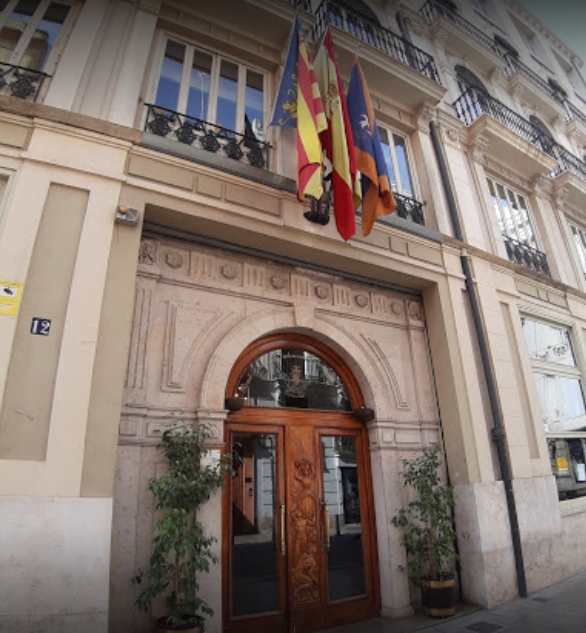 It is located in the center of the city. The atmosphere of the beautiful rooms, the marble staircases and the library transports us to the middle of the last century. And the view from the penthouse terrace will surely amaze your guests.
La ciudad de las Artes y las Ciencias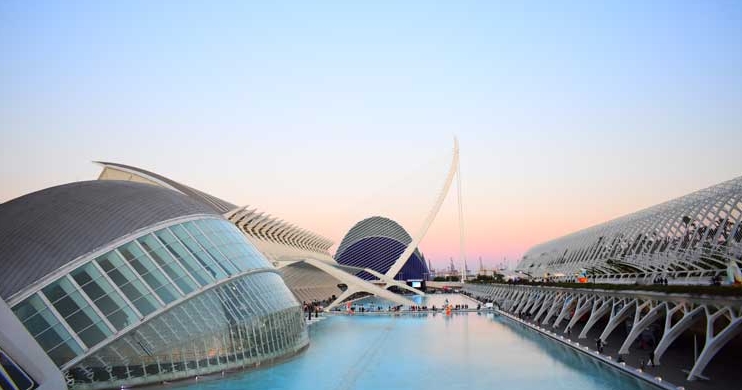 Its design began in 1996 and represents the most important construction of Valencia in the 21st century. It has a very large capacity, so there will be no problem if your guest list is very long. 
A composition of six wonderful buildings where you can enjoy nature, science, culture and art, and is only 18 km from the city's airport.
Unique wedding venues in Valencia
Normally, most couples look for hotels or halls for their wedding, and due to the large amount of outdoor spaces that are offered, the spaces that couples love are those with more natural space for civil weddings and cocktail parties. Some very famous places to celebrate weddings in Valencia are:
Jardines la Hacienda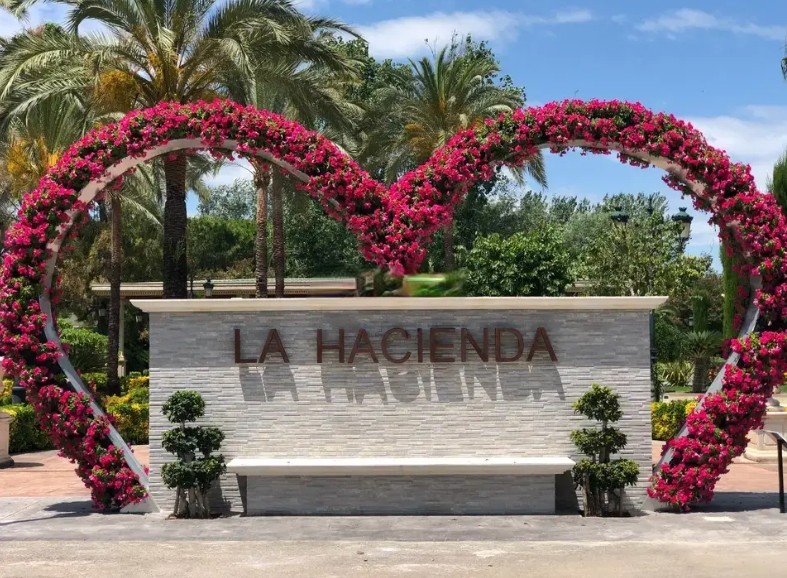 They are located in El Puig, 15 km from Valencia, surrounded by orange groves with beautiful manicured gardens. It will be difficult to choose between their venues: Granada, the Alicante Ibiza Terrace, Valencia, Tropical and Cibeles, which can accommodate up to 600 guests!
Rex Natura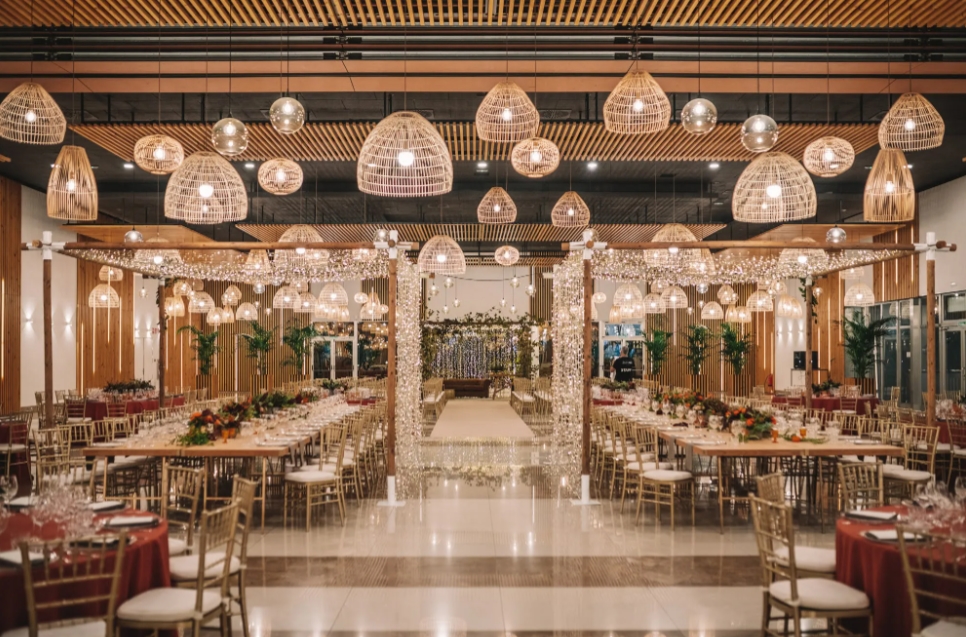 The REX Group has more than 20 years of experience in the hotel industry. It is located in Alzira, 30 minutes from the city and the airport and the variety of each of the rooms make you can make a dream wedding in a cozy, modern and with a first class cuisine.
It has different spaces in which to hold all kinds of events, depending of course on the number of guests (between 10 and 1,200). For example, the cocktail party can be held in the garden and the lunch and final party in one of the closed tents or halls.
In addition, they have recently completely renovated the main hall, which is now a minimalist and very natural place.
And in case you're wondering…there's no exclusivity in terms of suppliers either!
Menu price: from 60€. 
Jardines La Cartuja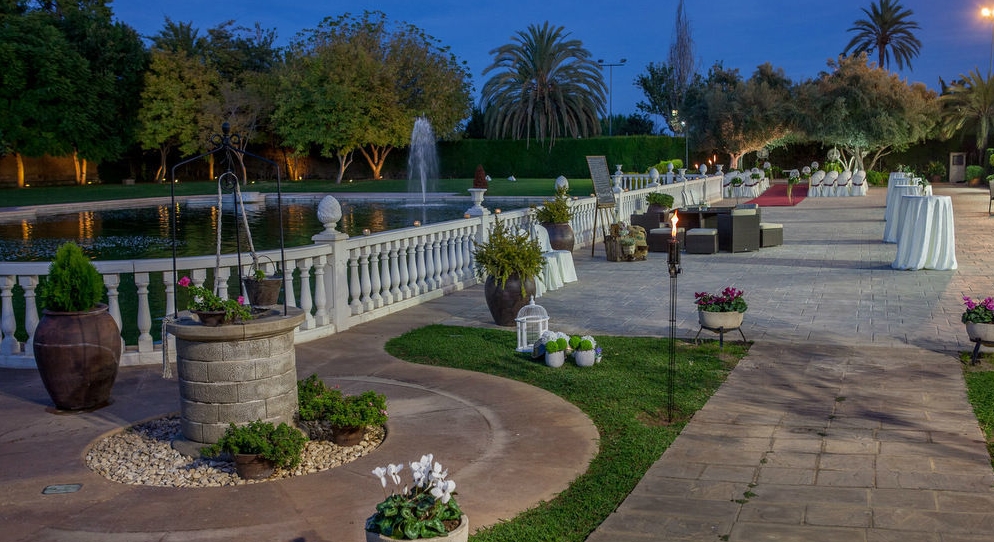 Declared of Cultural Interest by the Generalitat Valenciana, built in the seventeenth century and located in a wonderful natural environment, 23 km from Valencia airport. 
This space is a unique place to celebrate weddings, with many perfect corners such as the Ara Christi Hall: for 250 people, with a modernist style, large windows and spectacular views of the Church of La Cartuja; or the Orangerie Hall, which has a capacity of 400 people, and from it you can see the gardens of La Torre and San Bruno. In addition, in its garden you can celebrate from ceremonies to the final banquet, including appetizers and cocktails in a beautiful setting with architectural elements, such as the Noria de los Palomos or the Torre Mudéjar (Mudejar Tower).
Salones Mar Blau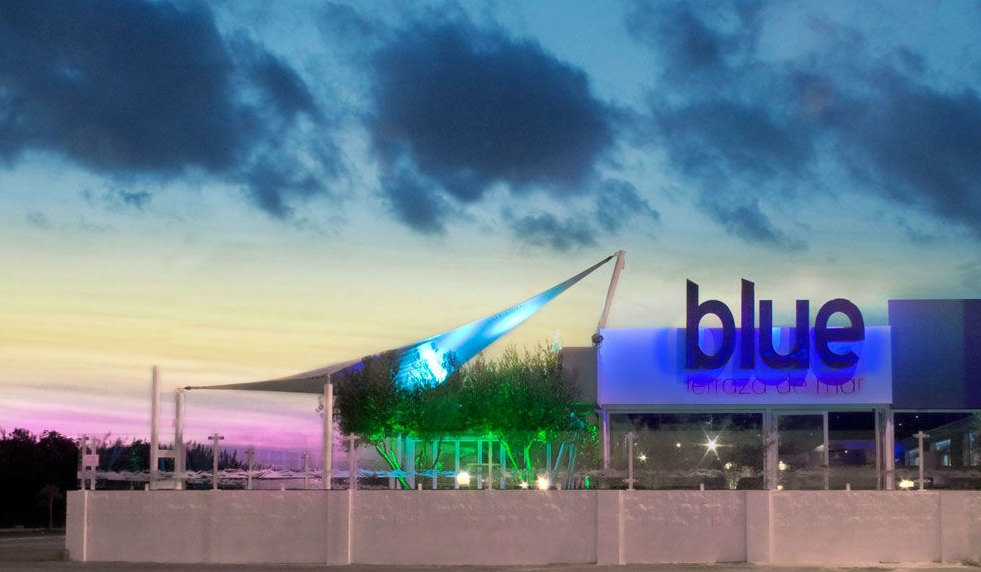 This space has a very good reputation which is characterized by the professionalism and the great service they offer. These halls have 5.000m² and are located on the beachfront. This place offers wedding halls that will surprise you by the details and extensive and modern equipment. 
It will also delight you with an avant-garde design that will not leave anyone indifferent. They offer a wide variety of options for wedding celebrations in Valencia, from outdoor weddings to large indoor spaces where you can spend this special day with your family and friends.
The most romantic farmhouses you will find in Valencia
The Arabic word "alquería" refers to small rural communities located near villages. Unlike a farmhouse, an alquería has a farmhouse and an estate. If you are looking to celebrate a wedding in the countryside, here are some interesting options.
Alquería El Machistre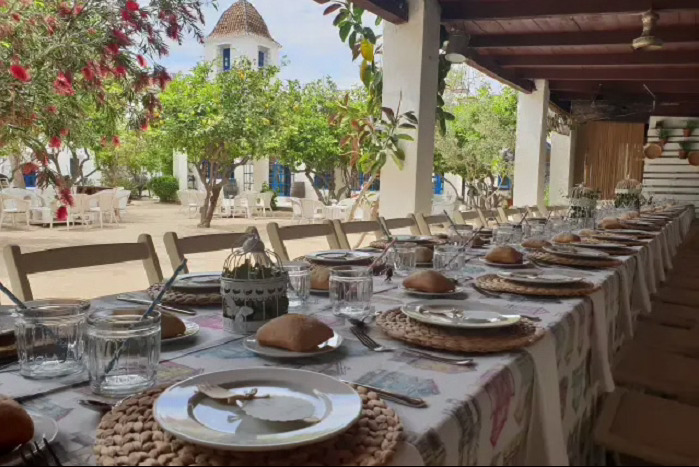 It preserves the cultural, agricultural, architectural and culinary memory of the Valencian Gardens. The perfect place to decorate your wedding with vintage furniture made from recycled materials. It has rooms for banquets, terrace, garden area, kitchen and an area for dancing. This space has a capacity for 150 guests and is located 16km from Valencia airport and 10km from the city center.
Más Les Lloses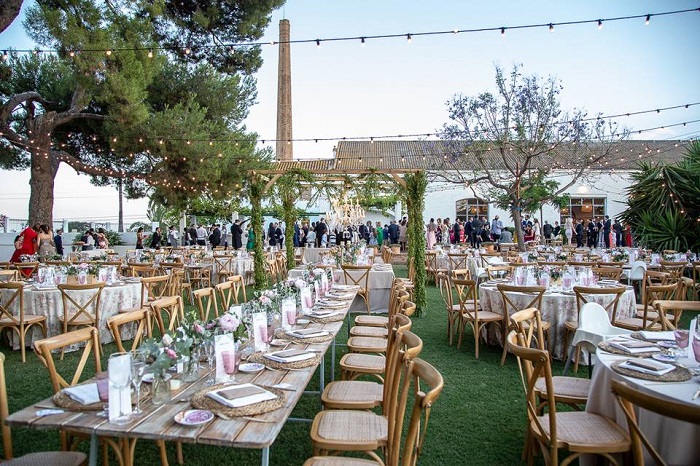 Located at the foot of Mount Picayo, it is a beautiful farmhouse from the early twentieth century, surrounded by orange groves located at the foot of Mount Picayo, between Puzol and Sagunto, 20 minutes from Valencia. If your idea is to celebrate an industrial style wedding, you will surely love it, it is perfect to celebrate civil ceremonies in the setting of your dreams. 
It is located half an hour from Valencia and the airport. An old industrial-style warehouse is fitted out as a hall, ideal for parties of up to 250 people; as well as large outdoor areas (350 diners), surrounded by orange trees, where the newlyweds can choose different spaces to celebrate the open bar, the banquet, the ceremony and the cocktail.
Menu price: from 96€.
Alquería del Pi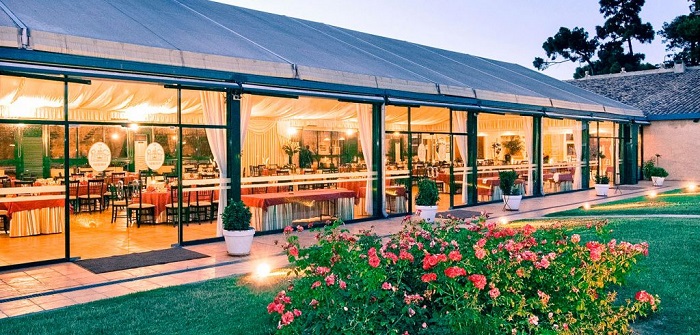 It is a traditional 19th century Valencian house surrounded by 7000 square meters of poplar groves, gardens, fountains, trees… The facilities of this property have all the necessary amenities for the celebration.  It has an air of Italian Tuscany villas, with a sober furniture and canvases as decorations.
By having certain spaces specially designed for civil ceremonies, you will be able to celebrate this one there. A great point in favor of this space are its professionals, the treatment they give to the customer is excellent and close, which makes all the weddings held there are tasteful and magical.
The capacity of the Alquería is 600 people for the cocktail reception and 400 for the banquet. It is also located just 10 minutes from Valencia airport and 20 minutes from the city center.
Finca Galim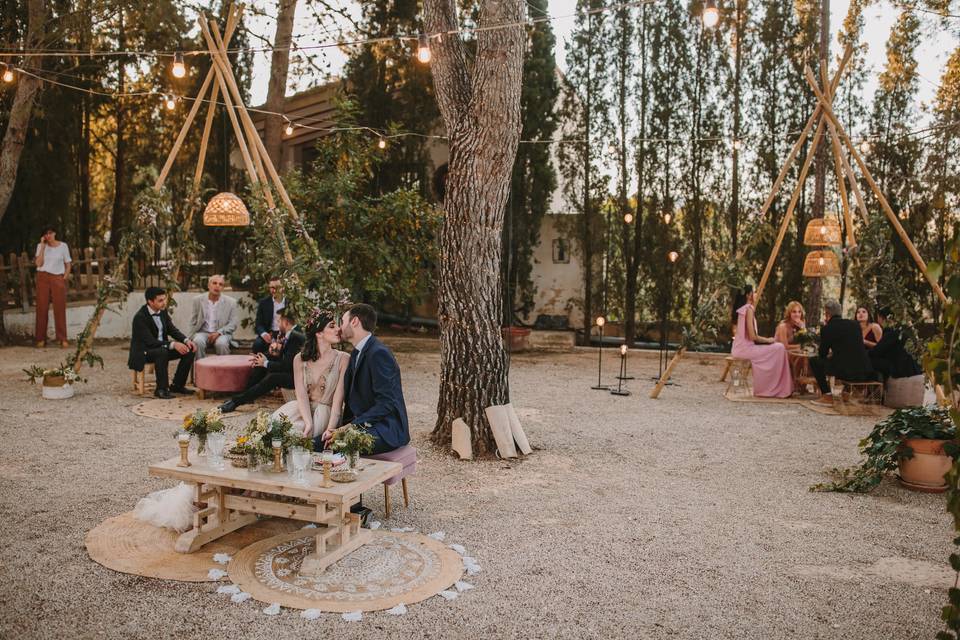 Located 1 hour from Valencia and the airport, this is a historic venue perfect to celebrate a charming wedding. It was built in the thirteenth century but has been completely renovated to host various events. 
It also has spacious gardens for weddings or photo shoots, perfect for civil weddings and religious ceremonies; banquet halls; marquee; chapel; dance area; terrace, etc. It is also managed and directed by the experts of Boheme Sensations, who will not overlook any detail and will make the celebration a success.
Number of guests: between 80 and 350.
Menu price: from 92€.
The most impressive castles, monasteries and palaces to celebrate your wedding in Valencia
We offer you three locations that seem to be taken out of a fairy tale that you will surely fall in love with.
El Castillo de Torrefiel
This castle is located in the Alforins Valley, 1 hour from Valencia and its airport. And although it seems mission impossible to celebrate a wedding in a castle either by the price, etc., Torrefiel Castle opens its doors making this impediment disappears. 
A seductive atmosphere will envelop you wherever you are, both outside, with the beautiful views and large gardens, and inside, where huge spaces perfect for banquets attract attention. These areas can accommodate between 120 and 300 people and the catering of the space is run by the brothers Joaquín, Prieto and Santiago, who only accept the best products on the market and make their dishes unique and excellent.
Menu price: from 85€.
No. of guests: between 120 and 300
La Cartuja de Ara Christi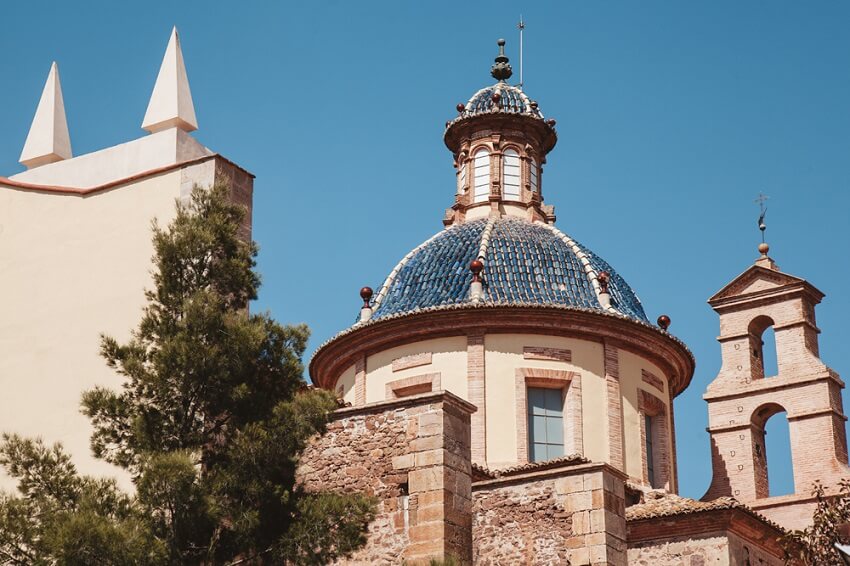 Built in the seventeenth century, declared of Cultural Interest and protected by the Heritage, is undoubtedly one of the most exclusive spaces for social events in the Valencian Community. It has several impressive spaces for the celebration of your big day. 
It has different spaces of which one is covered, (which makes the Cartuja a perfect place for both winter and summer weddings) and a separate area perfect for parties. It can accommodate up to 580 guests and is located just 20 minutes from the airport and 30 minutes from the city center. 
Menu price: from 124€.
Vallesa de Mandor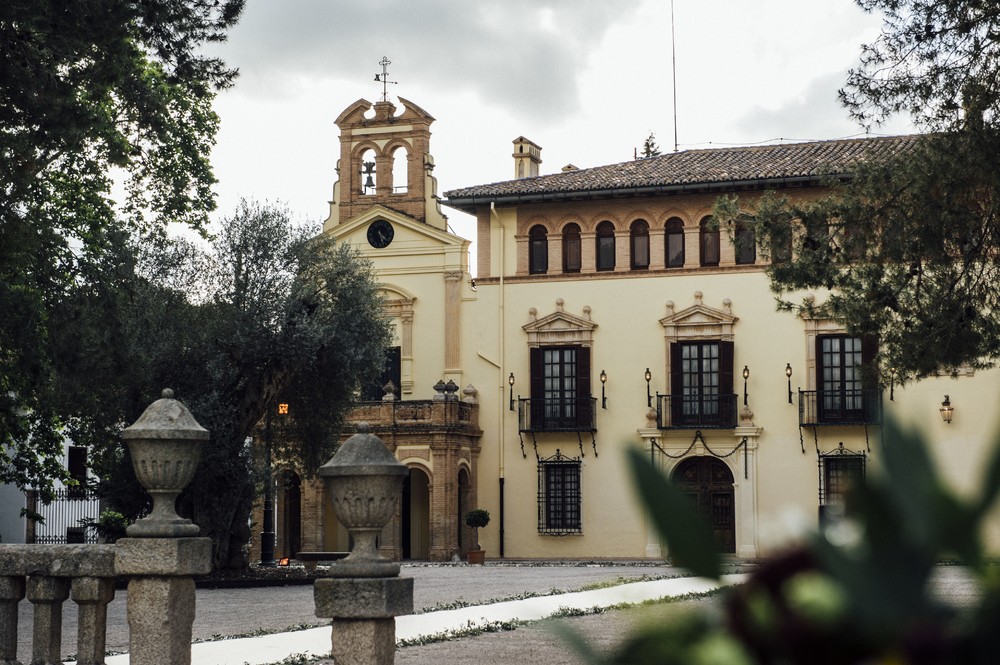 Undoubtedly, if you visit this place, you will fall in love. La Vallesa de Mandor has one of the best views of Valencia. This imposing structure dating from the eighteenth century, surrounded by orange groves and orchards, was the residence of celebrities such as King Alfonso XII. 
It is a perfect place to celebrate outdoor parties and different types of corporate events, with a capacity to host up to 380 guests and it is located 30 minutes from downtown and very close to Valencia airport, just 20 minutes away!
Menu price: from 109€.
The most unique natural wedding venues in Valencia
Whether you are looking for nature in its purest form, want to celebrate a wedding by the sea or take pictures during a boat ride, here are two perfect options.
Nou Racó
A space in a unique enclave in the heart of the Albufera Natural Park of Valencia, just 18 km from the city center and 25 km from the airport. It has 2 outdoor areas: Fabulous Ullal Garden with an area of 1018 m2 and a capacity of 600 people in the form of banquet. 
It has a terrace with beautiful views and inside there are 9 different areas, each with a different size and capacity. All are distinguished by their contact with nature and are equipped with the most modern services and amenities. The largest room is the Ullal, with a capacity for 350 people in the form of a party and 420 in the form of a cocktail. 
Menu price: from 89€.
Barraca del Palmar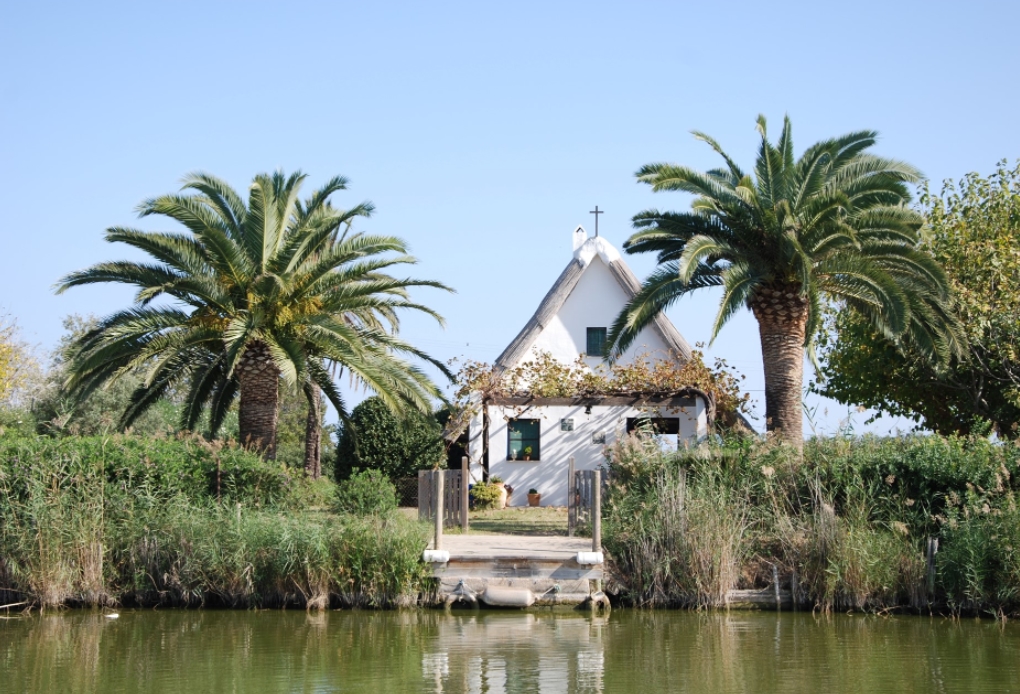 It is a traditional Valencian house that has been restored so that you can celebrate your wedding in a familiar and magical environment. It is located, like the previous one, in the natural park of the Albufera and has a capacity of between 80 and 180 people.
It also has a private dock, its own kitchen, garden, outdoor party tent and a playground for the little ones.
Menu price: from 87€.
Public natural areas
There are also couples who want to get married on the seashore or in the heart of the forest. If this is your case, you will only have to ask for permission from the local town hall.
Did you like these sites and do you think any of them could be ideal for your wedding?
Finally, take note of the best professionals for every aspect of your big íday in Valencia.