In this island we find a total amount of 262 beaches, of which we are going to mention the best beaches in Mallorca, to make it easier for you to choose a day at the beach. 
Surrounded by turquoise waters and large pine forests, the beaches of the largest of the Balearic Islands will surprise you with long sandy beaches of about 50 km and small coves. Do you think you can resist? We put you to the test in this article.
Best beaches in Mallorca. Cala Agulla
This cove is a beautiful beach completely surrounded by mountains and pine trees, located in the municipality of Capdepera, about 80 km from Palma. We will find crystal clear water with clear blue tones, a perfect place to go swimming or practice all kinds of water sports. We also have routes to walk to Cala Mesquida or Cala Moltó, where nudists usually go. We also find a small bar inside the beach and a parking lot for accessibility by car if desired. To arrive we use the road from Manacor to Capdepera and leave in the direction of Cala Ratjada. 
Best beaches in Mallorca
.
Cala Santanyi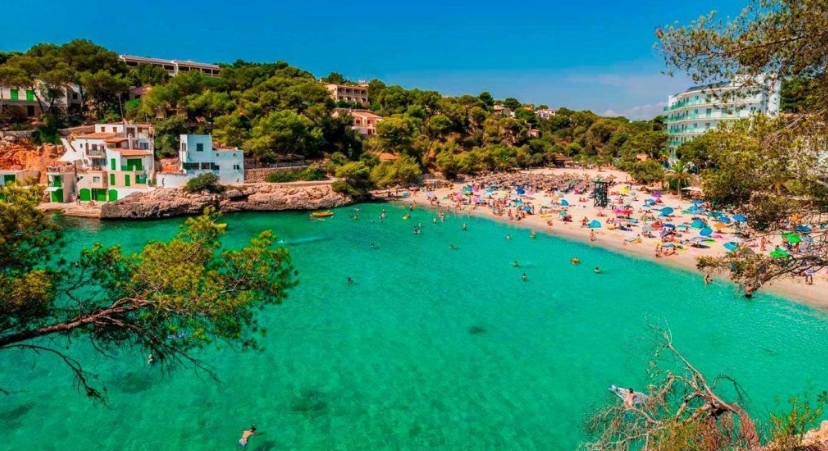 Fine white sand, turquoise waters and warm Mediterranean breeze are the reasons why Cala Santanyí is one of the most popular and best beaches on the southeast coast of Mallorca. Surrounded by pine trees and rocky coast it has villas and hotels all around. Being so well known, it is usual that it is more crowded in the summer season. You can also rent hammocks and practice all kinds of water sports such as kayaking, diving or paddle surfing. Don't forget to visit Es Pontàs, just after the beach, as it is a classic among the residents of Mallorca. 
Best beaches in Mallorca.
Camp de Mar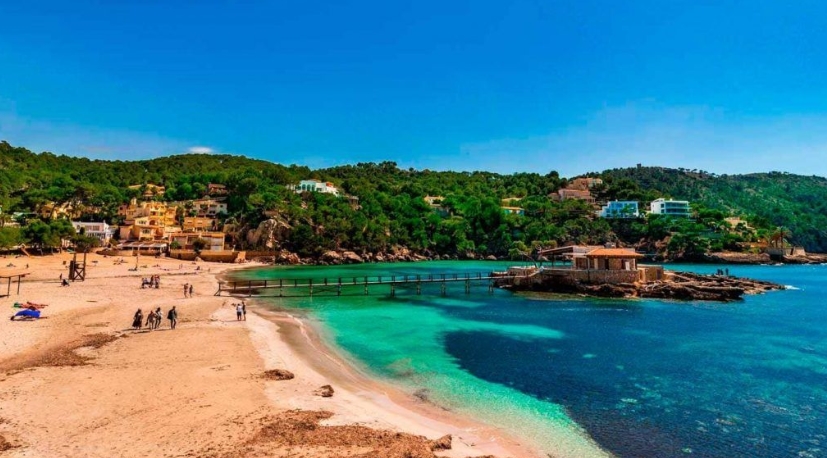 This beach in Mallorca is surrounded by villas and luxury hotels, it is one of the most paradisiacal beaches you can find in Mallorca. With its turquoise waters, fine white sand and spectacular views of the island's landscape makes this beach a stunning place to celebrate your big day. A captivating wooden bridge connects Camp de Mar beach with La Illeta, a charming restaurant located on a rock about 20 meters from the beach. Also, as in the previous beach, showers and sunbeds are available for rent. 
Best beaches in Mallorca.
Port de Pollensa
Long, cozy and with very good conditions to practice countless water sports are the characteristics that most define the beach of Port de Pollensa. People who know it well say that it is one of the best areas of the island for surfing, as there is a great impact of the wind, perfect for the most lovers of this sport. It also has very good restaurants and stores. All kinds of artists, both poets and painters, have been inspired by the port of Polleça to capture it in their works. 
Best beaches in Mallorca.
Es Carbó
If what you want for your wedding is an unspoiled beach, Carbó is ideal for you. It stretches for one kilometer along the southern tip of Mallorca, is surrounded by protected sand dunes and has quiet and cozy sea views. Being relatively more remote than the others, it is less crowded with tourists, although we advise you to bring supplies as you will not be able to find any facilities near the beach.
Best beaches in Mallorca.
Cala Mesquida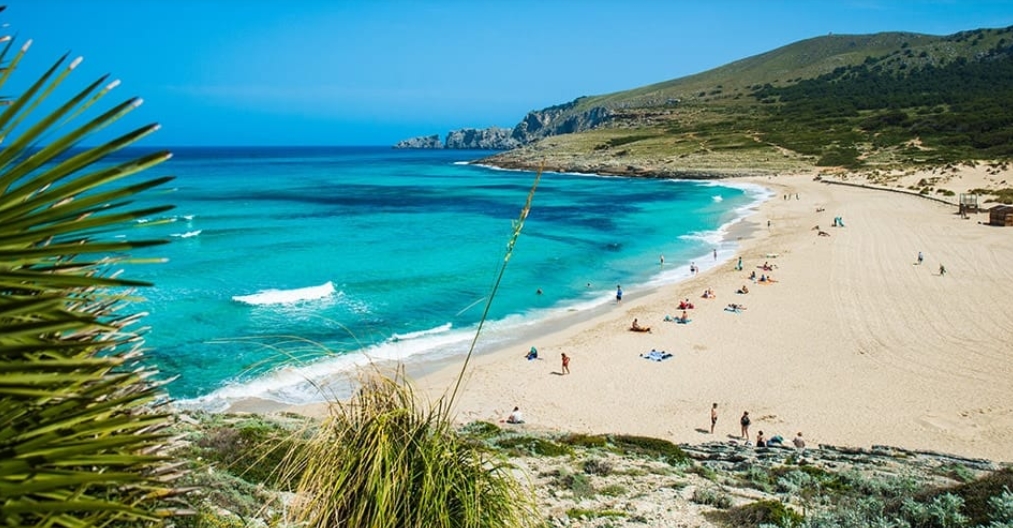 This beautiful cove is located six km north of Cala Ratjada and has views that make it one of the most beautiful beaches in Mallorca. It offers all kinds of facilities and services to make the experience as comfortable as possible. There is a watchtower on top of a hill that offers views of the entire beach and the urban part of it. Having such fine sand makes it one of the most comfortable beaches when it comes to strolling along it, it is also one of the few where surfers usually catch good waves. 
Best beaches in Mallorca.
Es Trenc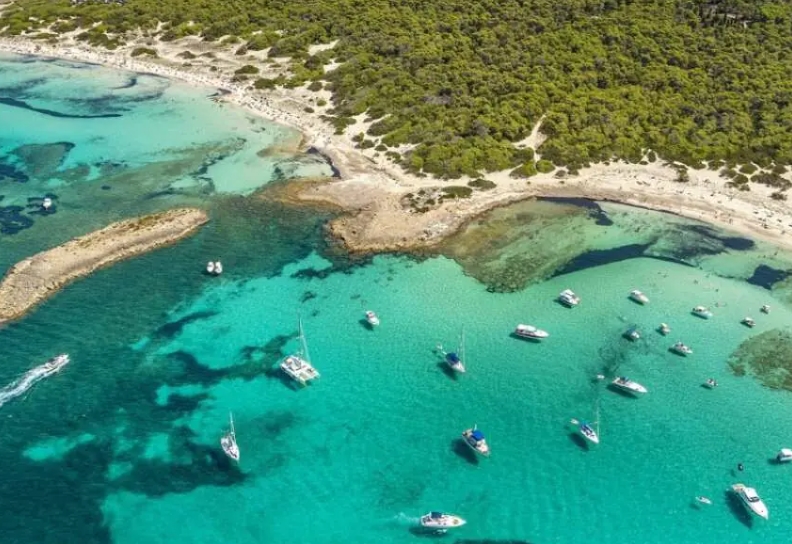 It is the longest virgin beach that we find in Mallorca, with 3.5 km. The highlight of it is its fine white sand and the turquoise color of its waters, very similar to those we would find in the Caribbean. The beach has two beach bars where we can buy refreshments and snacks where they play modern chill-out music. The only drawback of this beach is that it is not equipped with sanitary facilities or showers, and it tends to get very crowded in high season, especially on Saturdays and Sundays. It has, on the other hand, a totally free but limited parking, but has an additional paid parking. If you drive through Campos follow the signs to Santanyí. Just after leaving Campos there is a sign on the right indicating where Es Trenc is located. 
Best beaches in Mallorca.
Cala Varques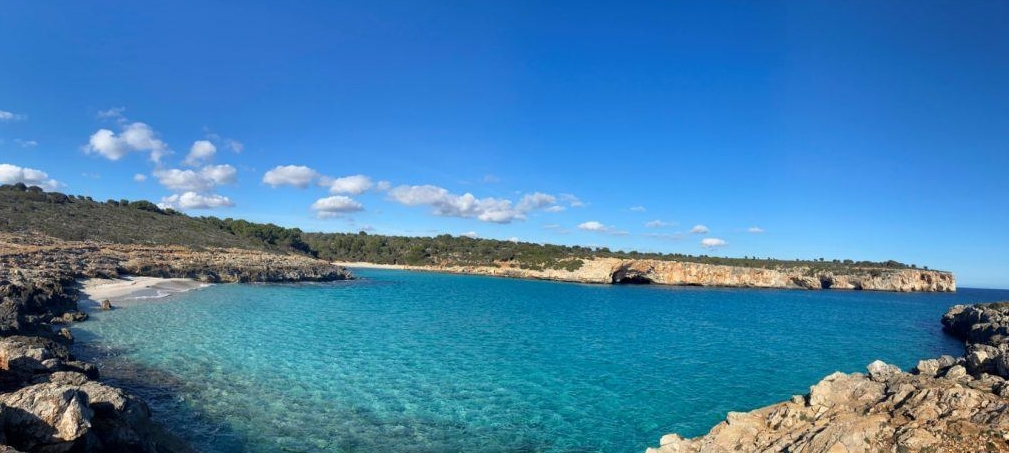 The beach of Cala Varques is formed by an exclusive cove. It is located on the east coast of Mallorca, near the Calas de Mallorca, not very easy to find, which makes it much more special. If you park in the street lane that leads to a large metal gate, walk for 15 minutes next to the pine trees and you will easily reach the cove. As a reward you will observe its crystal clear turquoise waters and the tranquility that the cove offers. 
Best beaches in Mallorca.
Torrent de Pareis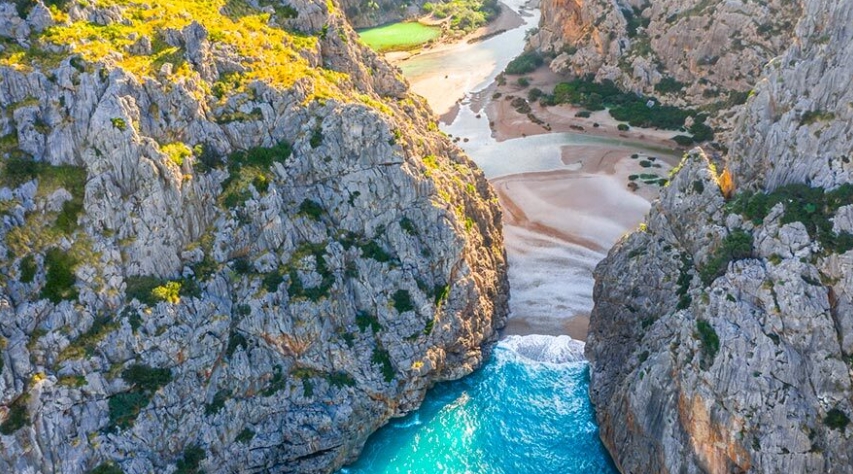 One of the most unusual beaches you will find on the island. To get there you will have to go through one of the most spectacular roads in Spain, a work of engineering that saves the unevenness of nine hundred meters, full of curves. Two beaches compose it, the cove of Sa Calobra and, after passing a pleasant path and a cave, Torrent de Pareis, a beach that seems to be taken from the imagination of Jules Verne. This one crosses the entire Tramontana mountain range, facing the beautiful Mediterranean Sea. 
Best beaches in Mallorca.
Caló des Moro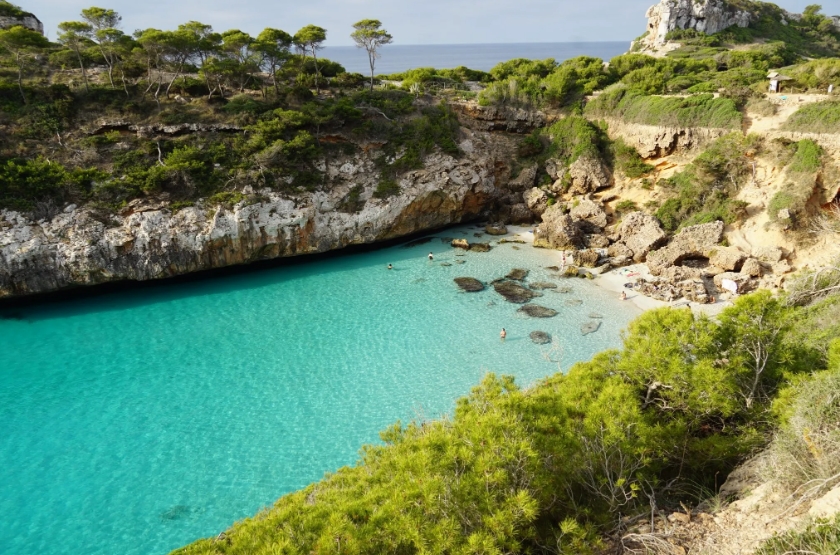 It forms an entrance to the sea in the form of a corridor that makes it the closest thing to a pool in the sea. Its access is not easy to say, but the cliffs, pine trees and white sand make this cove worth every second it takes to reach it. Everyone wants to visit it, so in the months of July and August it is necessary to get up early to be able to get a good position on the sand. 
Best beaches in Mallorca.
Cala Tuent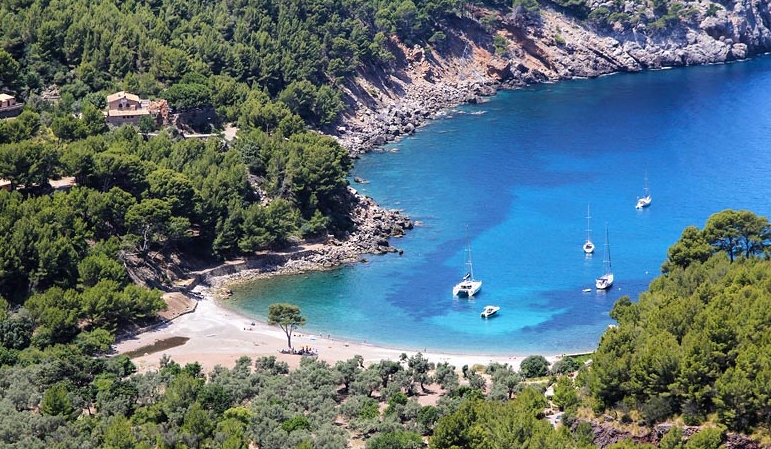 Located in the Sierra de Tramuntana, to reach this cove you have to follow a winding and narrow path, but in which it is worth every step you take because it is at a striking height of Puig Major and surrounded by pine and olive trees. A must for people who still believe that Major is similar to Magaluf.
Best beaches in Mallorca.
Playa de Formentor

Located near the Port of Pollença. Next to the famous Hotel Formentor, which has served as accommodation for great people known as Chruchill, Octavio Paz or Josep Pla, personality and beauty can be found on this beach overlooking the bay of Pollensa. Pine forest that reaches the fine sand of the beach, so there will always be shade. This one and a half kilometer beach is divided into the areas of L'espigó, La Veranda and Platja Mar. 
Best beaches in Mallorca.
Cala Fornells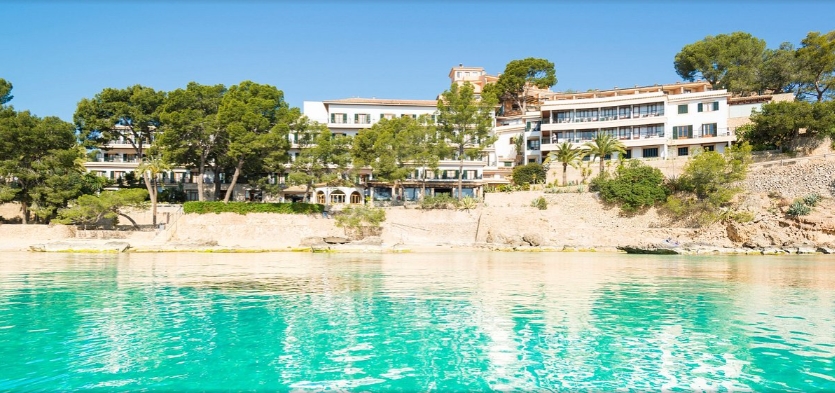 Juan de Borbón used to anchor his yacht in this cove. Its accommodations, restaurants and hotels occupy the seafront of a lively coastal promenade full of all kinds of amenities. It is also full of thick pine trees and turquoise waters, with a reputation for being a very quiet beach. A few meters away we find the alternative of the neighboring Caló de ses Llises.
Best beaches in Mallorca.
Playa de Sant Joan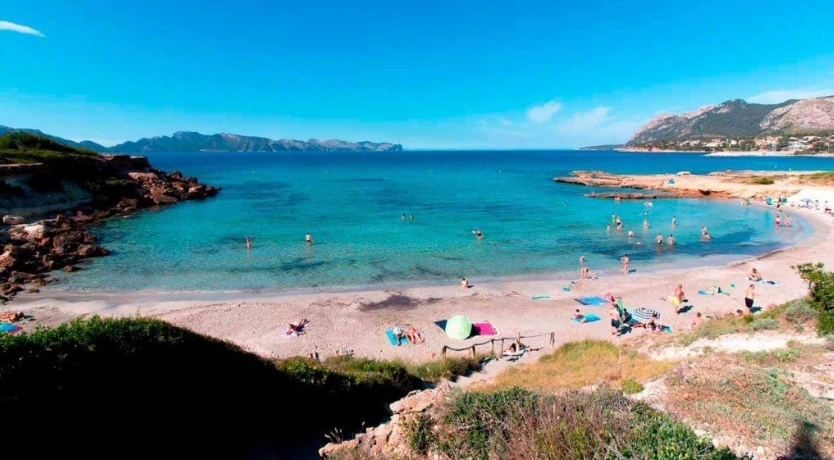 This small and charming beach is perfect to visit as a couple. With a crescent shape, it is a beach that is usually filled with ease (try not to go on weekends). It has an impressive sandy bottom, you can walk 50 meters until the water starts to cover you. It offers all kinds of services of hammocks, lifeguards, beach bar … Wonderful views of the bay of Pollensa, Formentor and the mountains of Victoria. 
If you want to visit this spectacular beach we recommend a walk from where you park at the top along a path that runs along the coast to the beach of es More Vermell. This way you will be able to contemplate the wonderful views of the area, an old sandstone quarry and an old bunker. 
Best beaches in Mallorca.
Playa de Alcudia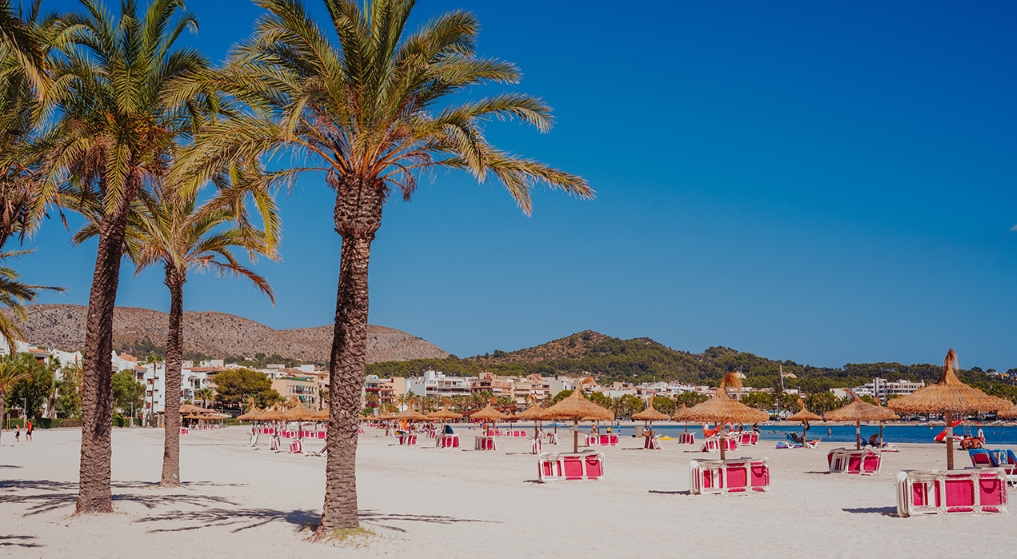 This beach is one of the best beaches in Mallorca, fully equipped where you will not miss any detail. It offers showers, beach bars, toilets, sunbeds and umbrellas, boat trips…
The area at the beginning of the beach is not recommended, as it is near the marina and the water is worse. The area between the Vanity golf hotel to the Alcudia Paradise is very popular with tourists staying in these hotels. We recommend taking a boat trip in Alcudia, either on a catamaran or a boat with underwater vision, as there may even be dolphin sightings!
Best beaches in Mallorca.
Playa de Es Caragol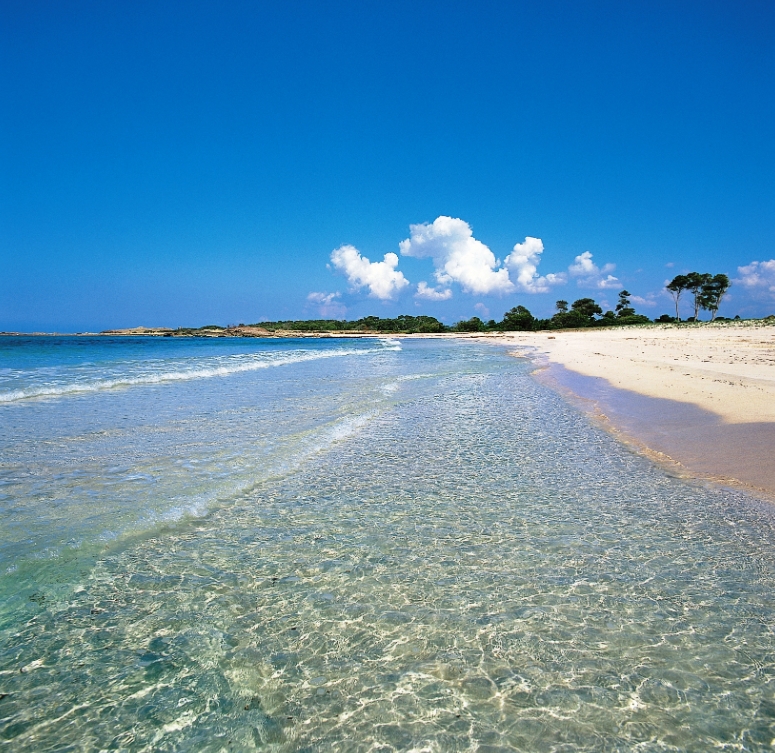 You will have to walk to get to this beach, but every step you take will be worth it, I assure you. You will find a completely wild beach, with fine sand and dunes behind the beach. It is a very quiet beach which is nudist but many people come dressed. 
Our recommendation, if you like spas, you will find in this area the Fontsanta Thermal Spa, which has unique thermal waters. They have different packages to choose from so you can spend a very pleasant afternoon with your partner.
Best beaches in Mallorca.
Playa de El Mago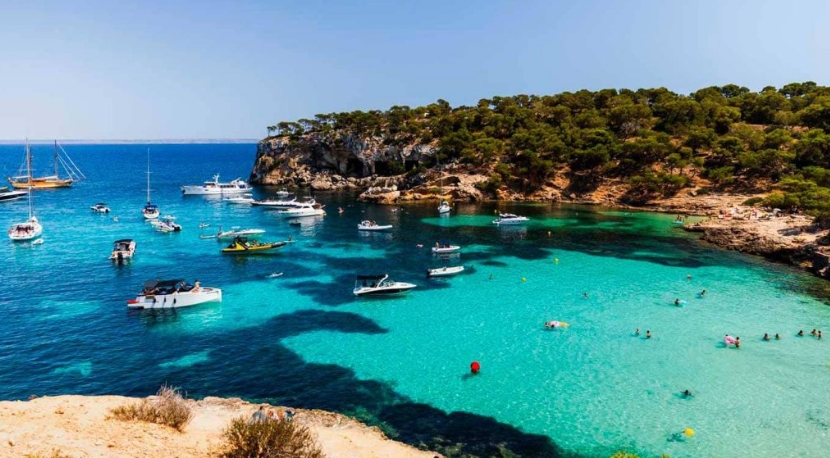 One of the most famous nudist beaches in Mallorca, so it is quite exploited by tourists who want to go. Logical, since it is quite worth a visit. You can also visit the surrounding beaches in Cala Portals Vells. You will find the beach of the Rei or the cove of Portals Vells. They are small coves with fine sand and beautiful waters. 
Everyone is different, so everyone has their own favorite beach. Some beaches become more visited by tourists, and others that were more famous become more intimate beaches. That is why we encourage you to investigate this island and tell us which one is your favorite beach. 
If you have any questions or want to know more about the beaches of Mallorca, do not hesitate to contact us in the Perfect Venue directory.