We know how important the choice of venue is for the bride and groom, this is one of the most important decisions to be made for the celebration of a wedding. It is clear that this will define the style of the wedding which will make it a very personal wedding.
We like to say that the beautiful love story will be remembered and narrated through the images of that day, hence the importance of the details.
We believe that Galicia can be a perfect place to celebrate your wedding, you can make this moment unique and different.
You can think of incredible things like the bride arriving in a boat on the Miño River to the pier where the groom would be waiting for her.
We believe that Galicia should be noticed and that the bride and groom should start to think about having their wedding in these places full of nature and that it should serve as a source of inspiration. We are certainly happy to organize everything the way the bride and groom like it best.
Imagine a wedding at all conventional, because this could be achieved here in Galicia, something that in another Autonomous Community could not be achieved. Put yourself in the situation and your wedding would start at the Luisa Rubines River at the pier, and accompany it with a walk along the Camiño de Inverno and end the ceremony at the top of the canyons of the Sil where you can celebrate the banquet in its unique gazebo.
We can also bet on using innovative elements such as using biodegradable materials, using local products from the area and trying to waste as little as possible.
In our opinion, weddings have to be personal and unique, taking care of every detail.
Another aspect to take into account is the preference of each person, since you can choose if you want your wedding to take place in a private space where you will not find curious onlookers or a more public space where anyone can enjoy your day and be the protagonist of all eyes.
And of course, we can't forget to enjoy our wedding day, something that some brides and grooms overlook because they want everything to be perfect and to finalize every detail, but you don't have to worry about any of that because we take care of it.
Next we are going to talk about some of the spaces that we highlight for their beauty in the city of Coruña.
Wedding venues Galicia. Pazo de vilaboa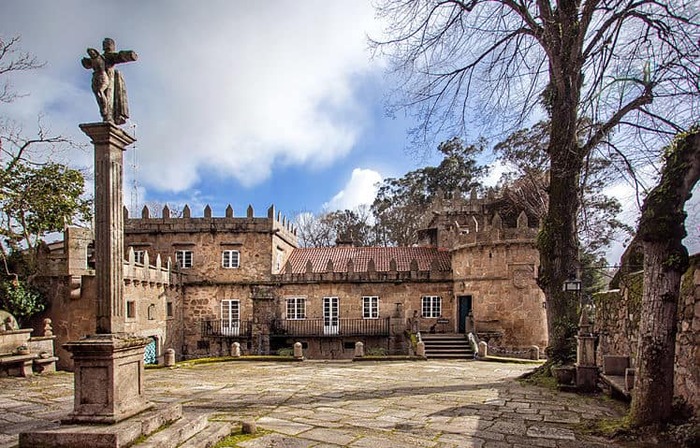 Pazo de Vilaboa is an old 19th century building full of gardens with ancient trees, ideal for aperitifs.
The main hall is designed for celebrations of almost 500 guests so it is perfect for large weddings.
One advantage is the proximity to the center of Coruña, which is only 10 minutes away by car, perfect for those couples who wish to get married near the capital.
Another strong point is the experience they have in the sector, having very good references for the quality of its cuisine, its specialty is to merge the traditional Galician cuisine with more modern techniques. In addition to the exceptional treatment of the team with customers being very close and friendly.
We believe this is a Pazo that should be considered if you want the perfect place to celebrate your wedding.
Wedding venues Galicia. Pazo montesclaros
Located 20 minutes from Coruña, this 17th century Pazo has both its exterior and interior preserved to perfection, as well as its gardens.
It is surrounded by landscaped areas and has a huge glassed-in hall, a chapel and a parking lot for the use of guests.
What makes the difference with this place is the familiarity that transmits. Elena and Juan are two siblings, the owners of the place who also live in the Pazo, it is their own home, so they are always there. They adapt to any suggestion of the bride and groom, they advise and advise them on everything possible and what they need to make it go as well as possible.
We emphasize the gastronomy they have, they have their own kitchen and make traditional dishes with local products with a peculiarity, they innovate in their recipes making them unique.
Although in this case there is no possibility of staying at the Pazo, the bride and groom will be able to use one of the rooms to get ready and dress just before the ceremony.
And of course we must highlight the professional treatment and the facilities they give to the bride and groom at the time of the celebration.
Wedding venues Galicia. Pazo de santa cruz de mondoi
It is located in the municipality of Oza dos Ríos, a few minutes drive from the city of Coruña.
It is an old mansion of the XVI century, full of gardens being approximately 8,000 square meters of incredible green areas.
It has several patios and contains a glassed-in hall that can accommodate 500 guests, which is perfect for large weddings.
What makes this place different is its elaborate decoration and its incredible alpendre, which maintains its origins and makes you feel part of history.
Chef Antonio Amenedo is at the helm of the kitchen, combining traditional cuisine with innovation.
They also have a great experience in organizing weddings as it was one of the first Pazos to specialize in the wedding sector.
Wedding venues Galicia. Pazo do tambre

Located at the mouth of the Tambre River, a little further from Coruña in Serra de Outes, 1 hour and 20 minutes away.
This old 19th century building surrounded by woods, ponds, lakes and gardens even has a pier. Many beautiful nooks and crannies.
It is characterized by its own lounges and decorations.
They also have accommodation for the bride and groom and guests, rooms decorated in the pure Galician style.
Religious weddings can be performed in the Church of San Tirso de Cando, which is located 50 meters from the Pazo.
For the celebration of civil weddings we highlight the "island" and the pier, unique and wonderful spaces.
As for gastronomy, we have Chef Javier Hurtado who is in charge of preparing unique dishes with local products from the sea and the land.
Wedding venues Galicia. A quinta da auga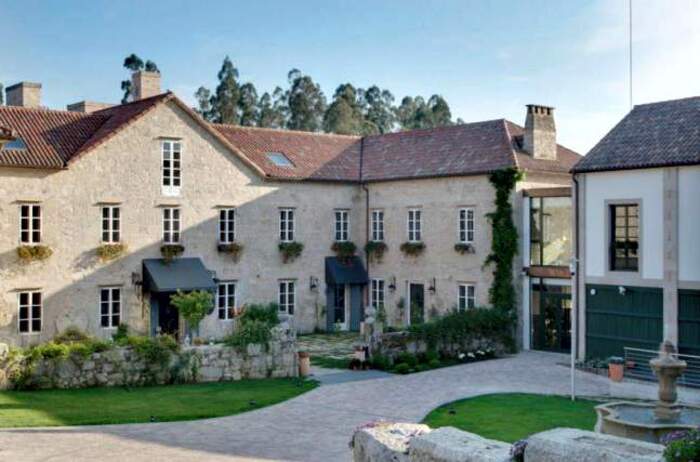 Located near Santiago de Compostela, less than 1 hour from Coruña.
It is not considered a Pazo, but it is similar. It is an eighteenth century paper mill converted into a luxury hotel, it stands out for maintaining its own charm thanks to the history hidden behind its walls.
This hotel has its own wedding planner, Mar Picado, who accompanies the bride and groom and takes care of all the details.
This building has luxurious and romantic rooms ideal for the bride and groom and guests who need to stay.
One of its main characteristics is its well-kept green areas, it is located on the banks of the Sar River, where civil weddings are usually organized.
The Filigrana restaurant is in charge of the gastronomy, with menus tailor-made by Chef Federico López, dishes worthy of haute cuisine with touches of innovation and careful presentation.
Wedding venues Galicia. Pazo de san tirso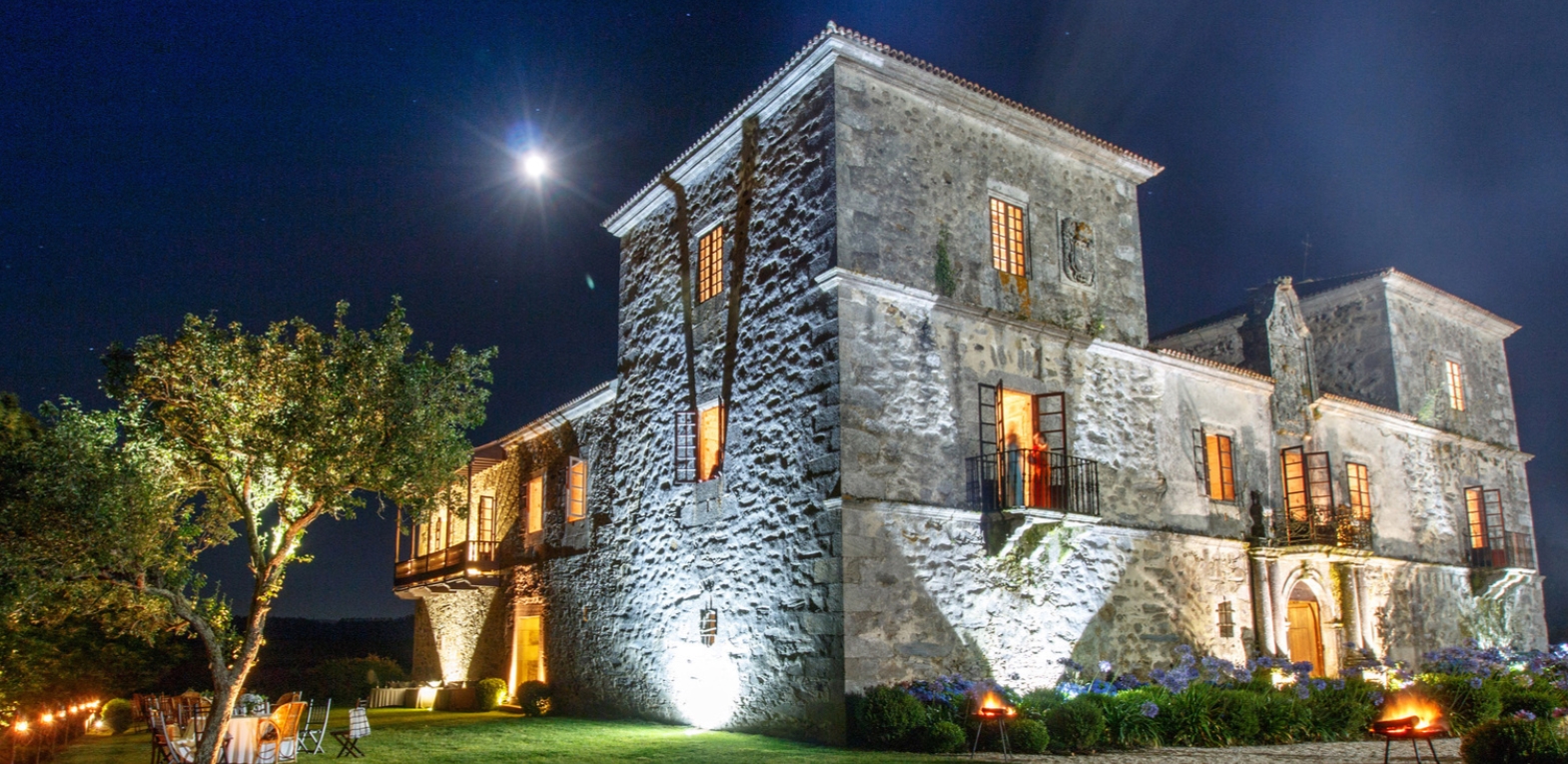 Located a few minutes from Coruña. One of the most impressive Pazos stands out mainly for its 17th century architecture.
It has five rooms that can accommodate up to 200 people. In addition, in the best cases, you will be able to enjoy the green areas outside.
It has the possibility to create extensive menus and to the taste of all the bride and groom thanks to its unparalleled catering service.
Wedding venues Galicia. Pazo do faramello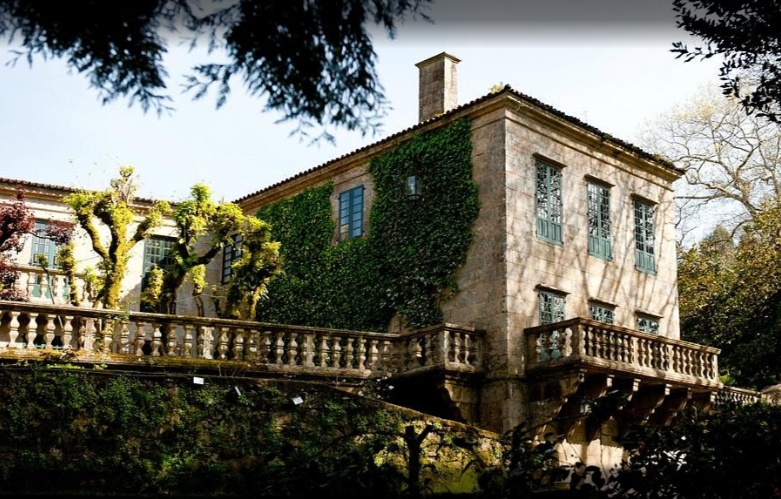 It is located in Concello de Rois, near Santiago de Compostela, less than 1 hour drive to Coruña.
This is one of the most visited Pazos in Galicia, undoubtedly this is because of the history that surrounds the enclosure. It has very touristic spaces such as the chapel, the French gardens, its mills, bridges and its wine cellar, it is a great majestic set.
It has about 400,000 square meters of green areas where there is also the Angueira River and about 2,100 square meters of buildings.
Finally, we must not forget to mention the gastronomy, which stands out for its outstanding and exquisite menus.
Wedding venues Galicia. Pazo do sergude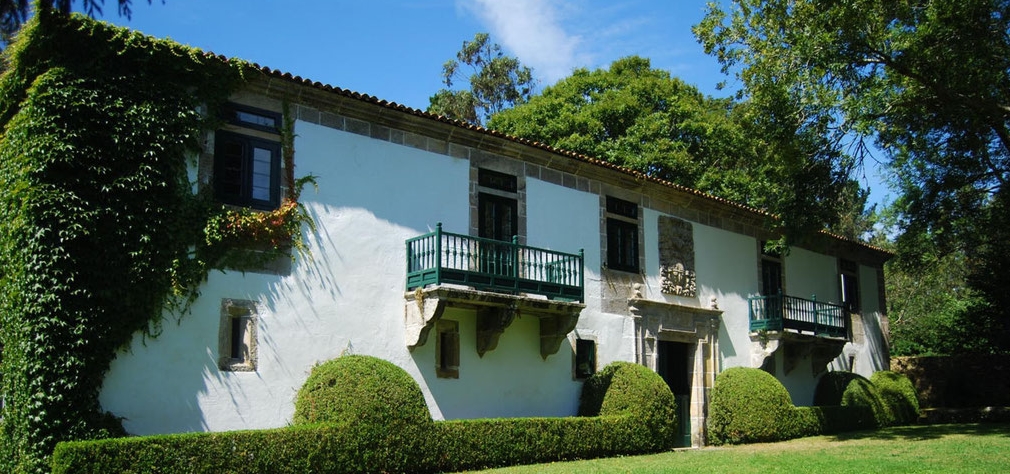 It is located 40 minutes drive from the famous city of Coruña, in the municipality of Ponteceso, surrounded by cliffs and beautiful beaches, creating an environment with natural beauty.
This Pazo belongs to the seventeenth century and is a protected space for being a historical heritage. Although it is an old building, it is perfectly preserved and cared mainly its patios and gardens, highlighting for its furniture and decoration making you feel at home.
One advantage is the experience it has when it comes to organizing weddings and of course, for its important gastronomy headed by Chef Javier Rodriguez who uses quality products and is characterized by the originality of his dishes.
Wedding venues Galicia. Finca montesqueiro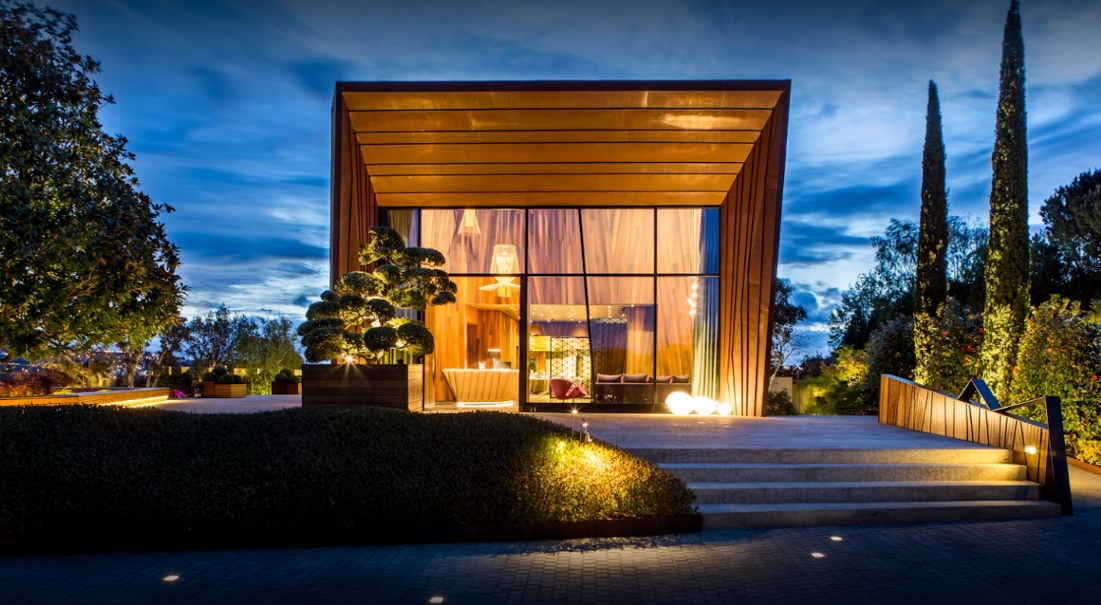 Located in Oleiros, 10 minutes from the center of Coruña, near the Pazo Vilaboa, an ideal place to celebrate your wedding near the capital.
This farm is considered one of the favorite places among the population to organize any of the events you prefer. Its construction is perfect and modern for everything you would like to include in your wedding day.
Its beautiful outdoor gardens, lounge, children's area and the Suite it has is ideal for all the wishes of the bride and groom have come true.
Not to mention their menus that can be perfectly adapted to the tastes of the bride and groom, these are prepared by Chef Nandu Jubany who has a Michelin star. He guarantees exclusivity in all his dishes taking into account the traditional gastronomy.
The decoration of the place is completely modern and luxurious which is distributed throughout its exterior and interior spaces, some 6,000 square meters of careful details.
We hope that these incredible venues fit perfectly with everyone's tastes, considering that they are some of the most exceptional and ideal venues for such an important day as your wedding day, where we believe that all your dreams can come true.
Similar articles:
25 perfect venues for Asian weddings
Keys to success for your wedding and event space in 2019