Are you ready for the most enchanting trip of your life? Picture yourself, the love of your life and the captivating backdrop of France. If your heart beats to the rhythm of adventure and luxury, your marriage proposal deserves a touch of extravagance. France, with its fairytale castles, fragrant lavender fields and the promise of new beginnings, is the perfect setting for your love story. Here are the eight most romantic places in France to propose. And the best part? We'll make sure your proposal goes off without a hitch, making it a moment you'll treasure forever. Let's embark on this French romance and start planning the proposal of a lifetime.
Why settle for the ordinary when you can aspire to the extraordinary? Think about it: a proposal on the balcony of a French castle or in a hot air balloon, floating over the picturesque French vineyards. If that doesn't tickle your fancy, here are the most romantic places in France to propose.
Flying over Burgundy in a hot air balloon
If you and your partner are adventure lovers, why not take your love story to the skies? Imagine those four life-changing words spoken amidst the clouds, the cool breeze in your hair and love filling the air. Believe us, it will be an unforgettable moment. Climb aboard a vintage hot air balloon and explore the breathtaking French wine region of Burgundy from a bird's eye view.
When the day of your big proposal arrives, get ready to step back in time with an old-school touch. Imagine picking up your partner in a classic Bentley or a charming Citroën 2CV, setting the mood for the dreamy balloon ride that awaits. It's like stepping into a scene of old Hollywood glamour.
We're sure that when your partner sees what you have planned, he or she will be lost for words. The hot air balloon will be decked out to perfection, with champagne, delicious treats and, quite possibly, the sparkling ring symbolizing your engagement.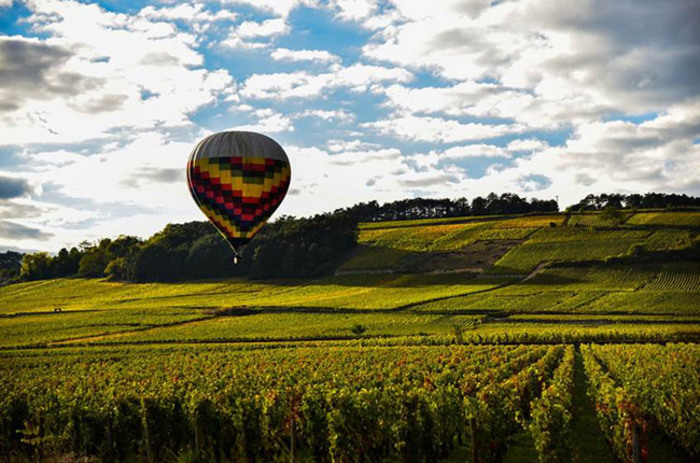 Toast to your engagement Burgundy style
After getting down on one knee and receiving that long-awaited "I do" while overlooking the lush vineyards of Burgundy, what better way to celebrate than in style? At Perfect Venue, we offer you a selection of the best places to enjoy your first night as a bride and groom.
Prepare yourself for excellence, from prestigious wineries and domains, where you will taste the best wines and receive first-class tasting lessons from renowned French sommeliers and winemakers.
But that's not all. Our team will work magic to find the perfect place for a romantic dinner, where you and your fiancé can savour the best cuisine the French countryside has to offer. Imagine Michelin-starred establishments overlooking vineyards or prized gastronomic tables in Dijon or Chalon-sur-Saône. We will make sure you spend a quiet and romantic evening away from the world, in one of the region's luxurious and rustic domains or elegant châteaux.
In short, when you opt for this kind of proposal, the sky is not the limit; it is just the beginning of your epic love story.
Love in the Loire Valley: A fairy-tale proposal of marriage
If you've ever dreamed of your love story unfolding like the page from a fairy tale, France's Loire Valley is the ideal setting. This enchanting region, adorned with some of the world's most romantic castles, is a stone's throw from the bustling heart of Paris. So, if you're planning to kneel away from the hustle and bustle of the city, you're in luck.
Now, while the Loire Valley is a treasure trove of picturesque châteaux, it's often crowded with tourists, making it a little difficult to find the perfect private location for your proposal. But don't worry: hidden gems like the exquisite Chateau de Chambord offer private "gites" (French for cottages) with breathtaking views, guaranteeing privacy and bliss.
Imagine it… A marriage proposal on a fairytale balcony.
You and your partner on a private balcony or terrace straight out of a fairy tale, with the wild Loire River meandering in the background and lush green hills as far as the eye can see. And there you are, down on your knees, ready to begin the next chapter of your love story. As you take in the views, you savour a glass of Loire Valley white wine or a sparkling crémant, accompanied by an assortment of French delicacies, from creamy cheeses to fresh crudités. It's no wonder this place has inspired countless romance novels, and now your engagement has become part of that enchanting story.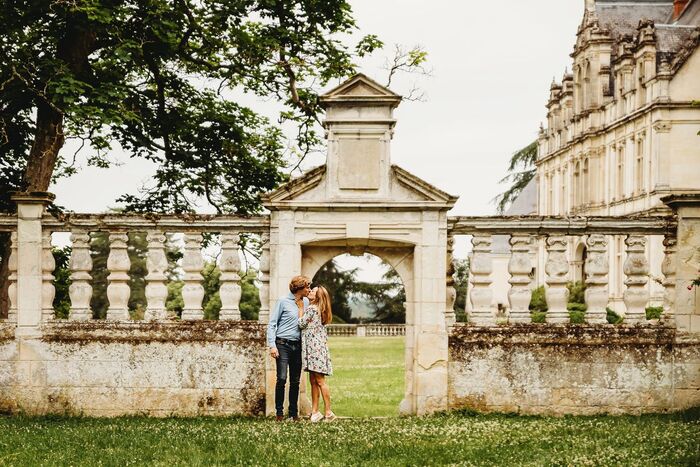 Celebrate your engagement in the Loire Valley
And after the proposal of marriage? Well, the Loire Valley offers a tapestry of options to celebrate your big day. Start with a private wine tour of the vineyards, where you can taste some of the region's finest bottles and learn the secrets that make these wines truly exceptional.
Or embark on a captivating tour of the area's other châteaux, hand-in-hand, exploring rooms that once housed French royalty and famous authors. You can even take a leisurely boat ride on the Loire River, marvelling at the diverse species of wild birds and soaking in the breathtaking scenery as you drift along.
And if you want to take the romance up a notch, how about a sumptuous engagement dinner at one of the region's finest restaurants or in a private dining room? Indulge in local gastronomic delights, paired with Loire Valley wines, while enjoying the promise of a lifetime together. A fairy tale worth celebrating in style.
Sailing towards eternal love: the dream of a Parisian marriage proposal
If there is a city that is synonymous with romance, it is Paris. The city of love has been the setting for countless romantic comedies, musicals and cinematic love stories, and for good reason! It's practically a place where romance rhymes with the ambience of the city. And for some, sticking with the classics is the safest way to go. If your partner loves traditional displays of love and craves classic romantic settings, we've got an idea that will set your heart aflutter: a private cruise on the Seine!
As you cruise along the gentle waves of the Seine, enjoying the soft glow of the Pont des Arts, the breathtaking Notre Dame Cathedral, the iconic Eiffel Tower and countless other Parisian gems, you'll be setting the stage for a dreamy proposal. Picture it: soft candlelight casting a warm glow, a bouquet of fresh flowers, your favourite love song playing in the background and a couple of glasses of champagne clinking between tasty hors d'oeuvres.
When the time comes, you can get down on one knee and ask the big question. If you're in the mood for a little magic, consider making it coincide with the time change, while the Eiffel Tower lights up, creating the most enchanting backdrop imaginable.
Celebrating your engagement in the City of Light
In Paris, the possibilities for celebrating your engagement are as endless as the city itself. Our experienced team is here to create a celebration as unique and original as your love story. You can opt for a dinner cruise, prepared by a private chef who will tailor a menu to suit your tastes and desires.
Or perhaps they would prefer to return to land for a private dinner in an intimate Parisian dining room. For the ultimate in exclusivity, you could even rent a room in a museum, where the paintings themselves will bear witness to your love story.
Don't worry if you and your partner have not yet chosen the perfect engagement ring. Our team is at your disposal to organize a private shopping tour in the heart of Paris, where you can browse luxury jewellery stores to find the ring that speaks to your heart. It can be unexpectedly romantic to make the creation of your engagement ring a shared creative project.
For those who enjoy creativity and have extra time, why not spend the day of your engagement (or the day after) in a private French cooking class or a perfumery workshop?
You can also enjoy a spa day fit for royalty, attend an opera performance followed by a dreamy dinner or savour private wine tastings at some of the capital's most fashionable wineries. The romantic world capital of Paris is your oyster, and all you need to do is let your imagination (and your love) lead the way.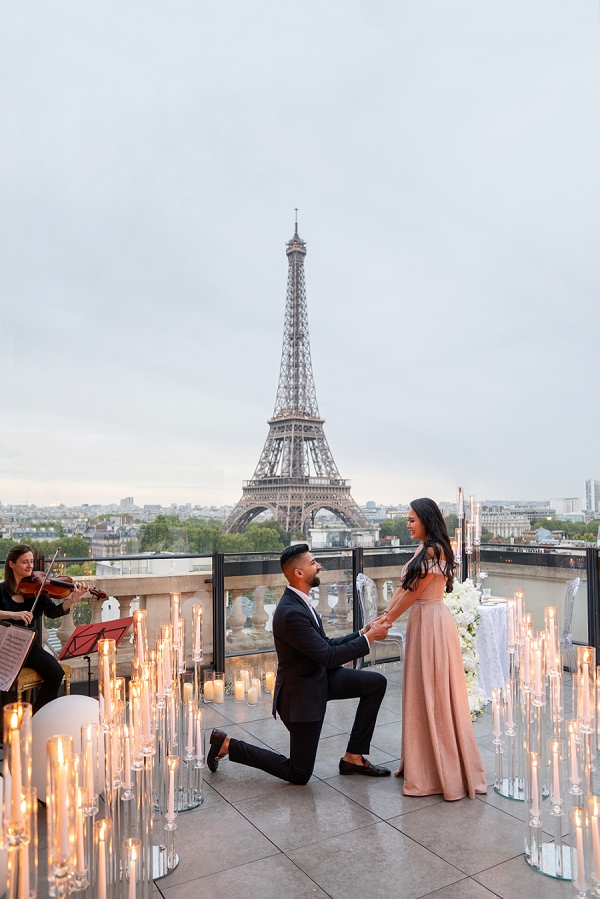 Love blossoms in the lavender fields: A marriage proposal in Provence
Are you in love with the rustic charm of the countryside? If your hearts yearn for the serenity of nature, why not propose amidst the fragrant lavender fields of Provence? This region, famous for its rolling hills clothed in what locals call "blue gold," is often found near stunning monuments, such as the 12th-century medieval abbey of Senanque. It's the kind of romance that is utterly authentic and wonderfully classic.
To set the stage for your lavender proposal, choose a date in summer, when lavender is in full bloom and giving off its most enchanting fragrance. As the gentle breeze carries the sweet scent of lavender through the air, imagine yourself kneeling amidst a sea of purple, under a vast blue sky, and the warm Provençal sunlight adding an extra layer of magic to the moment. Do you see it? We do, and we'll make sure it's as captivating as your most romantic dreams.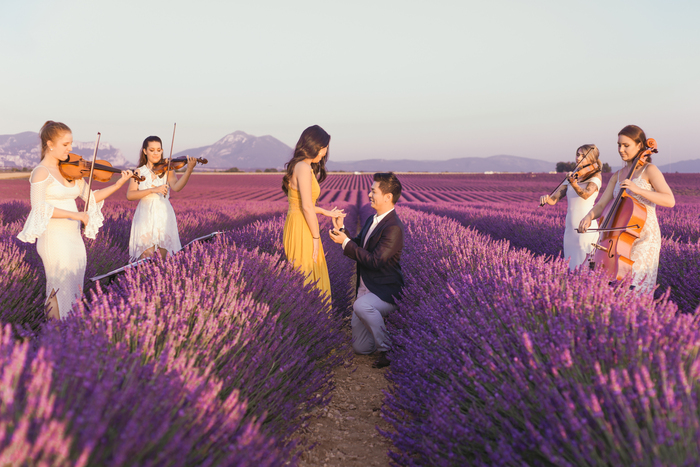 Celebrate your love in Provence
Provence is a treasure trove of beauty that offers newly engaged couples a host of activities to celebrate their love. They can stay in a historic and luxurious chateau or a "bastide" (fortified country house), overlooking the iconic Avignon Bridge. Or you can choose to stroll around the charming Italian-style town of Nice, exploring boutiques and private beaches, or even take a dip in the coastal gem of Cassis.
If you and your partner are attracted to scents, you can embark on a journey to create your own fragrance in Grasse. Imagine using lavender notes to create a bespoke fragrance that captures the essence of your special engagement day. After all, who says you can't bottle precious memories?
In Provence, love blooms in every corner, from the lavender fields to the charming towns and endless possibilities. It's a romantic story waiting to be written, and you are the author of your own fairy tale.
A marriage proposal from the summits of Mont Saint-Michel
Enter a world where time stands still, where history, architecture and nature converge in a breathtaking romantic dance. The abbey of Mont Saint-Michel, a UNESCO World Heritage Site, is nothing less than an eternal love story that has touched souls for centuries. This medieval abbey, perched atop imposing rocks, casts a dramatic shadow on the horizon, captivating hearts with its timeless charm.
But it is not just the abbey that captures the attention, but the natural wonder that unfolds with the ebb and flow of the sea, painting a vivid canvas of ever-changing tides. With each passing hour, the sea embraces the abbey, enveloping it in its watery embrace, only to retreat towards the horizon, leaving the sand drenched in mesmerizing reflections and ethereal shadows.
If your partner loves history, architecture and nature, this is the ideal place to propose. Imagine standing on one of the abbey's spectacular terraces, gazing out over the raging sea, with seagulls and cranes crying overhead, and then, in that mystical moment, getting down on one knee to declare your love.
Or, when the tide is out and it is safe to explore the trails surrounding the abbey, choose a quiet spot and pop the question at the water's edge, while the soft Normandy light creates a lovely tapestry on the sand.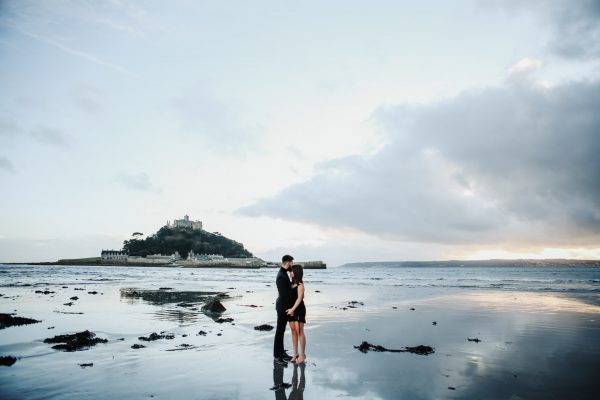 Celebrate their love in legendary lands
Nestled at the crossroads of Normandy and Brittany, Mont Saint-Michel serves as the gateway to some of France's most exquisite regions. After your breathtaking proposal at this legendary abbey, a world of unforgettable post-engagement adventures opens up before you.
Normandy beckons with rustic luxury, from elegant and tranquil estates to high-end spas offering treatments steeped in the magic of the local apple. Enjoy exclusive Calvados tastings or dine at some of the region's finest gastronomic tables, immersing yourself in the flavours of Norman cuisine for a truly authentic engagement celebration.
Brittany, meanwhile, is a paradise for couples seeking rugged beauty and luxury intertwined. Hike together along the Pink Granite Coast, where France's most captivating flora and fauna await. Or savour the seclusion of a private lighthouse island in Morlaix Bay, with the wild Atlantic waves crashing below. If you and your partner are passionate about the sea, this region is a dream come true.
In the end, their love story unfolds in a realm where history, nature and romance intertwine, with the Abbey of Mont St-Michel as the backdrop to their enchanting journey.
A Snowy Serenade: Proposing in the French Alps
Although many lovers choose the heat of summer for their engagements and weddings, there is a special magic in the winter wonderland of the French Alps. If you and your partner are snow lovers and share a passion for snowy slopes and breathtaking scenery, why not propose during a dream getaway to the French Alps?
If you both love skiing or alpine sports, imagine this: kneeling in the snow, in the middle of thrilling descents down the slopes, breathing in the fresh winter air. Or imagine a moment after skiing in your private chalet, curled up by the fire, sipping mulled wine and watching the snowflakes fall. It's the kind of cosy romance that perfectly complements alpine grandeur.
Celebrate your love in the wonderland of the Alps
Now let's talk about celebrating your engagement in the Alps. Whether you decide to spend most of your time in Chamonix, Mégève, Courchevel or any of the charming resort towns tucked away in the embrace of the Alps, you're in for a treat. The region's chalet hotels perfectly combine timeless, rustic charm with ultra-luxury, creating the perfect setting for your love story.
Imagine your partner in one of these legendary hotels, such as the Four Seasons in Mégève, the Fermes de Marie or the L'Apogée Hotel in Courchevel, enjoying the best after-ski services. Imagine a romantic bath and a couple's treatment in one of the region's dreamy alpine spas.
And gastronomy! Taste the unmistakable flavors of the Savoie region at a Michelin-starred restaurant or go the extra mile and hire a private chef to prepare an unforgettable engagement dinner in the comfort of your suite. When in the Alps, relaxation is a given, and this is the perfect time to snuggle up with your sweetheart, celebrating the incredible journey ahead.
Ready to plan an unforgettable engagement trip to the Alps? Let us take care of all the details to make your moment perfect.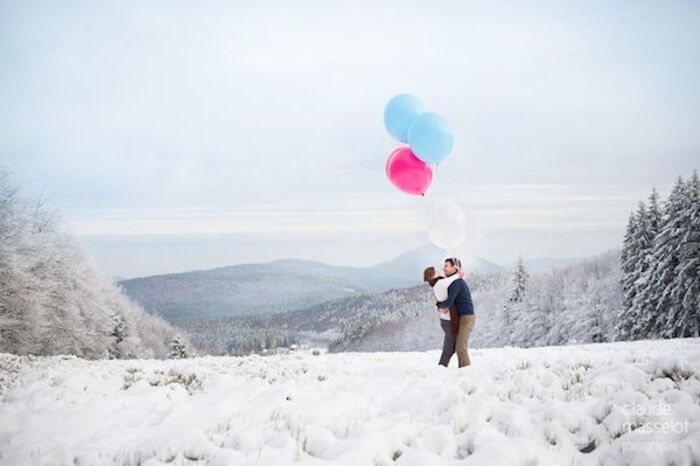 From the sky to the sea: a proposal of marriage over the dunes and the waves
Calling all luxury adventure enthusiasts, here's a marriage proposal idea that will take your love to new heights, literally! Picture this: charter a private helicopter for you and your partner and fly over the breathtaking Dune du Pilat. This is the largest sand dune in Europe, nestled in the enchanting Arcachon Bay, known for its breathtaking seascapes. The roar of the helicopter and the majestic views, with its golden sands below and the deep blue sea stretching as far as the eye can see, will set your heart racing.
Now comes the most exciting part: popping the question from heaven. It's a moment you'll treasure forever and share with friends and family as you embark on the ride of your lives together. Admittedly, this proposal may not be for everyone, but if you're a couple looking for adventure and adrenaline, this scenario will be exhilarating and unforgettable.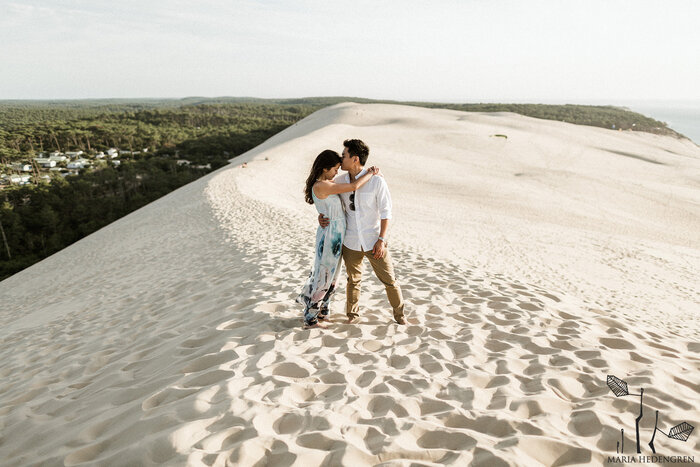 Where to celebrate your love?
Sea and sports lovers can go surfing or diving in Biarritz. After all, studies reveal that couples who try new experiences together have the secret to keeping their romance alive.
If you are more inclined towards wine and culture, Bordeaux and its world-famous wine châteaux are just a stone's throw away. We can arrange exclusive tastings at the region's most prestigious wineries, from the iconic Margaux to Chateau Guiraud, famous for its sweet and aromatic Sauternes dessert wine.
For an extra dose of romance, how about a trip to St-Emilion? This medieval walled town, surrounded by vineyards, exudes classic French elegance. Imagine an intimate engagement dinner at one of the town's Michelin-starred restaurants, sipping local wine and gazing at the warm stone of the fortified ramparts.
If you are in the mood for more romantic adventures in this region, check out our guide to the most luxurious activities on the West Coast of France and our article on adventure travel on the West Coast. Your love story is ready for new and exciting chapters.
Sailing to eternal love: A proposal on a yacht on the French Riviera
For those who crave the grandeur of luxury and a show-stopping proposal, imagine getting down on one knee on the deck of a private yacht, with the breathtaking Côte d'Azur as your backdrop. It's a moment that will be etched in your memories and captured in stunning photos as you take your first steps into the bridal world.
The crystal-clear waters of the French Riviera unveil countless private coves and enchanting islands, creating the perfect romantic circuit for an offshore proposal. Step aboard your private boat, equipped with every dreamy amenity you can imagine, from a private chef ready to prepare culinary delights to an onboard Jacuzzi and a movie theatre under the stars. As you and your partner enjoy the views of the azure sea, with waves caressing the spectacular flower-adorned cliffs and wild birds gliding overhead, it's time to embark on a journey that will change your lives forever. Whatever your idea of this special moment, we'll make sure it's perfect.
Celebrate your love on the French Riviera
After your magical yacht marriage proposal, the French Riviera unveils a world of romance and luxury waiting to be explored. If you and your partner are movie buffs, how about spending the rest of the day strolling around Cannes, the city that has hosted countless legends at its iconic film festival and glamorous hotels?
If art, architecture and history are your thing, places like Antibes and Aix-en-Provence await you. French painters such as Cézanne and Picasso were inspired here, leaving their indelible mark in the form of works of art and museums dedicated to their craft.
You can also anchor your yacht in the glamorous principality of Monaco and embark on a whirlwind of romance through Monte Carlo. Enjoy a private shopping spree or a stay in one of the area's luxury hotels. You can also rent a private villa with panoramic views of the Mediterranean and set the stage for an unforgettable engagement getaway.
The Côte d'Azur offers countless ways to celebrate your engagement, from glamorous shopping sprees to secluded villa retreats. For more ideas on how to spend your first days as a bride and groom, check out our guide to the most luxurious activities on the Côte d'Azur and our article on the most opulent hotels on the Côte d'Azur.
Are you ready to plan a unique proposal on the Côte d'Azur? We're here to make sure it's an event.
At Perfect Venue, we specialize in creating extraordinary and endearing moments. Whether you dream of a lavender-filled proposal in Provence or a romantic engagement on a yacht on the French Riviera, our team will make your dream come true. Experts in organizing unique events in France, from luxury weddings to intimate receptions, we ensure that each experience is as extraordinary as your love story. Ready to create the proposal of your dreams? Contact us today. At Perfect Venue, all couples are welcome and we look forward to helping you create an unforgettable moment.