Right on the Paseo de la Castellana, in the center of Madrid, we find a surprising gastronomic space that opened recently, Sinsombrero, a restaurant capable of surprising and delighting the most exquisite palates and dazzling lovers of Art Deco design.
Today we have been invited to meet this ingenious urban restaurant that is already popular. We want to know everything about this elegant restaurant.
The first thing that strikes us about Sin Sombrero is its decoration, in the purest 20s style. Once inside, we can see the amplitude of this space, with more than 1000 m2 distributed in different rooms, and under the warmth of its tenuous lights, manages to combine the intimacy, relaxation and exclusivity that we like so much with a pleasant feeling of spaciousness and perfect communion between its different environments.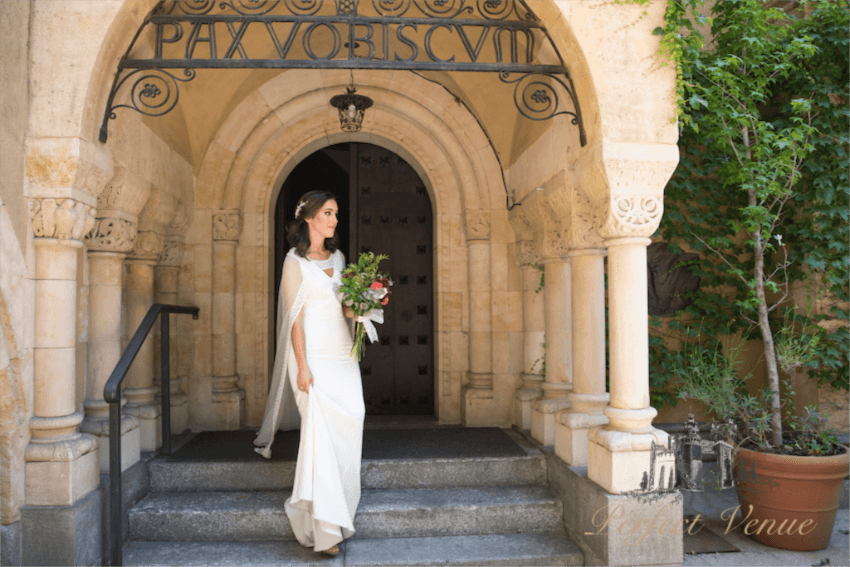 Sitting in his original semicircular bar, the manager of Sin Sombrero awaits us, ready to show us every corner of this incredible place and tell us everything that this urban restaurant can offer on the happiest day of our lives.
Do you want to come with us on this interesting trip? Do not miss our interview …
Good Morning. Thank you for receiving us. What a pleasant feeling we have as soon as you enter…
Good Morning. I'm glad you like it. We have created this space with all of our enthusiasm and affection, the feedback has been quite good.
Yes, it's authentic … Tell us, during a wedding celebration, what services can Sin Sombrero offer us to make it an unforgettable day?
In Sinsombrero we want precisely that, for it to be an unforgettable day. For this, we have prepared a gastronomic proposal worked on in detail by our executive chef, Javier Goya. We offer all the necessary services so that the bride and groom and their guests only have to come and enjoy their special day, we take care of the rest.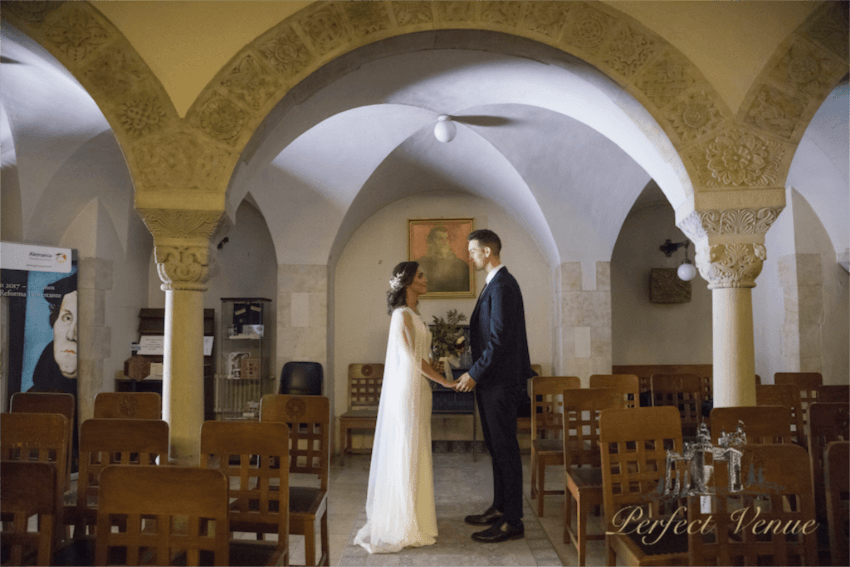 How long in advance should a couple who wants to celebrate their wedding in Sin Sombrero contact you? What would the process be like from the time they hire your services until the wedding day?
Today we have weddings that are prepared many months in advance and others with not so much time. In Sinsombrero we are prepared for any situation, if we have availability, we get the work done…
Once we choose the date of the wedding, the next thing is to choose the menu and have a taste test. From this point we will be doing all the steps, so that the couple simply have to give the ok on the decoration, crockery, flowers, designs … we will take care of everything under their supervision.
And regarding the other details … What preparations and tasks could be delegated to you by the couple?
In Sinsombrero and The Chapel we carry out the whole process of the wedding, we have a team of professionals, with years of experience in the sector, who will take care of everything related to the wedding, we want the bride and groom and their guests, to simply come and enjoy, without having to worry about anything else.
You have a gastronomic proposal and a menu designed by Javier Goya, with the help of Fernando Muyo, which has some delicious dishes, perfectly executed and presented, as we have seen … In relation to a wedding, do you offer closed menus? Or do you make personalized menus? What would you consider your star dish?
Well, we have both options, we have a wide variety of closed menus and, of course, we also make customized menus, at SinSombrero we adapt to what is really important, customer satisfaction.
It is difficult to highlight a dish in particular, they are so many and they are so rich …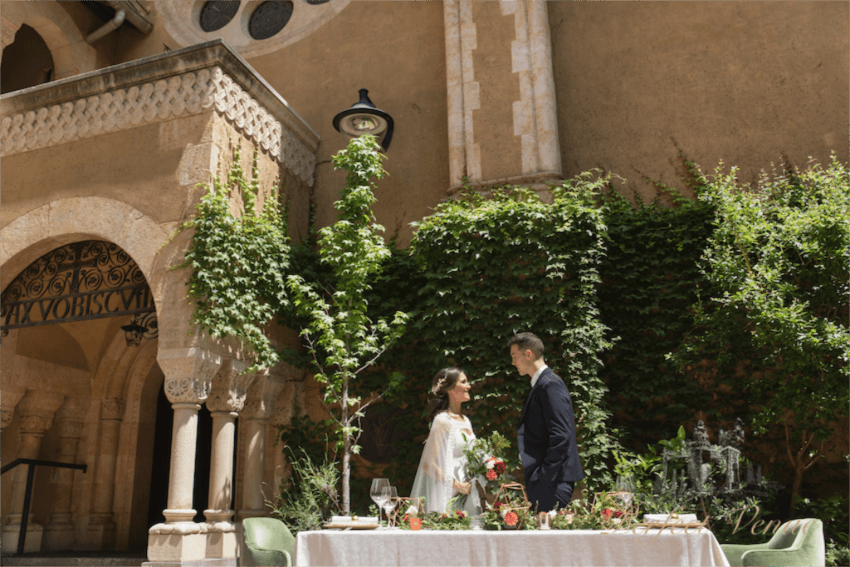 What customer profile do you have in Sin Sombrero? Do you think there is a difference when working with foreign clients?
In Sinsombrero the client prevails from forty years onwards and we already work with foreign clients … the treatment is fundamental, taking care of to the smallest detail and, of course, the language, all our staff is prepared to adapt.
I have heard that you hide a small wonder in your restaurant … A beautiful garden of 250 m2 that houses a Lutheran Evangelical Church from 1909. Could you show it to us?
Sure, come with me … Here it is, next to our restaurant.
Amazing! From the outside, behind the wall, it is impossible to imagine that this place is hidden here, it is a real jewel. This patio is a haven of peace, and it is incredibly beautiful. Its vegetation and shade, the arches, the facade of the temple, the balconies, that porticoed gallery … It is very impressive!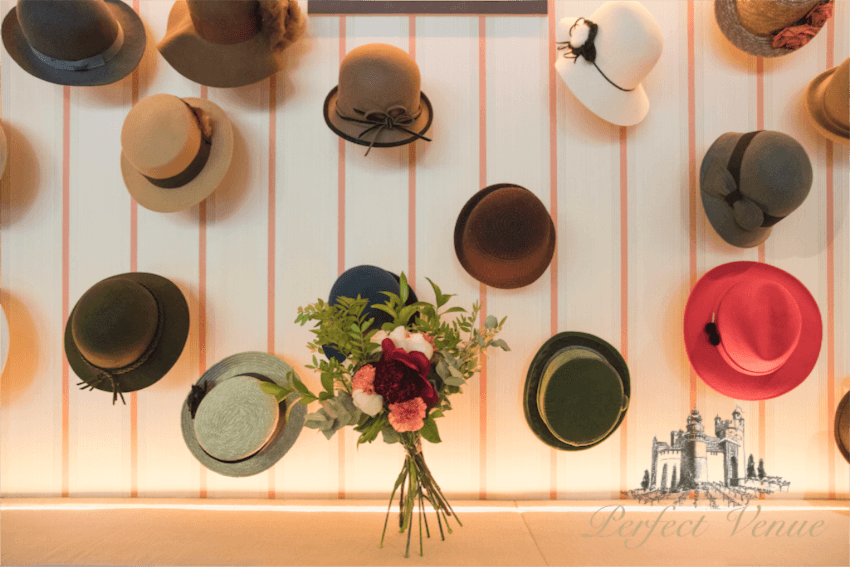 What is the history of this? incredible garden and the church that lodges in its interior? How did the idea to incorporate this marvel in the open air to the facilities of Sin Sombrero come to mind?
The Chapel, is the name of this space, a centenary jewel with an incalculable value at an architectural, religious, historical and cultural level. This is a "Friedenskirche" -in Spanish, "Church of Peace" -, a temple of the early twentieth century, Visigothic and Byzantine style, which Kaiser Wilhelm II of Germany had built for the Protestant community of his country settled in Madrid. As you can see, its 250m2 of cloister and garden are simply spectacular, and on the Paseo de la Castellana …
It emerged naturally, we are neighbors, almost from door to door … It was predestined that the Church of La Paz and Sinsombrero join forces to create The Chapel and that its facilities, become the place of reference for the celebration of urban weddings in Madrid.
It was unimaginable such a garden just a few meters from the Castellana and maintaining such intimacy and calm atmosphere. Is it possible to access the interior of the church?
Yes of course go ahead…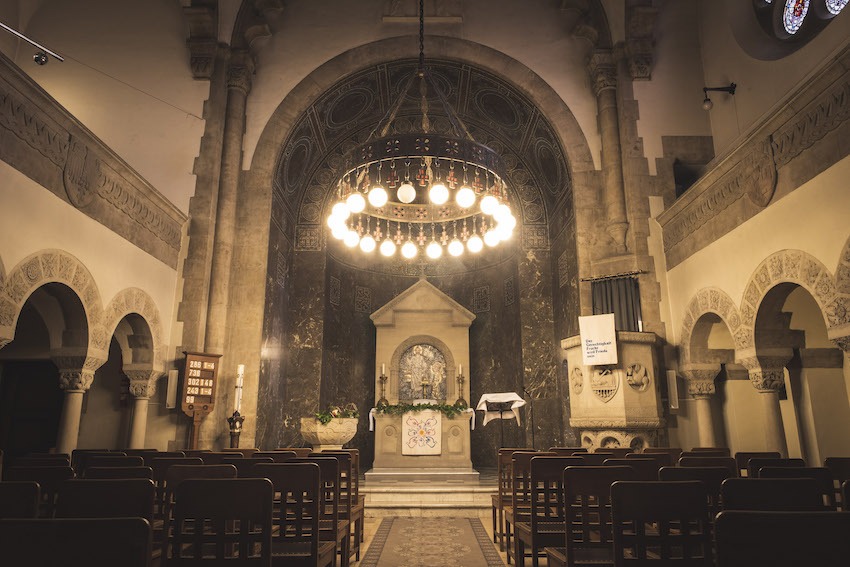 Beautiful columns and paintings, and this dim light … Could you hold religious or civil ceremonies both in the garden and in the interior of this church? We could also make the catering or banquet in this nice patio centenary?
Of course, both, we are already celebrating them and, of course, with their banquets and cocktails in the Patio. The management is the same as in the restaurant, the couple choose date, menu, and we take care of the rest.
One last question … What do you think differentiates Sin Sombrero from the rest of urban restaurants?
There are several factors: Its location in Castellana, the spectacular facilities it has, with almost 1000m2, The Chapel, an authentic jewel to discover, our gastronomic proposal at the height of the most demanding palates and, above all, the treatment personal and caring for the details with which we take care of our customers.
Thank you very much for this walk through the magic of Sin Sombrero … I do take my hat off before your space, a real luxury in the center of Madrid.
Thanks to you for coming to visit us, if you can stay, I invite you to a cocktail in our bar. You will love it
Perfect. Thank you.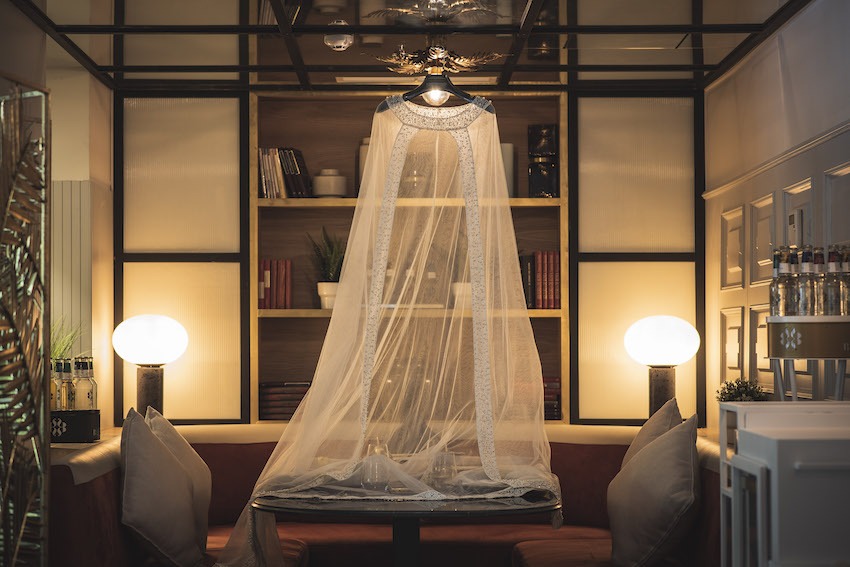 We are enjoying a little more the pleasures of Sin Sombrero, on our part, we invite you to discover this spectacular gastronomic space. And, of course, for all those who are thinking of celebrating a dream wedding in the center of Madrid from beginning to end, look no further, Sin Sombrero is your space. You will not be disappointed …