Breathtaking sceneries in full nature, the coast and its cliffs battered by water and then the wind blowing in your face. We are sure that you want not find a better place to say "yes I do » than in Ireland, a country that has become one of the main venues for weddings because of its sublime landscapes, grandiose castles, luxurious country houses or barns where you will merge in the bohemian, rustic and dreamy atmosphere. You will find lakes, beaches and cliffs blown by the wind and you will be amazed  by the Irish's courtesy. 
Castles are the perfect option for the couples who seek to get married in Ireland, a venue also chosen by famous people. Is there something more romantic than getting married such as a prince and a princess surrounded by fortified towers? You can also think of large rooms for the wedding feast with robust tables and old tapestries. Those things stand out because they are surrounded by the typical Irish landscape, in remote places nearby crystalline lakes.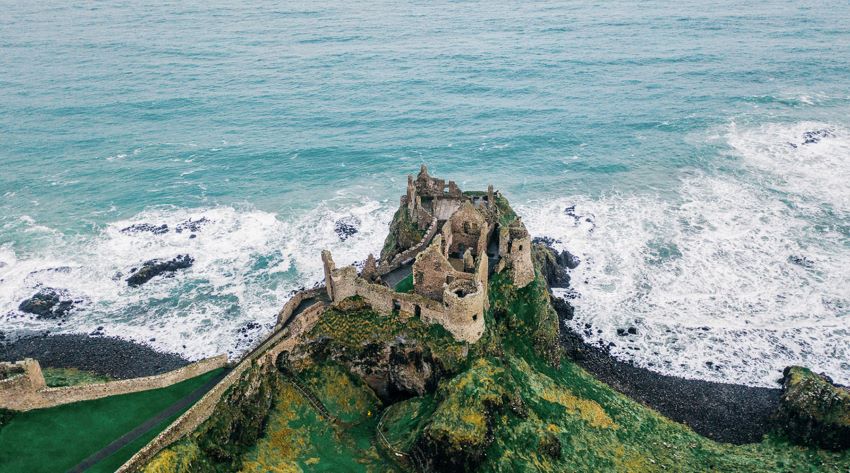 The advantage of getting married in this country is that you can get a large variety of venues and you can unleash your creativity for your big day, thus adding personality to the most irish style. And yes, you need to keep in mind a series of requisites in order to celebrate your big day in Ireland and avoid bad surprises. It is more simple than what you expect. 
Make sure that all the paperwork is prepared and keep within reach all the necessary documents with advance. In order to avoid delays, you need to keep vigilance with all that you are going to organize for your wedding, at least one year in advance and avoid this way delays and occasional problems because of the paperwork at the last moment. 
Depending whether the ceremony takes place in the Irish Republic or in Northern Ireland, you will be able to celebrate your homosexual wedding or not. In the first place it is legal while in the second place, you cannot organize a civil wedding, only a humanist ceremony. 
We recommend you that you count with the help of a wedding planner. Indeed, this person has a key role since he/she saves you time and problems and they count with the best providers and venues, and also adapt to your budget so that you do not have to worry about anything. 
In Ireland, the civil wedding goes before the religious one in the church, since you have to make a reservation giving both the date and the time to the county, more precisely to the  HSE Civil Registration Office where you are going to celebrate your wedding. You will also need to bring the necessary documents such as your legal birth certificate which must be stamped by your country of origin, your current passport along with all the legal documents and their translation. 
When you are making your reservation, do not forget the names and birth dates of the two witnesses. Bear in mind that you will have to wait 3 months from the day you do the reservation until the day when you will get married, since it is necessary to do all the paperwork in advance. 
You will also need to pay a fee. It will be higher if the person who carries out the wedding officialization needs to come from another place, especially the judge. 200 euros are usually the regular rate. 
Getting married in Ireland gives you the right to a marriage visa, with which you will be able to work full-time and live in the country for an unlimited amount of time.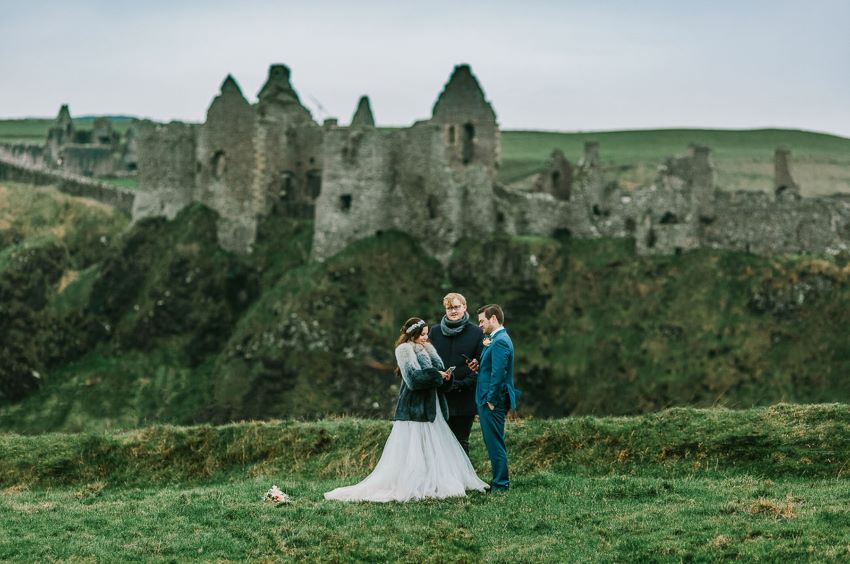 If you are planning to get married in Ireland, then get in touch with your Wedding Planner and start to gather your paperwork to enjoy your wedding in a different environment, full of beauty at any time of the year: the shrill colors of spring, the orange-red and gold tones of fall and the fire, candles and carpets of winter. 
Tying the knot in Ireland is an unique and special experience since it is a country that is adapted to all desires and necessities in order to make your dream come true. Did you imagine it already?
Credits
Photography: Priscila Valentina Photography // Venue name: Dunluce Castle, Ireland // Florals: Flowers Are Us