Seeing as you and your partner are getting married, you both surely have many things in common, but without a doubt there is one thing that stands out the most: your love for the story of Harry Potter. And, having thought about it, you have decided that you would like to have a wedding inspired by the Harry Potter series!
So, we are going to make things very easy for you, because we are going to give you plenty of ideas so that you can have the most fun and creative wedding, full of magic!
Whether you would like a wedding that is fully Hogwarts themed, or you would simply prefer a few small symbolic details that are linked to the series… This article is for you!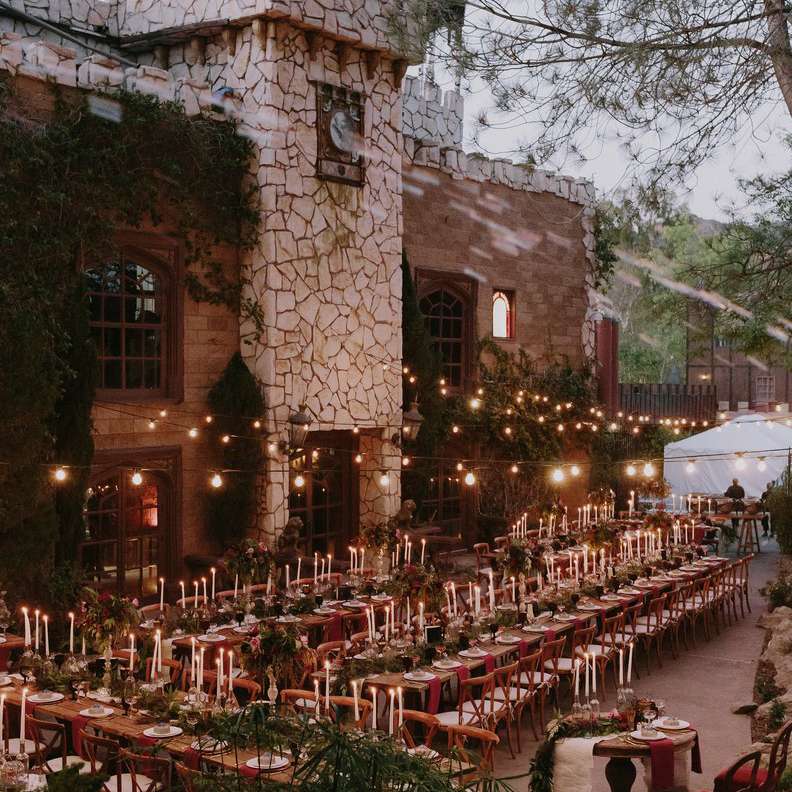 Make a note of all of these ideas and bring wizards and muggles together for your wedding!
Start by sending out invitations in the style of the

map of mischief

, that will include all of the areas where you will celebrate the ceremony, banquet, the party…

If the venue for the ceremony is far from that of the banquet, take

a little train

! You and your guests can arrive as if you were arriving at Hogwarts.

The bridesmaids can each belong to a

Harry potter house

. How? With dresses in each colour of each house.

The bride can carry a bouquet made from a Harry Potter book. You simply need to tear up the pages and make a

paper bouquet

!

Carry the rings in a

golden snitch

, the famous ball used to play 'Quidditch'

As you have already begun to use the books as decorations, also be sure to place them on the table as

centrepieces, together with candles, wands and lanterns

.

A Harry Potter flavoured cocktail must feature in your drinks selection, with the famous

butterbeer, mead and pumpkin juice.

You should choose a traditional Harry Potter themed wedding menu such as:

A bouillaisse shellfish soup, Cornish pasties, steak and kidney pie

, etc.

The desserts at your wedding will be really fun if you take some traditional dishes from the series, such as

treacle tart, jelly beans, rock buns, chocolate frogs

…

Have a dressing-up box for the after party so that your guests can make themselves an outfit and

dress up like the characters from Harry Potter

. Fun will be guaranteed!

During your photo shoot, remember to include elements from the films, such

as wands, hats, broomsticks

… you will have a really fun photo album.

Get married in a

big castle

! As if you were at Hogwarts, amongst turrets, ramparts, bridges, moats, interior courtyards…

Decorate the entire castle! Another really fun idea would be to put up wanted posters with the faces of the guests and the newlyweds as if they had escaped from Azkaban, like with Sirius Black in the

Ministry of Magic

!

Don't forget the photobooth! It is very

simple to make this by yourselves

, and you could include accessories such as the

typical red and yellow ties, Harry's famous round glasses, wands, lightning bolts, the sorting hat

, etc.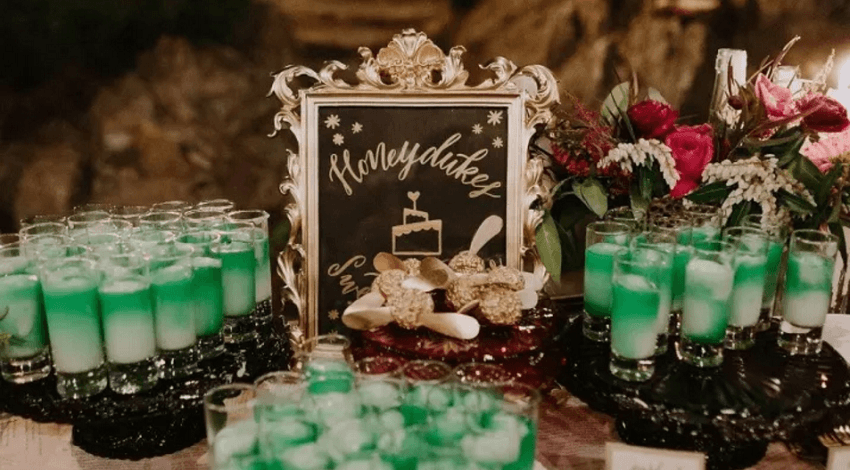 What do you think about these ideas? They're super original, right?
Well as you know, themed weddings are in fashion! Not just those inspired by Harry Potter, but also weddings inspired by Game of Thrones, Disney, Star-wars, the Lord of the Rings, superheroes, the 80's, etc.
All of these weddings are possible with Perfect Venue! What're you waiting for?
_______________________________________________________________________________________
Photos via pinterest