2020 is certainly leaving a bad taste in our mouths, but there is always a calm after the storm, and 2021 will emerge with more power than ever. And even more so in the world of weddings! The wedding trends for 2021 are already beginning to make their mark.
So, if you are getting married in 2021, you must surely be thinking about your perfect wedding venue, your dream dress, the decorations for your big day and the details such as the rings, the menu and your hairstyle. But what will all these things look like at a wedding in 2021?
We are here to help! Let us show you all of the trends that you need to know so that your wedding in 2021 will be perfect. Shall we start?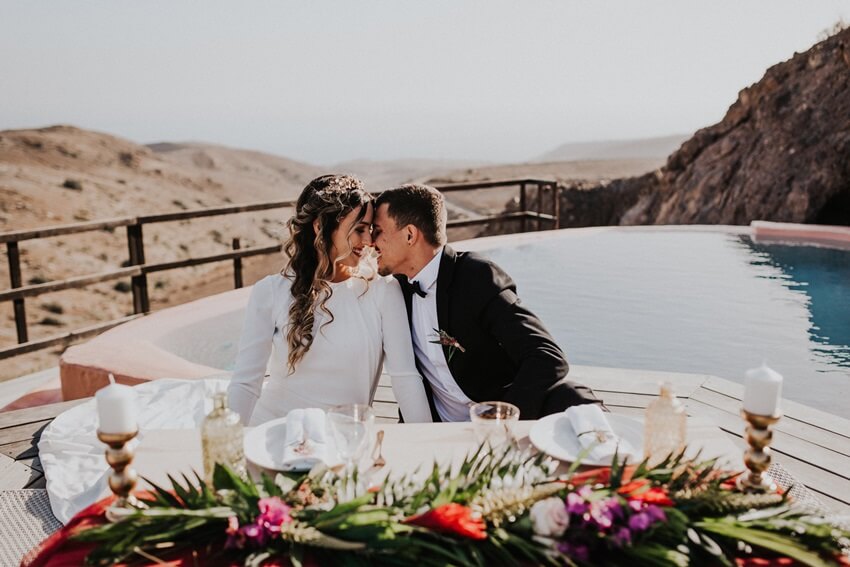 The decade of sustainable weddings
Yes, although we have already seen some sustainable elements in the weddings of 2020, now it's time to have a completely ecological wedding, without giving up any aspects of a traditional celebration! It's as easy as reusing elements for decoration, using flowers that have been grown locally and making use of the leftover food from the banquet.
You'll also see sustainability in the styling and outfits, from choosing designs from firms that work with sustainable bridal fashion and cutting up the dress after the wedding to be restyled and reused as something different, to dresses made from materials such as recycled fabrics as well as having a second-hand ring.
Recycled paper will also dominate in the invitations, menus, serviettes, etc. And the flowers can be donated after the wedding! Sustainable weddings are here to stay.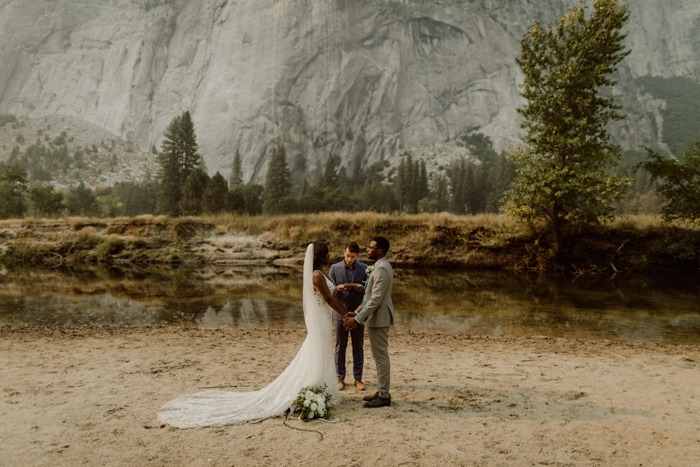 Say hello to intimate weddings
Gone are those huge weddings where we do not know half of the attendees and where many of them have been invited out of courtesy. In 2021, intimate weddings or 'microweddings' will be preferred, which as well as being much easier to organise, are also much more ecological and affordable for all budgets.
As a rule, weddings will have an average of 40 guests, and perhaps even less. This is a great opportunity to engage in more conversation and spend more time with your guests in a more comfortable and warmer atmosphere – one of the main trends in weddings for 2021!
Stationery everywhere
Yes, now it will not only be present in the invitations, but we will also see it in the form of place names, menus, cards… because, although we are in the middle of a digital era and online invitations are also booming, paper refuses to disappear!
A pretty and special detail to receive in lined envelopes, with prints and the colours and illustrations that match the theme of the wedding with unique calligraphy, an incredible trend for 2021.
Bold colours
Autumn oranges, sensual reds, terracotta, bluish greens, purples, off-whites and greys will be the colours that will feature at the weddings of 2021, where less will be more, adding a touch of colour that, combined together, will result in a colour scheme full of freshness for your wedding. This will add an element of versatility and timelessness!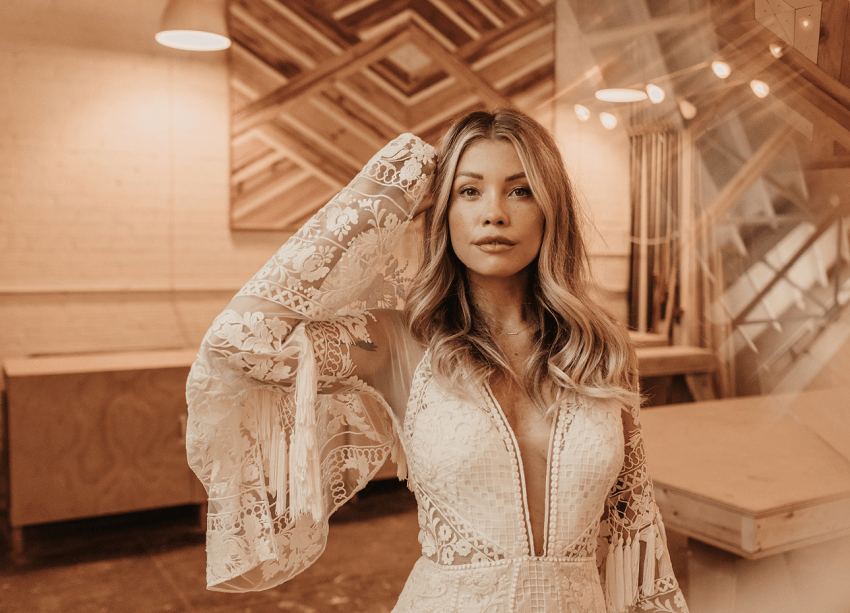 'With your hair all tousled…'
In 2021, natural hair is preferred, as if it has just been air-dried or blown about in the wind, carefree and unkempt.
The hairstyles will be more relaxed, loose and informal. Gone are the conventional up-dos without a wisp out of place, now you will see the baby hairs, the natural waves, messy buns, loose hair and open bangs.
And what about the headdresses? They will be very simple and we will rarely see veils or shawls. Millennial brides prefer minimalism and simplicity! Like some floral applique, a small crown or a little tiara.
Charming wedding rings
As we saw last season, a touch of colour added to the design never hurt anyone, and we will see this particularly with the rings, such as rings with sapphires, coloured stones, pear-shaped stones, aquamarines and glitter everywhere.
But just as diamond platinum rings, double gold rings, diamond-shaped stones and pavé rings will be in fashion, so too will rings with antique stones, aged metals and baroque designs.
Large and discreet sizes, for men and women, 2021 is the year of rings for all tastes!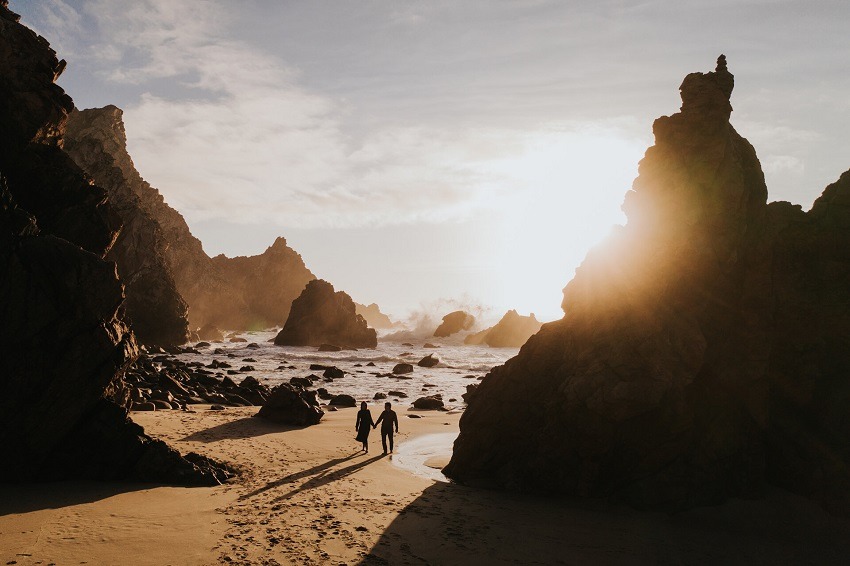 Gifts, more useful than ever
Because, although it is much appreciated when you receive crockery and cutlery, hand towels or some other small household appliance, it is no longer what you would expect to receive.
Now gifts appear in the form of experiences, animals, tickets to concerts, sporting events, museums, with cash and even donations to a cause that means something to the bride and groom.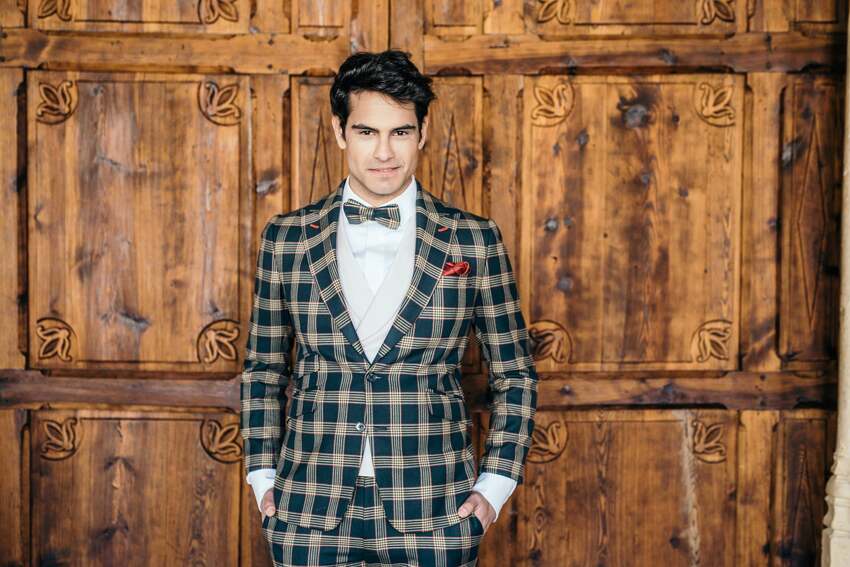 Modernity in the grooms' suits
Who said the groom has to wear a classic suit to be elegant? This will not be the case in 2021! Because the grooms' suits will look like a work of art, as if they were a decorated canvas. How? with suits that could be worn not just down the aisle, but in daily life, too.
Vintage suits in shades of grey, blue, burgundy and even green, patterns and accessories to complete the outfit, such as ties, striped or polka-dot bow ties, will be more popular than ever – break the rules!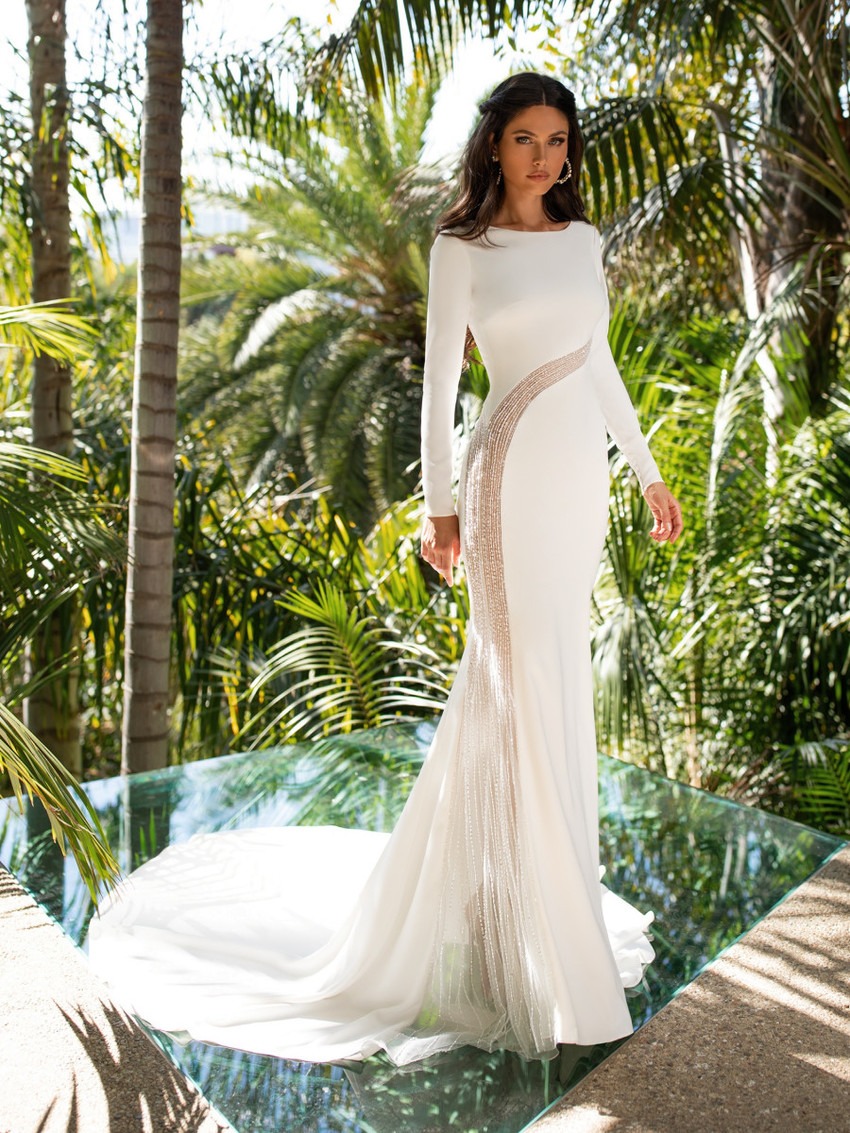 Daring wedding dresses
The same applies to wedding dresses, where discretion and prudence are no longer preferred, but where the emphasis is on striking, exaggerated and bold styles.
The dresses will be voluminous, but not only in the skirts, but also in necklines, in exaggerated and puffed sleeves and at the back, all in the form of gathered, asymmetric, layered, detailed or folded frills.
You will also see removable elements, such as skirts or sleeves, jackets, layering, bright colours and embellishments, such as feathers, sequins, beads, pearls, crochet and tulle, as well as lace, a classic in bridal fashion that will never go out of style.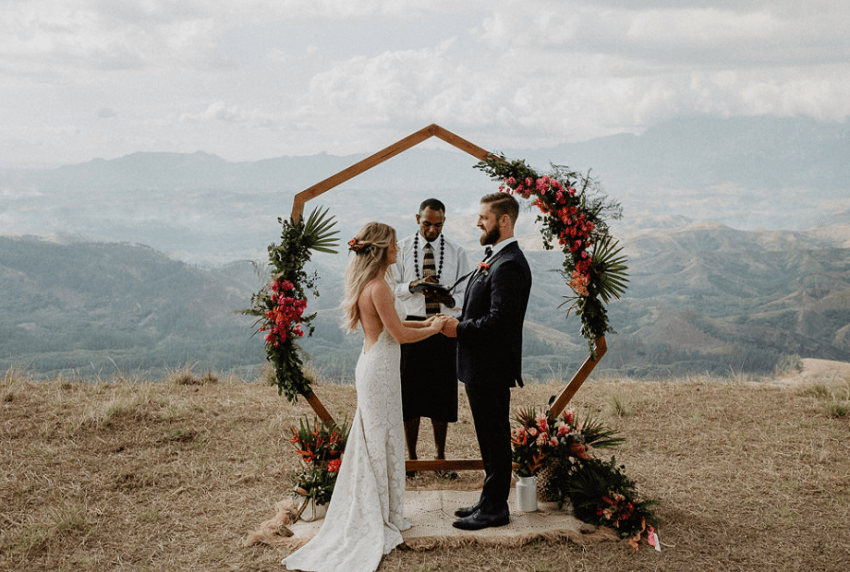 Flowers with smell and taste
What do you mean, flavoured flowers? Yes, in 2021 edible flowers are a trend, a very original way to be able to showcase an integral part of a wedding, usually arranged in vases, centre-pieces or in the bride's bouquet.
But now, flowers will be camouflaged in salads, placed on top of the most succulent desserts, in ice cubes or infiltrated in the most appetizing drinks!
But taste is not everything, because smell will also play a very important role, and for that there are wild and fragrant flowers! such as rosemary, eucalyptus, lily, jasmine, lilac or hyacinth. You will fill your whole venue with a natural and rural aroma!
Also, we will complement the striking design of our dress with simpler flowers and smaller details, so that they are placed around the venue in a more moderate, sober and serene way.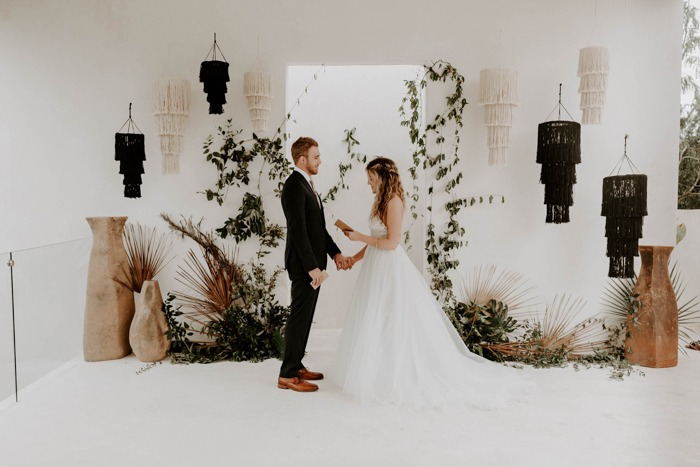 Very unexpected decorations
Harmony will be key, but with an endless number of combinations and blends that will result in that eclecticism that will be sought after in 2021. Metal objects combined with wood, antique furniture with modern dishes, velvet napkins with satin tablecloths… and always with a touch of colour, the mixture of textures will be a trend!
As will be the decoration suspended in the air, with falling flowers or candles and hanging lanterns, because yes, ambient lighting will also be another of the great trends of the 2021 weddings: chain lights, luminous LED signs and modern fluorescent tubes.
For banquet decoration, the trend will be synthetic and unique tables, with crockery that is reinvented in a more youthful way, but with classic lines or decorative elements. Don't be afraid to mix different types of crockery and colours! Because it will be a real hit.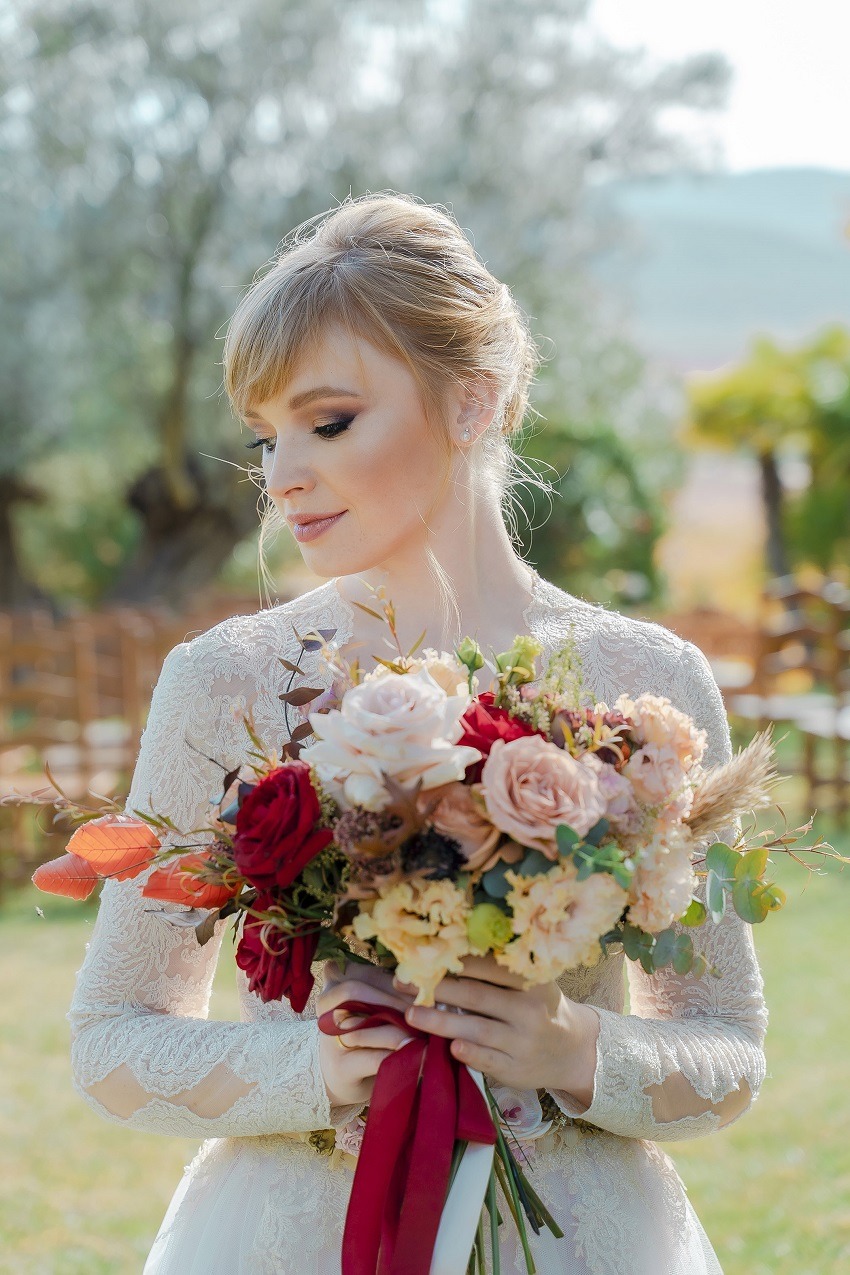 A very healthy banquet
Healthy food is becoming more and more popular, which should always be the case. That's why the wedding banquets next year will be filled with fruits and vegetables, legumes and even vegetarian and vegan options– with this kind of food you can really create delicious dishes!
The bride and groom will choose more daring recipes with contrasts, with different creations and fusions. Say goodbye to the traditional!
Food stands and drink stations will also be almost indispensable: beer taps, champagne dispensers, an ice cream cart, a cocktail bar… An experience that will give an added bonus to your banquet!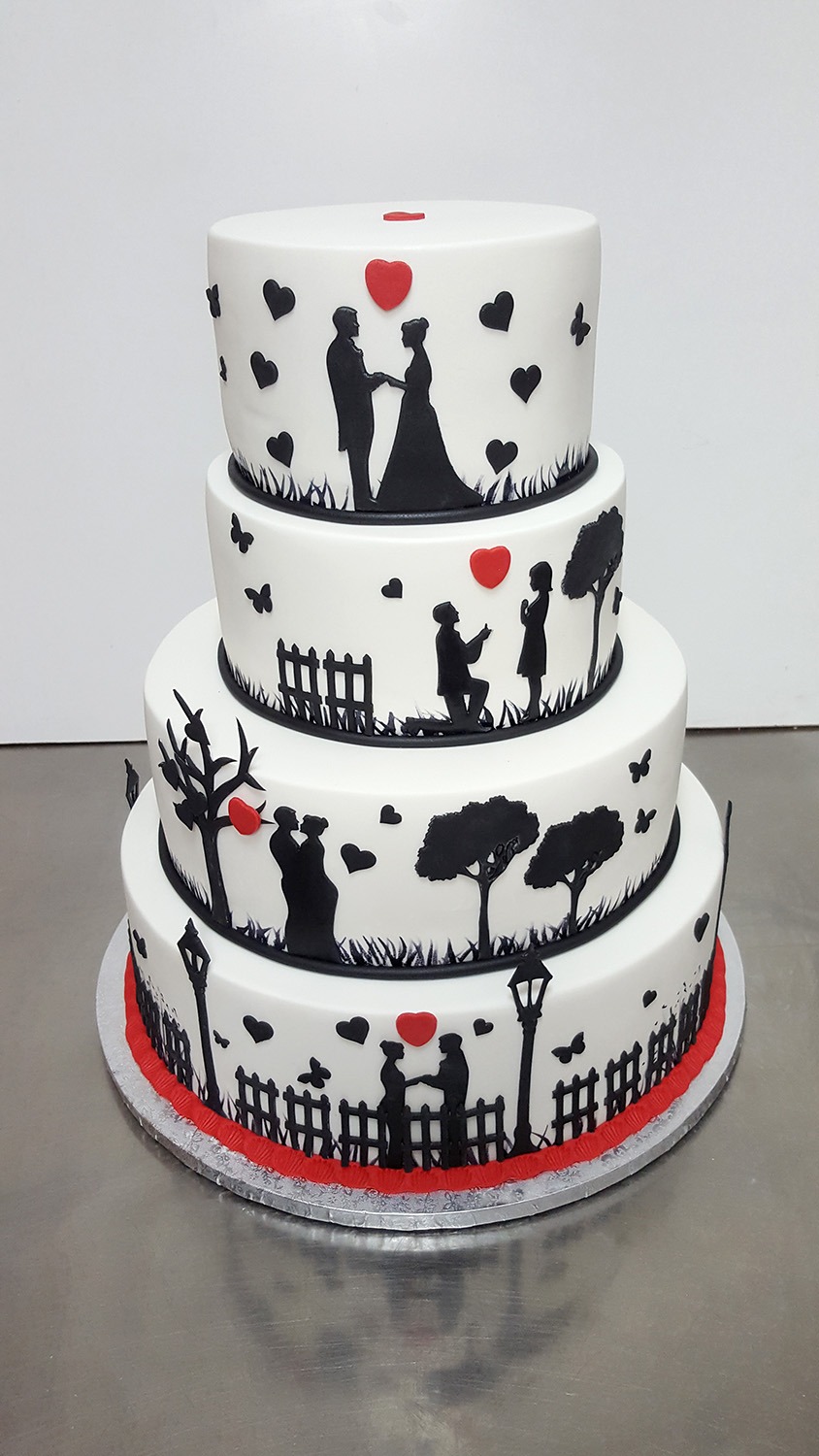 The cake, too, is out of the ordinary
Desserts, like everything else, have also evolved, now towards desserts full of edible objects, fondant and sauce. No big, multi-storeyed wedding cakes, now there are full-size cakes arranged in separate spots that make all the difference.
As we have already seen, it has always been important for the sweet treats to look beautiful in the form of cupcakes, chocolates, macarons, etc. but now this time is reserved for varieties of cheese, nuts, fruits and cookies.
So yes, with desserts we also go outside the norm!
At Perfect Venue we are the first to look forward to welcoming 2021.  Go ahead and start your preparations now! We are ready and waiting for you!