Perfect Venue is calling all of next year's brides! Are you one of them? Then surely you are looking for the best wedding dresses for 2021. Well, let us tell you that you will find yours in this article!
We have compiled the charming designs that Nora Naviano has presented in its De Sevilla con Amor 2021 collection, so that you only have to decide which one is most suitable for you.
With the philosophy of creating exclusive dresses full of magic, this brand wants their brides to be the most beautiful in the world, and, so far, we can say that they are succeeding.
It's no surprise because with the outstanding designs that you will see below, it's no wonder you'll be amazed!
So, without further ado…let the showroom begin!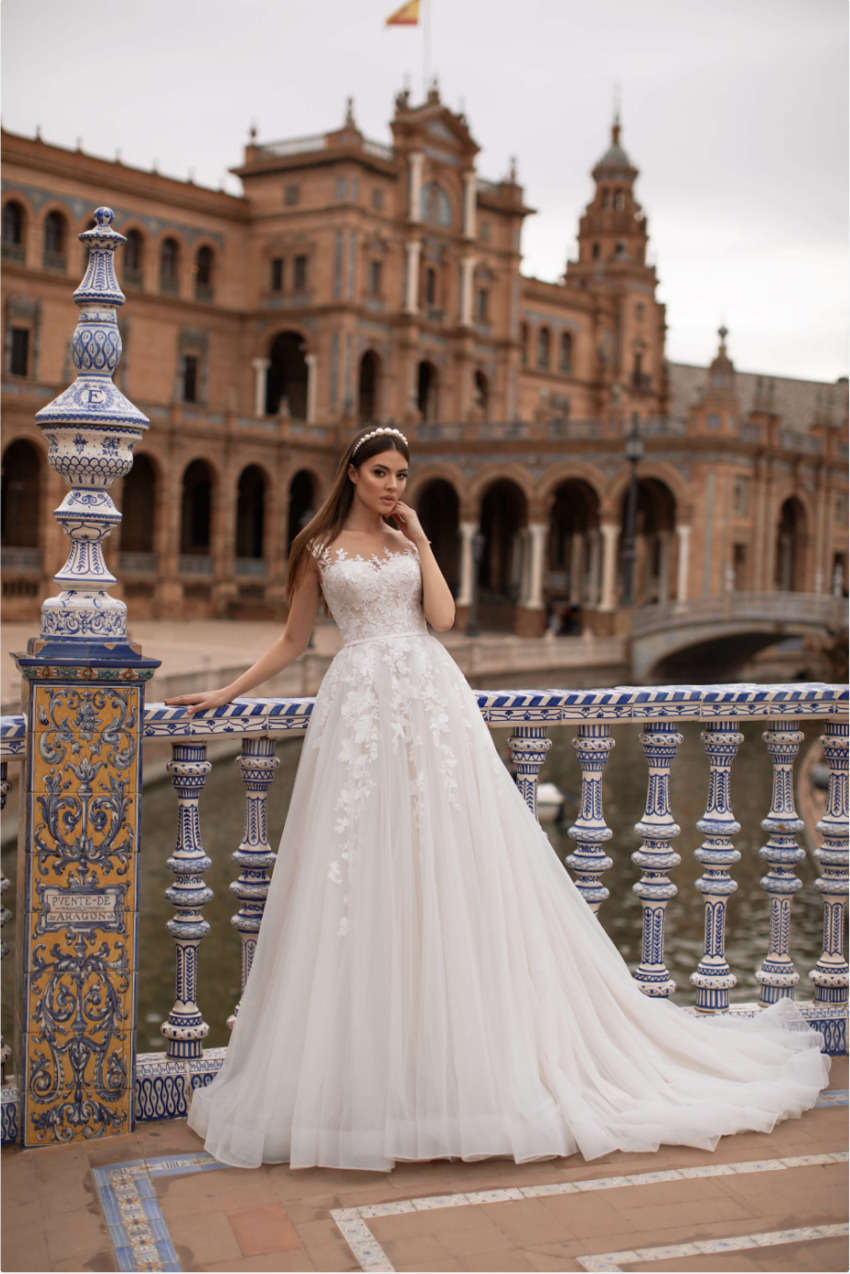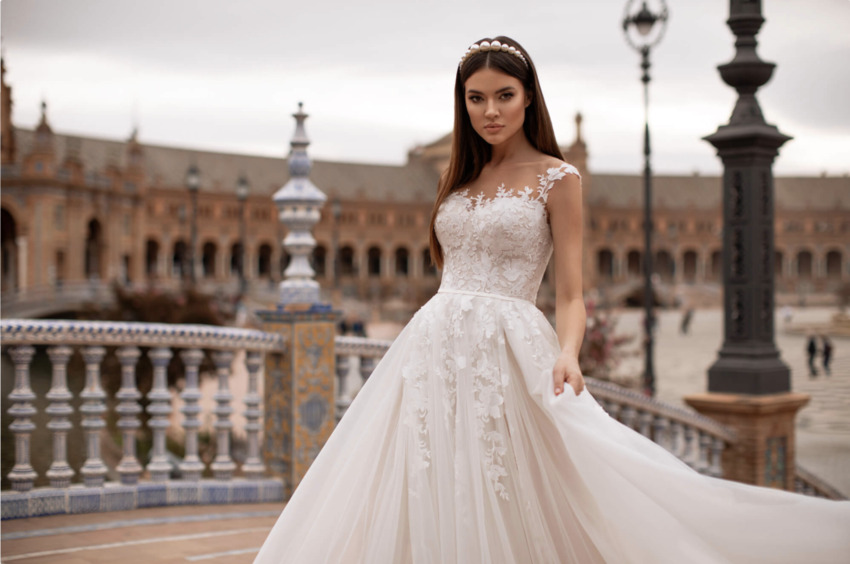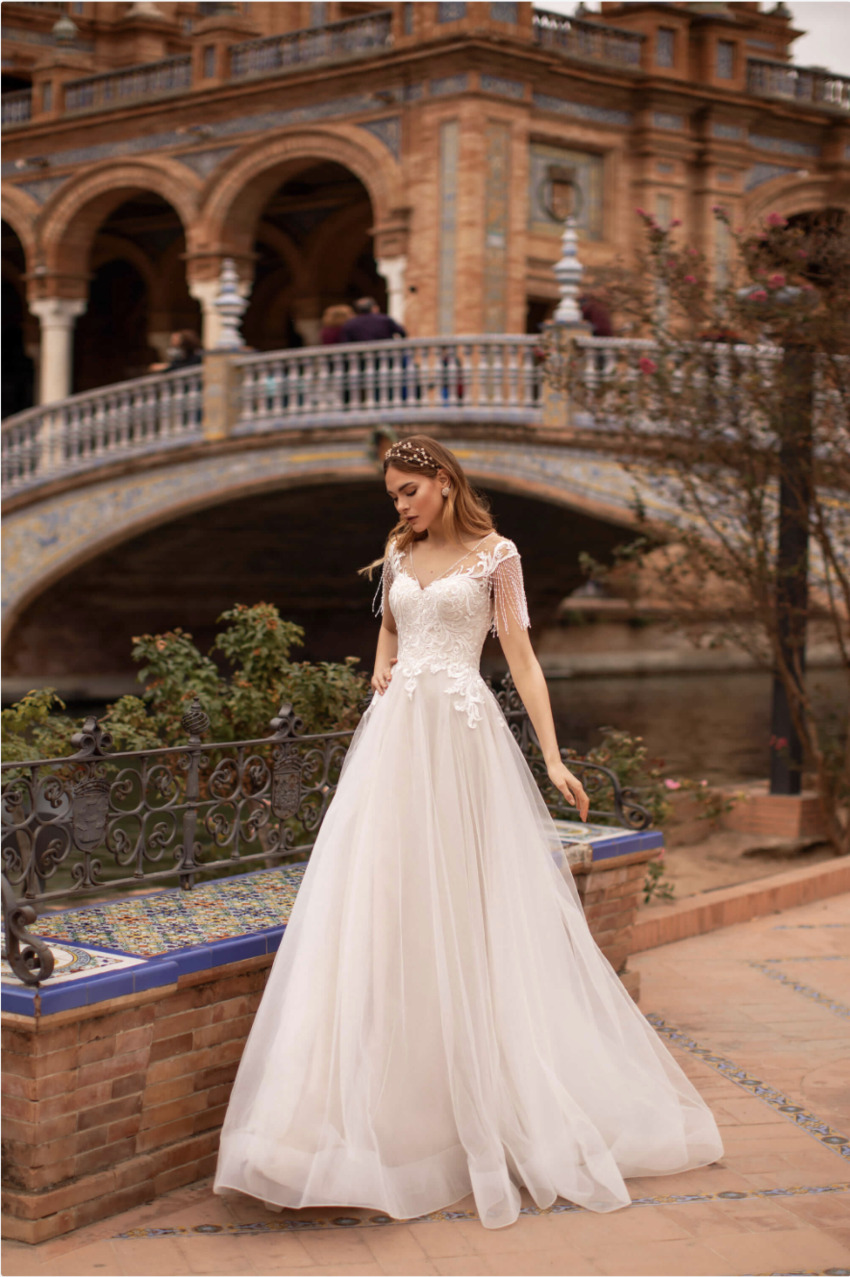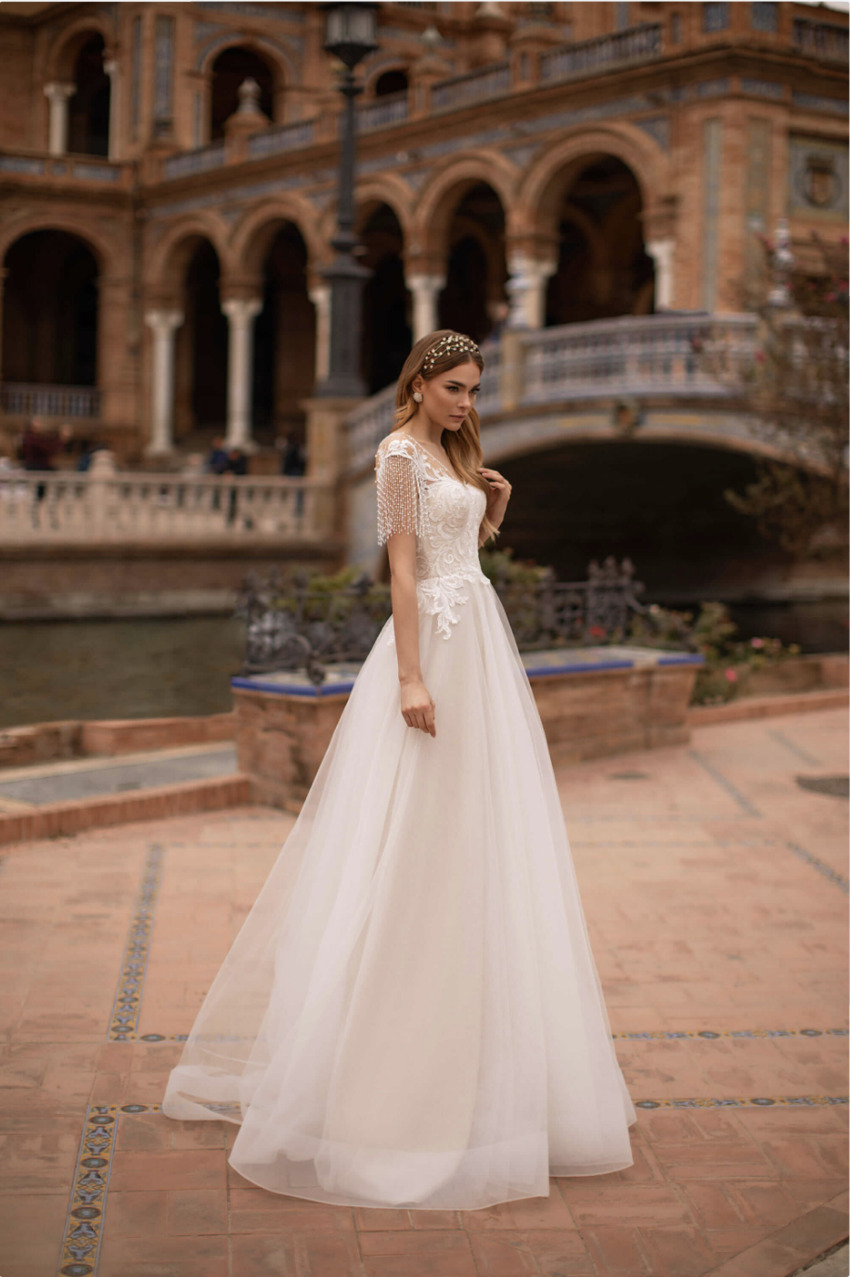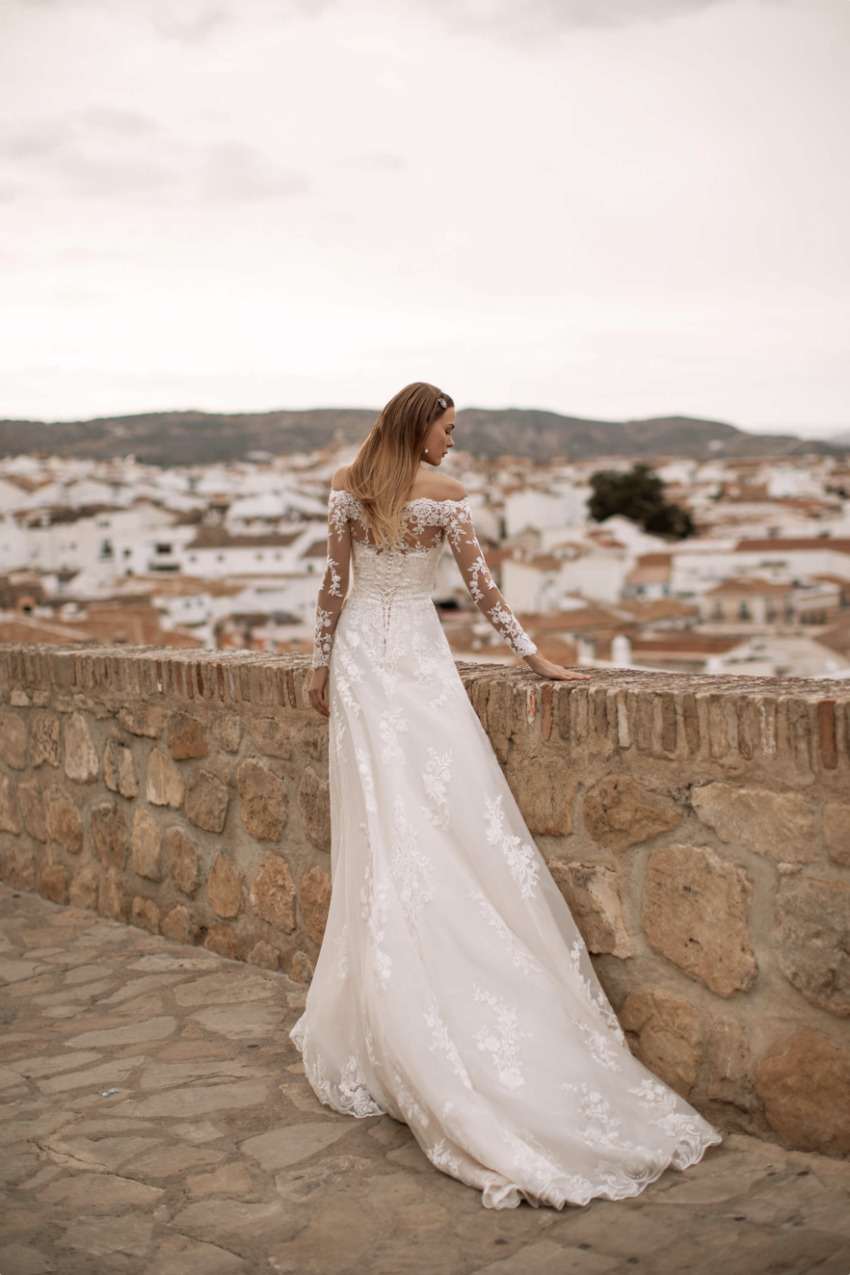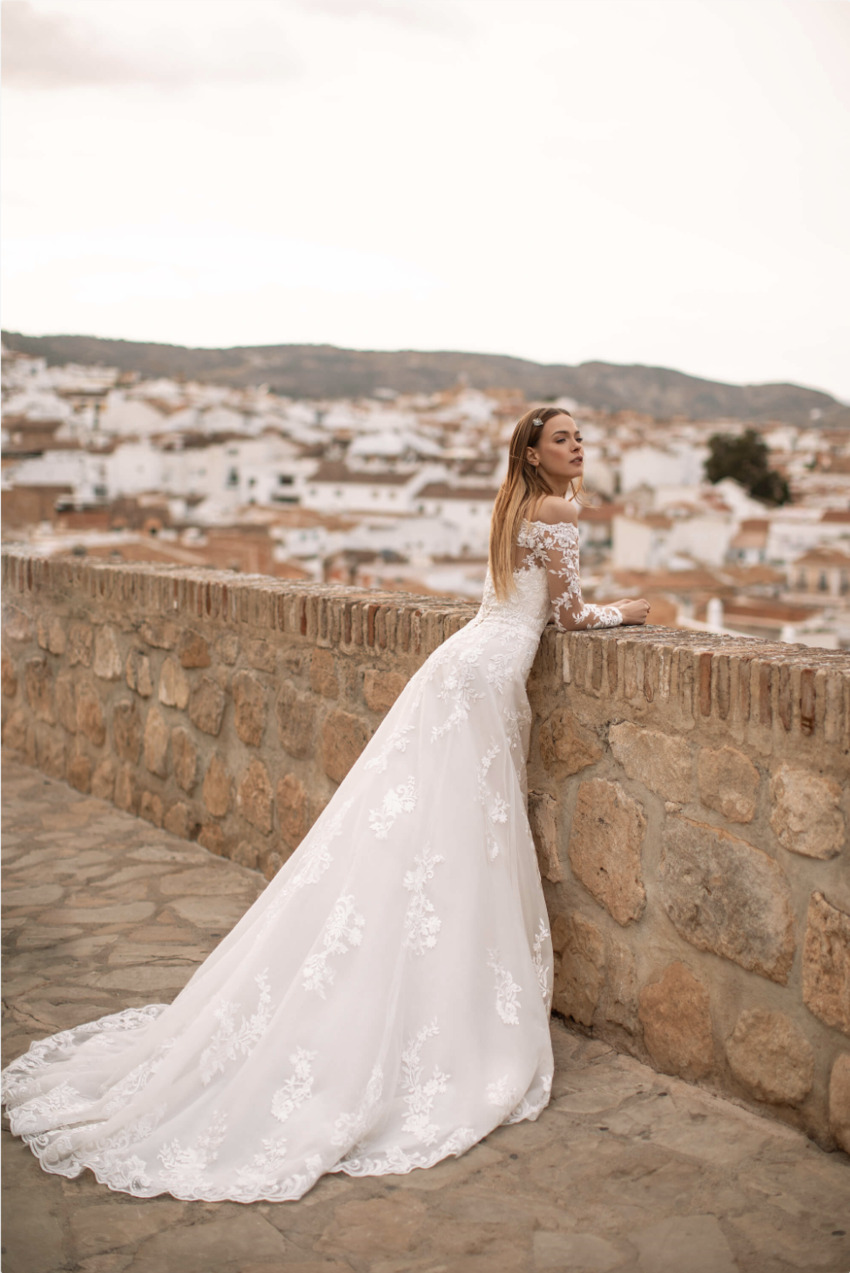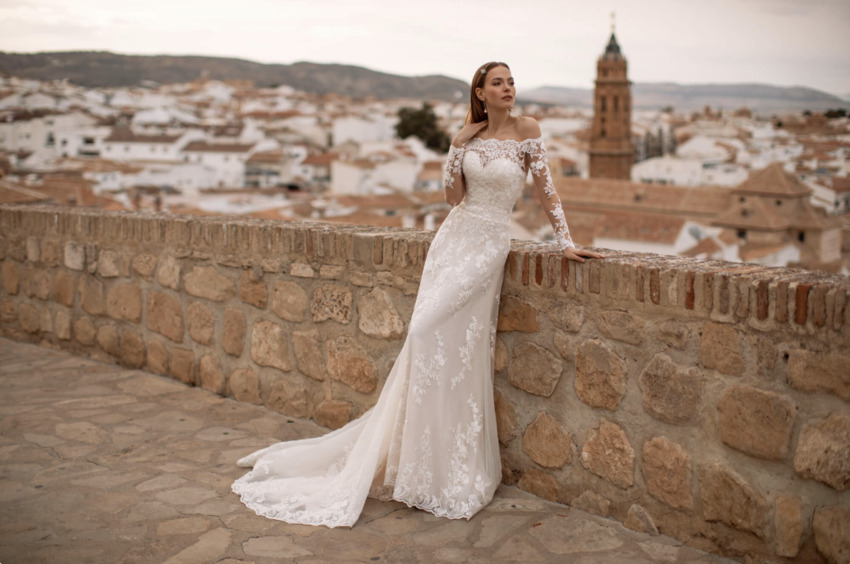 Candy
If what you want is to feel like a real princess, the Candy design is the one for you, thanks to its V-neck, its beautiful lace with princess-cut sleeves and the embroidery on the upper part that also runs down to the skirt.
Celin
The design to truly look like a fallen angel from heaven. With the Celin dress you will leave everyone speechless thanks to the majesty of the flowers that cover the dress, its long sleeves, the semi-open back and its elegant belt.
Candice
A dress that is undoubtedly designed for the most romantic and elegant brides that truly appreciate authentic elegance. With a back tied with strings as a kind of bodice and its fallen sleeves, you will look very romantic.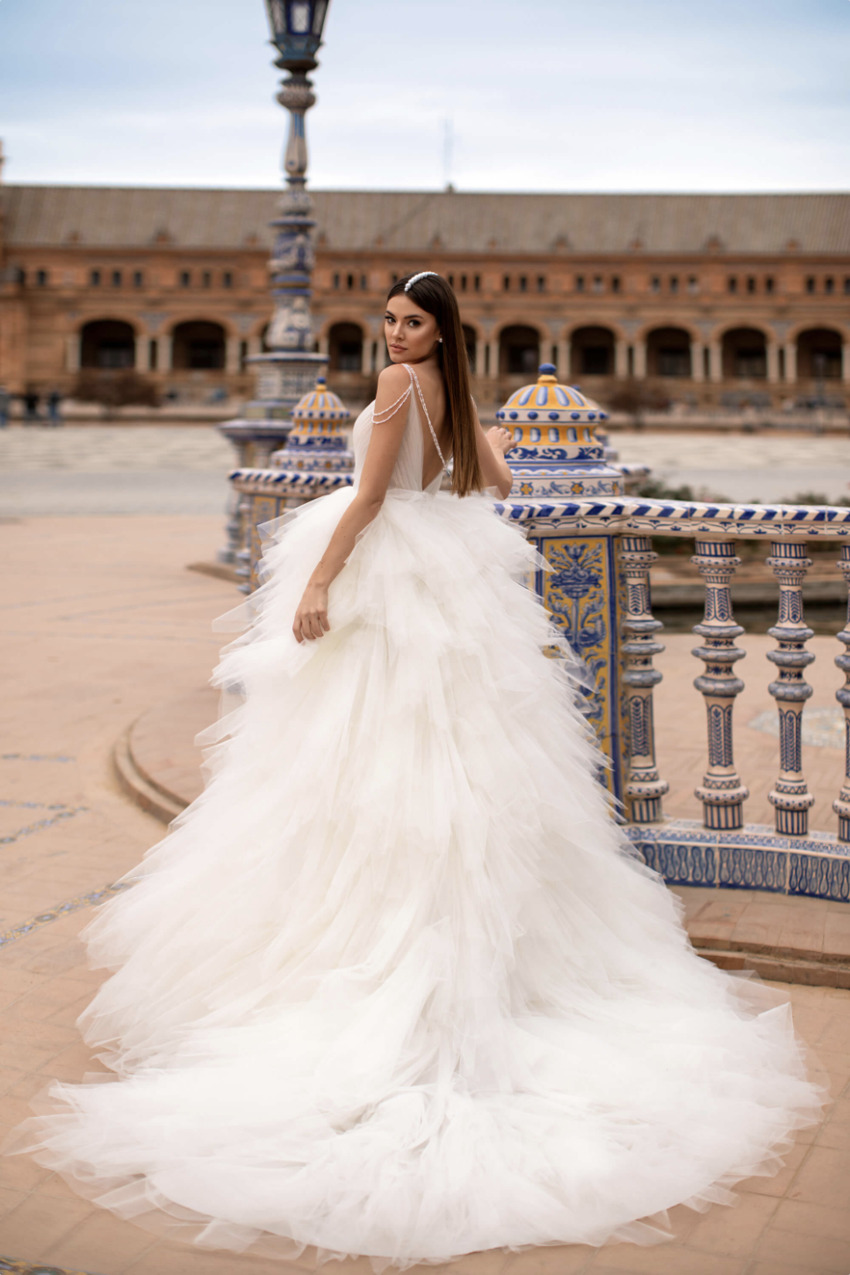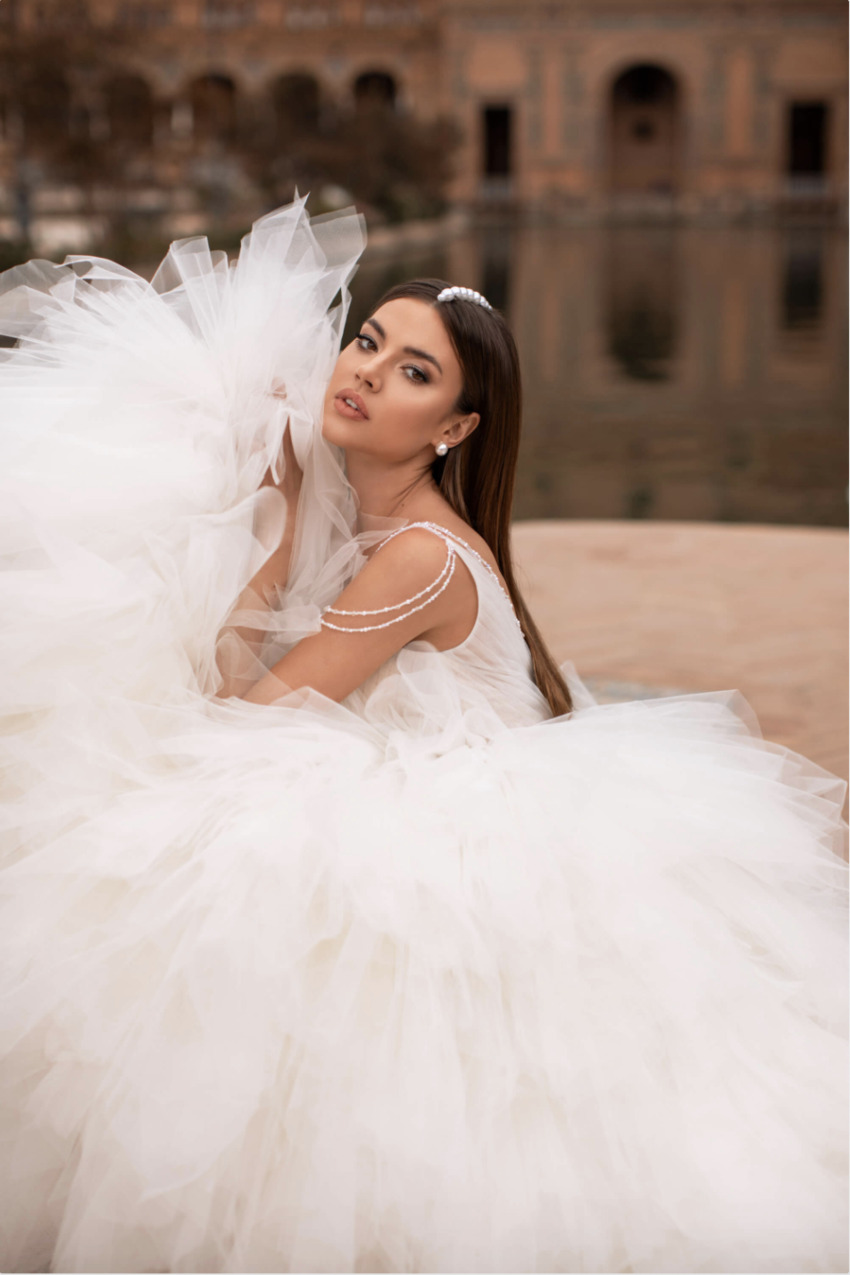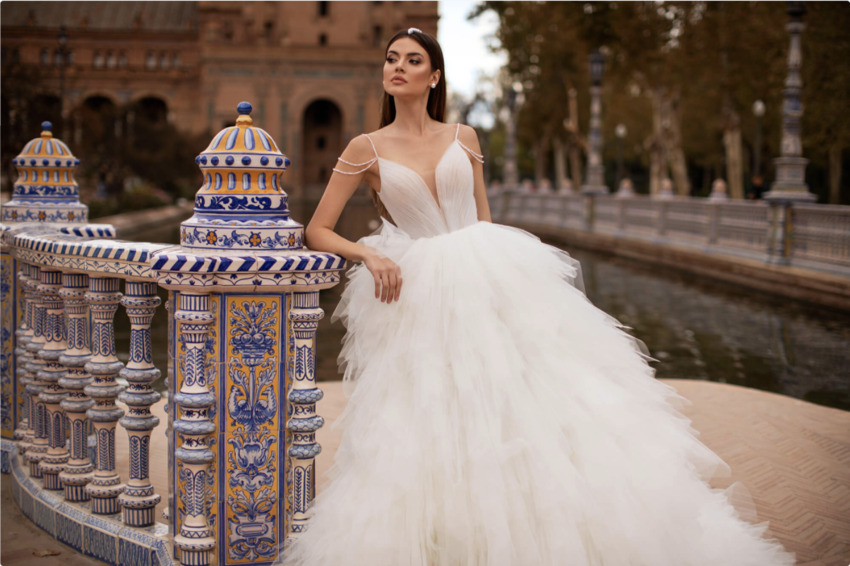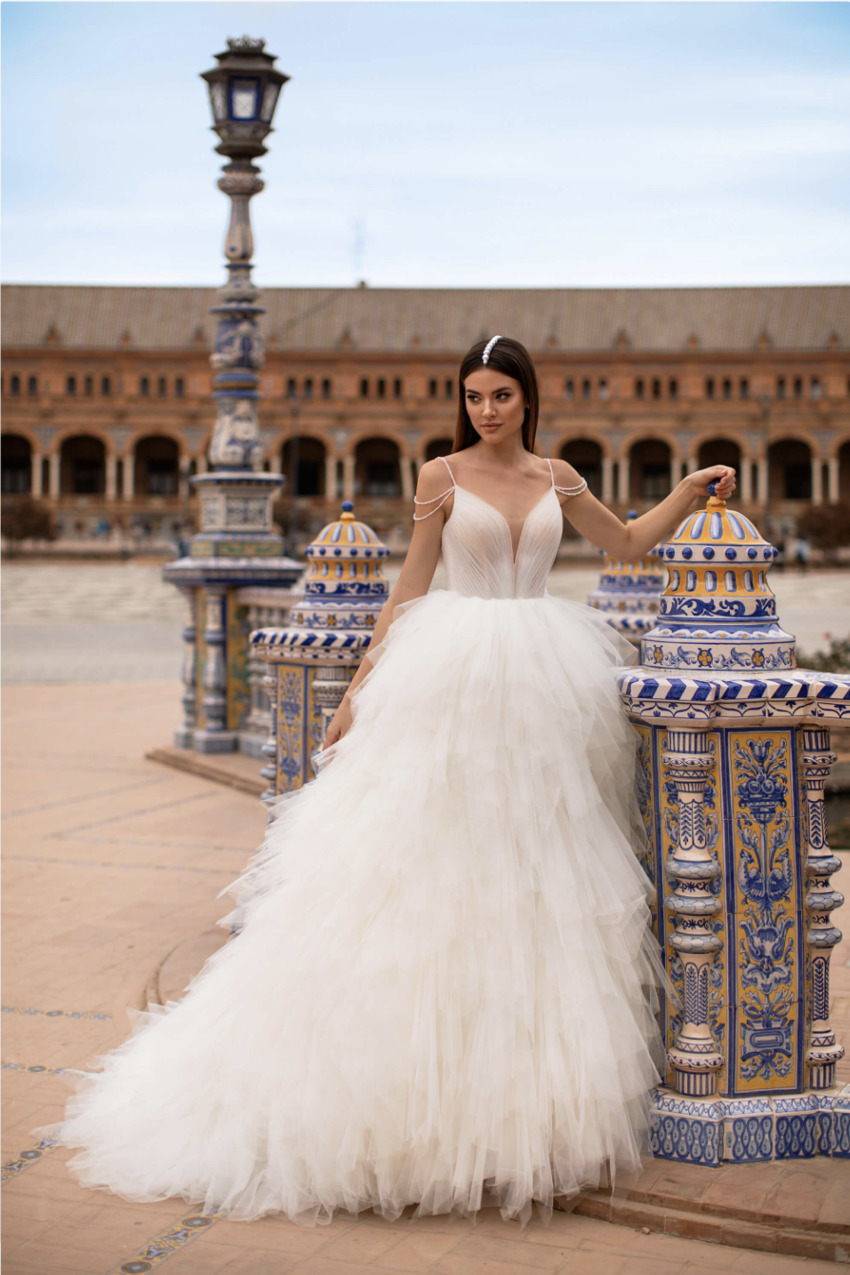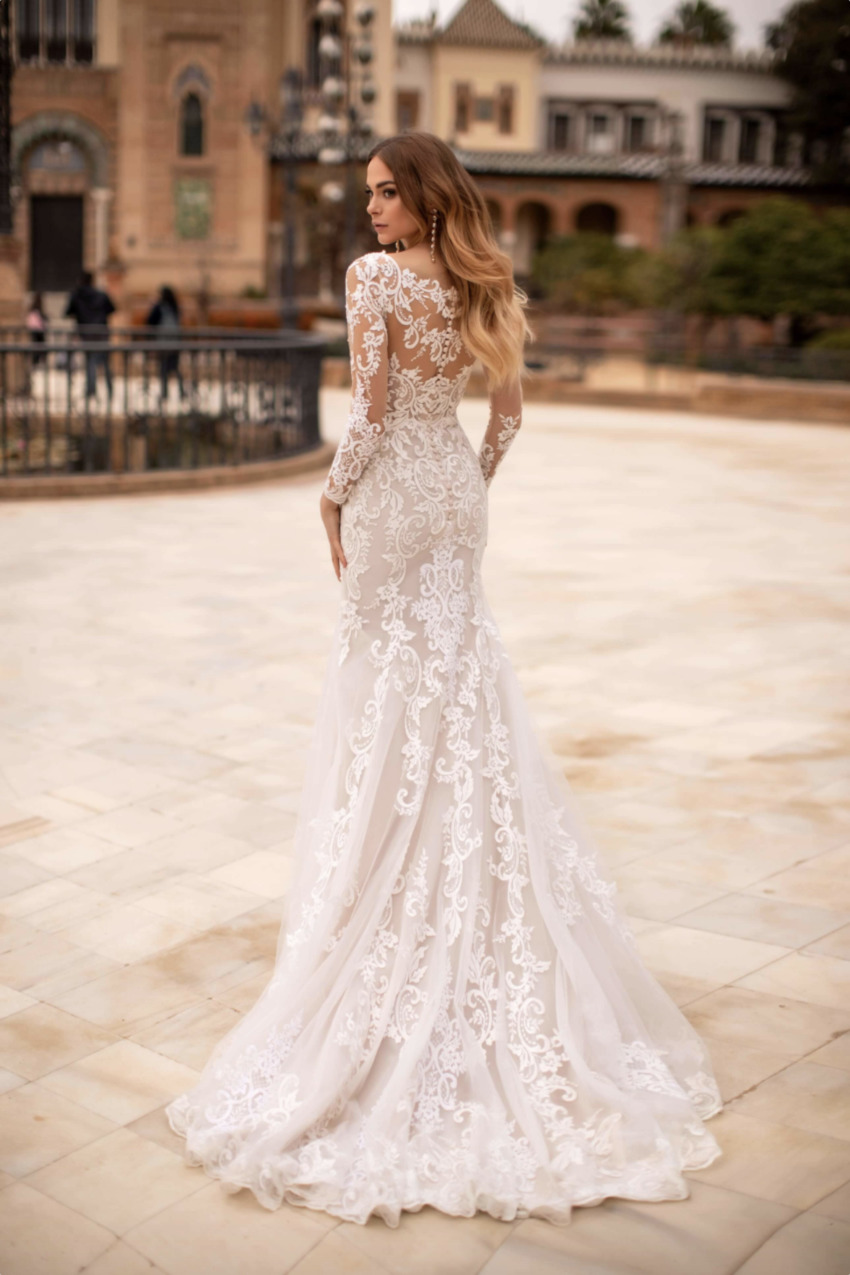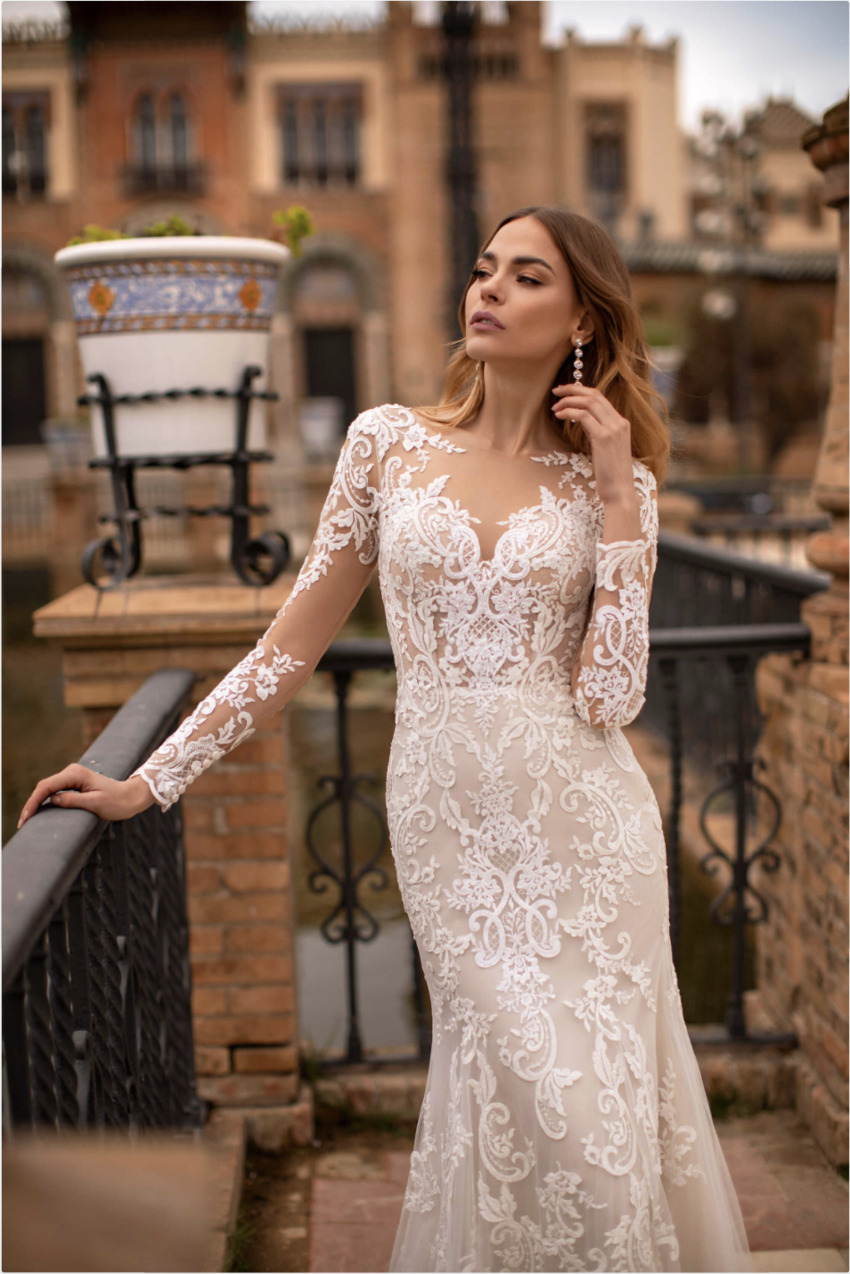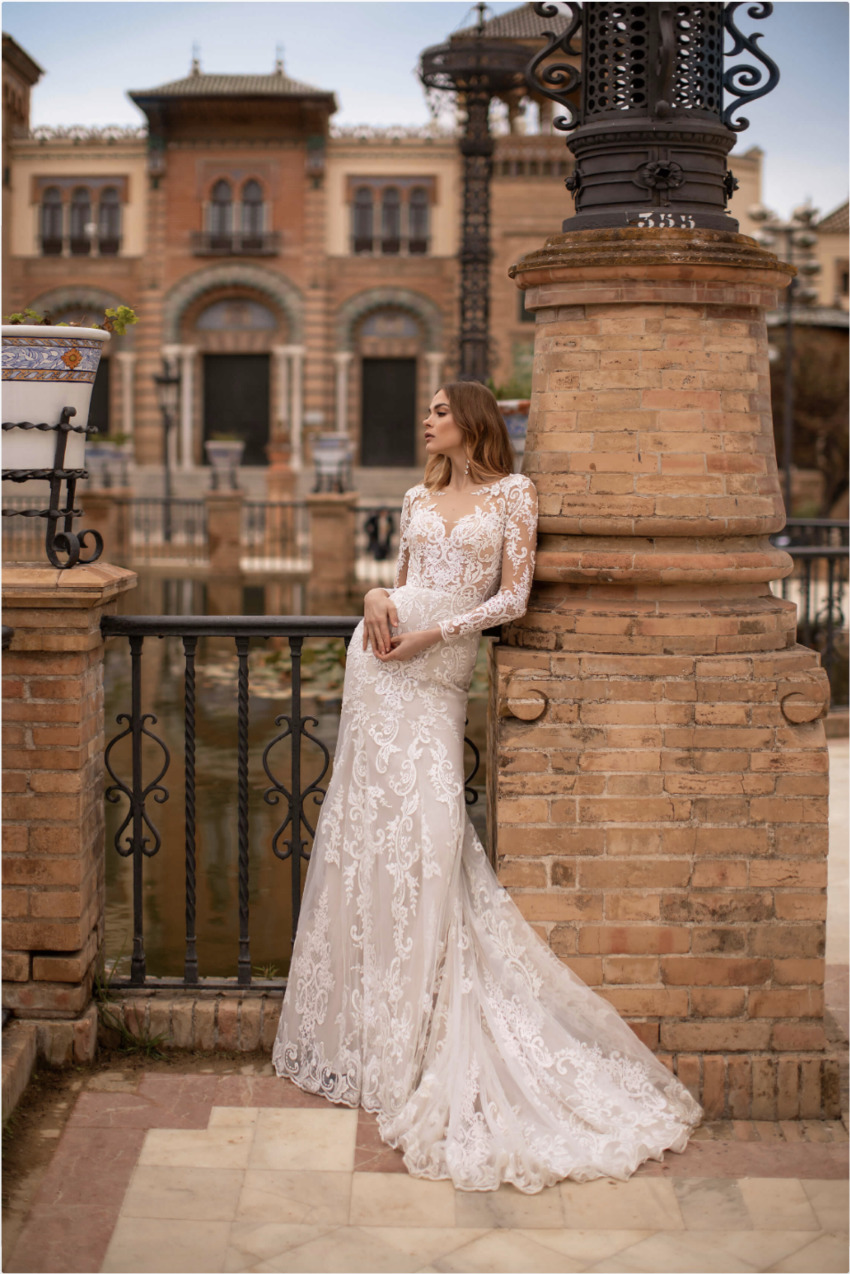 Canela
With an A-line cut, sweetheart neckline, short sleeves with see-through lace and embroidery, and a lightweight tulle material, this dress is for almost any bride. Surely you can't stop visualising yourself wearing this design!
Charlotte
The multilayer skirt and delicate lace of this dress all add to the charm and sophistication that is sought on such a special day. With an open back, buttons and sleeves full of embroidery and illusion lace…you will be pure love!
Camilla
One of the most romantic, sophisticated and light dresses that you will find is the design Camilla, due to its plunge neckline, its unique pattern, its long sleeves and its close-fitting waist thanks to an elegant belt that surrounds the design.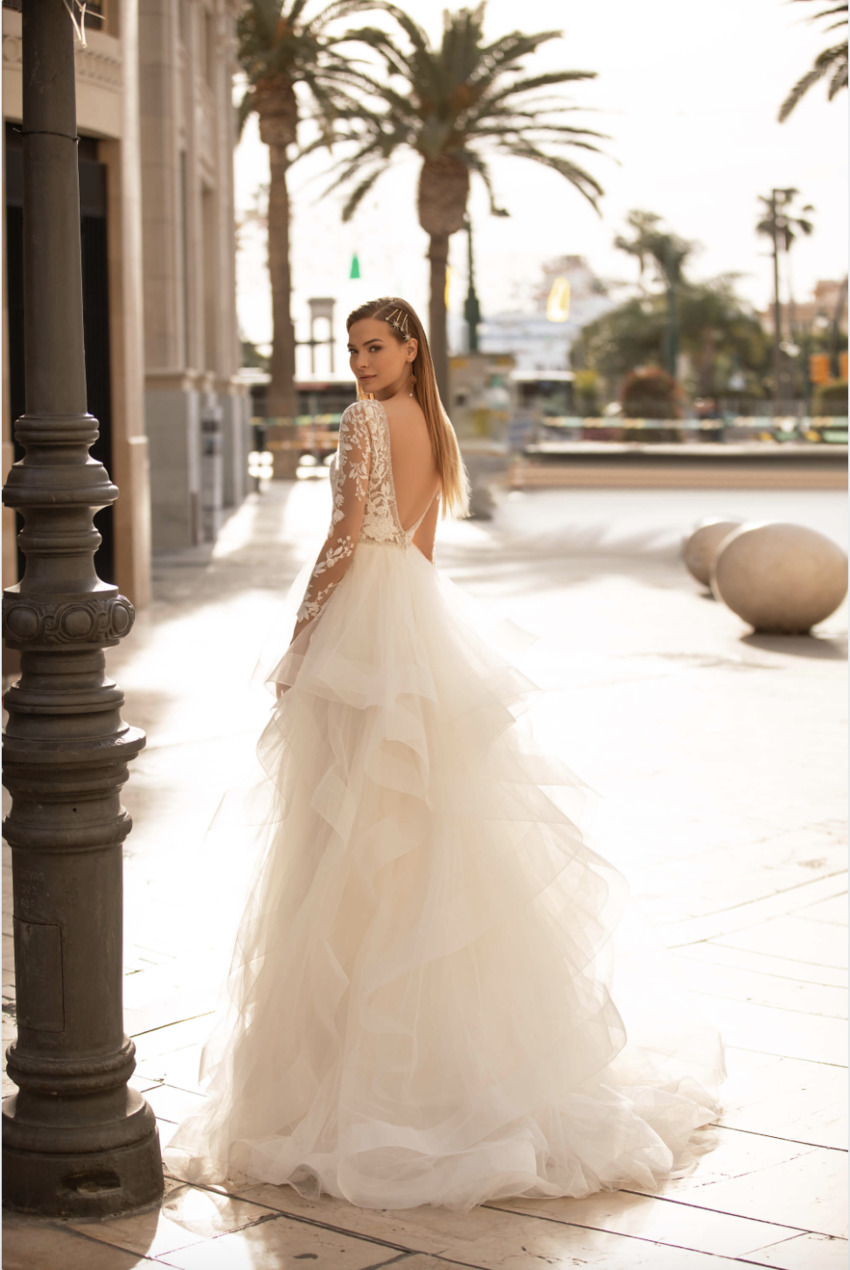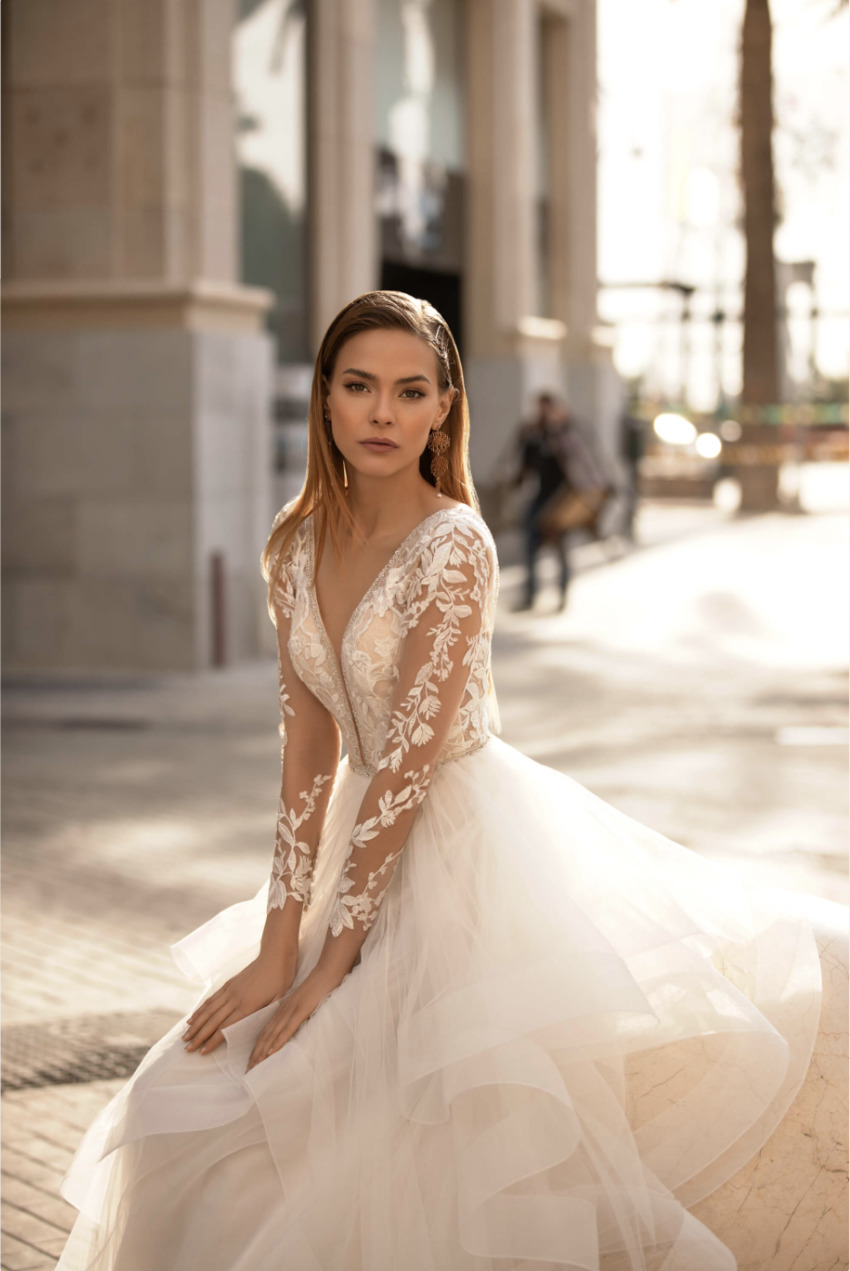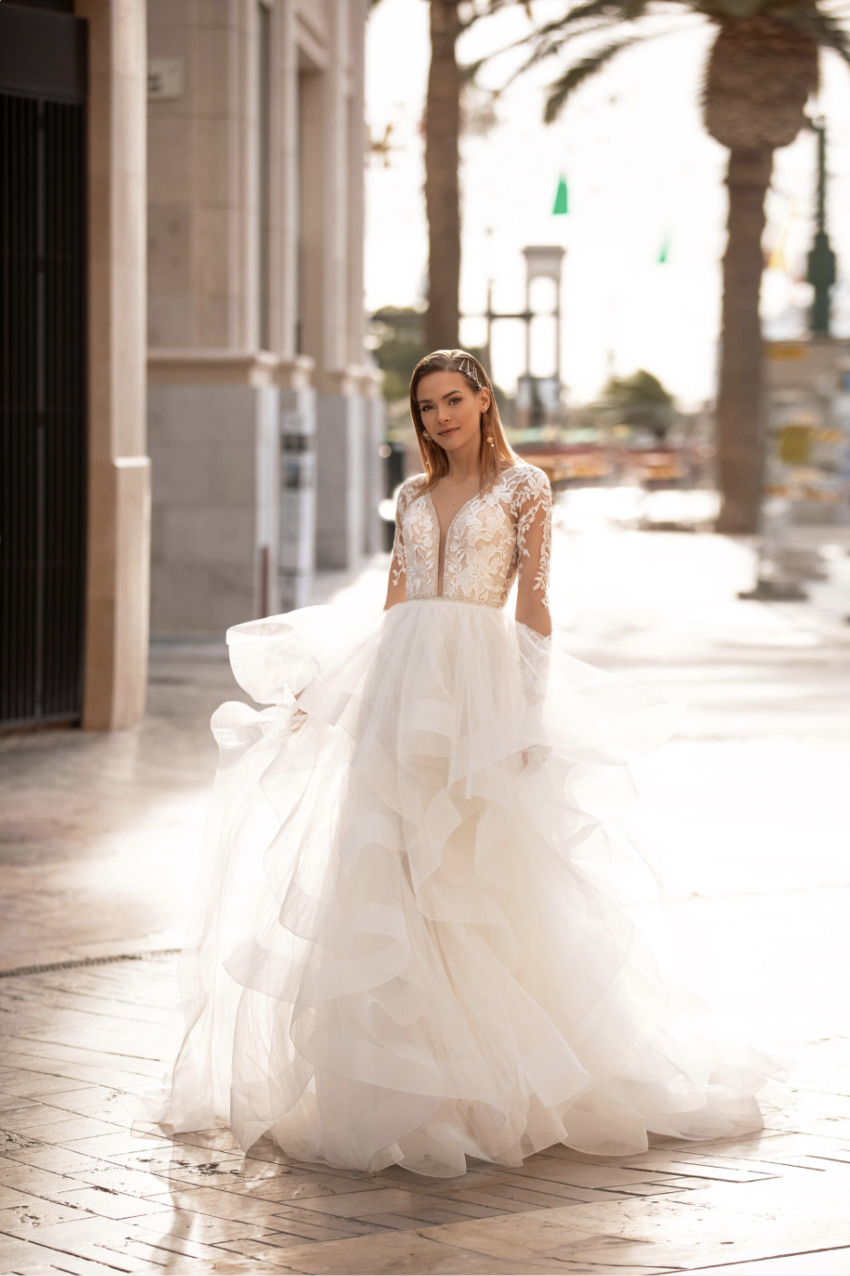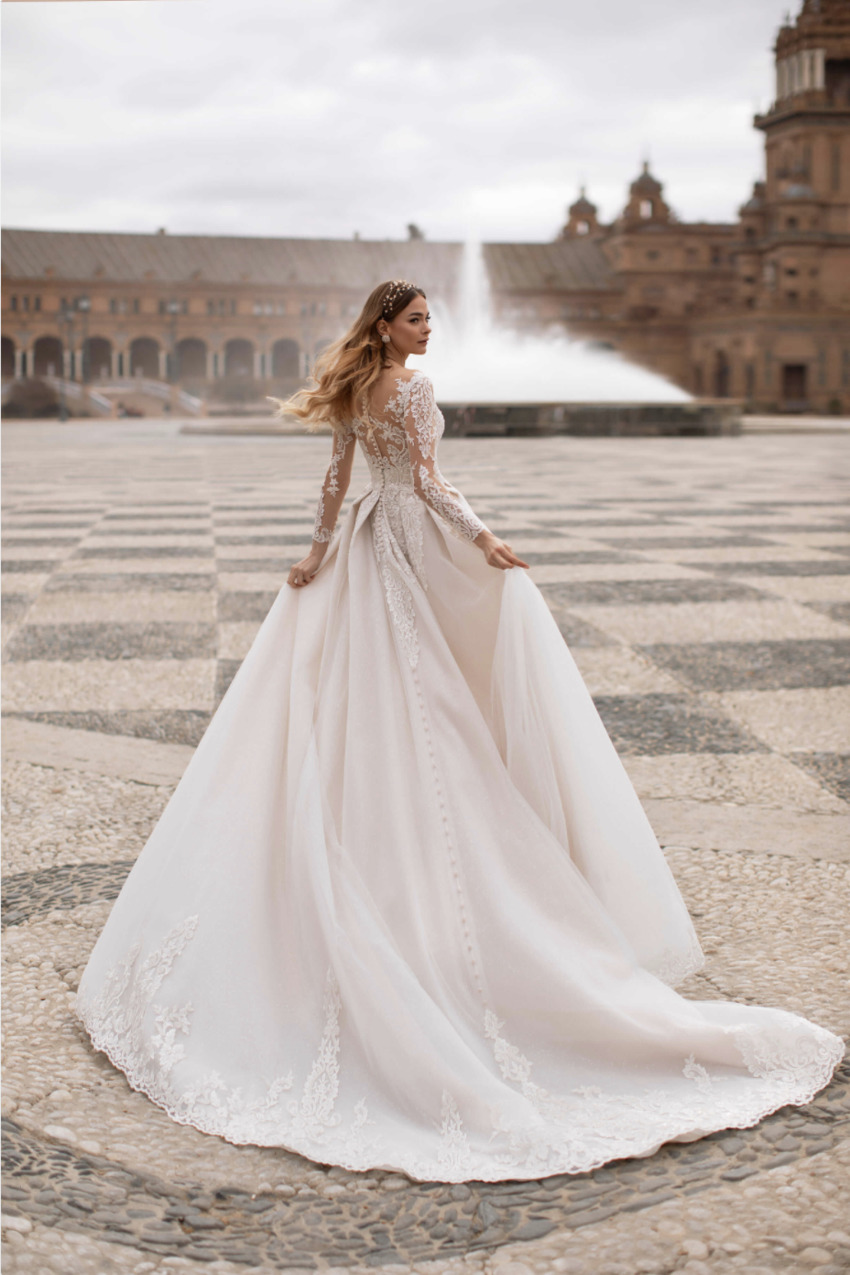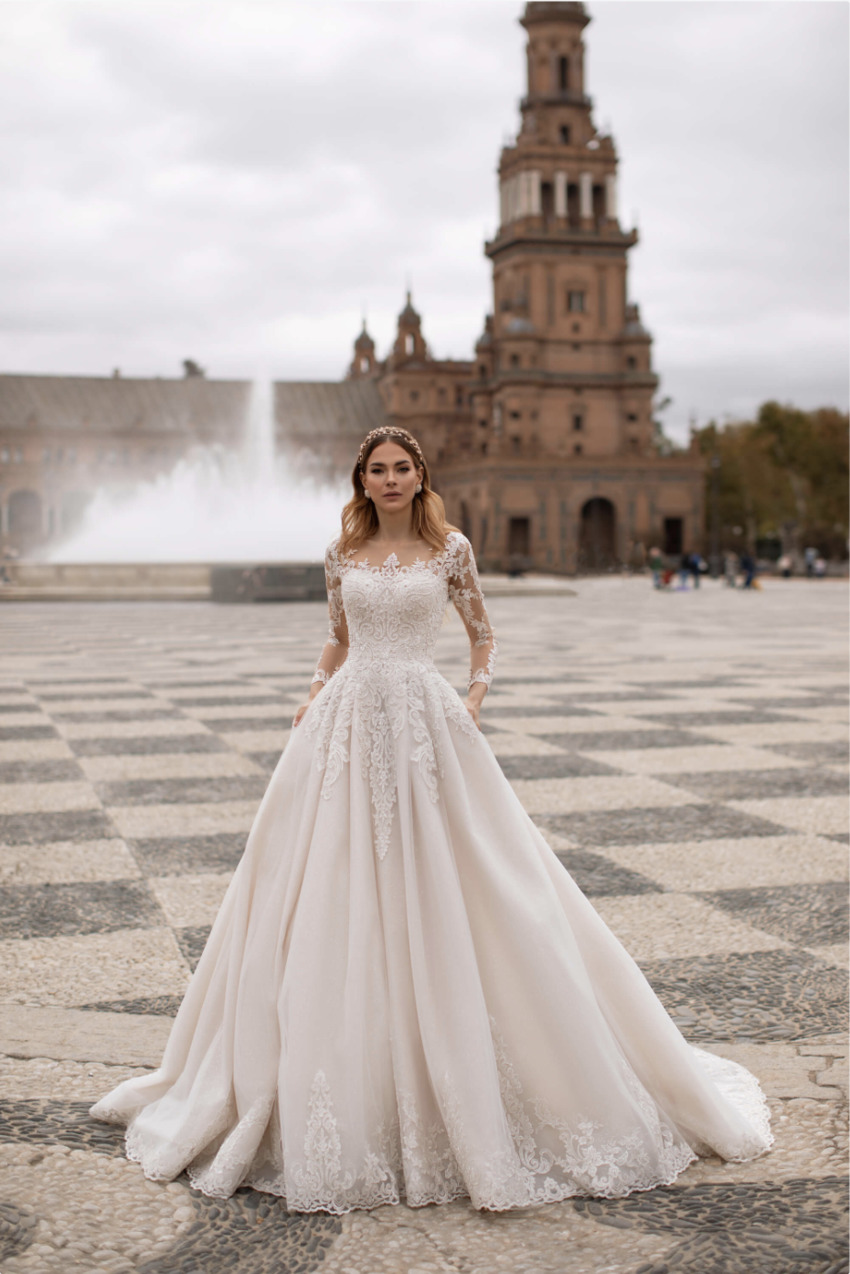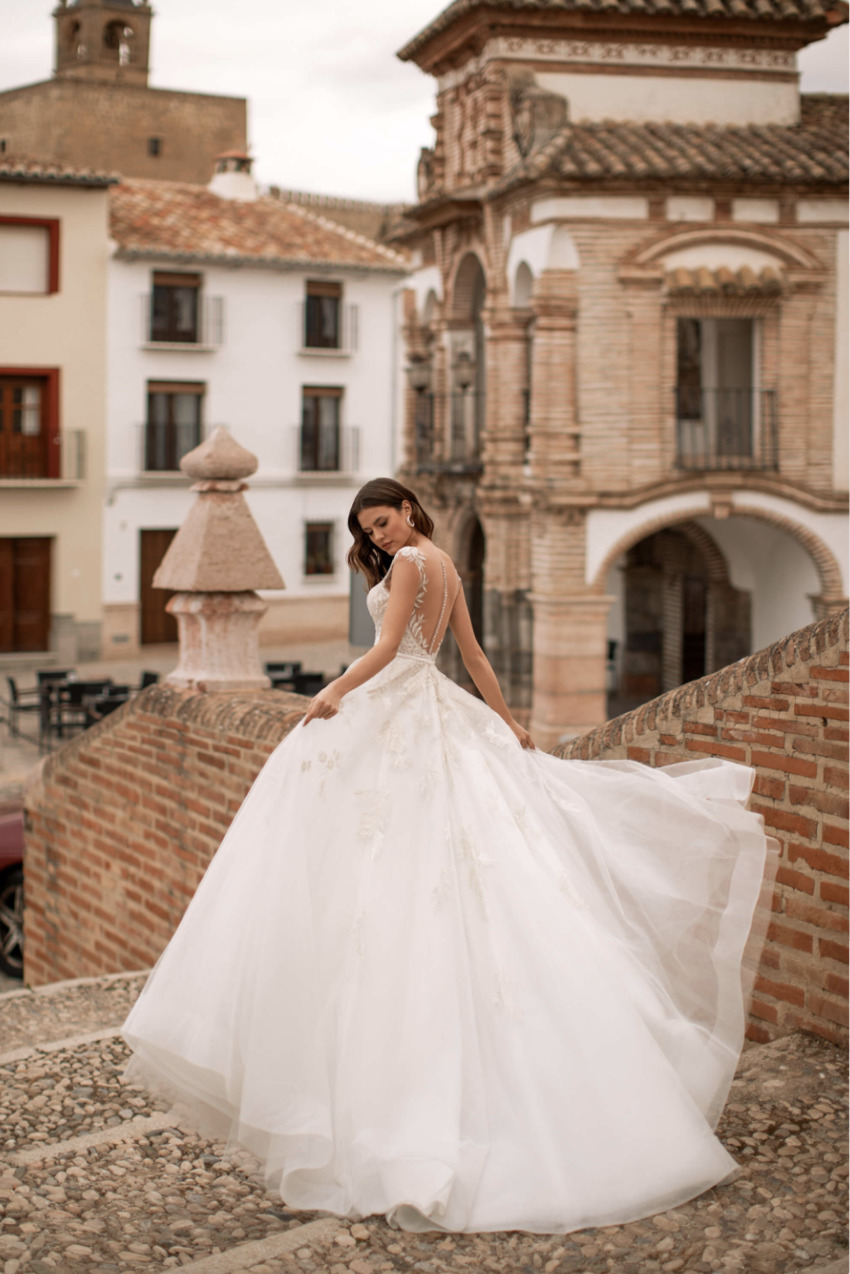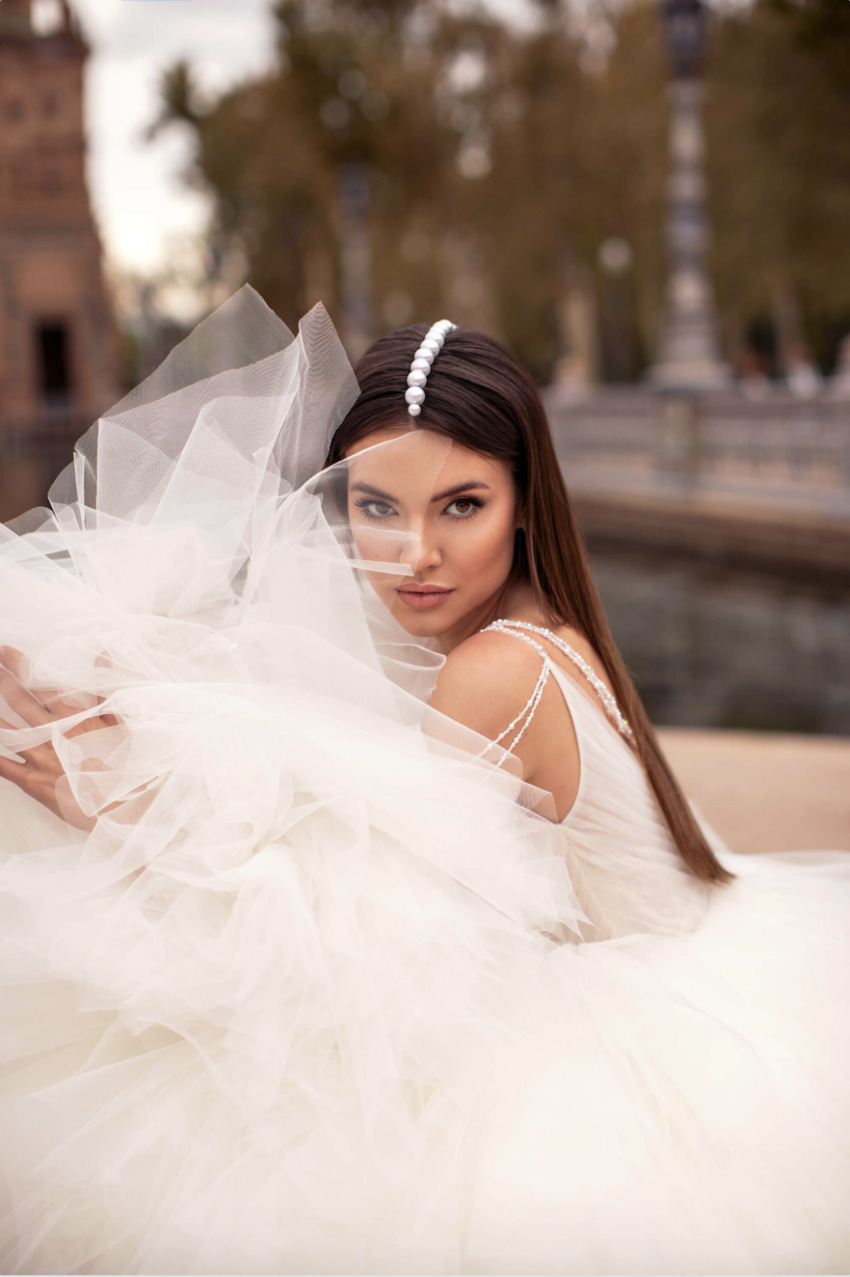 Clara
With the Clara dress, we could be looking at the most fantastic dress, take a closer look at its dropped sleeves that also accompany thin straps, or at the most differentiating pattern since it imitates marble.
Clare
For brides seek sophistication and glamour, as well as simplicity and elegancy. In addition, if you are a lover of sparkle…this dress is for you! Because you only have to slip into this dress to dazzle wherever you go.
Camelia
The V-neck on the design Camelia accentuates the waist in a unique and elegant way, since the fabrics of the design also form a thin belt. So, be it because of this, its unique shade or its long train, this dress will captivate you as soon as you see it.
Caroline
The Caroline design is a unique dress, thanks to its sophisticated silhouette with beautiful fringed sleeves, illusion lace, embroidery, buttons and part of the back open. If you don't know what dress to choose, this one has it all!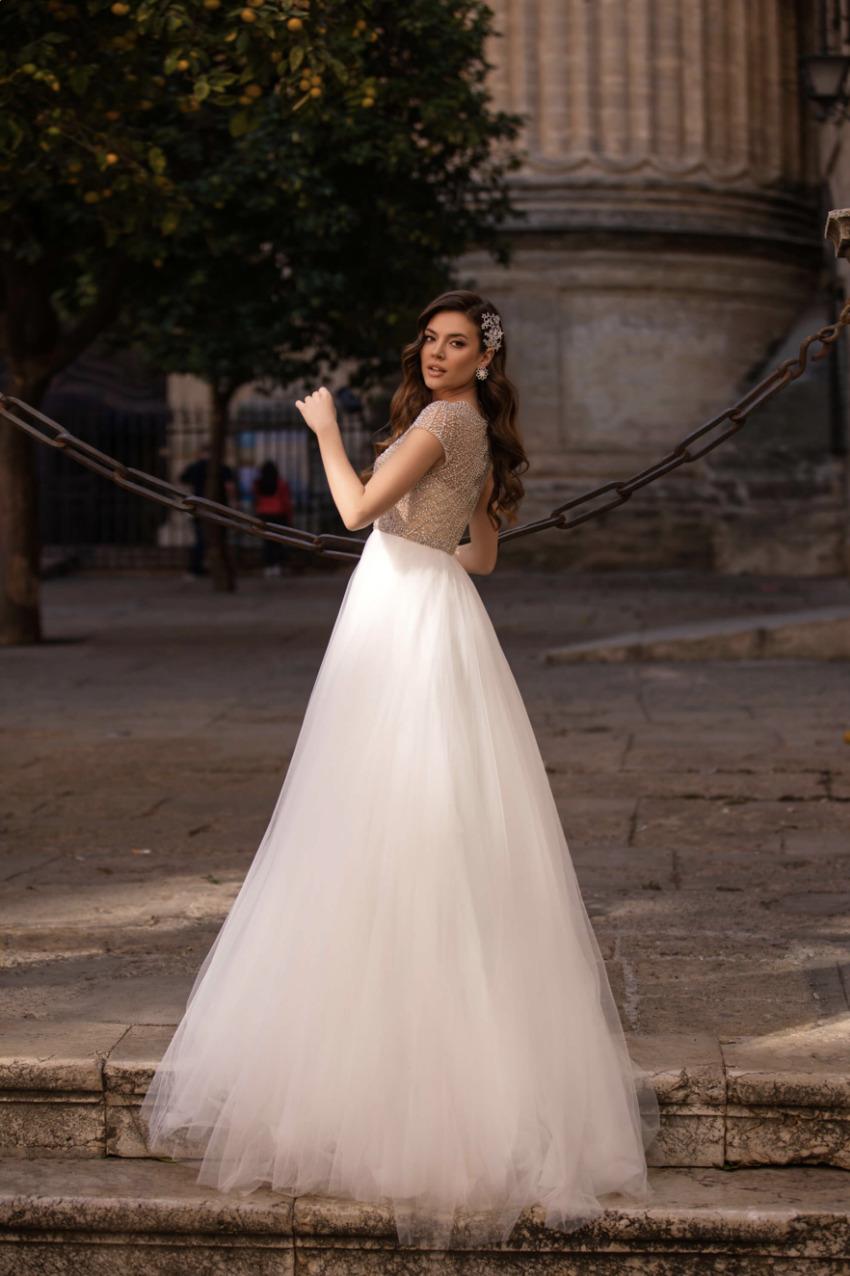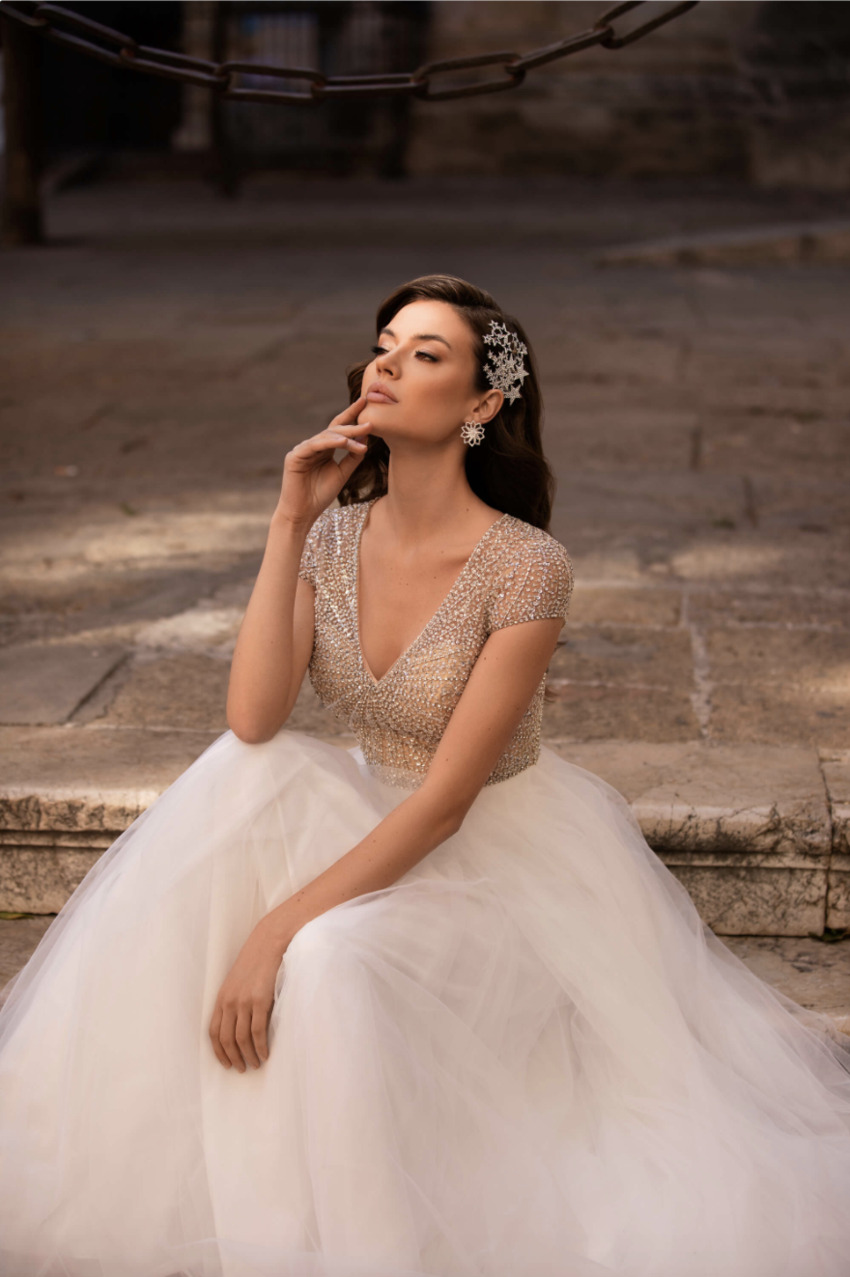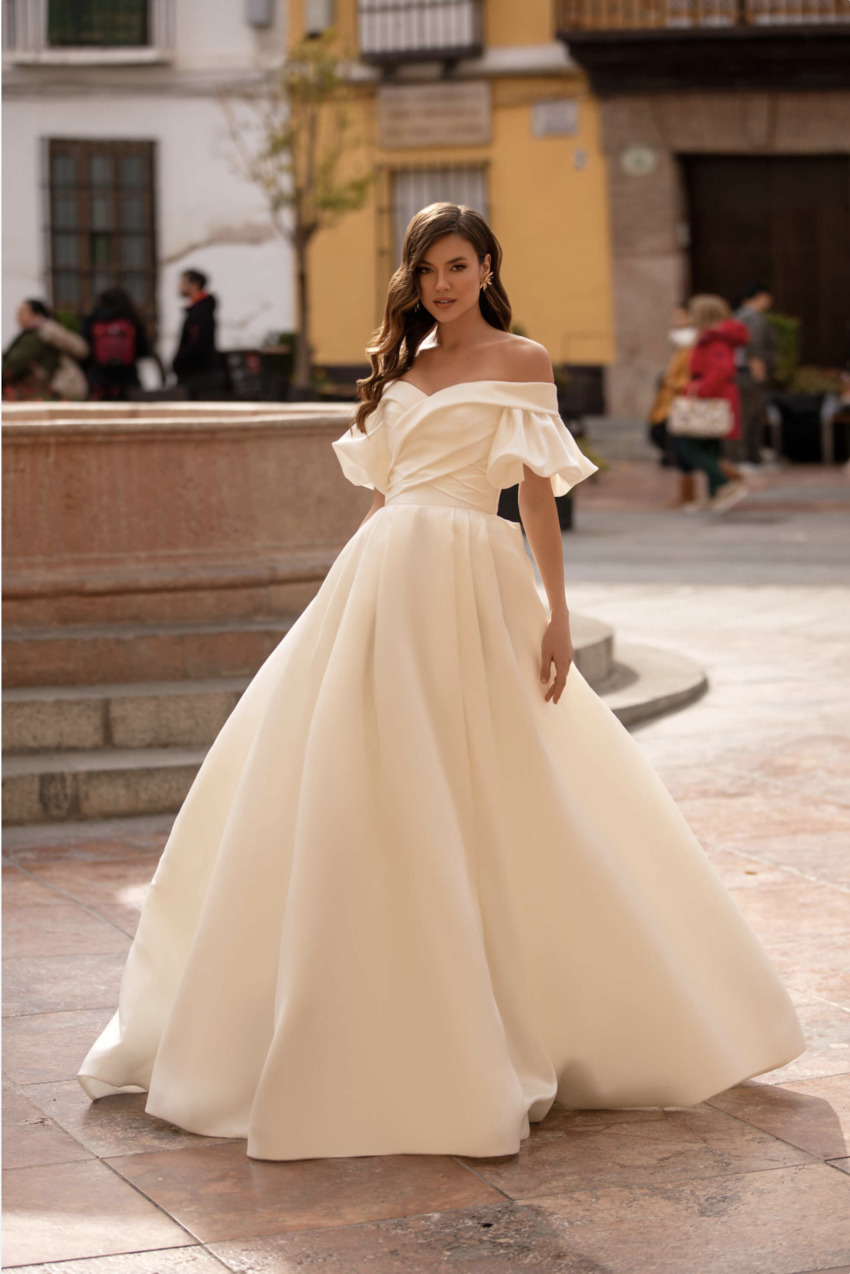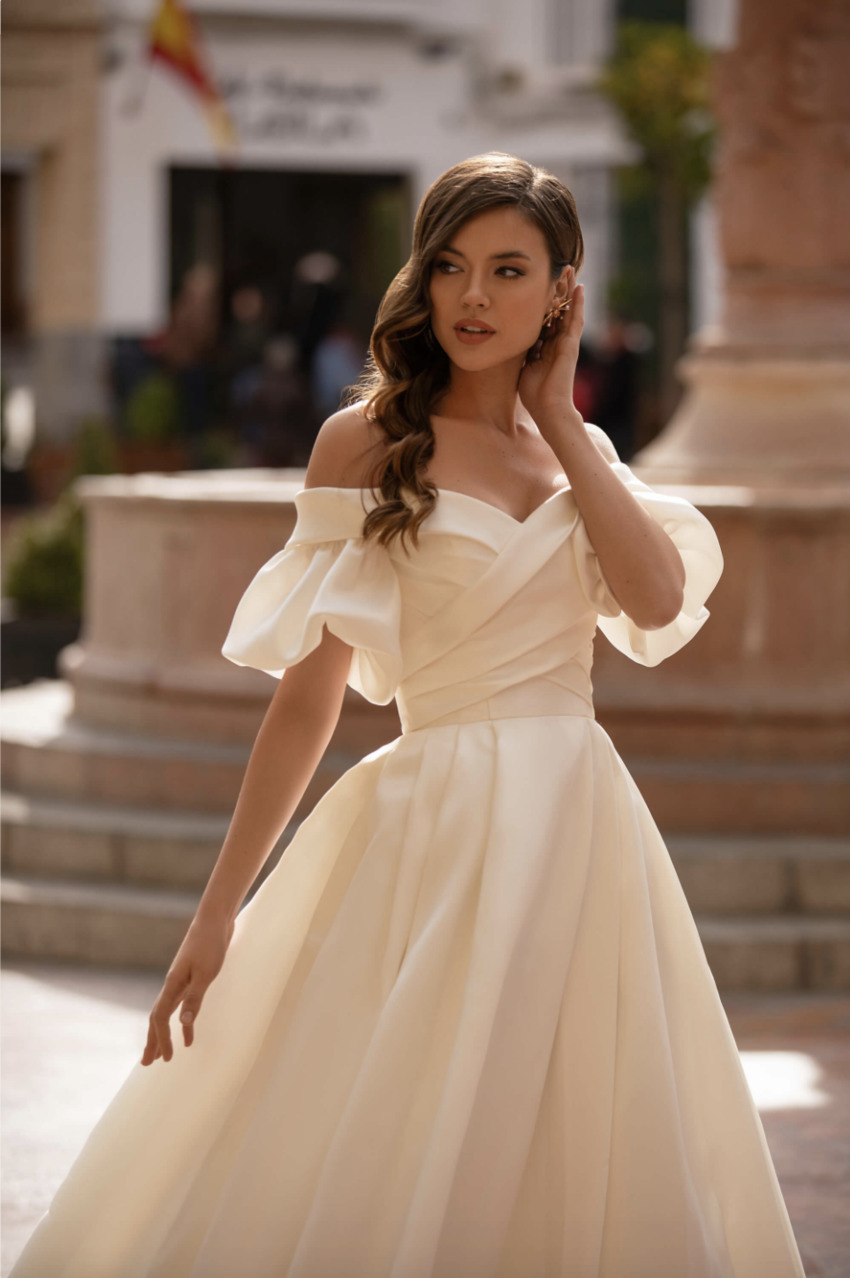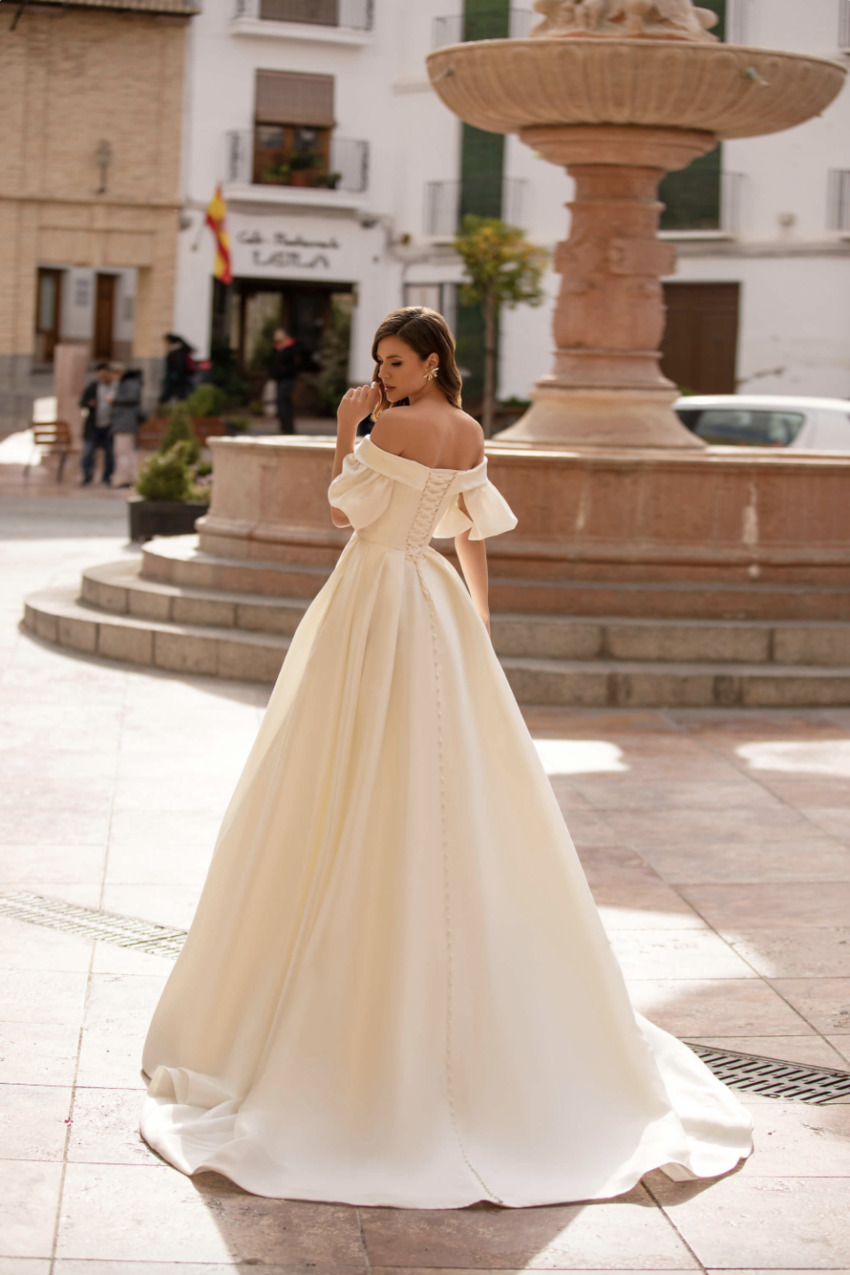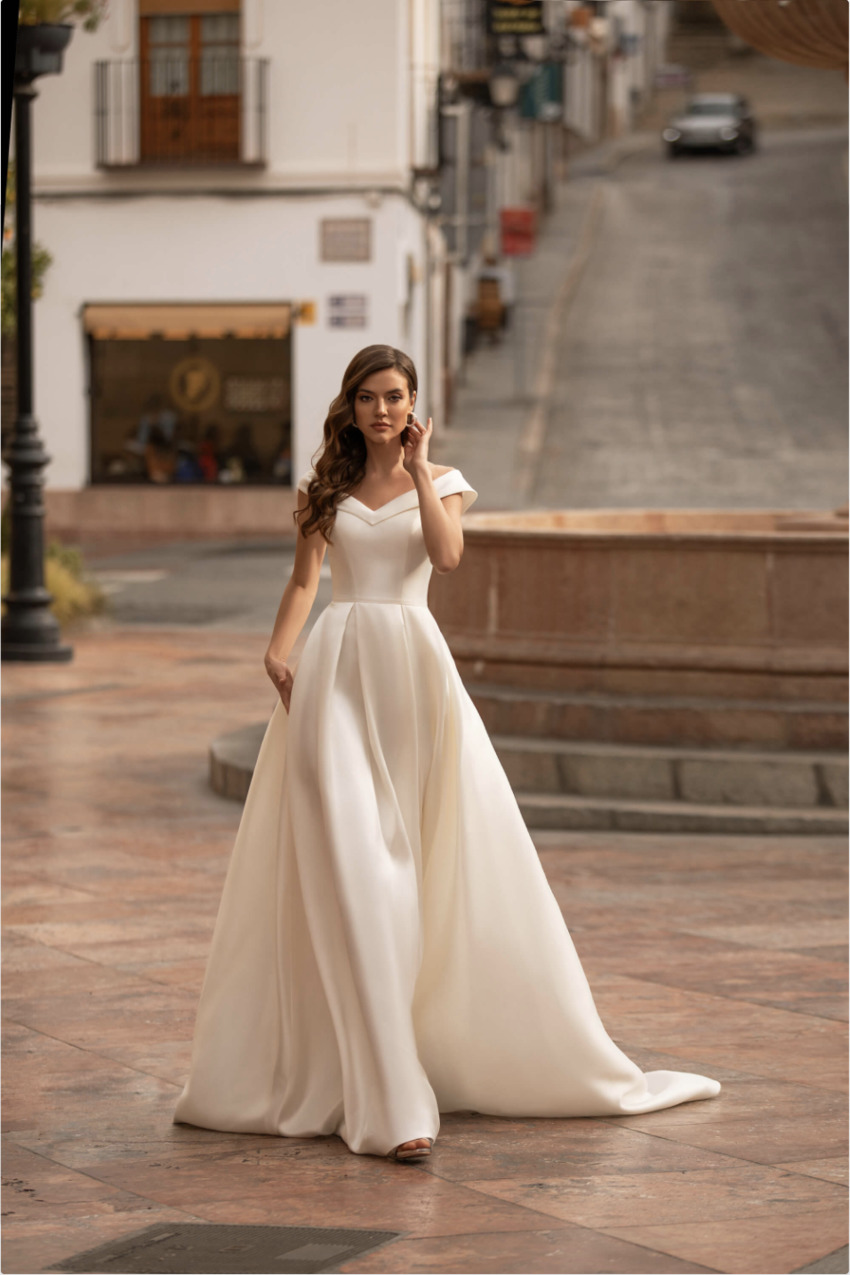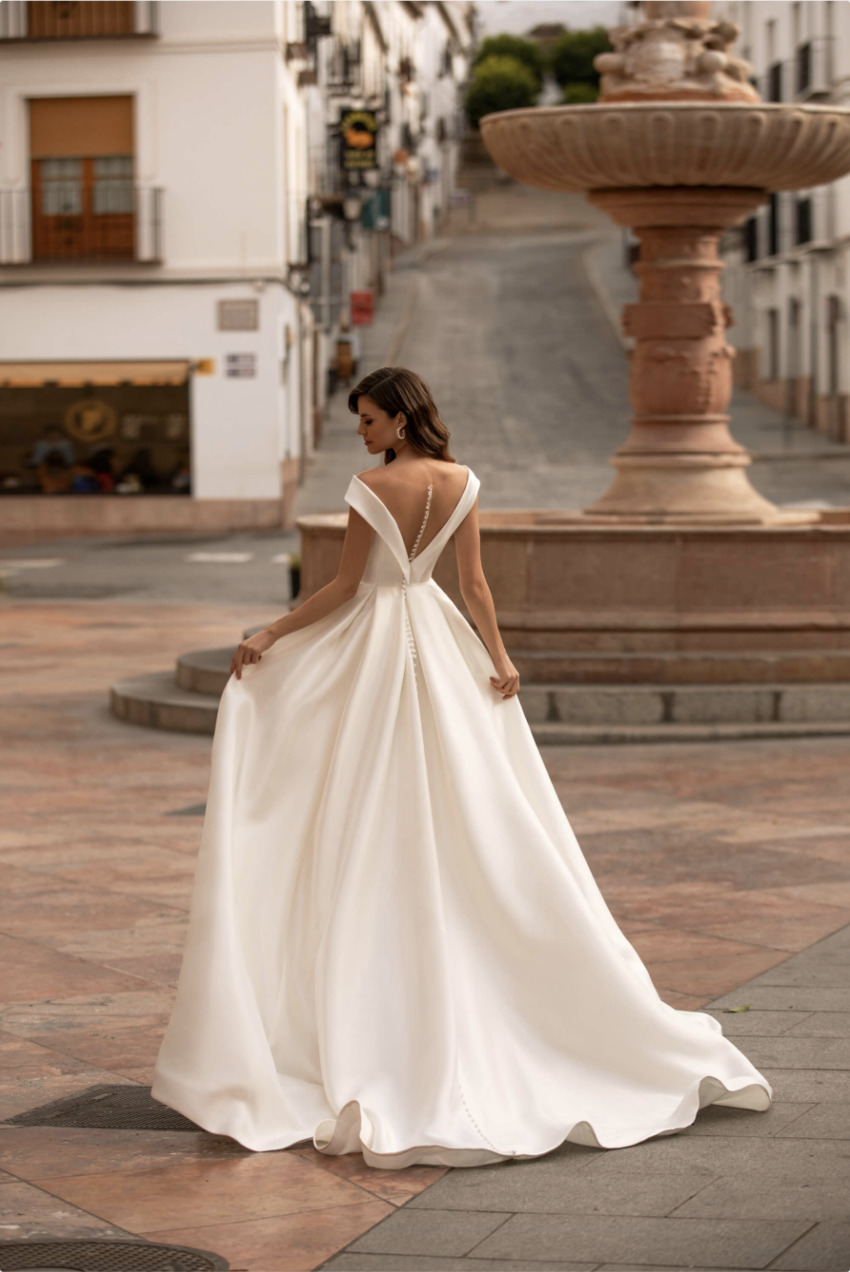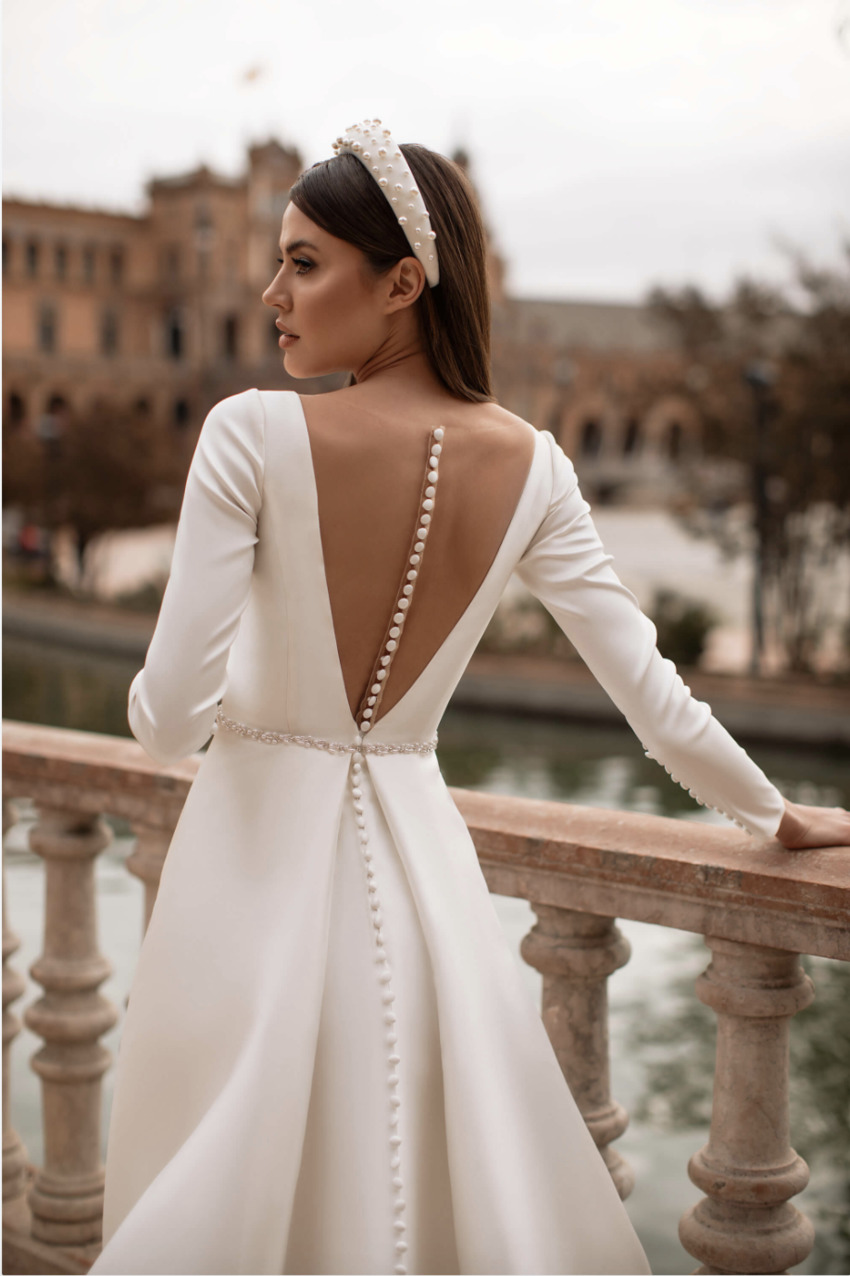 Clarence
This wedding dress has bare shoulders and an enormous skirt, but undoubtedly the charm of this design lies in the corset, which is covered in shiny rhinestones for those brides who want to take a risk and captivate everyone's attention.
Camerom
Your perfect wedding dress could be the design Camerom, especially if you are a dreamer and a smiley woman, since this design has a back made of rhinestones and illusion lace that simulate a butterfly on its back. Charming!
Cally
This wonderful long-sleeved satin wedding dress with a short train and open back, buttoned cuffs, jewel belt and plain pattern is another one of the safe bets of the Nora Naviano collection, it always looks good!
Constance
To stand out, and be a rebellious, different and ground-breaking bride, as well as elegant and glamourous, this light and cosy wedding dress with a nude glittery transparent top and jewels is yours.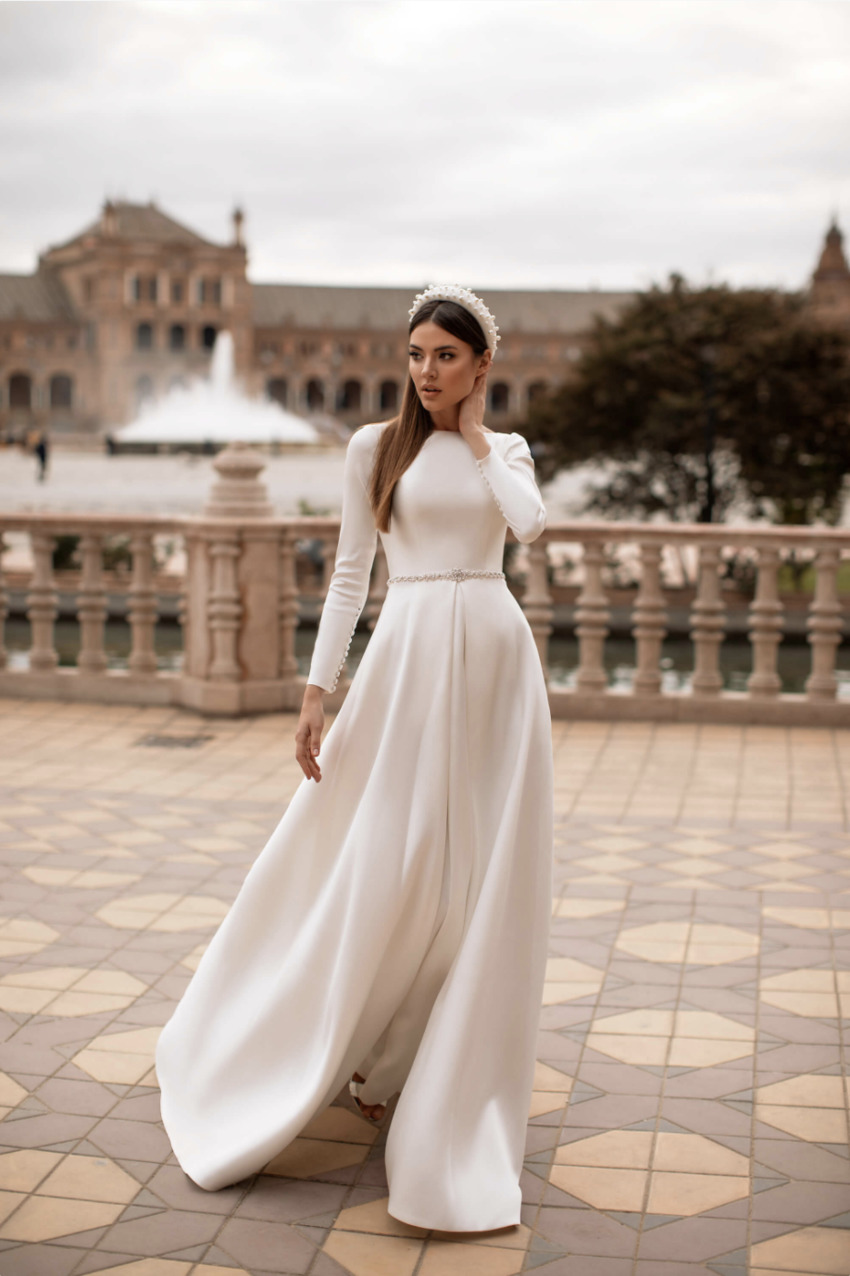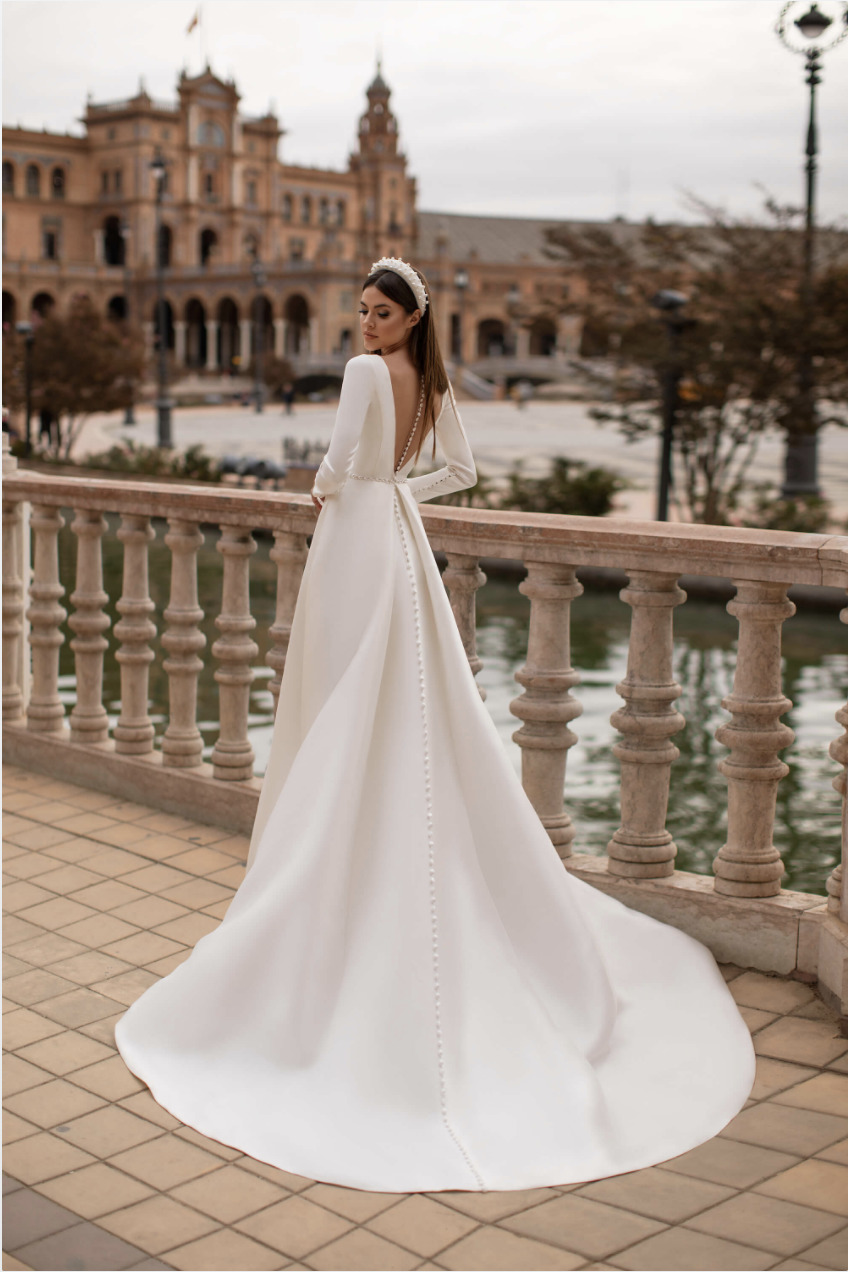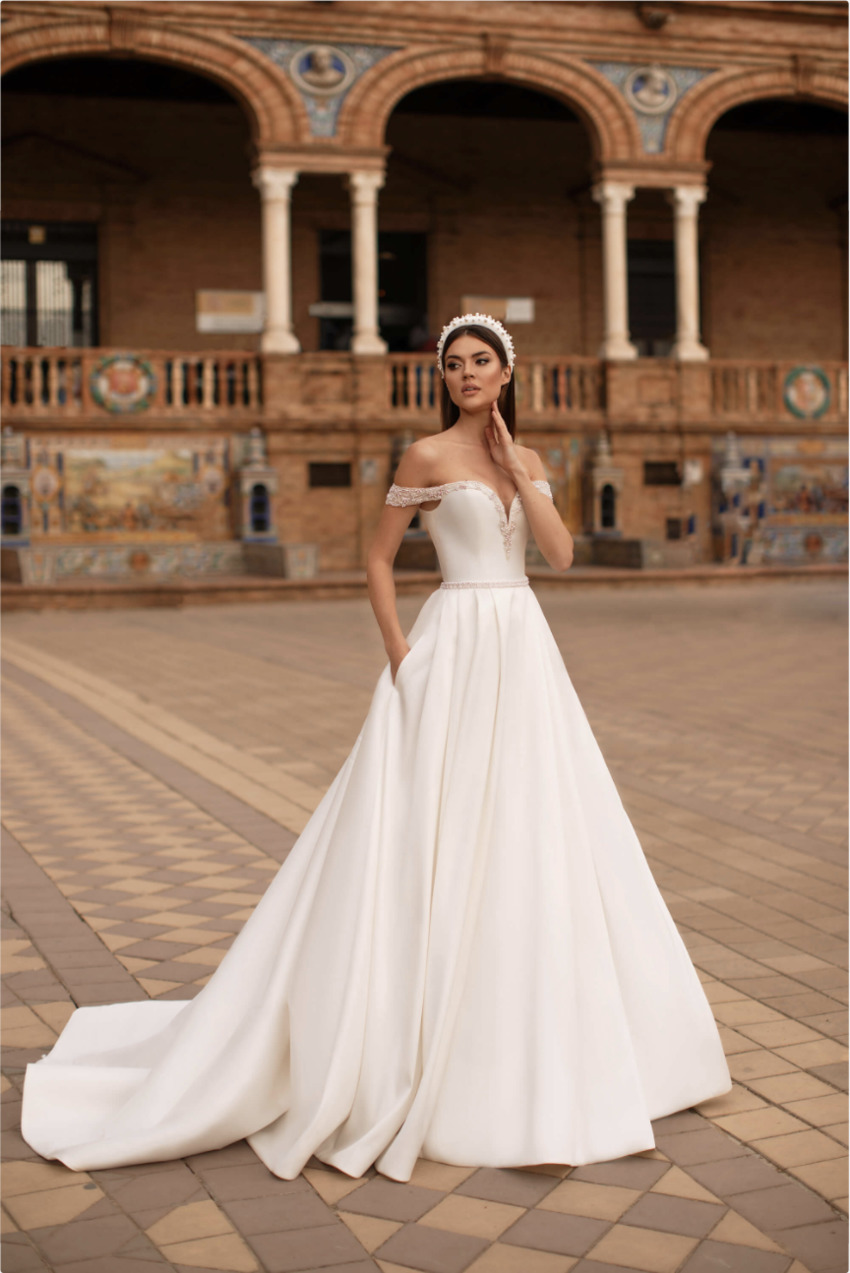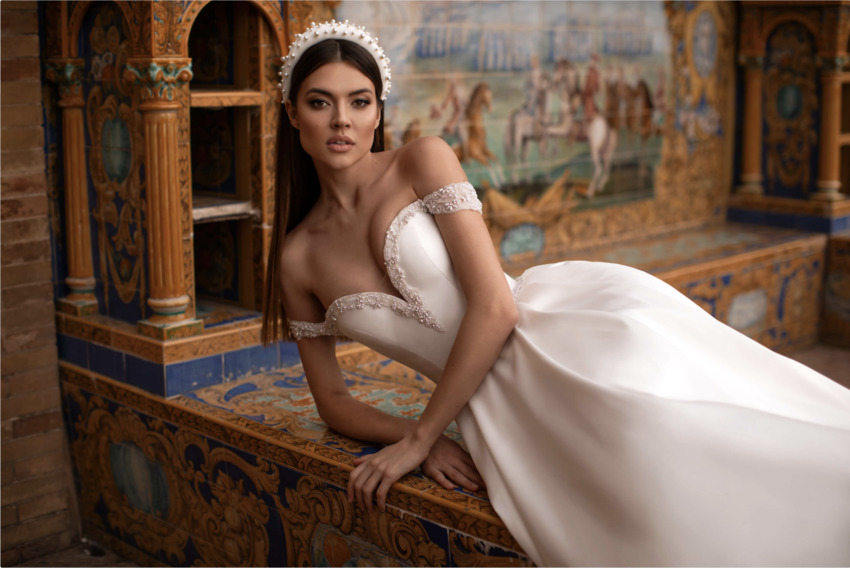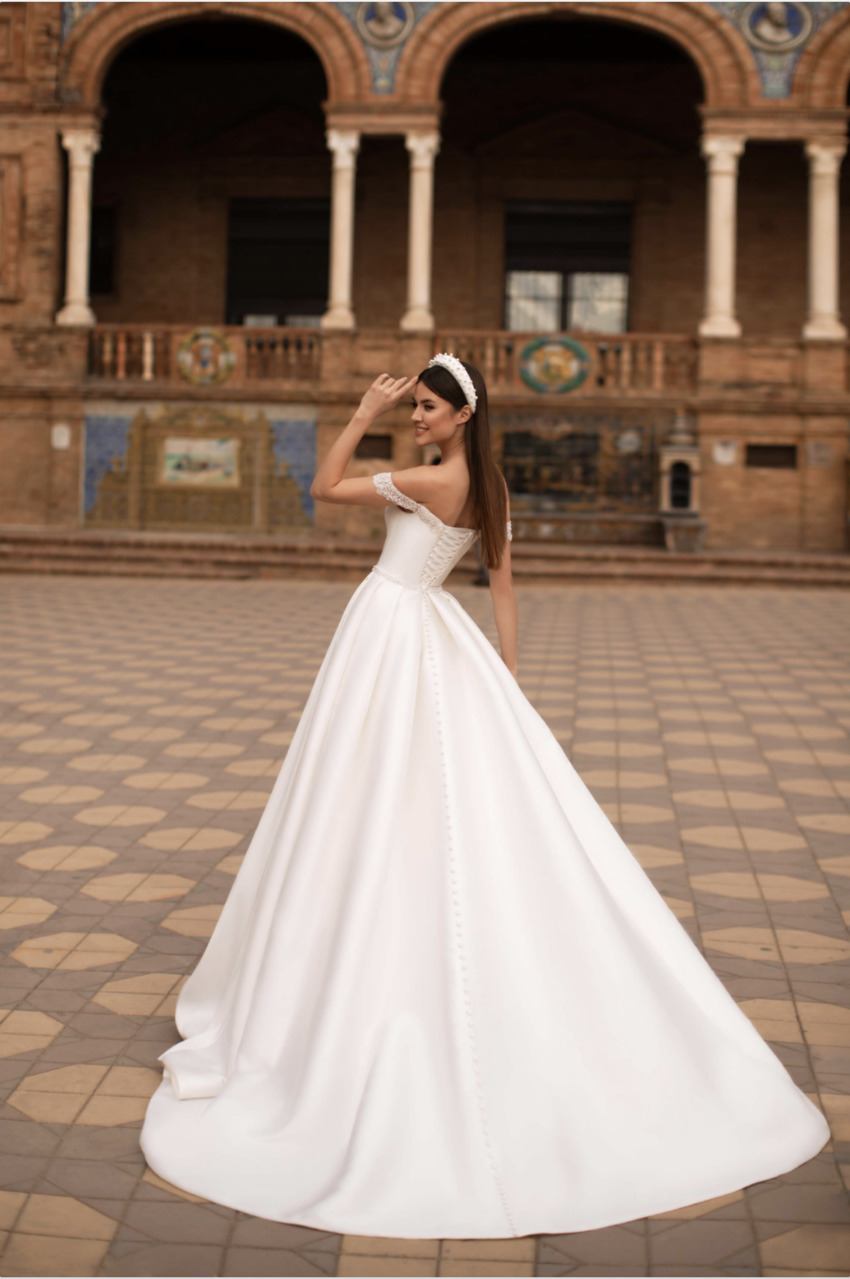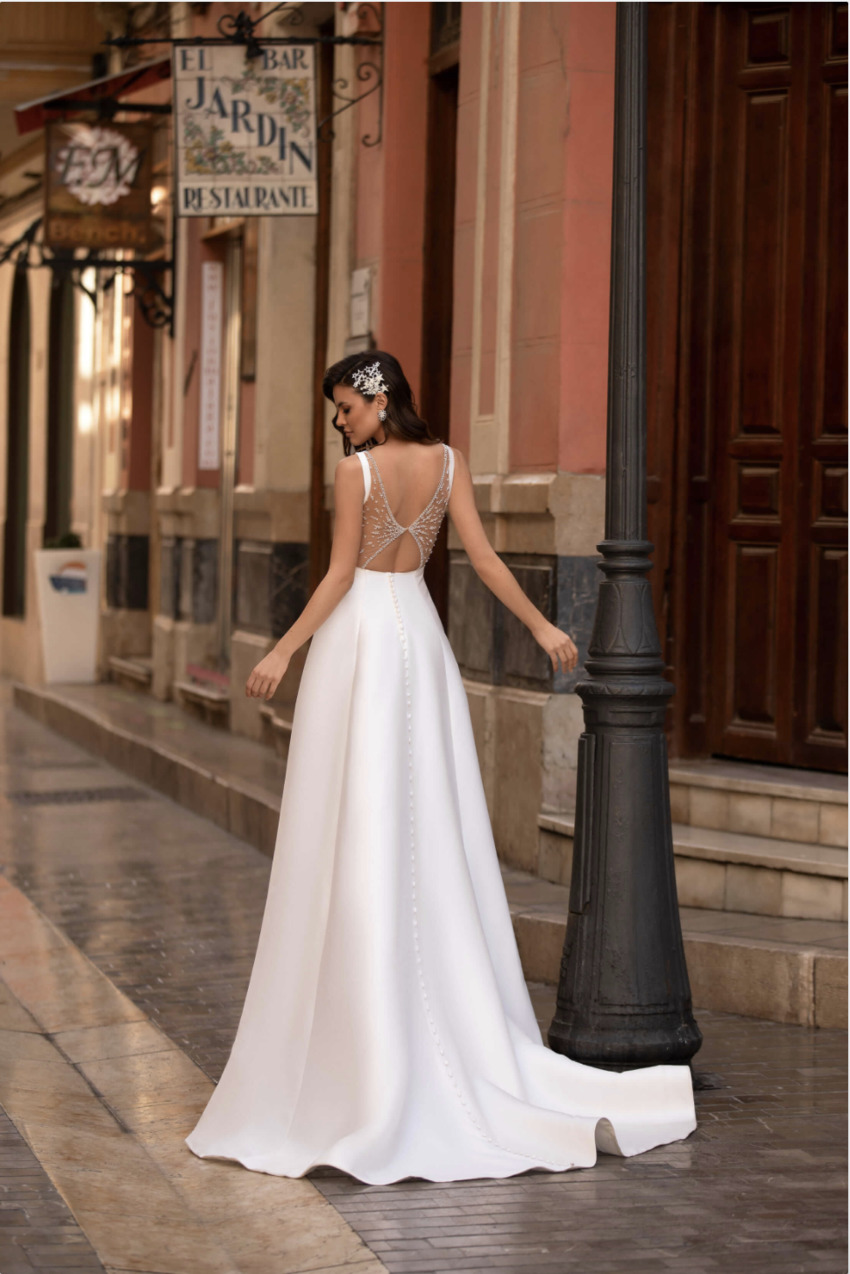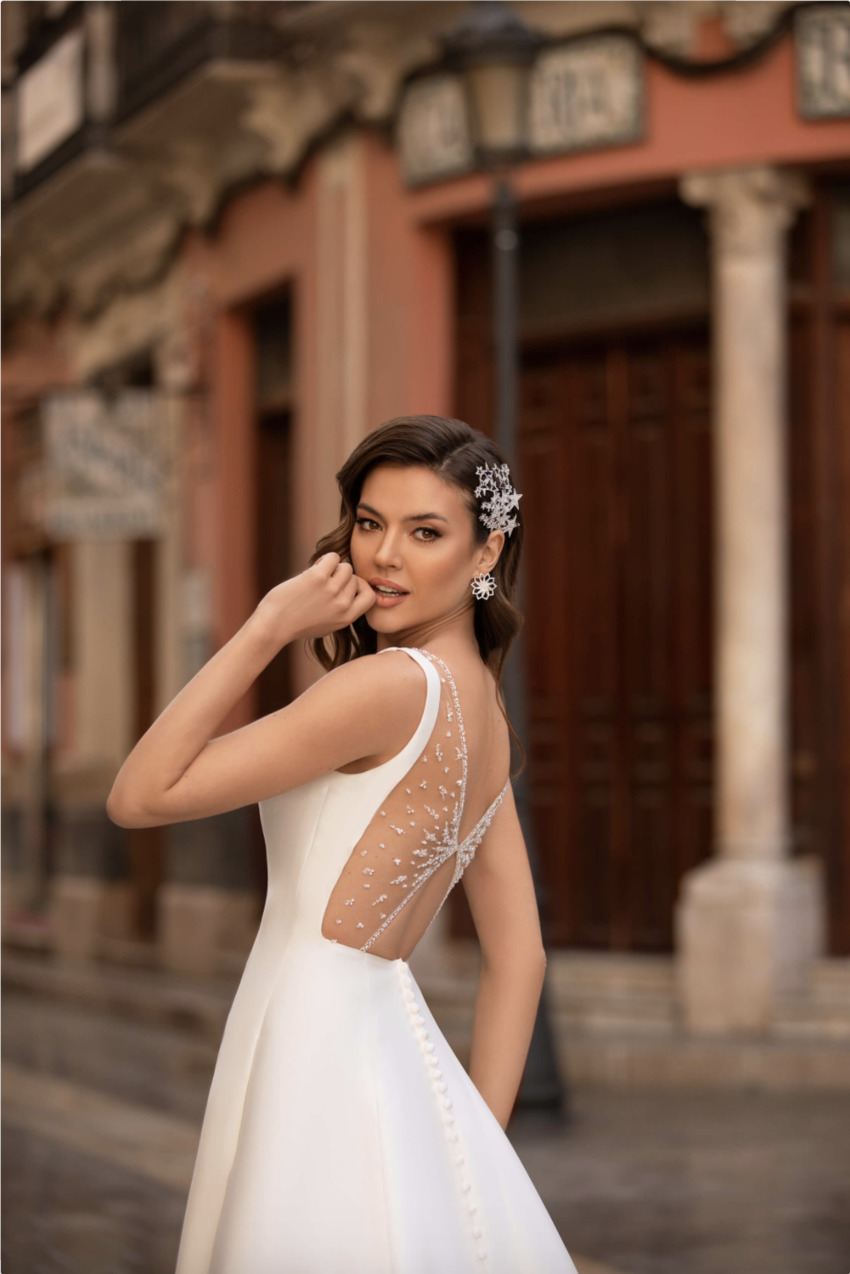 Claret
This dress is also quite ground-breaking, since the top simulates a fine cobweb that covers the entire top half as netting, and it goes well with the light skirt! Do you dare?
Caline
This is a big satin dress, one of the fabrics that is trending for bridal dresses next year. Behind the net there are small buttons that go down the entire bottom of the dress. The back is completely open, but without leaving aside the buttons.
Clementina
With a plunge neck corset, pleated skirt and a wide waist, this short dress is the perfect dress for your wedding if what you want is to escape from conventions and leave the long skirts and trains behind.
Caila
The Caila design is a dress to be a true royal bride, with deep shoulders, full of ruffles and volume, and with a back tied with string, with this dress you will be able to walk perfectly towards an altar in a palace.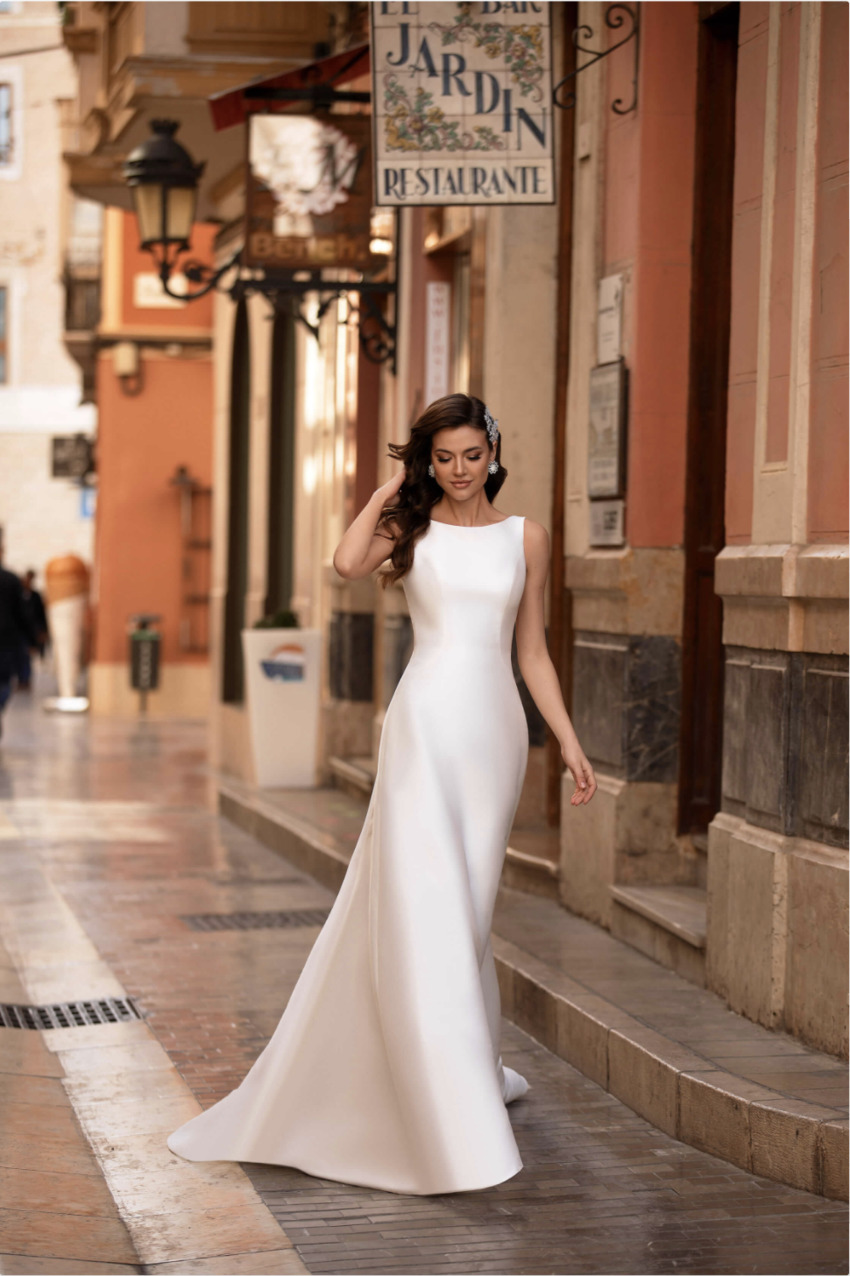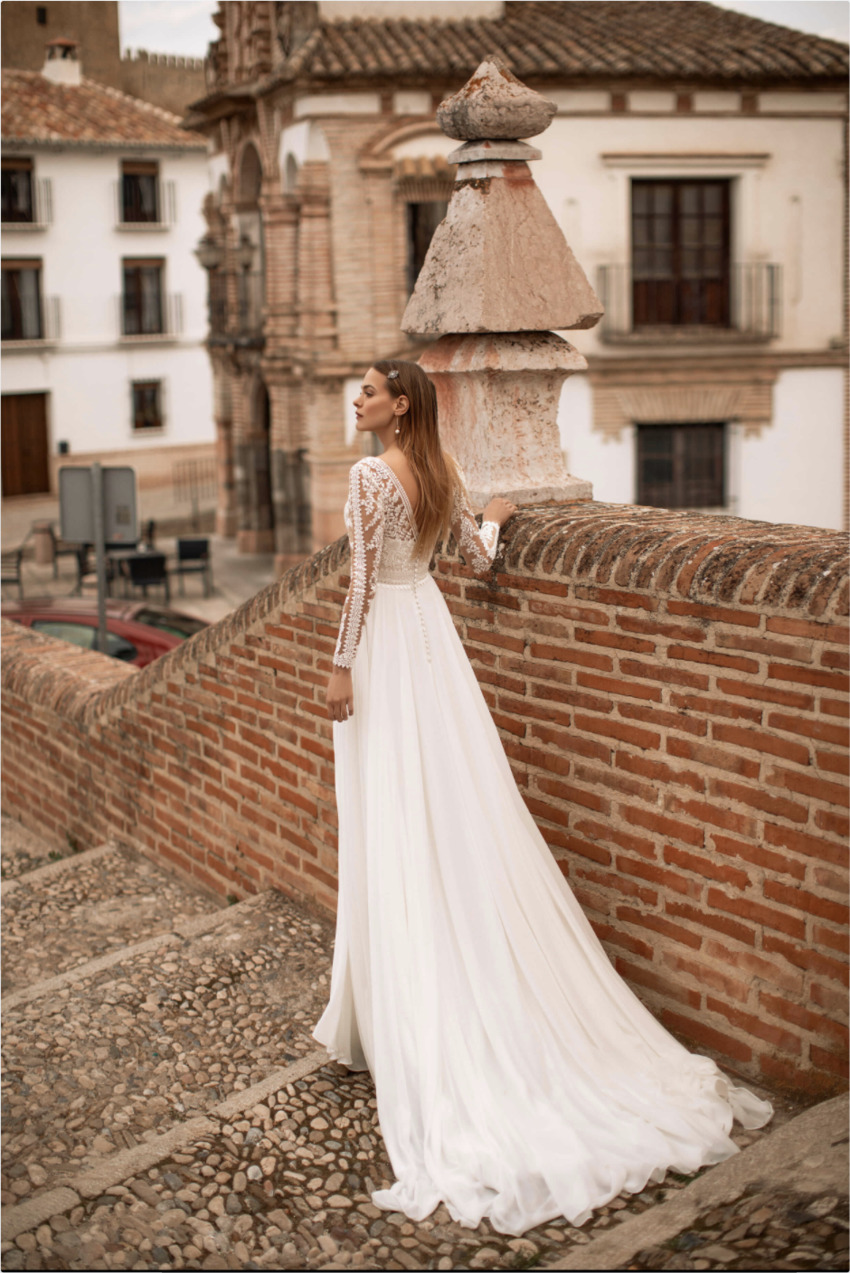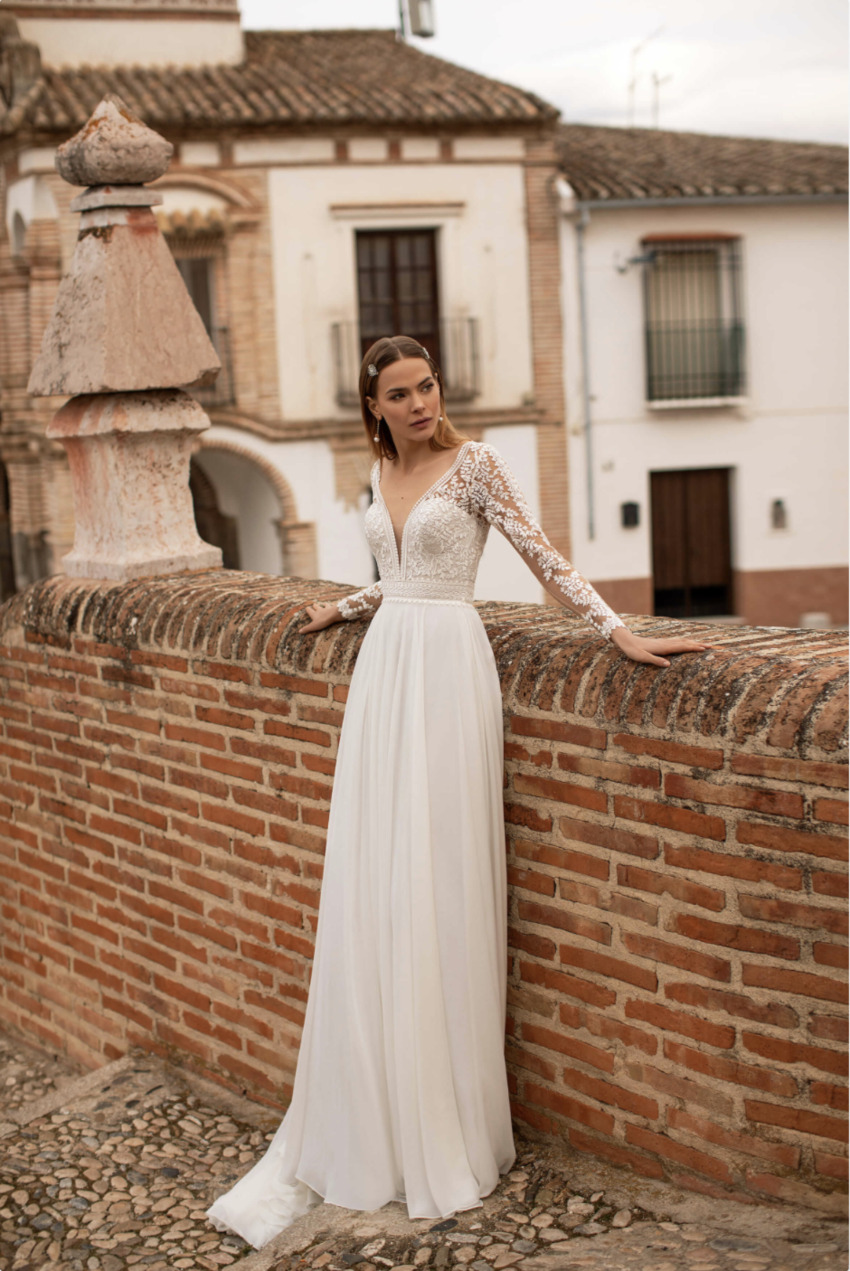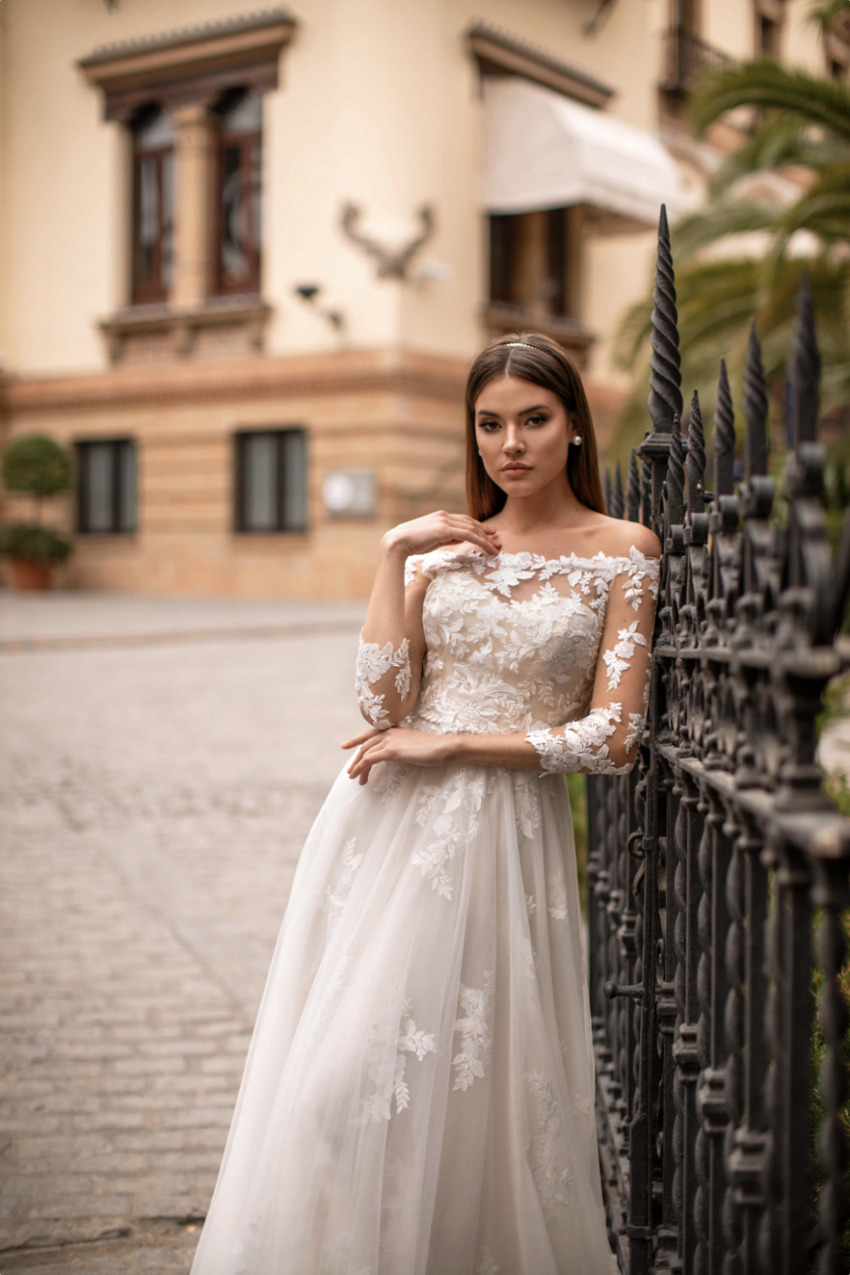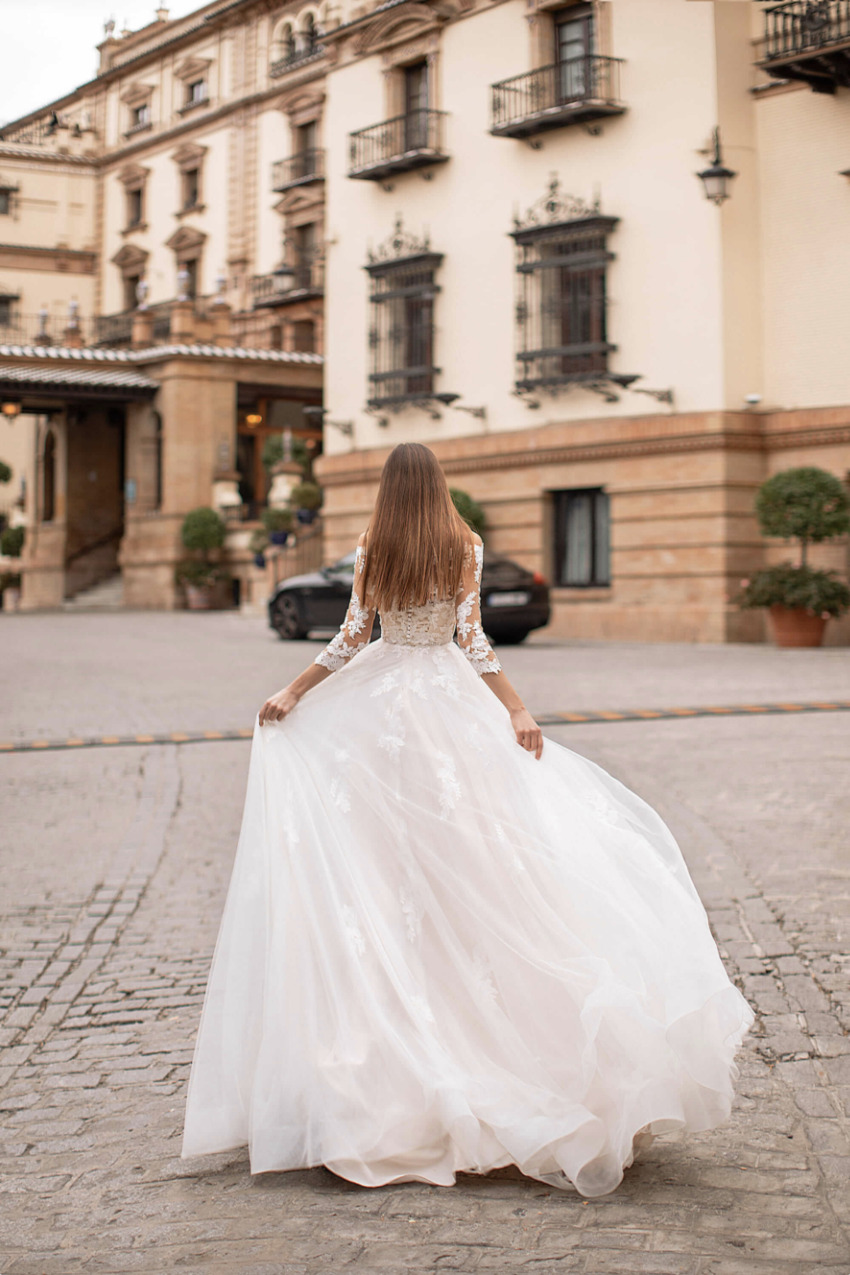 Carol
The Carol design is a beautiful dress in every way, especially the back of the dress and the pearls that hang from the shoulders and down the back, as well as the sequins. A nod to seduction that will make you catch all eyes in a charming and courteous way.
Cecilia
To shine like a true queen, there is nothing better than the beautiful Cecilia long-sleeved dress, with an incredible tulle skirt with embroidery, a sweetheart neckline accompanied by long sleeves and tied with a crossed ribbon as if it were a bodice.
Carrie
Surely you have dreamed more than once of a dress like Carrie! It's not surprising, because this original wedding dress full of tulle as ruffles, with a deep plunge neckline and pearls as straps that fall on the shoulders deserves to be among your favourites.
And wait! We still haven't finished; we are also going to share this video with you below that was recorded in Seville where many of the designs of this charming collection were presented. So that you can visualise the dresses!
In this De Sevilla con Amor 2021 Collection by Nora Naviano all of the 2021 bridal dress trends come together, and at Perfect Venue we want to help you find the one that suits you best for a day as special as your wedding day.
Come and meet us because…you have to see how easy we make it for you!