How We Met
Kevin and I met in secondary school in our Texas neighbourhood. I had heard about him at school since he was the person who had a Harry Potter themed letterman coat and I LOVE everything Harry Potter. One day we were allowed the chance to meet and we traded a little casual chitchat, and afterward headed out in a different direction. The following day we ran into one another in the corridor, and that denoted the start of an incredible friendship — the truth is out, we were exclusively old buddies for a long while! At some point, totally out of nowhere, Kevin chose to ask me out on the town and got my reaction of, "OK, however just as long as you can take me being awkward." I guess he didn't mind it!
We dated through the remainder of secondary school and university, both moving on from the same university, Texas A&M University. He's beginning clinical school this late spring and I am in my first year of graduate school. He's really my closest companion. We love the same books, same music (we love you, Mumford & Sons and Taylor Swift), and same enthusiasm of bringing out the light in one another. We realised we needed to go on a trip before he began clinical school and things got busy for the two of us. We concluded that Banff, Alberta in Canada was actually the sort of trip we were searching for.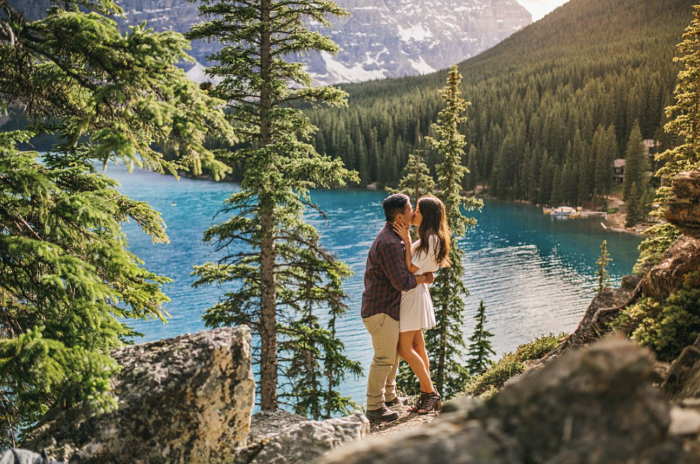 How Kevin Asked
On one evening in Banff National Park, we were at the highest point of rock heap that looked out onto one of the most ravishing lakes I had ever dreamt of. As we watched the sun start to set, we chose to take a picture together. We asked a woman near us if she would be able to take a photograph of us; much to my dismay she was a prearranged photographer!! We strolled down away from the groups and to a semi-private area near the lake. After she snapped our photo, she went to leave and Kevin asked her to take my picture, just this time, one of me taking a look at the water with my back towards him.
After she snapped the photo I pivoted and saw him on one knee, with a ring enclosed in his hand! It totally took me by surprise. I heard the snap of a camera and I realised he had masterminded a cameraman to report the entire thing. After he requested that I wed him, I obviously said yes!!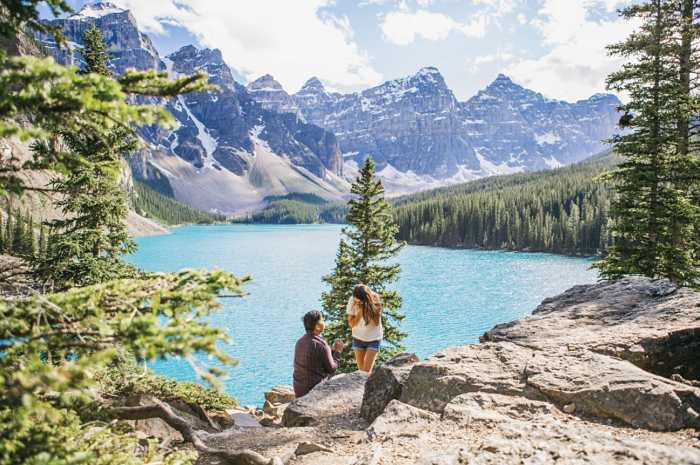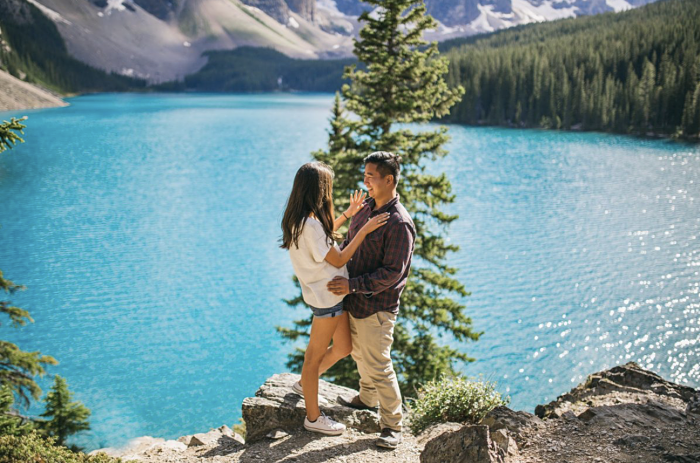 I went to thank the picture taker who captured perhaps the best snapshot of my life, when she and Kevin clarified that the unexpected wasn't finished! They had arranged an incredible engagement session for me! They clarified that they had been in contact for around half a year to set up the whole arrangement and they even skyped a few times. It felt so extraordinary to have somebody I had never met helping make the day superb for me.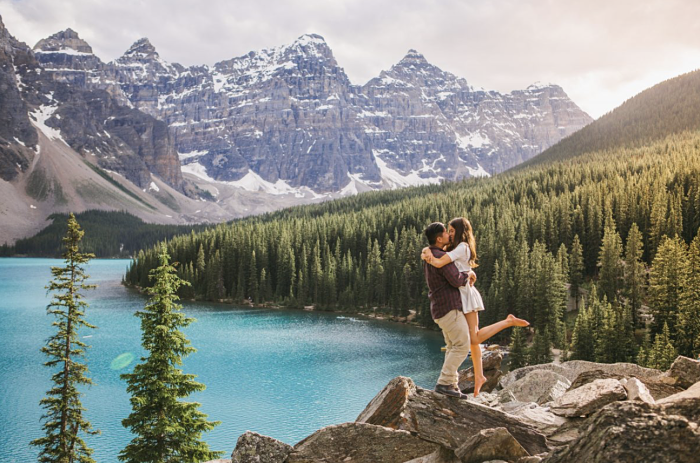 We went to the car so I could get a few things to change and spruce up when Kevin gave me two bags; one from his mother and one from him. Inside the pack from his mother was a marvellous white dress and from Kevin was a pair of shoes I was in desperate need of. I felt like a genuine princess! We took photographs all around the lake. Our photographer, Justine, was superb. I don't typically like too much attention on myself, however she made us feel so great and calm. Kevin revealed that he had gone through hours looking for the ideal cameraman and he was certain beyond a shadow of a doubt Justine was the best in the entirety of Canada. I must agree. In the wake of wrapping up at Lake Moraine we made a beeline for Lake Louise where I changed into my new outfit and took significantly greater proposal pictures. The entire evening was a dream out of a fantasy.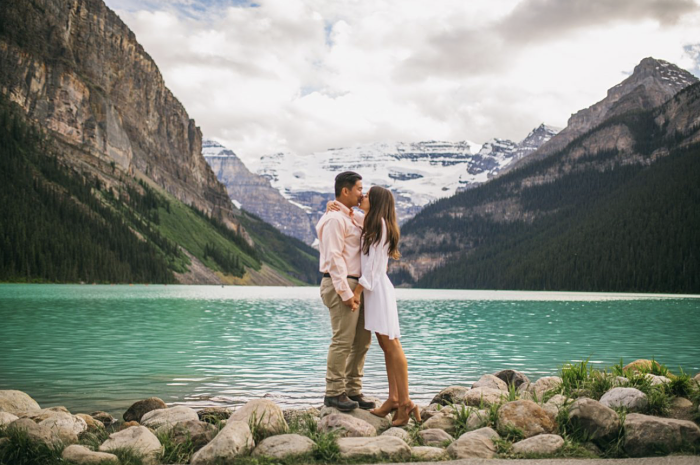 I feel so fortunate to have somebody who thinks enough about me to plan such an exceptional day. I absolutely can't wait to wed my now fiance, Kevin!
Credits:
Justine Russo | JUSTINE RUSSO PHOTOGRAPHY