This magical Autumnal wedding captured by The Caryls Photography was surrounded by candles and fairy lights and took place in the Scottish Highlands on bonfire night, 2019.
The wedding was absolutely beautiful as it was surrounded by the Inverness countryside which provided intense Autumnal colours for the backdrop in the photos. The photographers, The Carys, are a couple who run their own photography business and usually work at small elopements in the countryside but are also available for traditional ceremonies. They were so helpful and couldn't have captured the wedding more elegantly!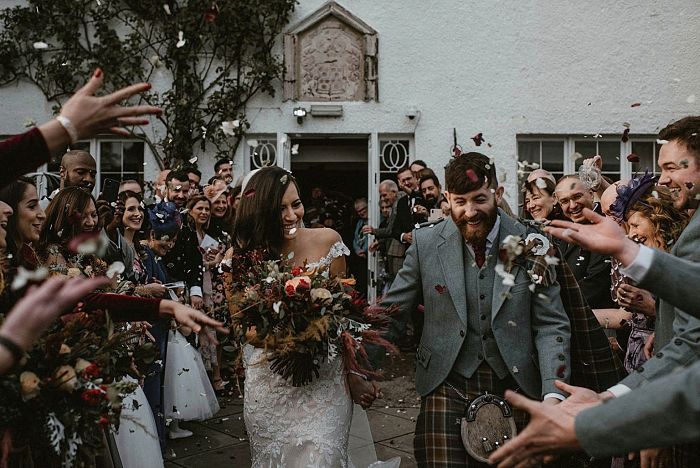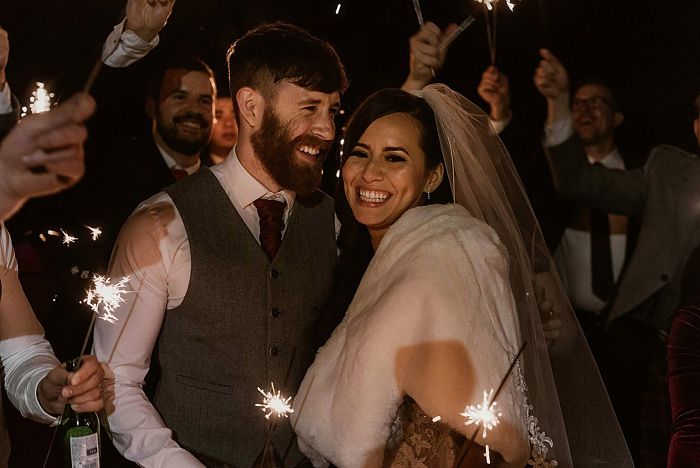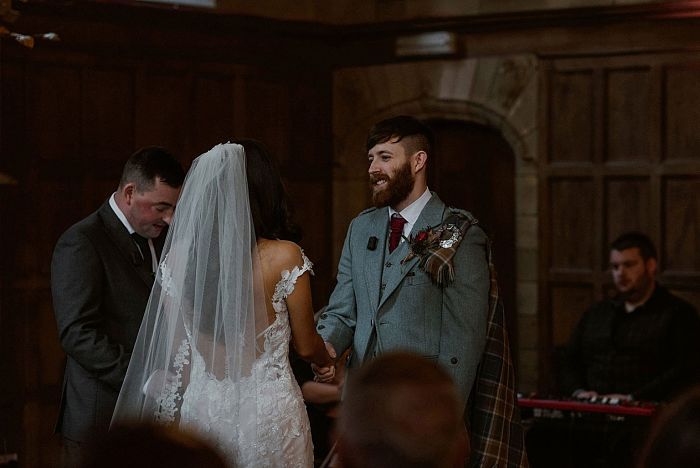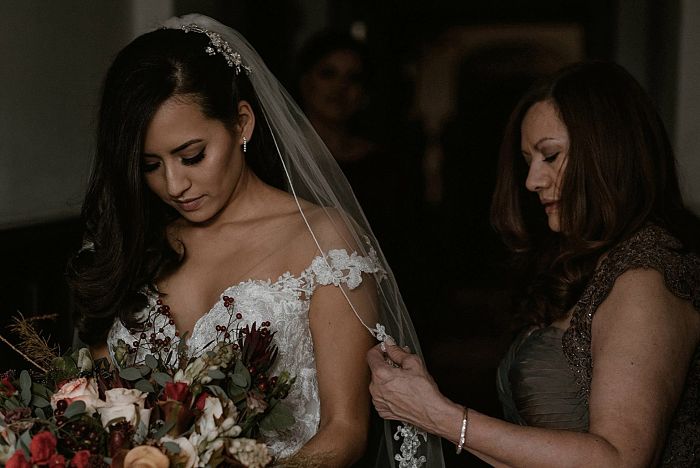 Venue
Adriana, a veterinary surgeon and Neil, a Digital Marketing Consultant chose to get married in Achnagairn Castle in the Scottish Highlands where Neil grew up. This made it easy for all of their family and friends to be able to come and experience the incredible ceremony.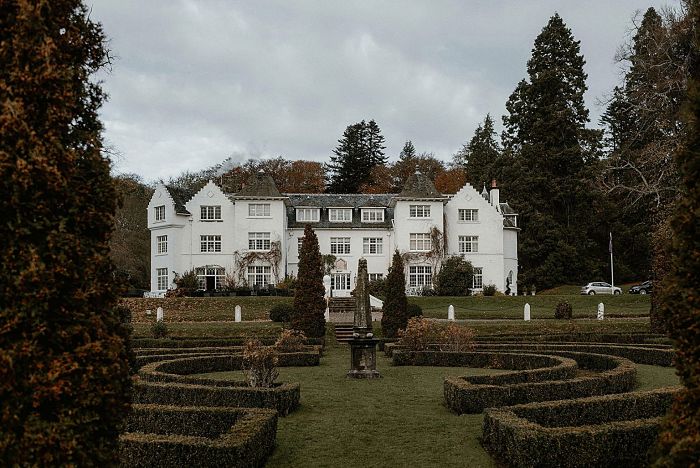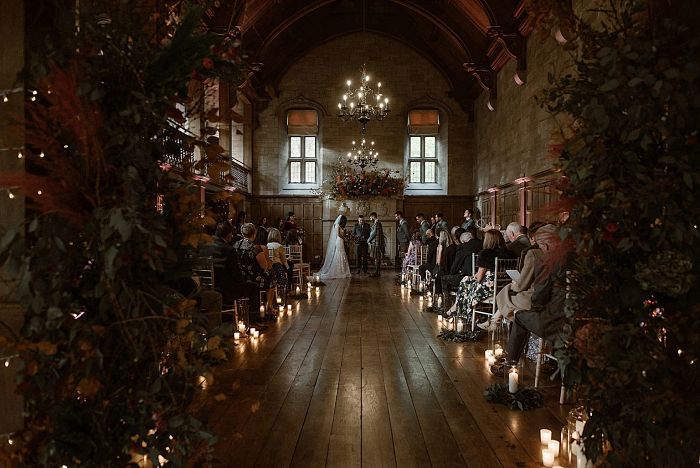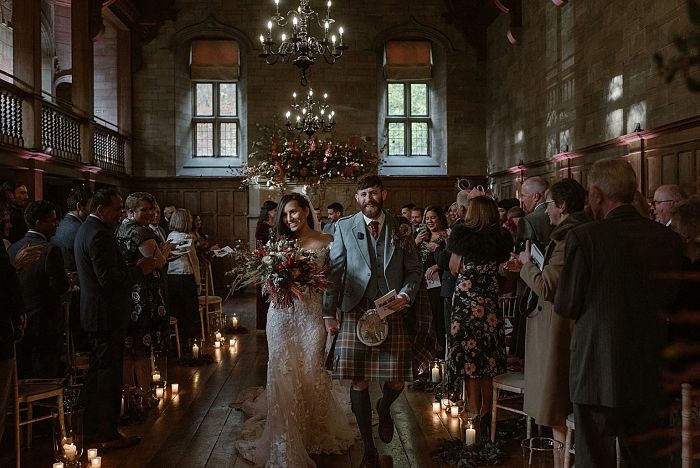 A Never-ending Love Story
Neil met on Tinder whilst both working in Glasgow and it was love at first sight! The following summer they video called each other every day, and Neil eventually proposed to Adriana while she was halfway through a shift at the zoo!
They wanted to be reminded of their romantic first dates at their wedding, so Adriana walked down the aisle with her mother to a song by Fara called Changing Plans which was played at a gig they went to for one of their first dates. It was truly romantic as the band Fara actually came to play a live set for them, and they danced under the moonlight surrounded by candles and fairy lights!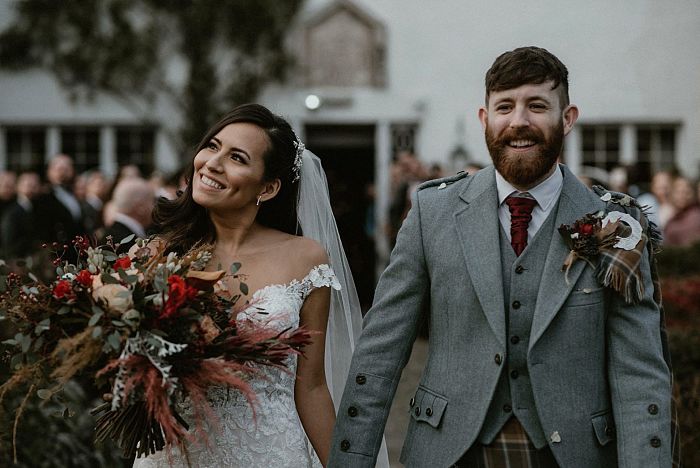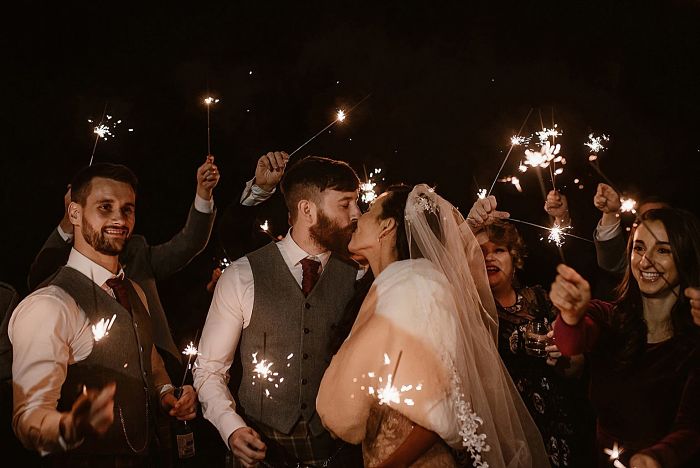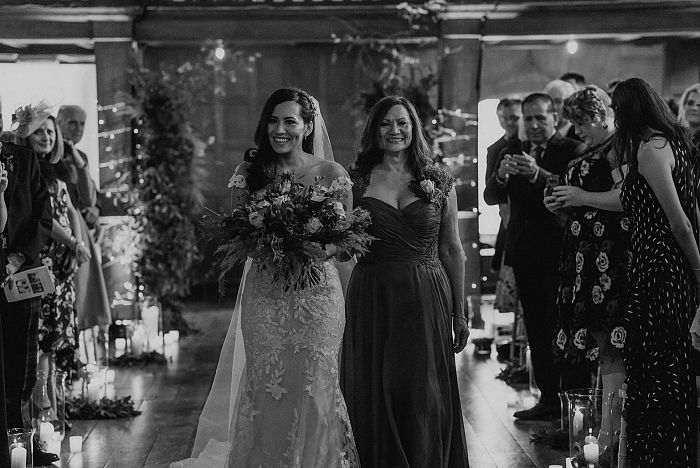 Wedding Style
The bride, Adriana, chose a wedding dress by Essence of Australia from Eleganza Sposa which had unique neckline designs and lots of detailed lace with embellishments. She wanted something that would fit her well with a short train and this dress was perfect for her. The dress was paired with her beloved pair of Steve Madden platform heels; although they were old and had lots of wear in them, Adriana was determined to wear them at her wedding, so she had some of the embellishments replaced and they looked as good as new!
Her look was complemented by a natural makeup look by Gillian Hoban and a delicate Jo Malone perfume. One of her bridesmaids gifted her an in-store experience at Jo Malone, which made the whole getting ready experience so special!
The bridesmaids wore gorgeous dresses made from burgundy velvet fabric by Desir Vale and the flower girls looked adorable in their little lace dresses from Eleganza Sposa.
As for the groom and the groomsmen, they sported kilts by Slanj Kilts which helped bring out the traditional feel in the ceremony.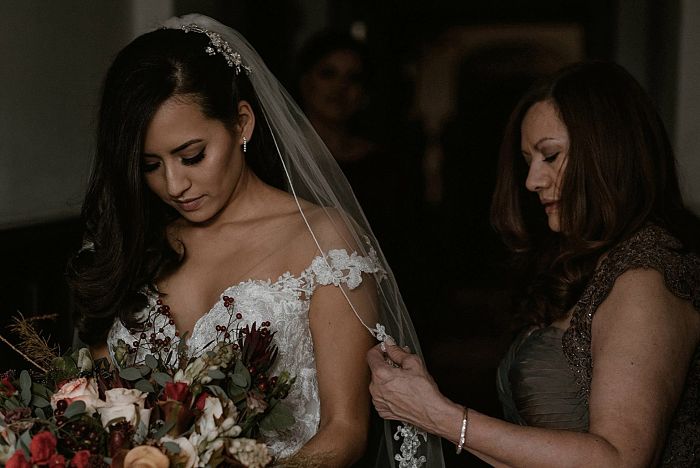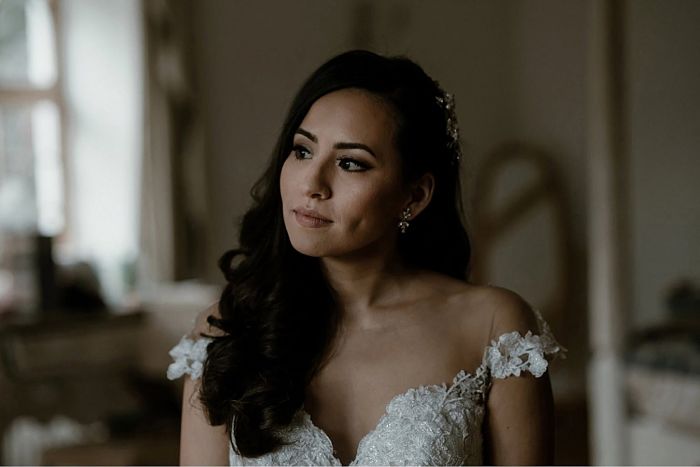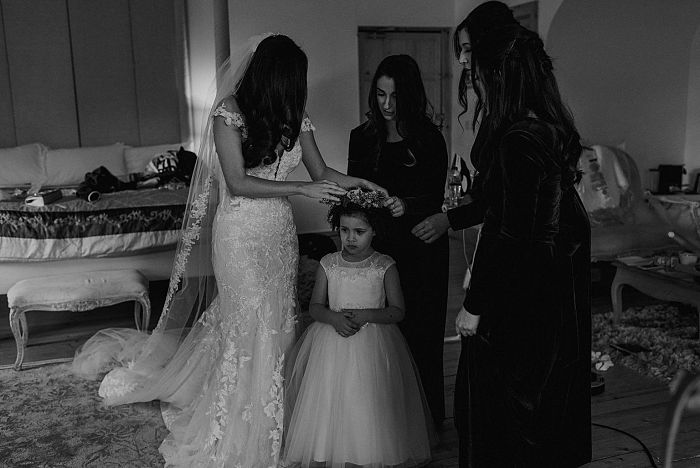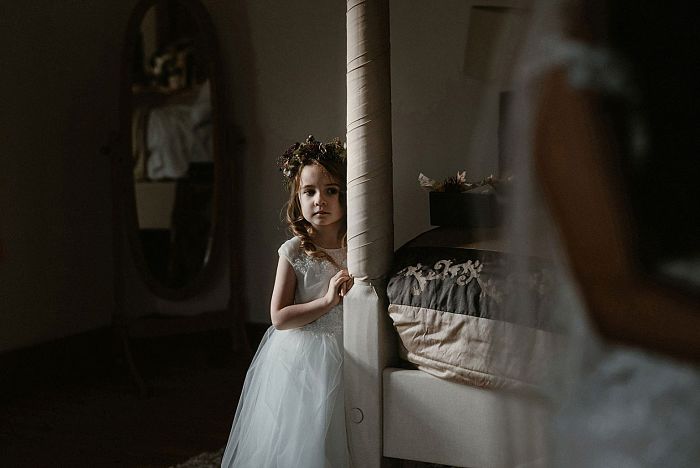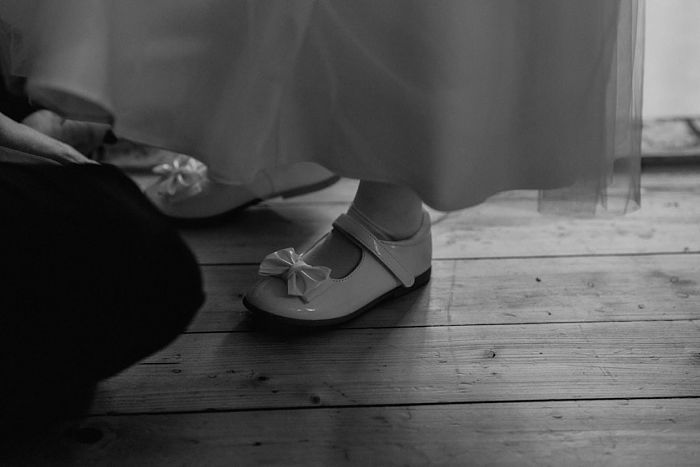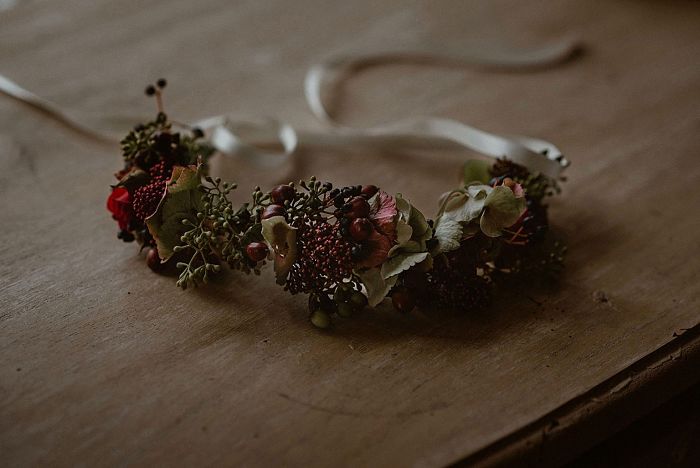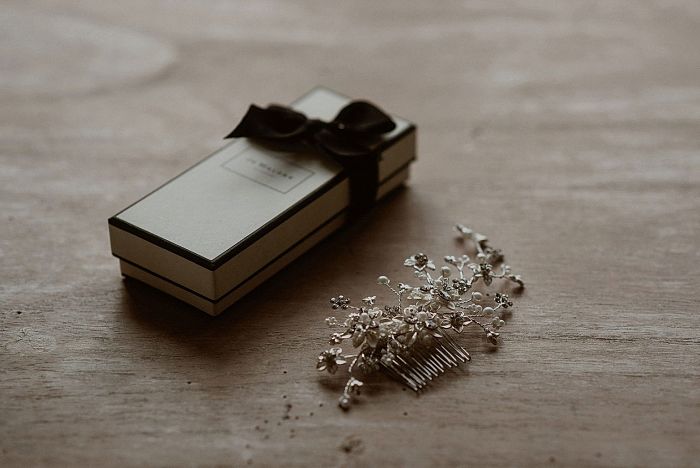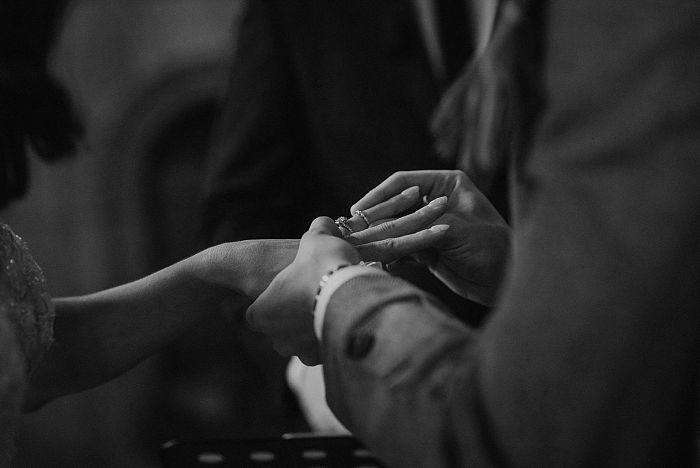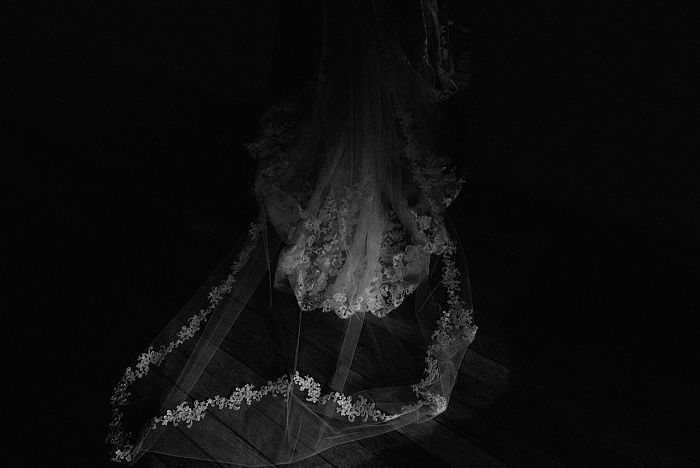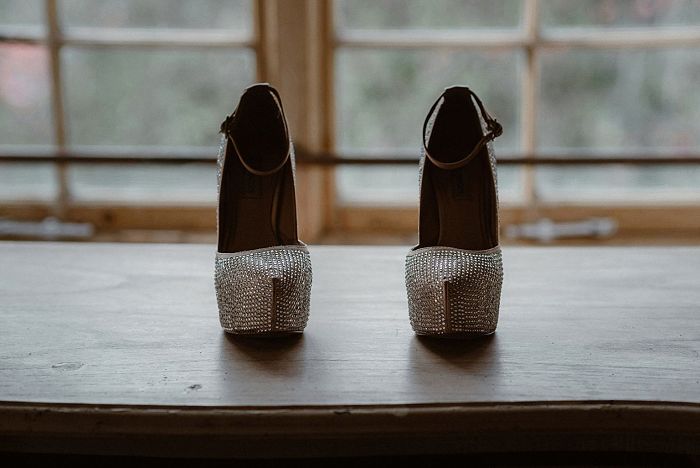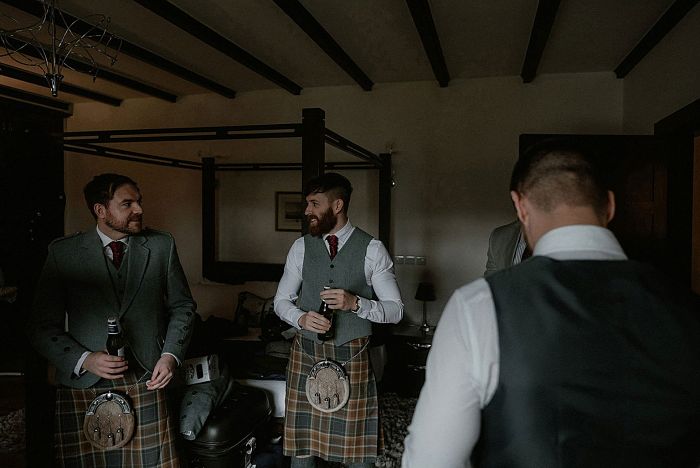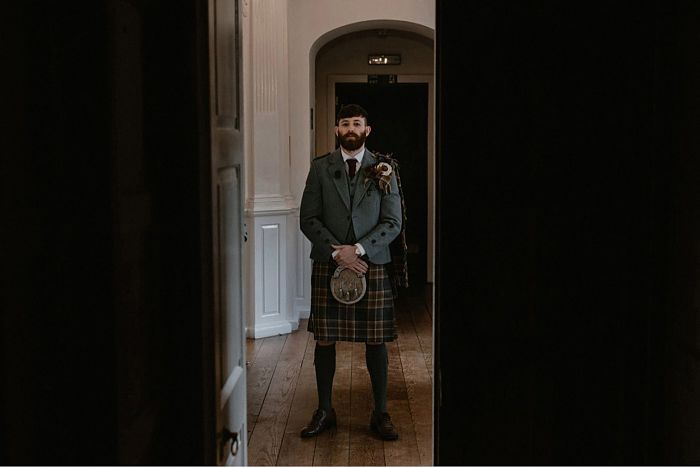 Décor
The couple opted to use local companies to source the décor for their celebration and hired Wild Gorse Studio based near Inverness to provide an array of wonderful floral arrangements for the reception room. These helped intensify the Autumnal hues involved in the colour scheme and overall looked incredible!
The bouquet was also from Wild Gorse Studio and incorporated autumnal colours along with red roses and blossoming flowers. In the bouquet Adriana placed a photo of her grandmother who sadly wasn't able to attend the wedding, which gave it a heart-warming touch and made it just that bit extra special for Adriana.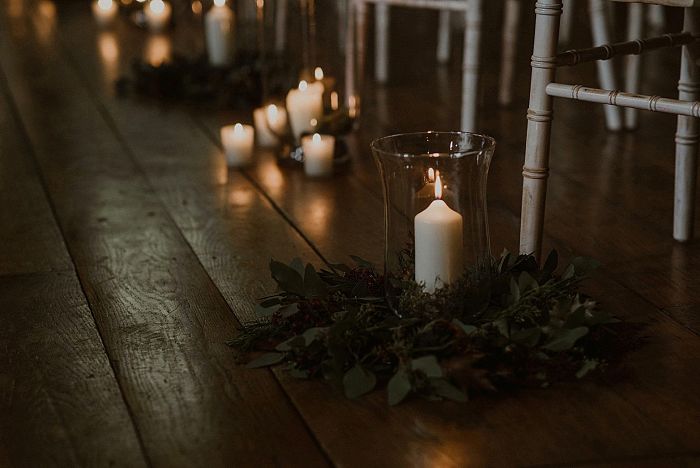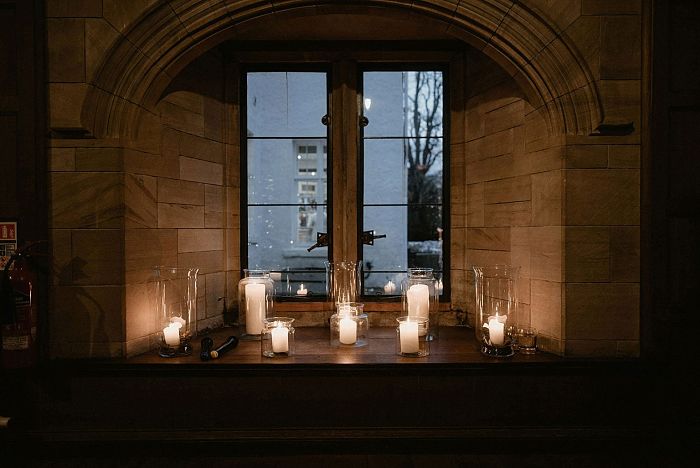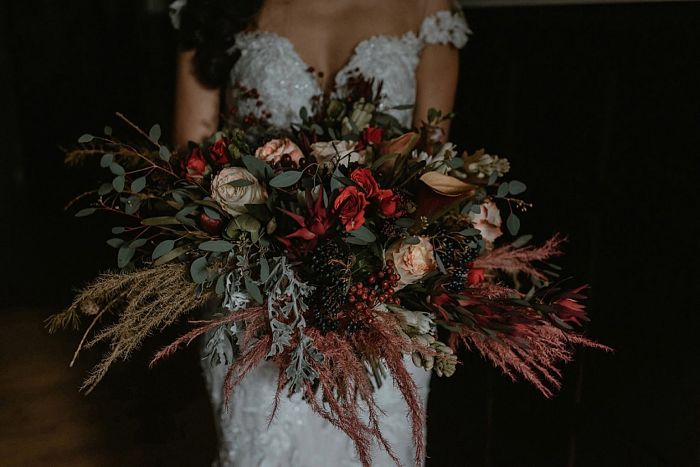 Heart-Warming Gifts
As a way to show their gratitude to the guests for being able to attened, Adriana and Niel designed their own newspaper which was given to the guests during the wedding breakfast the next morning. This was their way of thanking them for attending and also gave them some information about the timings of the breakfast.
They also provided small bags with shortbread from Crystals Shortbread, and the whole process of putting the little bags together made the preparation special for Adriana as it she did it with her sister, her mum, Neil's mum and Neils grandmother.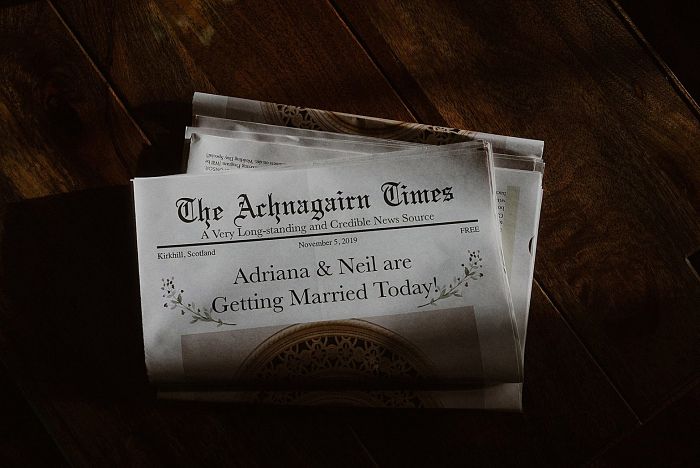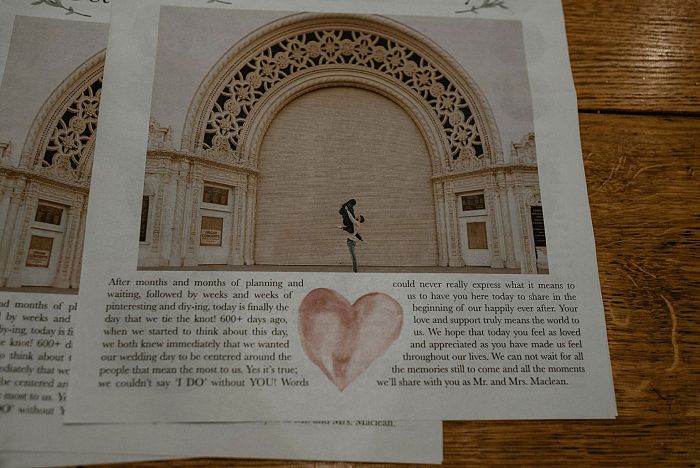 Wedding Tips         
The main tip that Adriana gives is to prioritise simplicity; your guests are there to share a special moment with you, so don't feel pressured to spend too much money and go overboard!
Similarly, it is nice to get suggestions from people, but don't feel too pressured to have to organise your day the way other people think it should be. Just do what makes you happy and you won't be let down!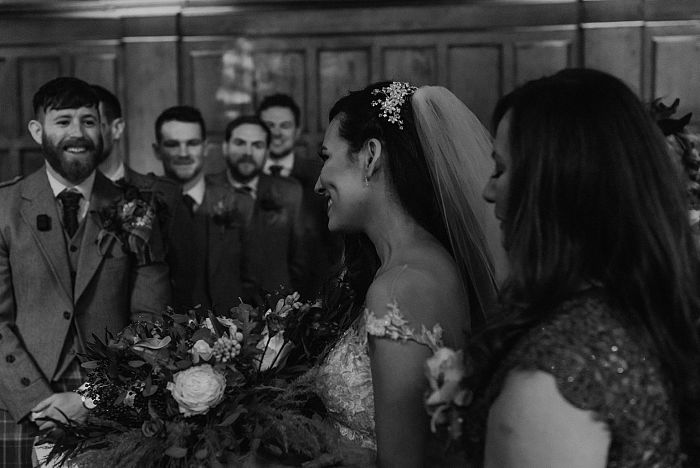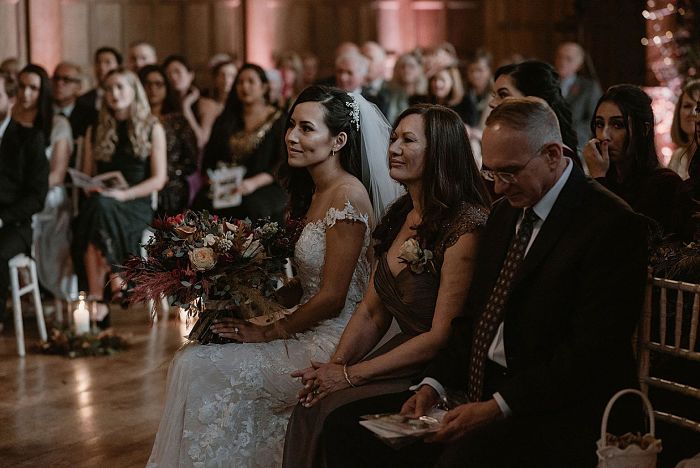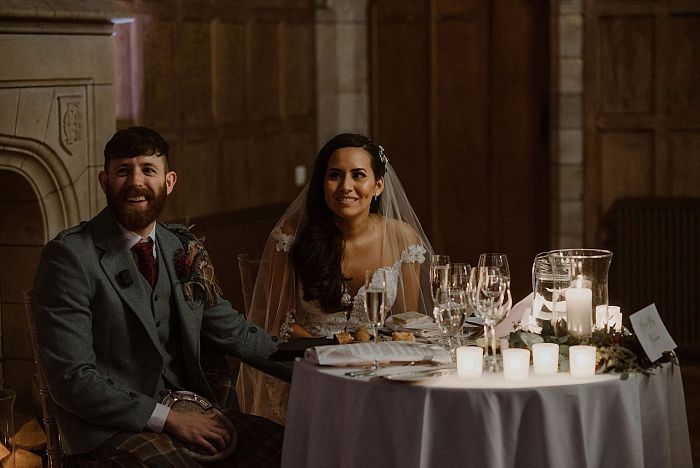 Wedding team
Photography: The Caryls Photography // Videography: Wordly Nomads Films // Venue + Catering: Achnagairn Castle // Adriana's Dress: Essense of Australia from Eleganza Sposa // Shoes: Steve Madden + Veil – A New York boutique [no further details] // Hair Vine: Eleganza Sposa // Hair Stylist: Suzanne McMahon // Make-up Artist: Gillian Hoban // Neil + Groomsmen Outfits: Slanj Kilts // Bridesmaids' Dresses: Désir Vale + Shoes – Jewel by Badgley Mischka // Flowergirls' Dresses: Eleganza Sposa // Florist: Wild Gorse Studio // Stationery – Designed by Adriana + Printing: Newspaper Club + Printed.com // Rings: Rox // Chair Hire: Eva's Covers // Favours: Chrystals Shortbread // Cake: All Whisked Up // Entertainment: Fara + Velvet Noir