Upon hearing the words, "wedding in Paris", we typically assume the wedding is taking place in a well-known location such as The Eiffel Tower, the Louvre or the Trocadero gardens. These are incredible wedding locations, however there are countless other options for your wedding in Paris which offer a more intimate and unique experience.
In this article, we will show you this stunning small elopement in a Haussmannian apartment in Paris, and how there are no rules you need to follow whilst planning your wedding – the most important thing is to design a wedding that is special to you as a couple!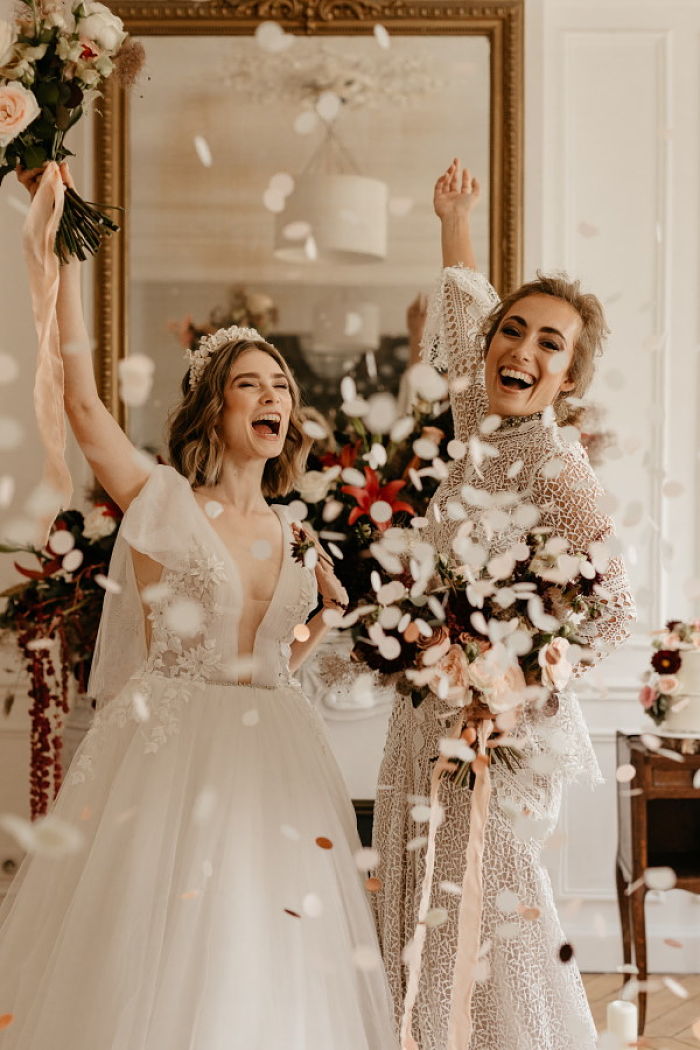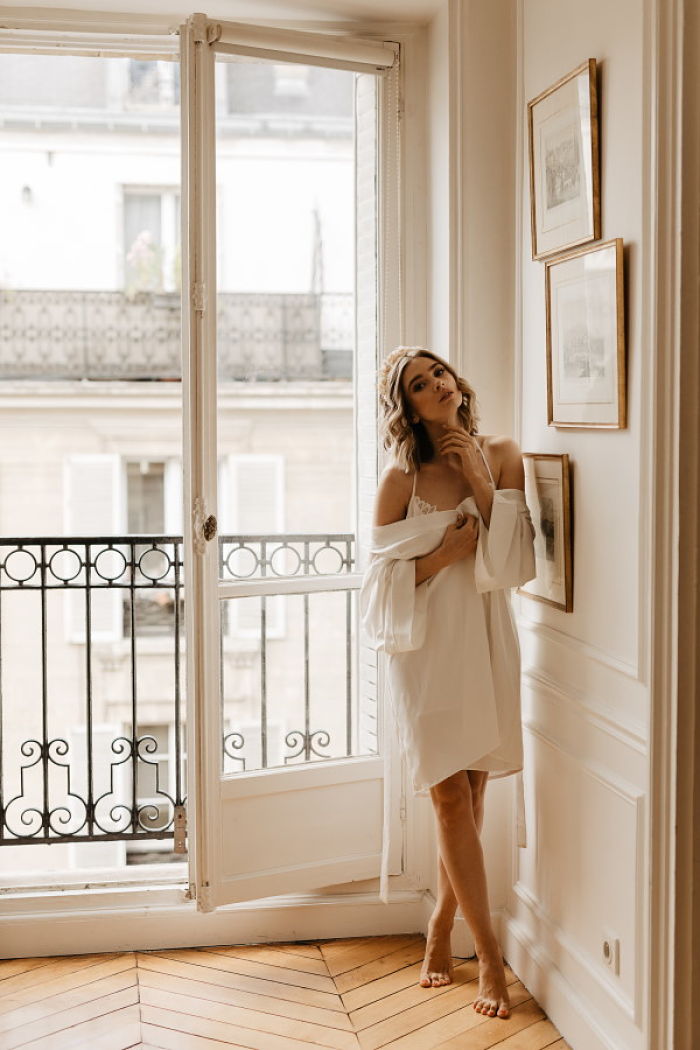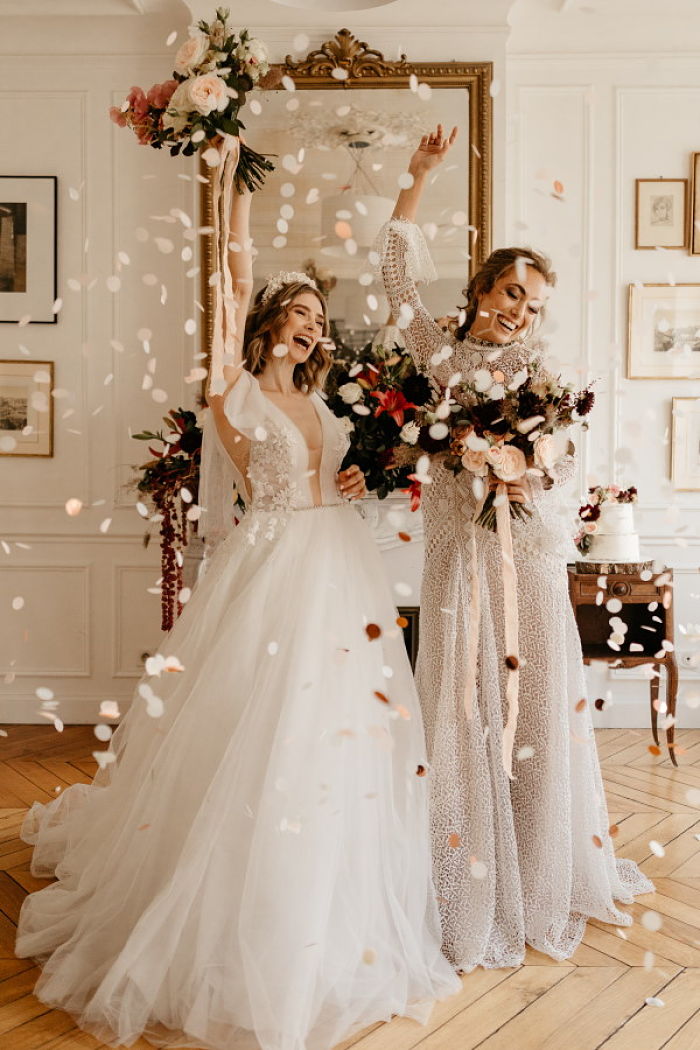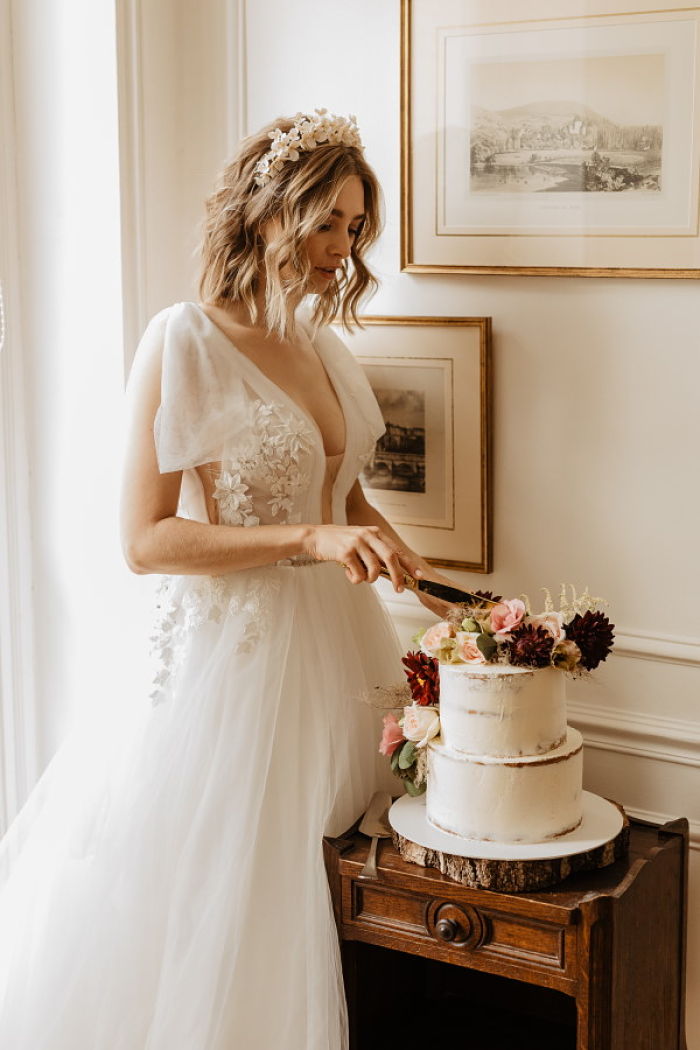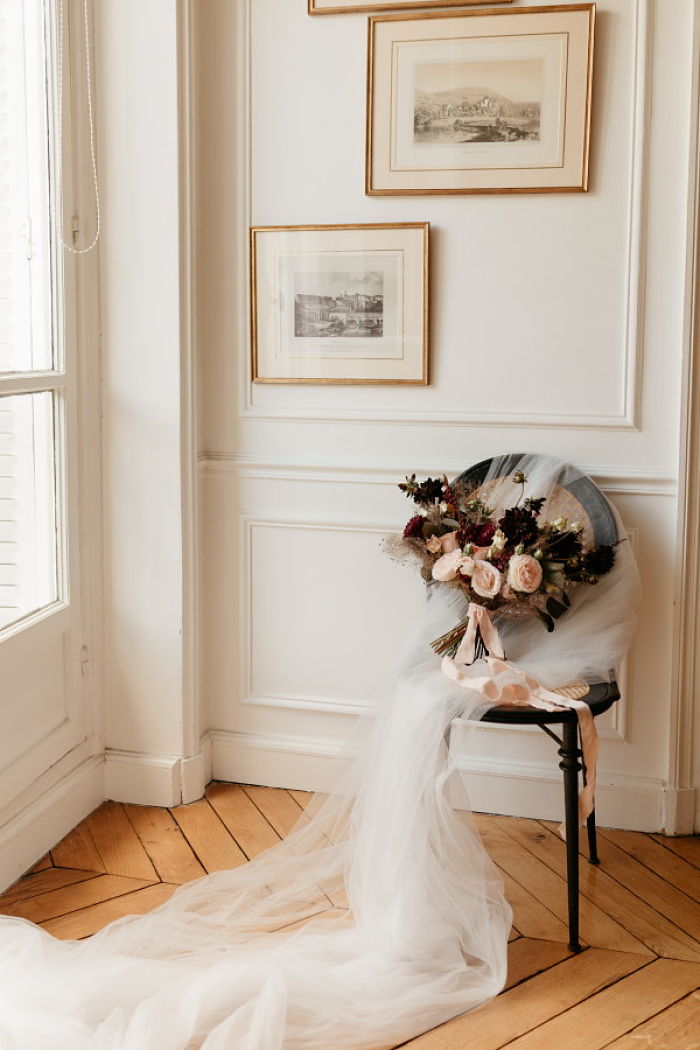 Intimate Location
Being one of the most spectacular, beautiful cities in the world, Paris offers a range of locations for weddings. However, it is important to look beyond the well-known locations like the Eiffel Tower, and discover more intimate, private venues.
This wedding took place in a Haussmannian apartment; Haussmannian architecture is typically found in Paris, where rooftops are at a 45-degree slant and the exterior walls of the buildings are made of pièrre de taille, which is a light grey stone with small and elegant details.
Celebrating a wedding in a classic Parisian building like this is the perfect way to admire the city's classic architecture during your wedding without feeling confined to wedding venues in more "mainstream" locations. The traditional balconies and extravagant interior designs also create a stunning backdrop for weddings with fewer guests.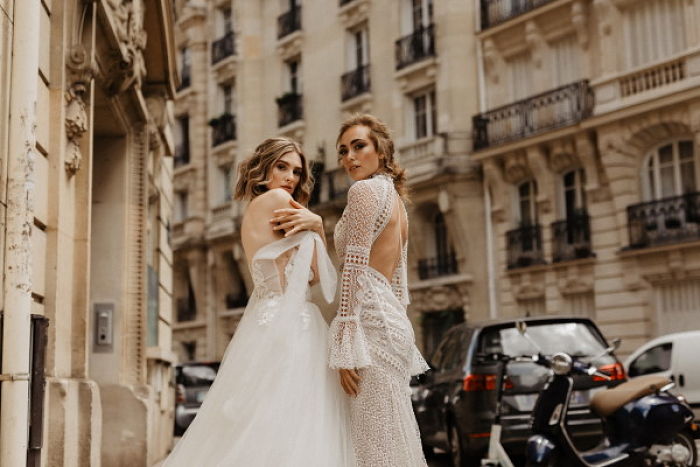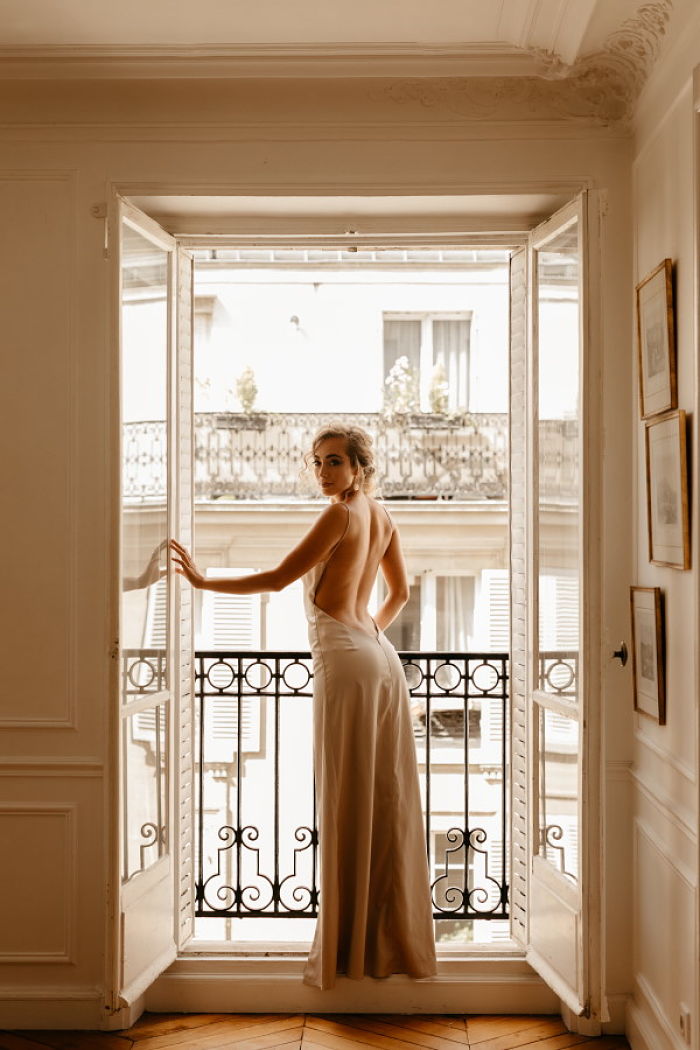 A Combination of Boho Wedding Styles and Luxurious Paris Vibes
The makeup looks for this elopement were created by makeup artist Alesia Solo, who chose fierce makeup looks which to bring out the confidence in both of the brides. The makeup was complemented by elegant accessories from Vivi Embellish Bridal which included a pretty white floral headband.
In order to mix classical Parisian styles with boho wedding styles, the brides wore dresses in different styles from Top Bridal which went really well together and created a glamorous, fashionable look, reflecting Paris as one of the fashion capitals.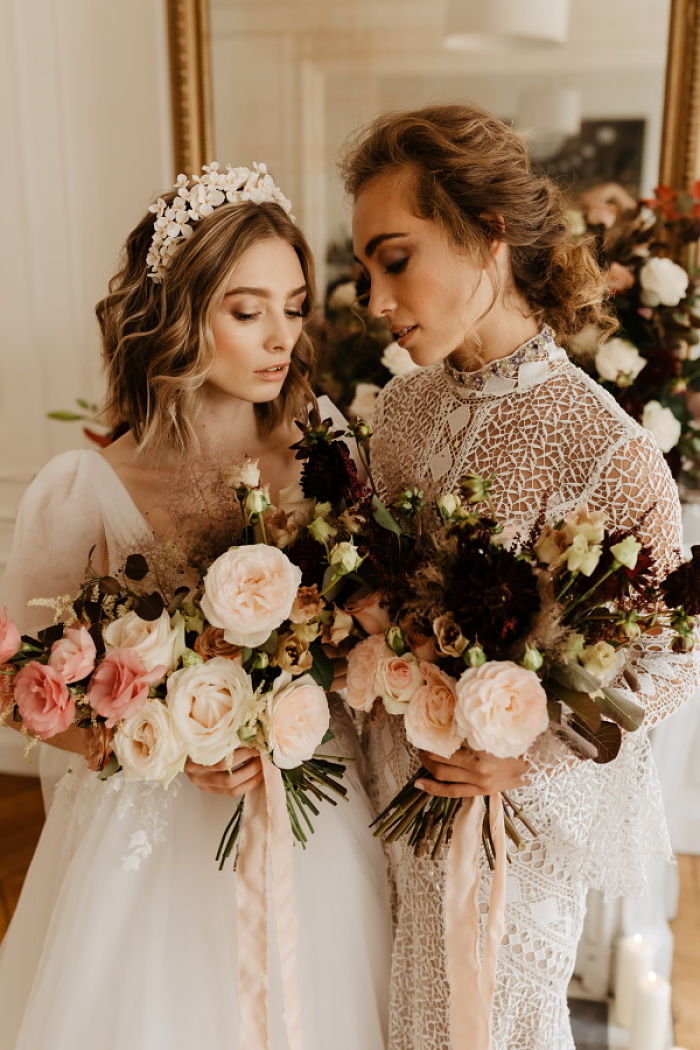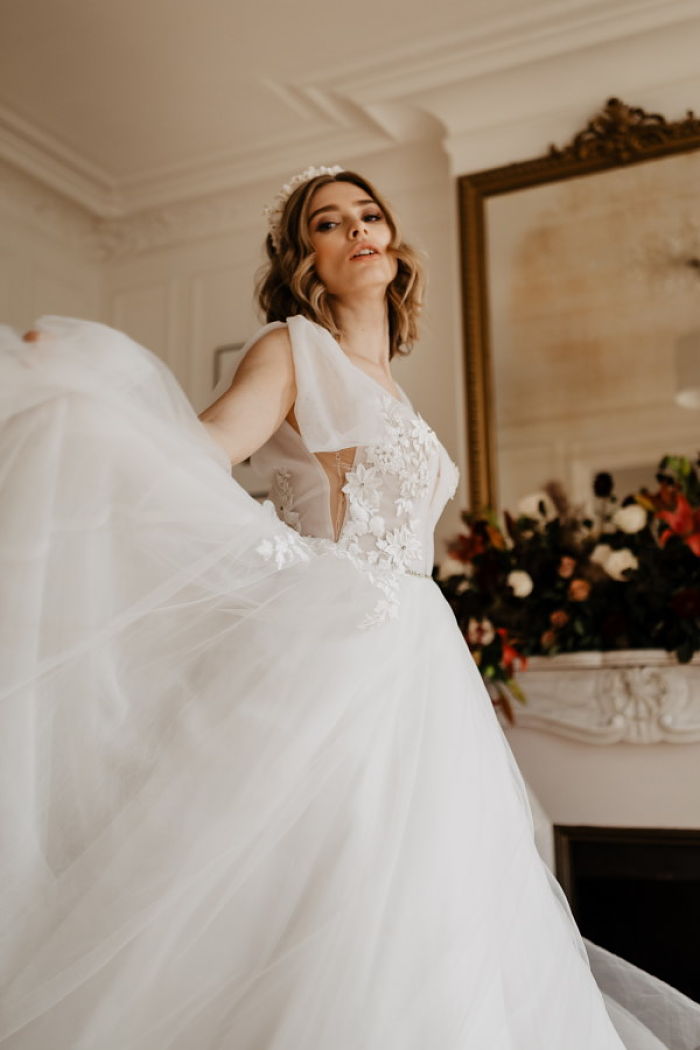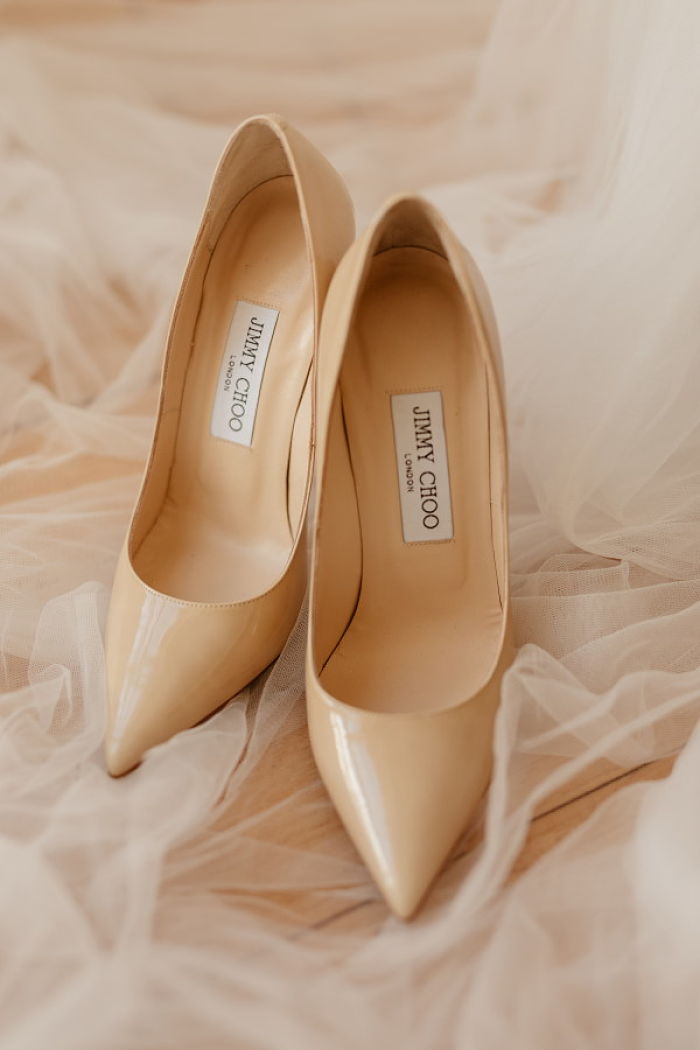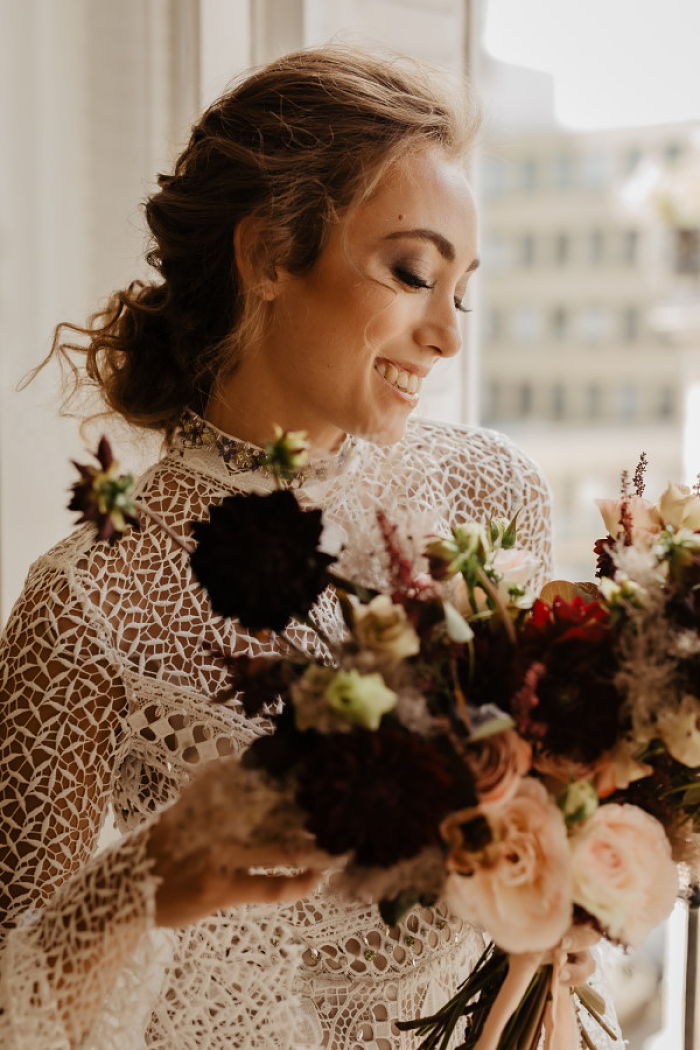 Glamorous Wedding Vows
When it came to the wedding vows, the brides stood in front of a magnificent fireplace which was covered in red, white and forest coloured floral decorations from Be One Paris.
Both of the brides had a book each from Delicate Paper where they had written their loving thoughts for each other; the books had light brown tones on textured pieces of paper which meant that they really complemented the Autumnal setting of this wedding.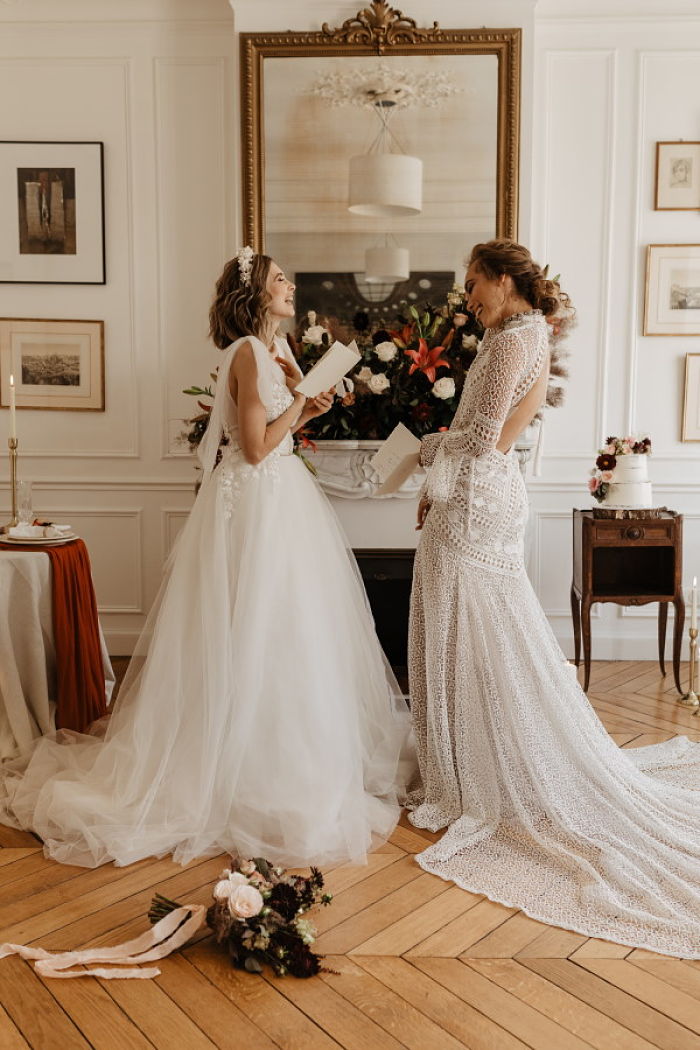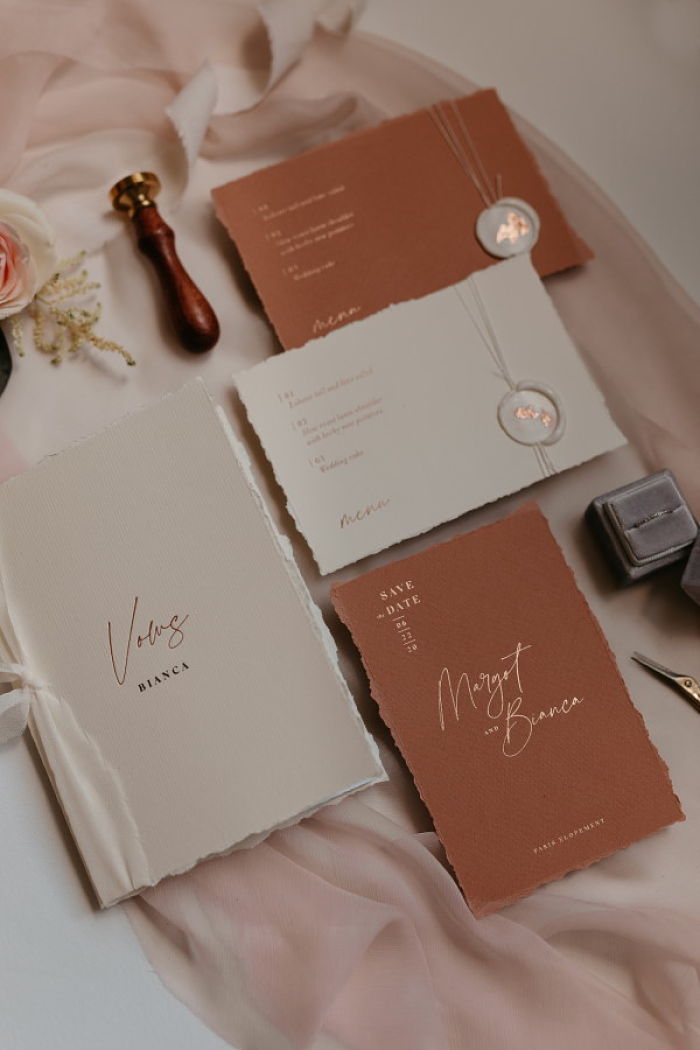 Elegant Banquet for Two
During the reception and the dinner, the air was filled with lots of beautiful confetti and out came the 2-tier Chocolate-Praline cake from Fude Patisserie. The cake was perfect for the wedding as it had minimalistic white icing with heaps of flowers which matched the floral arrangement on the fireplace.
The brides enjoyed their dinner for two by candlelight and drank champagne from Fleur du Jour Paris. They  finished their amazing day by taking a walk through the classic Haussmannian buildings in the area.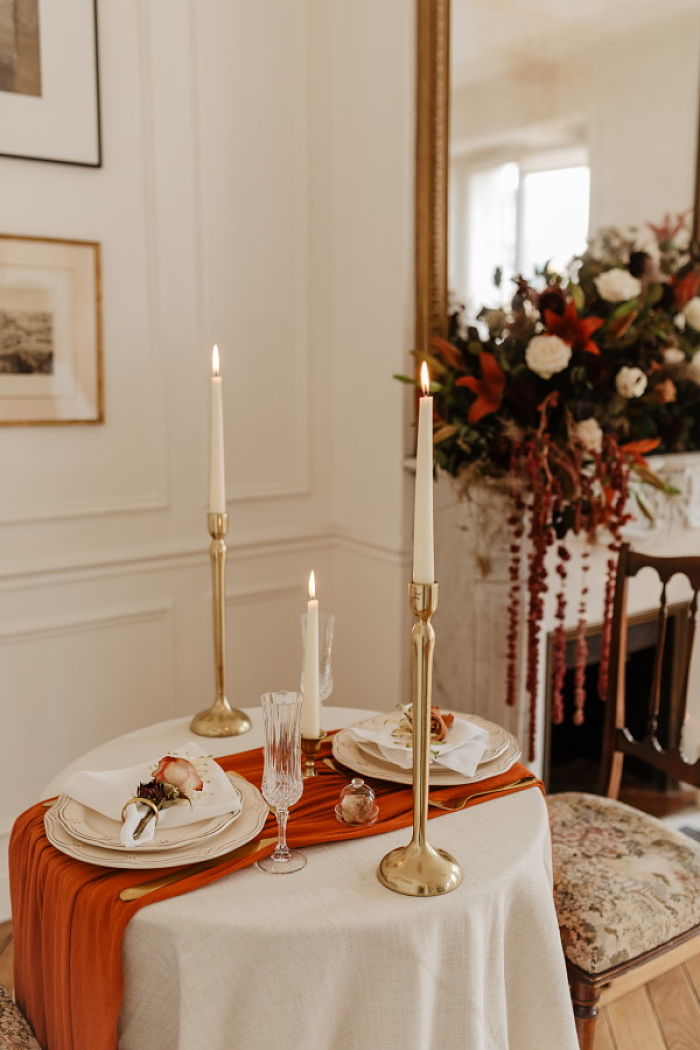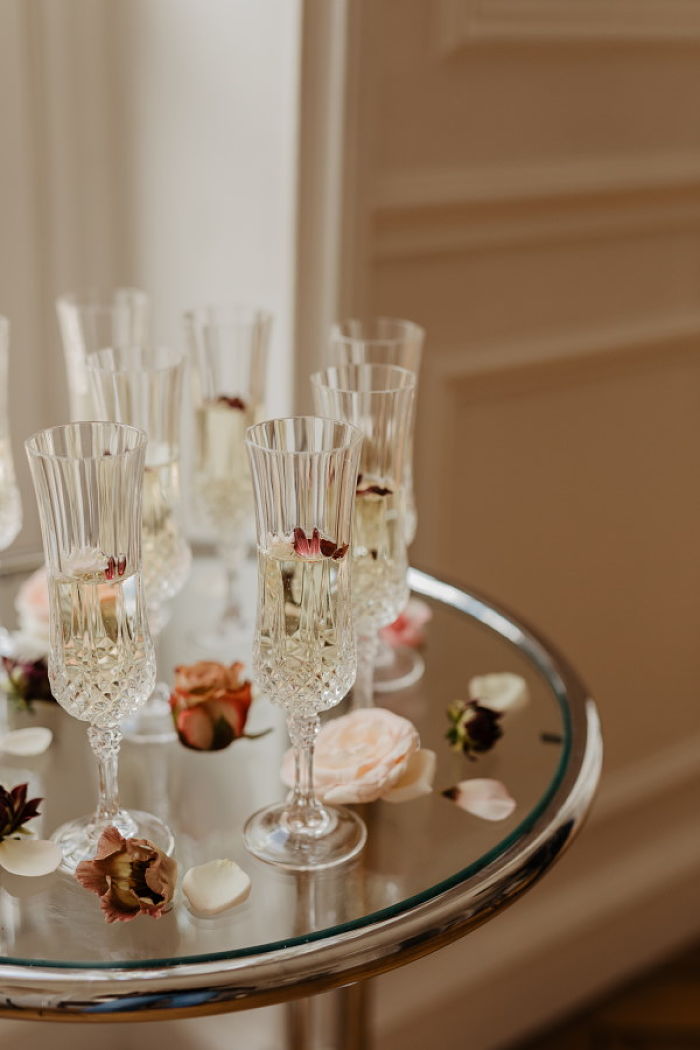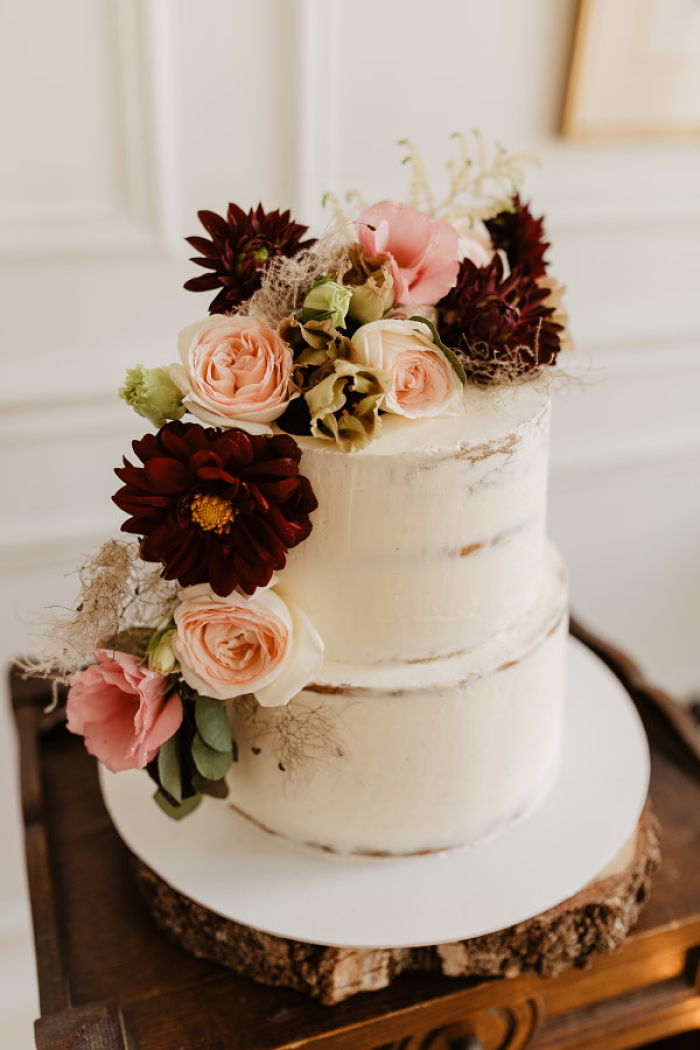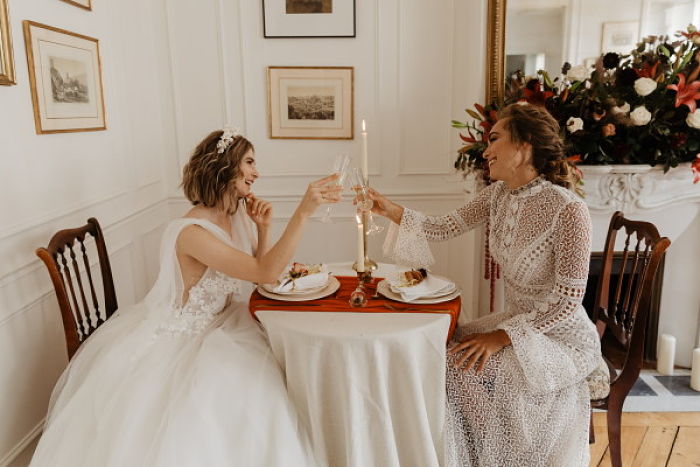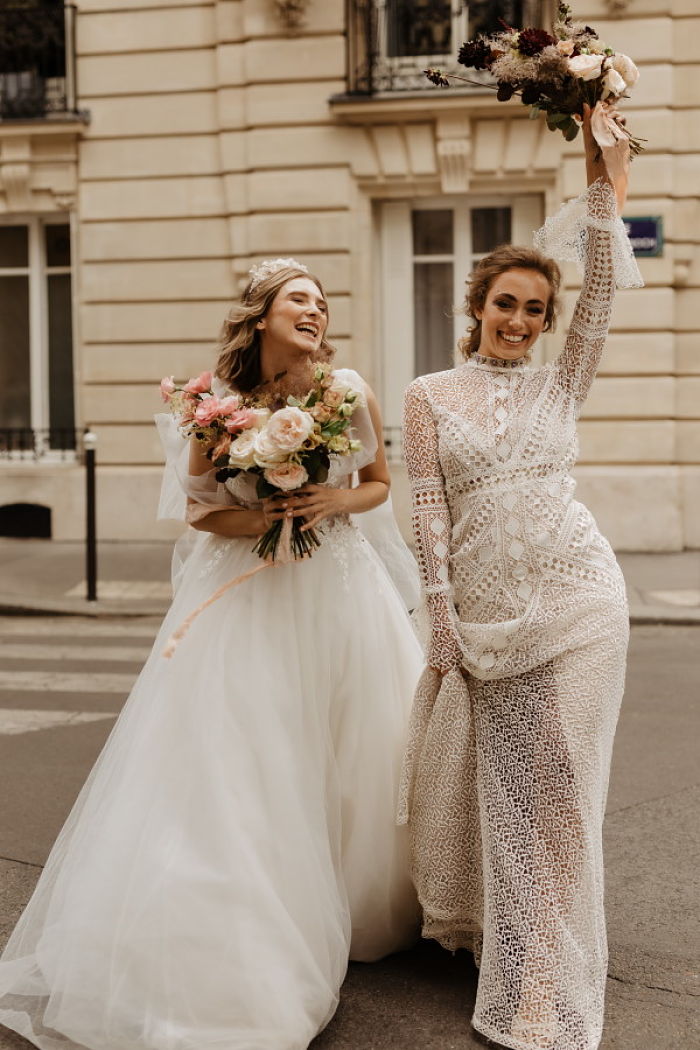 Wedding Team:
Photographer: Through The Glass Paris // Planner: The Paris Elopement // Hair and Makeup: Alesia Solo // Florist: Be One Paris // Decoration: Fleur du Jour Paris // Dress: Top Bridal Paris // Stationery: Delicate Paper // Cake: Fude Patisserie // Accessories: Vivi Embellish Bridal