Today we bring to you a stunning, laid back wedding held in a stylish villa in Portugal. Gemma and Lewis were the stars of the show, who looked perfect beside each other on their special day.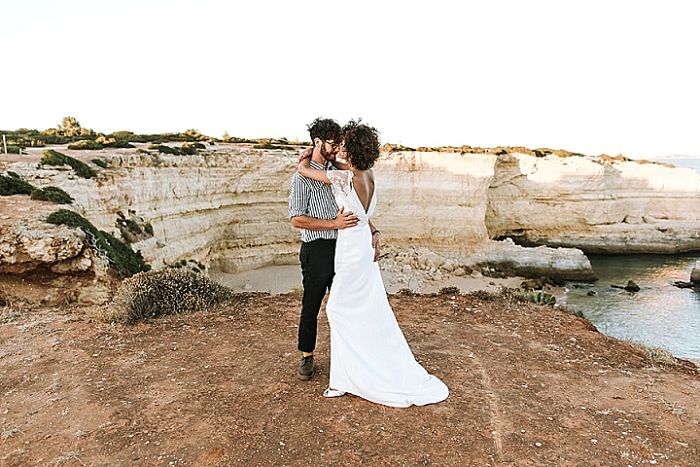 Ana Parker was the experienced photographer behind these incredible photos, which successfully capture the real sentiments and emotions of the couple and all their closest friends and family.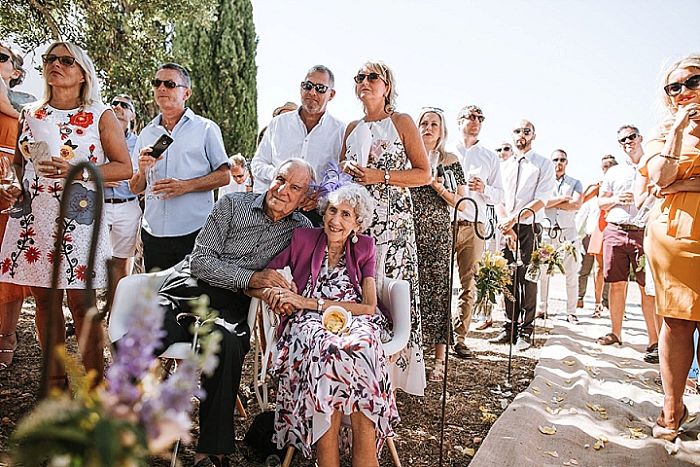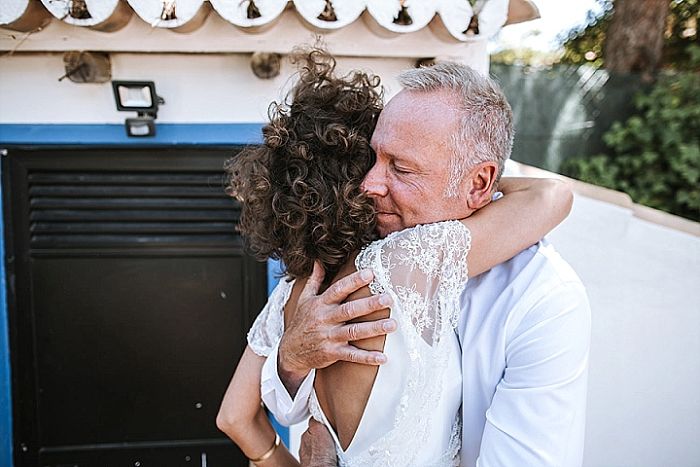 Keep on reading if you are also interested in relaxed, boho style weddings in the sun!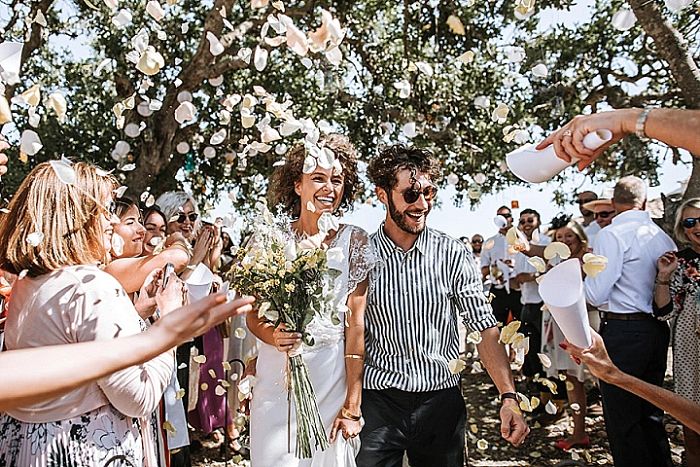 Gemma and Lewis' Love Story
The couple met over ten years ago through mutual friends while they were out at a party. After years of knowing that they were soulmates, in 2017 Lewis got down on one knee on a camping trip in Australia! They were exploring Australia's East Coast and Lewis chose a stunning beach with dolphins and sparkling waters as the location of his proposal. Gemma was delighted with everything and of course, she said yes!
When they arrived home in late summer of the same year, they immediately began to plan their wedding for the summer of 2018.
Wedding Destination: Algarve, Portugal
Gemma and Lewis selected a stunning villa named Quinta Albasol in the Algarve as their wedding location. This was a great location for them as Portugal is where Lewis' parents live, so it gave a more sentimental feel to the event.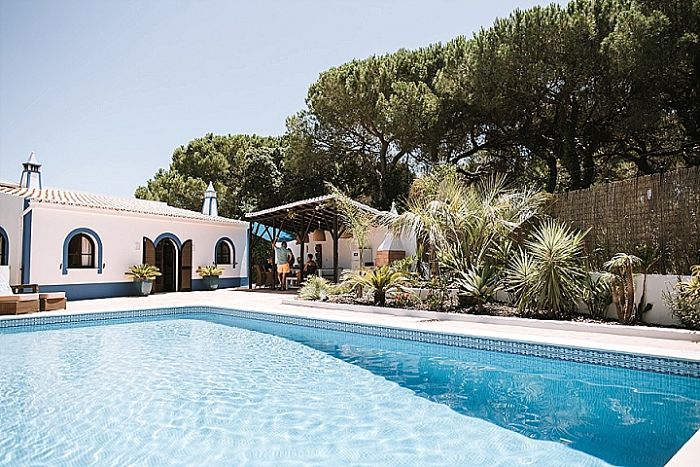 The villa was close to Lewis' parent's house and was the ideal location for their celebration as it was the right size to fit their ninety guests. It was also within their budget and provided a place for all of their friends to stay the night!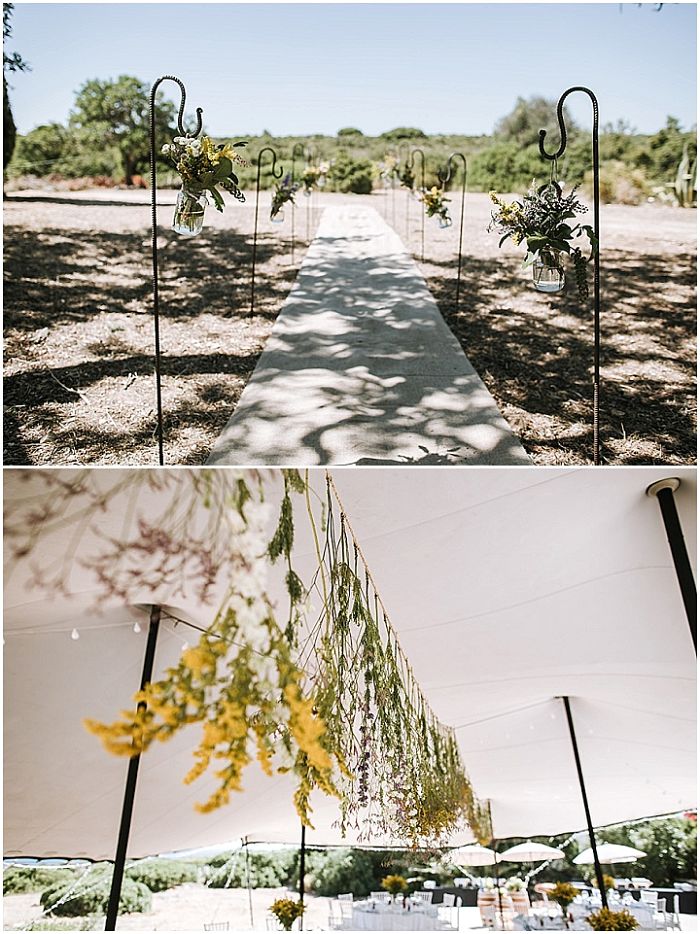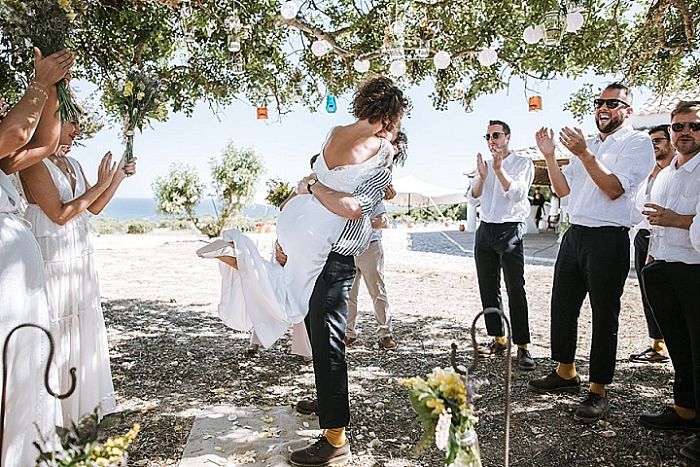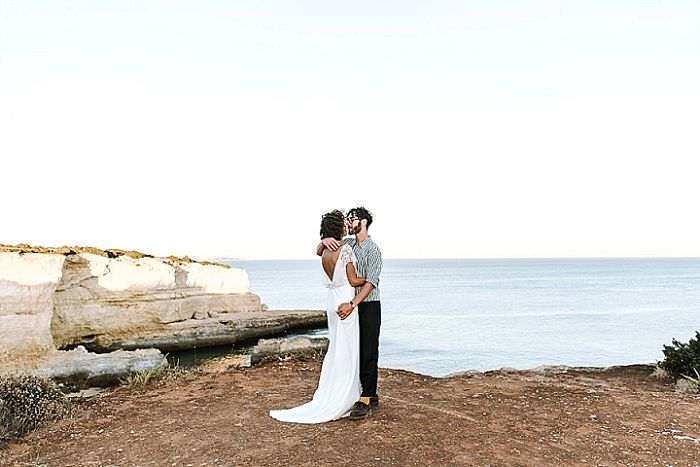 Wedding Style
Gemma sported an elegant wedding gown by Charlie Brear that she found in The White Closet in the South of Manchester, and a pair of heels by Rachel Simpson.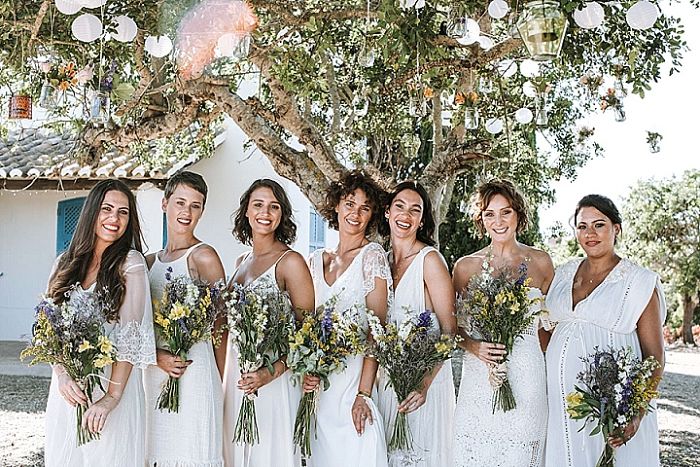 Her jewellery included two gold bracelets handmade by Alice Bessey, one of her friends. Wearing something sentimental and personal to you is always a lovely way to feel support from the people you love during your big day!
Gemma's bridesmaids wore cream-coloured frocks which they all chose themselves from wherever they wanted.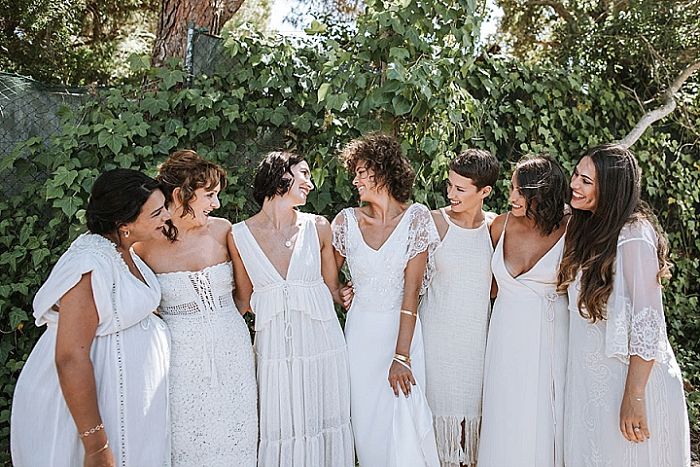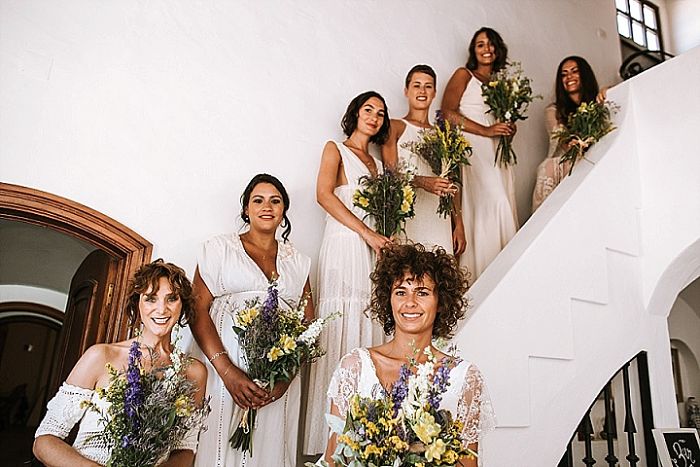 The men, however, are all captured wearing rolled up trousers with honey-coloured long socks on show. So unique and quirky – a great way to be different on your wedding day!
The wedding rings were made by Lucy Morton, one of Gemma and Lewis' close friends.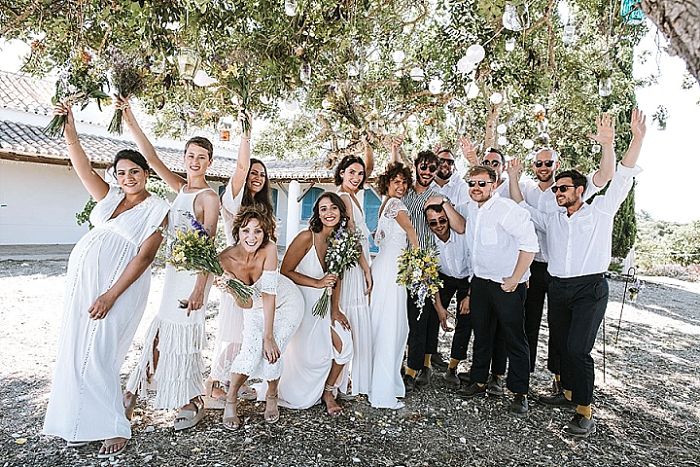 Yellow Floral Decor
The floral arrangements dotted around the villa featured a combination of yellow, violet and white flowers against a backdrop of forest-coloured leaves. Glass vases were used as a design feature to hold these elegant arrangements.
A common design theme throughout the wedding was the colour yellow; this could be seen on the banquet table where petite yellow blossoms were placed in small vases, and in ripe lemon filled barrels.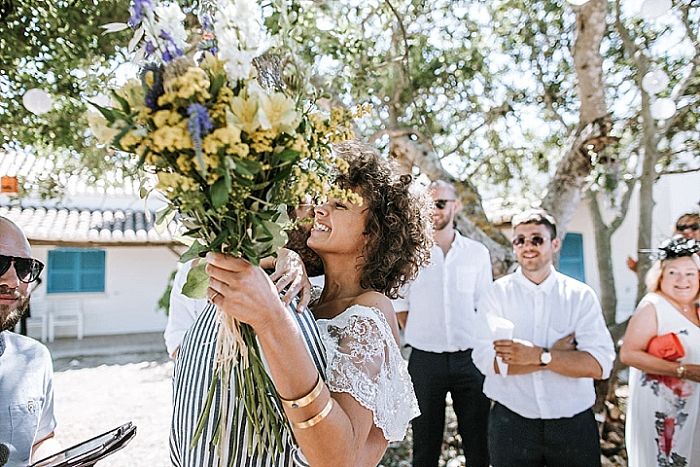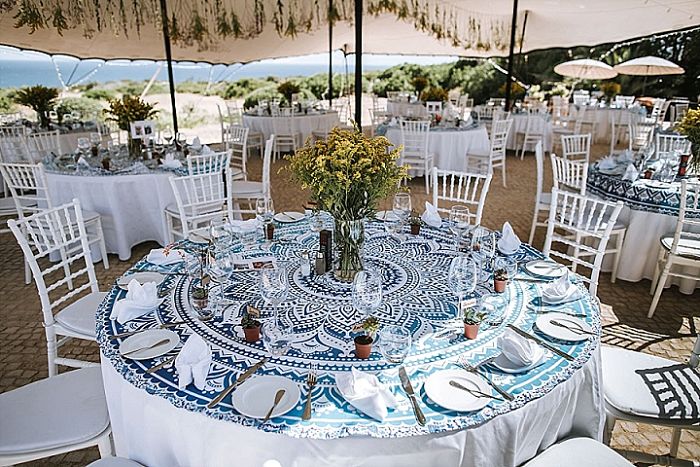 To make the villa feel magical on their special day, Gemma and Lewis chose to use fairy lights to decorate the ceremony area. It looks so enchanting!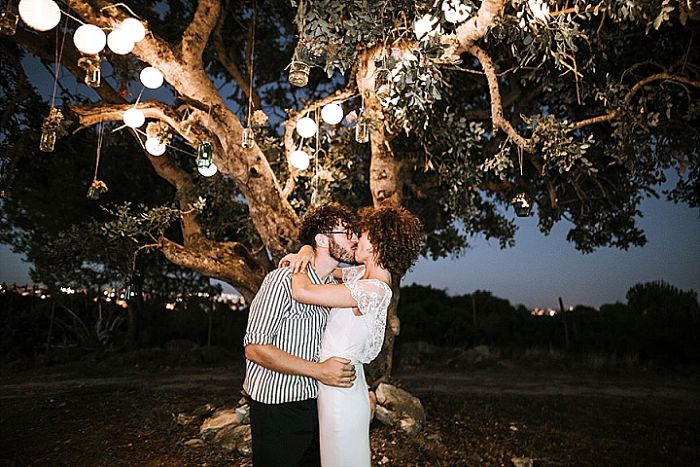 Wedding Flavours
The couple chose against a stereotypical wedding dinner and instead chose to serve Fish Cataplana which is the traditional local dish in the area where their wedding took place. There were also summer salads, pastel de nata and panna cotta.
For their wedding cake, they also decided against a traditional cake and created a tower of cheeses instead.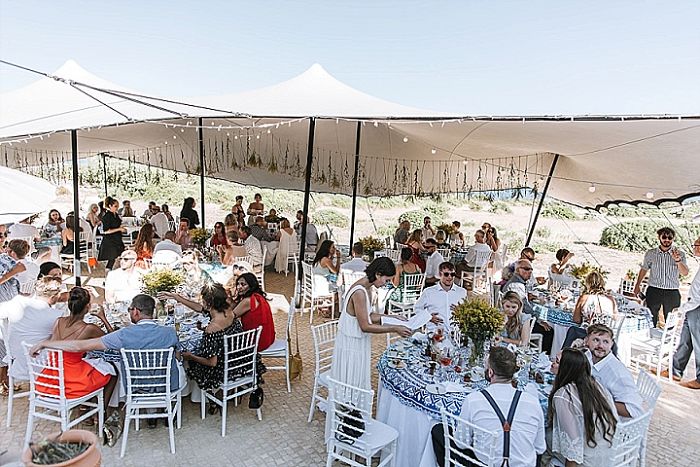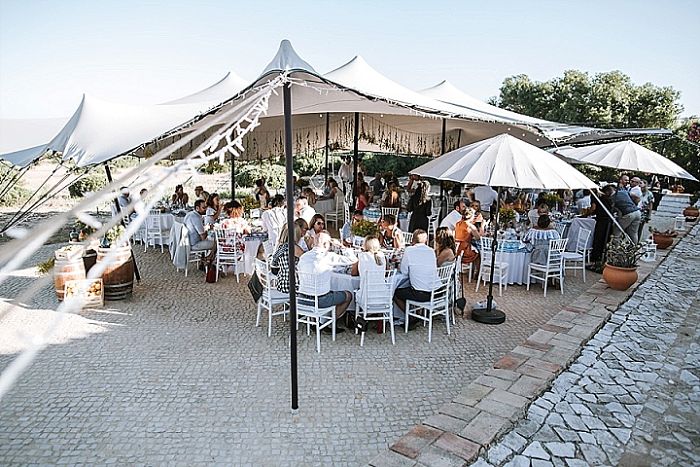 Entertainment at the Wedding Reception
After the exquisite mixture of foods, Lewis and his friends were the DJs at the wedding, and everybody got up to join the party on the dance floor. It was so cheerful and there was endless laughing, happiness and dancing!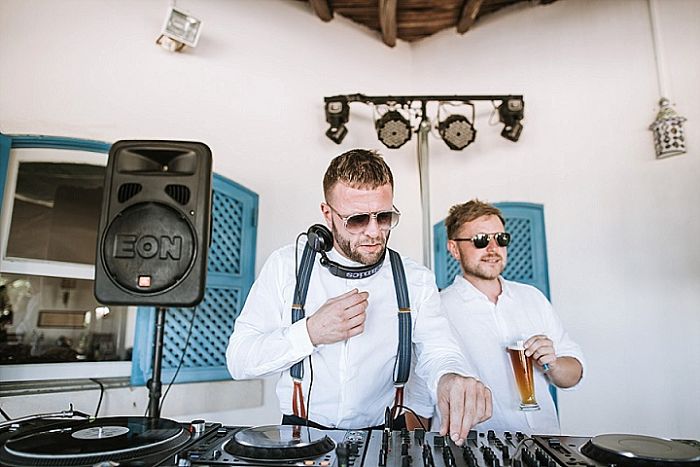 Once the big day came to an end, Gemma and Lewis got in their own caravan and began an adventure to Spain. Here they enjoyed their honeymoon which was full of camping surrounded by a tranquil atmosphere. What a great way to end their fairytale wedding!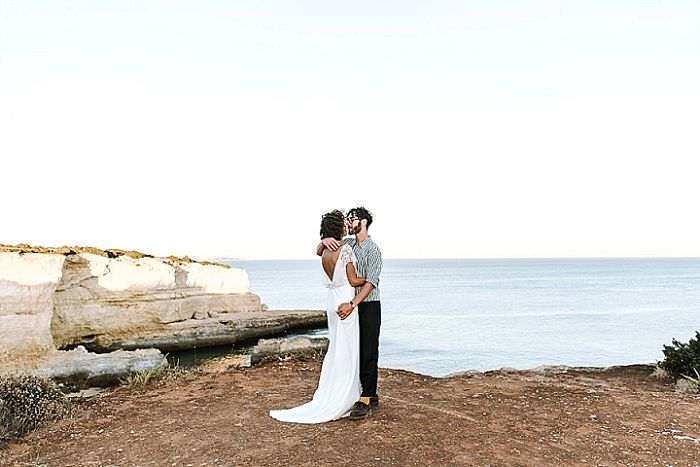 Wedding team:
Venue: Unique Rustic Villa with Sea View & Secluded Beach // Photography: Ana Parker Photography // Dress Designer: Charlie Brear // Dress Boutique: The White Closet // Shoes: Rachel Simpson // Flowers: Flor Unikon Flowers