Wedding décor is unquestionably important, it's the best way to showcase you and your partners personalities on your wedding day. However, before you get excited and start buying everything you love for your big day, remember that choosing wedding décor is a whole process that requires in depth planning if you want your décor to be beautiful and cohesive. But remember, it'll be worth it in the end! Use this checklist to help decide exactly what you need, and find the best decorations for your wedding.
What's your aesthetic?
Before you begin choosing your wedding decor, you need to have a pretty solid idea of how you want your venue to look on the big day- is it traditional? Rustic? Vintage? Glamorous? So step 1 is deciding on a specific wedding style if you haven't already. This avoids accumulating mix-matched decor before you've decided for certain on a style for your day. Your original wedding ideas are also likely to change a lot throughout the early stages of planning, so its best to wait until things like theme and season are finalised to begin organising the decor.
Not sure how to describe your wedding aesthetic? It can be a hard task to put the images of your dream wedding in your head into words, or to find one wedding style you love and stick with it. So if you're struggling to pin-point the exact aesthetic you like, try to focus on the feeling you want your wedding to have, whether it be relaxed, romantic, modern or traditional. This avoids limiting all your decisions to a set theme (like beachy or bohemian).
Be open-minded with colour palettes
Whilst you'll need to have a general idea of the wedding colours you want to use, try being open-minded and use your chosen colour palette as a guideline for the wedding decor, rather than it being set in stone. You don't need to feel as though everything has to match, for example, instead of simply 'grey and white', try instead to think of it as 'neutrals' and use a colour palette consisting of colours with grey undertones, like charcoal or olive green. This method allows for you to have a few 'focus' colours, whilst incorporating similar hues to add more fluidity to your decor, which will make your venue space look more authentic.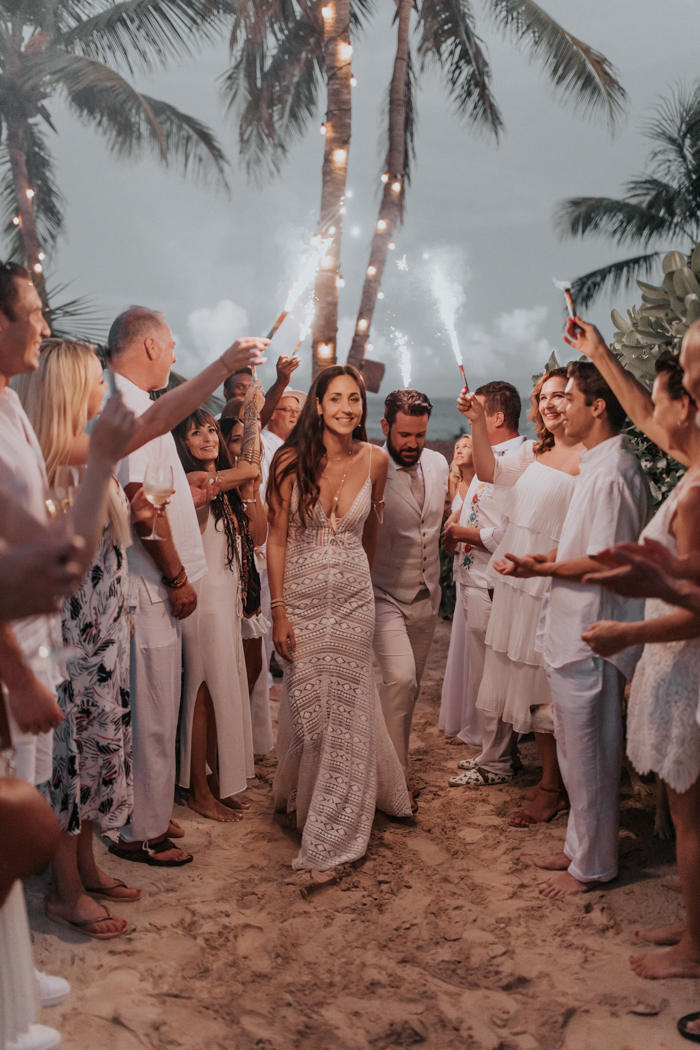 Use your surroundings
Remember to think about your venue! It might already have gorgeous accents that you want to accentuate, such as accent walls, fountains, gardens, feature windows, wooden beams or lighting fixtures. Think about how you can design your wedding decor to compliment the existing features of the venue. Depending on your venue, you might be able to tone-down the decor in some places. For example, if your ceremony is at an outdoor venue such as a lake, chances are you chose it due to its natural beauty, and therefore too much decor may distract from it. Pictures from previous weddings at the same venue can be really helpful in envisioning what you want your day to look like. Wedding planners can also help by creating mockups of the space with the various decor options. Lastly, remember to ask your venue coordinator if they already have some decor items you could use, or that they could supply you with- and even if they don't, they are the best people to make recommendations based on what they've seen been done by other couples before.
Now you can move onto the decorative basics– items that don't have a particular function but have a huge part to play in creating your wedding style and atmosphere. These include details like the altar backdrop, aisle markers and centrepieces. Whether you've decided on lavish floral arrangements or romantic candles and greenery for your centrepieces, they will be the main decorative accent for your reception space, so make sure that they encapsulate your wedding style by using the same colour palette and overall theme.
Secondary details
Now all the important stuff's out the way, it's time to focus on the smaller details. These pieces won't be necessities, but will add to your guests' overall experience at your wedding. Place cards are perfect if there's assigned seating and there's thousands of ways to get creative with them! Menu cards are also optional, as many guests would have already decided on their meal, but they create a sophisticated and formal atmosphere as well as reminding your guests of their food selection. Finally, wedding signage is the perfect way to add little decorative accents throughout your venue to make the space cohesive, whether they be for restrooms, the bar or just small love quotes dotted around the room.
Finally… the extras and splurge items
If you have some extra money left in your budget, why not add a few decorative 'splurge' items? If you've been dreaming of a floral wall behind the altar, or vintage chairs for the reception, this is your chance to add those final little touches that will make your day perfect. If there's an empty space in your venue that needs to be filled, then these extras are great for that! Items such as photo booths will fill out certain areas as well as providing great entertainment for your guests. This is also your chance to get creative with wedding dessert tables (we've all seen the donut walls!) that will provide your guests will extra treats throughout the night. Wedding lounges are also great additions that allow your guests to mingle between dinner and dancing.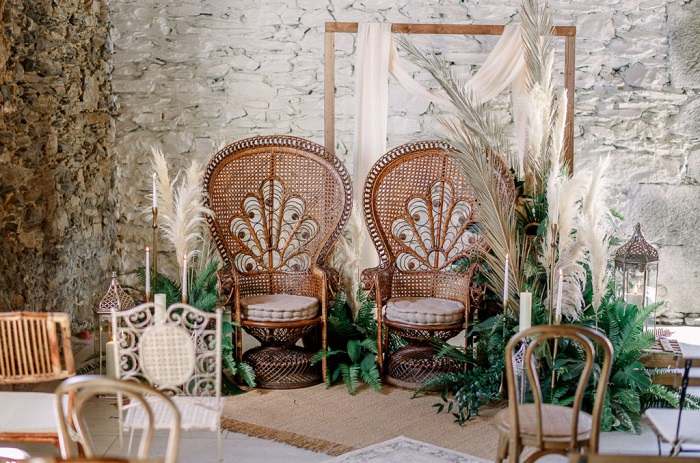 Wedding decor checklist
Whilst you probably won't need everything on this list, its helpful to understand all the wedding jargon that you'll definitely come across when finalising your decor plans.
Wedding Ceremony Decor
Aisle markers: these are displayed at the end of every row of chairs at the ceremony. They outline the center aisle and can be put on the ground, displayed on hooks or tied to chairs. Popular ideas for aisle markers include floral displays, bows, candles or greenery.
Aisle runners: These are usually long pieces of cloth that span the whole length of the ceremony aisle and is unrolled before the bride enters. Other popular ideas are rose petals, rugs or nothing at all!
Altar arrangements: Floral arrangements can be hung on the wedding altar or placed on the ground. Smaller arrangements can be placed upon tables or pillars.
Arch: A type of wedding altar the couple stands beneath to exchange their vows. They're typically rounded arches that are decorated with flowers and greenery.
Arbor: Similar to an arch, an arbor is usually square with four posts, which creates a canopy. Jewish chuppahs are a type of wedding arbor.
Flower girl and ring bearer items: The younger members of your wedding party traditionally don't carry bouquets down the aisle. The ring bearer holds a box or pillow containing the wedding band and the flower girl carries a basket of petals or confetti to scatter.
Garland: A botanical hanging that usually is made up of flowers and greenery. They are draped or hung anywhere in the venue, such as the tops of doorways or around banisters.
Ceremony signage: This is a great way to personalise your wedding space and make the guests feel welcome. They will also share important information, such as the location of the bathrooms or whether the ceremony has a no-phone policy.
Wedding programs: These are little cards or booklets that name the people in your wedding party and outline the timings of the day.
Wedding signage and stationary
Calligraphy: This is a type of formal, cursive handwriting often used for invitations, escort cards or any other type of wedding sign or writing.
Card box: A box to collect the wedding cards from your guests, this should be placed next to your guest book.
Chalkboard signage: A popular style of signage for rustic-style weddings.
Escort card: A card for each guest that informs them of their table number.
Hashtag signage: Use a wedding hashtag so that everyones shots of the big day can be found in one place.
Laser-cut signage: Wooden or acrylic signs that have detailed cutouts, this is acheived using a laser.
Menu cards: Individual cards at each setting that inform the guest of their menu choices.
Monogram: A crest or logo that uses you and your partners initials to create a design that can be used for accessories, invitations or any other items.
Motif: A decorative symbol or pattern that can be added to almost everything. Examples include the Fleur de lis and the Napoleon bee.
Place card: Also called name cards, these tell guests exactly which seat is theirs at the table. They are either placed at the top of the dinner plate or above the place setting.
Signature cocktail sign: If you decide to create a bespoke drink for your special day, include the ingredients and description on this sign.
Table number: These identify each reception table and are usually placed near or in the centrepieces.
Wedding guest book: A book where guests can write little notes and sign their names. It's usually displayed at the entrance to the reception.
Wedding welcome sign: A sign that greets your guests as they arrive to the wedding or reception. These are normally displayed on an easel and can include the timeline of the day or love quotes.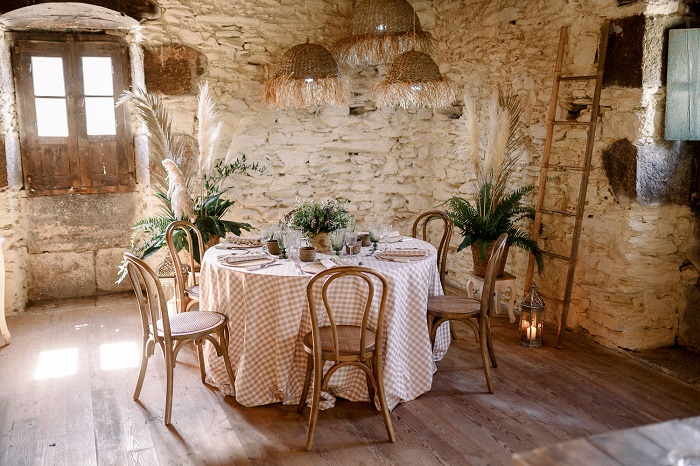 Wedding reception decor
Centrepiece: The decorative accent that is placed at the centre of the reception tables. Flower arrangements, candles and greenery are popular choices.
Chair covers: Slipcovers that hide the backs of the reception chairs.
Charger: A larger decorative plate that is placed under the actual dinner plate.
China: Porcelain and ceramic plates and dishes that create a formal look to the wedding tables.
Coupe: Loved for their vintage look, these are short-stemmed glasses with a wide, shallow bowl. Often used for champagne.
Flatware: Dining utensils such as forks, knives or spoons. Also known as silverware, these can be pre-arranged on the tables or displayed in communal baskets or containers.
Flute: Thin, long-stemmed glassware for champagne or sparkling wine.
Goblet: A glass or metal drink ware. These can be used for everything from water to cocktails.
Swag: A bunch of fabric that is draped across chairs, windows or ceilings.
Sweetheart table: The dinner table exclusively for the newlyweds. This allows for some alone time during the day instead of being seated with the wedding party at a large table.
Tablecloths: Fabric that fully covers the dinner tables. They can be any shape and are usually made from silk or gauze.
Table runner: A long, rectangular piece of fabric that runs down the center of the reception tables above the tablecloth.
Tablescape: The overall layout of the table decor, consisting of the centrepieces, place setting and table numbers.
Wedding lighting decor
Bistro lights: These are round, bulbed lights that evoke images of a Parisian cafe.
Candelabra: A tabletop candlestick that has multiple arms to hold candles.
Floating candles: Lightweight, round candles that can float in vases filled with water or even fountains.
Gobo: A screen that can transform light into a shape, word or image when projected onto a flat surface. These can add a fun personal touch to your wedding.
Marquee lights: Vintage-style lights that come in the shape of letters, numbers and symbols.
String lights: Also called twinkle or fairy lights, these are small bulbs on string that are smaller than bistro lights. They are flexible and look great wrapped around different things.
Taper candles: Long, thin candles that are available in many colours. They are traditionally paired with candelabras.
Tea lights: Small candles in metal tins. They are about one inch in diameter.
Votives: Small candles, slightly larger than tea lights that aren't in metal tins. They are roughly two inches in diameter and can be placed inside cups and vases or to accent the table.