Malaga has some truly stunning wedding venues with a completely Mediterranean atmosphere. Do not miss the best places to carry out wedding planning in Malaga and celebrate your wedding in a privileged environment. In any of these places you will enjoy an exclusive space and the best services.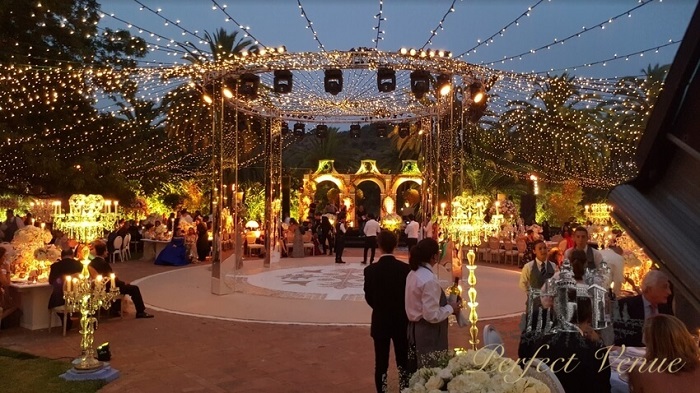 This estate is the perfect place for your big day. Its space is ideal for planning a personalized event where you can have plenty of corners in a centennial garden surrounded by palm trees, making your wishes come true in a day you will always remember.
Its capacity is up to 500 people, but this does not prevent it from hosting other events with smaller attendance (from 50 people). A team of experienced professionals is involved in all events. Key areas for events, parking for guests, availability of buses and many other services offered are also very important.
Distance from airport: 15.3 km
Distance from the city: 6.2 km
Menu price: from 120€
Finca Jupamo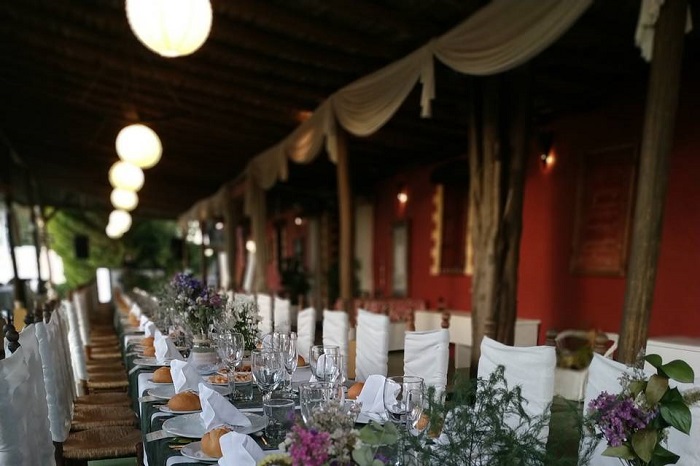 This large property located in a privileged location, surrounded by nature and tranquility, is perfect for couples looking to celebrate a private wedding with family and friends.
The philosophy of Finca Jupamo's staff is to prioritize individual treatment to couples who come into contact with them, so that they are with you from the first day advising you to ensure that your big day is a success. In addition, if you are looking for a place where you can celebrate your wedding with your pet, this farm will be happy to make your dream come true.
The possibility of celebrating a real or fictitious civil and religious ceremony thanks to the consecrated chapel. They have several options to choose from to make your big day a magical and unforgettable moment, with some options such as the possibility of enjoying spectacular fireworks as they have the necessary permits to do so, horseback riding, etc.. 
In addition, La Finca's catering team will prepare your own menu, always providing products of the highest quality, respecting its traditional ease of preparation. Finally, it has rooms for the bride, groom and guests with all the necessary services for a comfortable and pleasant stay.
Distance from airport: 57.2 km
Distance from the city: 48.4 km
No. of guests: from 40 to 350
Menu price: from 48€
Hotel Cortijo San Antonio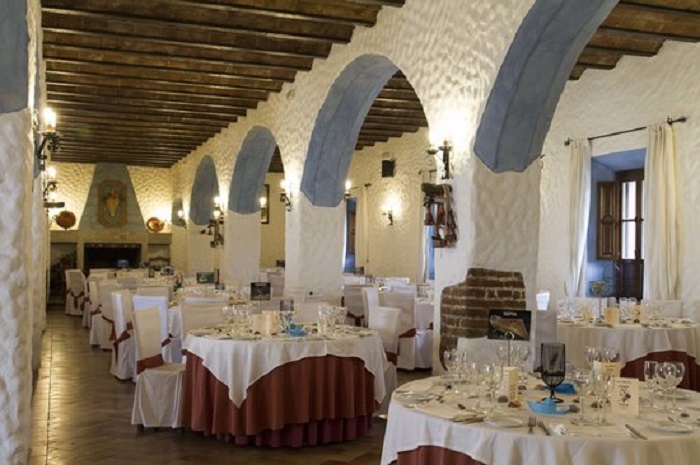 This magnificent sixteenth century farmhouse, recently rehabilitated in its entirety, stands out as a place with a unique charm, ideal for couples looking for a place on the outskirts of Malaga. This gives them a sense of calm.
La Antigua Casa de Postas is an authentic museum hotel that goes over the history of Malaga, with comfortable and personalized rooms, each with its own name and unique decoration. You can also take a walk along El Caminito del Rey, one of the most impressive man-made structures in Malaga.
He has a lot of experience in planning and organizing weddings and events, and is an expert in fulfilling all the wishes of his clients. For this, he offers a summer gazebo decorated with natural rose bushes for civil ceremonies, large and well-kept gardens for a photo shoot, as well as a meadow and an artificial lake for the welcome aperitif, which then gives way to an outdoor party in the courtyard of the farmhouse or inside, in a large open-plan room specially designed for this occasion, suitable for 230 people.
Distance from airport: 45 km
Distance from the city: 40 km
Jardines del Trapiche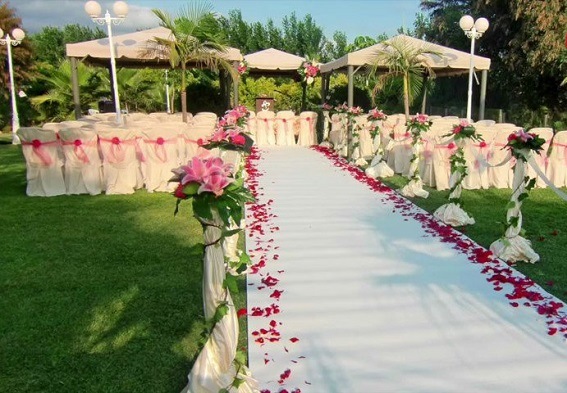 Located in an ideal place to celebrate weddings, communions, baptisms and all kinds of celebrations.
They have their own kitchen and permanent staff, who have made every event an unforgettable day thanks to you for 15 years. Jardines del Trapiche is divided into different areas with separate entrances and exits.
On the one hand, we have the Jardines Room, which is the largest and can accommodate up to 600 guests. It also has an outdoor area where visitors are greeted with a welcome cocktail. On the other hand, there is the Cortijo-Lago Room, prepared for celebrations of up to 160 people. In this area there are also gardens in front of the lake, where, if the weather is nice, you can celebrate your wedding, it also has a capacity for 300 people!
Distance from airport: 53.6 km
Distance from the city: 30 km
Menu price: from 55€
Finca Besaya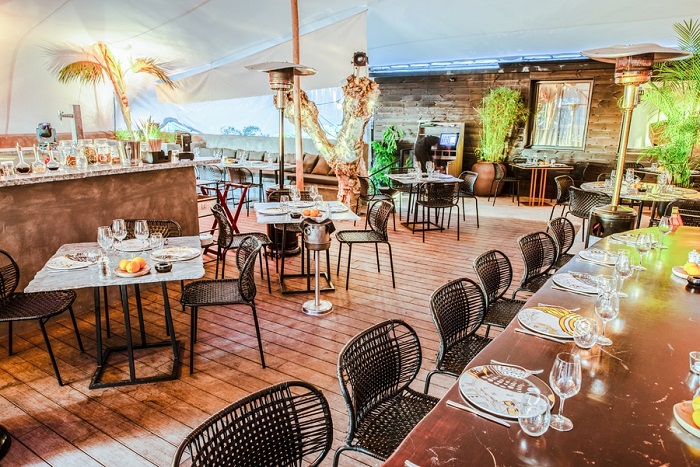 A different, modern, contemporary and avant-garde space is the perfect choice for couples looking for a different place to have a dream wedding celebration in Malaga.
Finca Besaya introduces a new concept of nightlife in Marbella. Come and enjoy its well cared spaces specially designed for large celebrations in which no one will be indifferent.
The pampered subtropical gardens, the banquet hall and the discotheque with magical corners will make your wedding unique and unforgettable. Undoubtedly, Finca Besaya is a proposal for couples who want to change the world by organizing an elegant, unusual and different celebration for your friends and family.
Distance from airport: 55.7 km
Distance from the city: 65.4 km
Finca Paloverde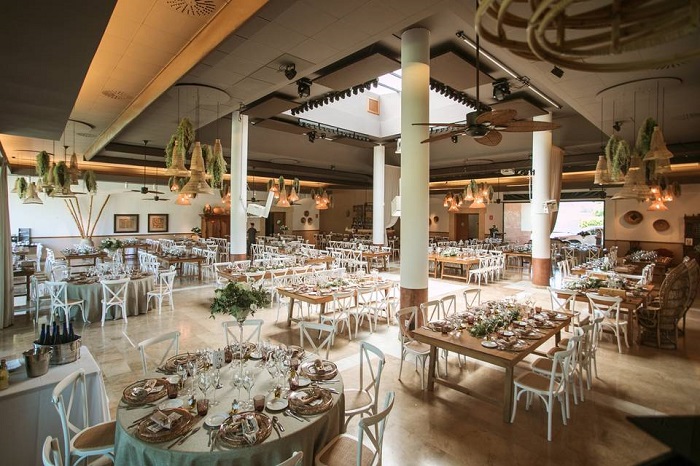 The Paloverde farm is located at the foot of the Sierra de Jabalcusa, surrounded by beautiful fruit trees, only 21 km from the center of Malaga and 12.4 km from the airport.
On 13,000 square meters, there are gardens with capacity for more than 1,500 guests, the main hall with capacity for 500 guests and parking for 300 cars. Finca Paloverde offers air conditioning, adjustable lighting, multimedia projection, discotheques and wifi.
Finca El Alamillo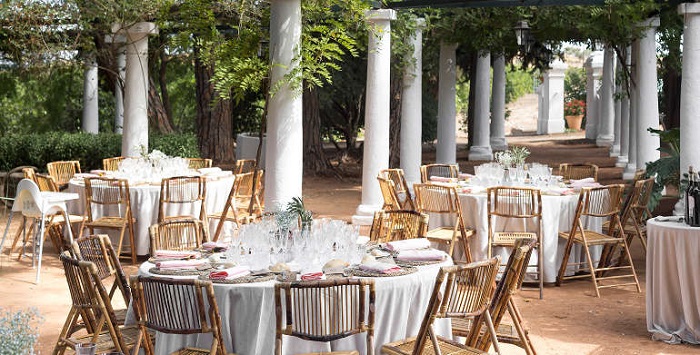 Located on the outskirts of Alhaurín de la Torre is this impressive property that is characterized by being surrounded by nature.
With more than 30,000 square meters composed of magical gardens arranged in corners where you can see from centenary groves to fountains, alleys and lawns with natural grass, where the flowers and the diversity of native species stand out. This garden has been awarded by the Botanical Council of Malaga and dates back to the 19th century.
You will also enjoy a fully glazed and air-conditioned wooden deck. The hacienda is designed in Andalusian style and has the necessary space to equip the kitchen and provide the bride with an independent room where she can prepare herself in peace and quiet.
Distance from airport: 12.6 km
Distance from the city: 21.2 km
No. of guests: up to 350
Rental price: from 3.500€
Finca Chalet el Rocío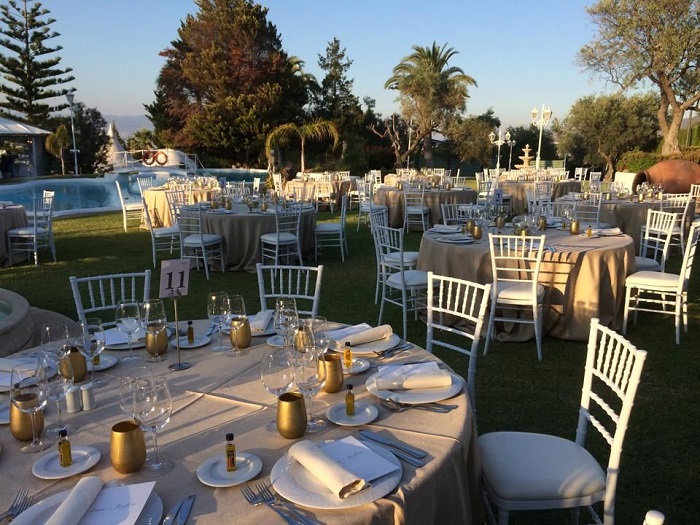 They have endless spaces that offer you wonderful opportunities to have the wedding of your dreams: impressive and well-kept gardens with centenary trees, lawns, rose bushes and paths that lead to La Pérgola de Verano, La Carpa and Finca Chalet El Rocío, where you will find two halls with different capacities and capacities that will allow you to invite between 50 and 1000 people.
You can choose between renting a private space with an outside kitchen or celebrating a wedding with Fernando Martin catering. In addition, El Chalet has 5 beautiful apartments that will provide your family and friends with all the necessary services for a comfortable and pleasant stay.
They advise and contract all kinds of additional services, from invitations to original ideas, including gifts, transportation, video and photography and much more!
Distance from airport: 13.4 km
Distance from the city: 21 km
Menu price: from 65€
Finca Bella Vista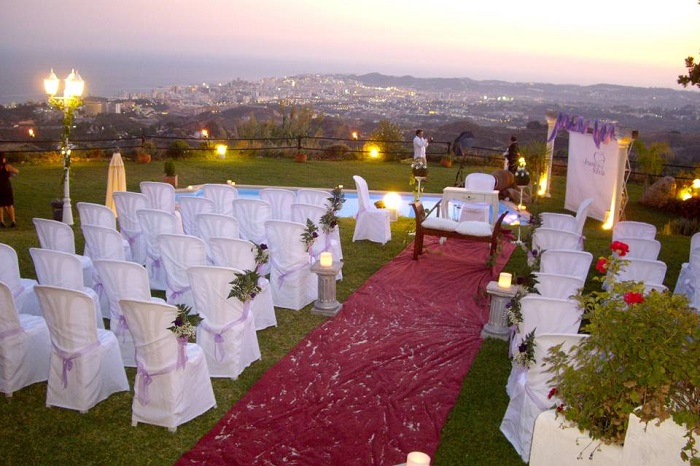 They have many unique places and corners where you can organize everything related to your wedding and the ideas you have in mind for it.
The garden is the perfect setting for an unforgettable civic ceremony, with the best views of the Bay of Fuengirola. For a welcome cocktail, as well as for the banquet, they have tents with glass curtains, several tents and outdoor spaces. You can choose the ones that best suit your tastes and needs to achieve the wedding of your dreams. 
Pools, fountains with waterfalls and the pond make these gardens wonderful. They offer a distinctive freshness that combines with the vegetation surrounding the estate. They also offer a large indoor dance floor equipped with best-in-class sound, programmable lighting and several smoke machines.
Distance from airport: 19.4 km
Distance from the city: 29 km
No. of guests: up to 350

 

Menu price: from 62€
Hacienda Las Fuentes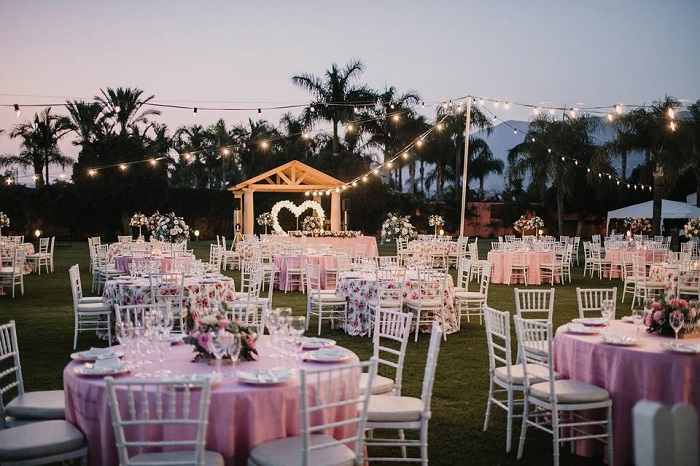 If you have always imagined yourself surrounded by gardens, in a unique environment, seeing the smiles of all your loved ones and enjoying the moment to the fullest, you have found the perfect place.
They are the perfect combination of nature, Andalusian inspiration, exquisite cuisine and impeccable organization. They have a team with over 14 years of experience in organizing events that will help you from the beginning in everything you need.
They have several rooms where you can hold the celebration, the cocktail and then the banquet. 10,000 square meters distributed in the middle of a courtyard with fountains, a beautiful newly renovated disco, a semi-covered porch with a romantic lighting that will transport you to the best summer nights and the main hall, which lets you see through its crystals the wonderful garden. 
Each space can be used according to the preferences and needs of each couple, you only need to spend a few minutes here to give free rein to your imagination.
Distance from airport: 26.3 km
Distance from the city: 36 km
No. of guests: from 100 to 400
Menu price: from 75€
La Herradura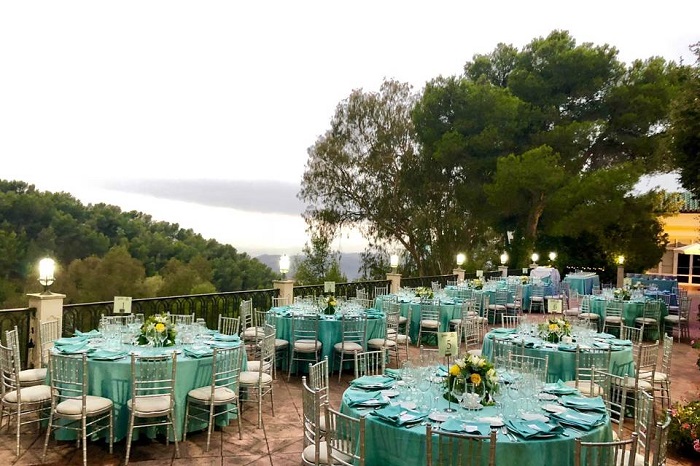 Located in the heart of the Natural Park of Montes de Malaga, is the beautiful nineteenth century castle "La Herradura". A few minutes drive from the city, is one of the unique places that Grupo Lepanto has for lovers to celebrate the most special day of their lives. 
This is one of the most glamorous wedding venues in Malaga. Thanks to its large capacity, events with a large number of guests will find in this property the ideal place to meet their needs:
It seats 550 people inside, with pleasant outdoor seating for appetizers and after-dinner drinks. It also has a cozy old chapel at the top of the grounds with seating for 250 people.
Distance from airport: 83.7 km
Distance from the city: 70.5 km
Menu price: from 43€
Castillo de Santa Catalina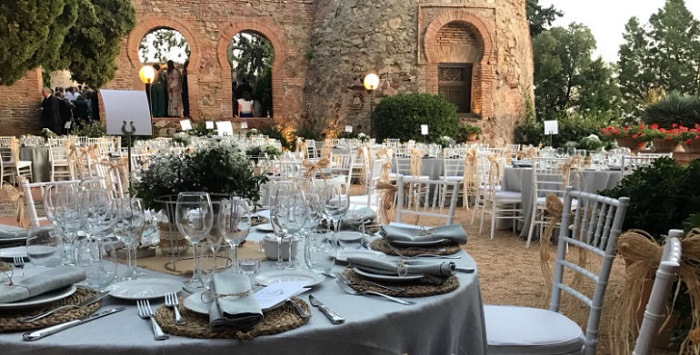 Located in the center of the city of Malaga, just 25 minutes from the airport, it has more than 3,500m² full of lounges, terraces and gardens.
This magnificent location has outdoor rooms and spaces capable of hosting banquets for up to 500 guests and cocktail parties for an impressive 1,000 guests. 
In addition, the castle offers all kinds of services for weddings: floral decoration, audiovisual material, car rental, guided visits to the Picasso Museum, special rates for golf courses, disc jockey and sound equipment, etc.
We hope that this selection of places where to organize a wedding in Malaga has helped you to make a decision about which place to choose to celebrate your big day, or to know what you don't want and what you do want. 
Anyway…it never hurts to get to know other unique location in Andalusia don't you think?