Today we recommend a place full of magic and history: Segovia. Its charms, the climate and the large number of spaces where to say "I do" have attracted many couples to this province, whether you want to live your own fairy tale or you are simply looking for the perfect place to celebrate your wedding, here are some highly recommended estates that are perfect for weddings in Segovia.
In addition, the wedding farms offer two of the best culinary specialties in Spain, suckling lamb and suckling pig roasted in the traditional wood-fired oven. Other main dishes are Segovia trout, Segovian style partridges, mushrooms and rabbit.  
Los Claustros de Ayllón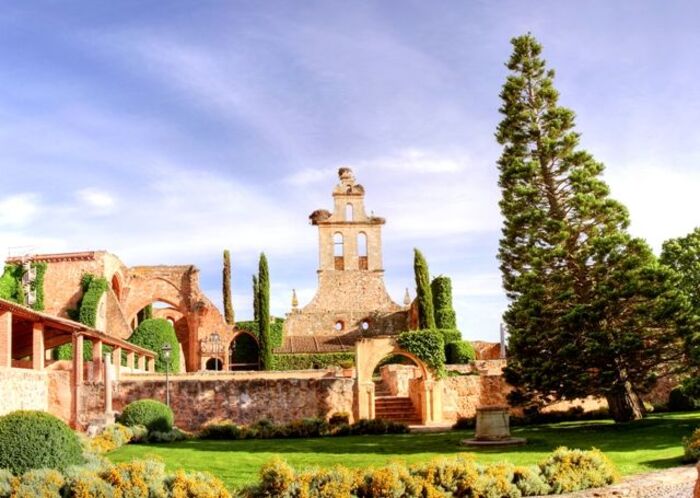 It is one of the most unique and exclusive estates in Segovia and occupies an area of 35,000 m². You can celebrate your wedding in a special environment with more than 800 years of history where you will have a place for every moment. A civil ceremony in the ruins of the church, a banquet in the glass hall or a cocktail in the natural pond. It has a hotel with 19 exclusive rooms for guests. The kitchen is prepared by Vatelia Catering, with more than 10 years of experience in the trade. In the cloisters are the ruins of the old Franciscan convent, which have been carefully restored and preserved in their original appearance. It also has a natural space full of gardens and green areas. It is also 126 km from Madrid airport and 98 km from the center of Segovia.
Menu price: from 141€.
Caserío de Lobones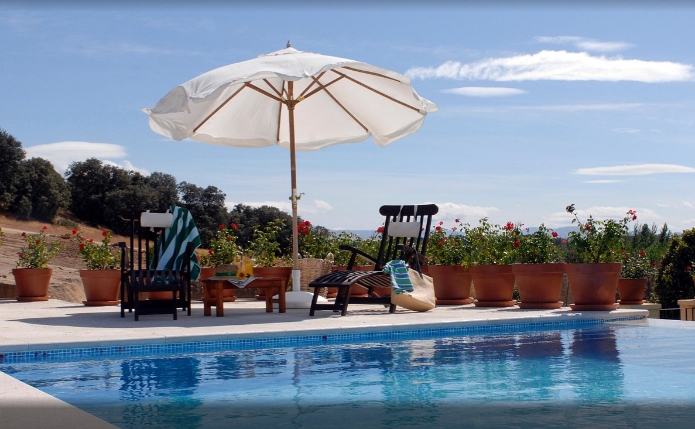 This beautiful seventeenth century farmhouse is located in the countryside and in a privileged location, just 9 km from Segovia and 90 km from Madrid. In addition, the farm has the category of Posada Real, the highest qualification awarded by the Junta de Castilla y León for meeting the tourist standards of the hotel establishment. It has multiple multifunctional spaces, both outdoors and indoors, as well as an exclusive hotel for guests, a main garden, a hall with capacity for 270 people, outdoor areas and a large parking lot. They have extensive experience in organizing weddings and apart from the comprehensive management of events, they help you to customize it to your liking by providing ideas, listening to your proposals and promoting improvement initiatives. It also has other services such as the celebration of civil ceremonies, chapel within the estate, butlers and transportation service.
Rent: from 4.840€.
Finca los Jazmines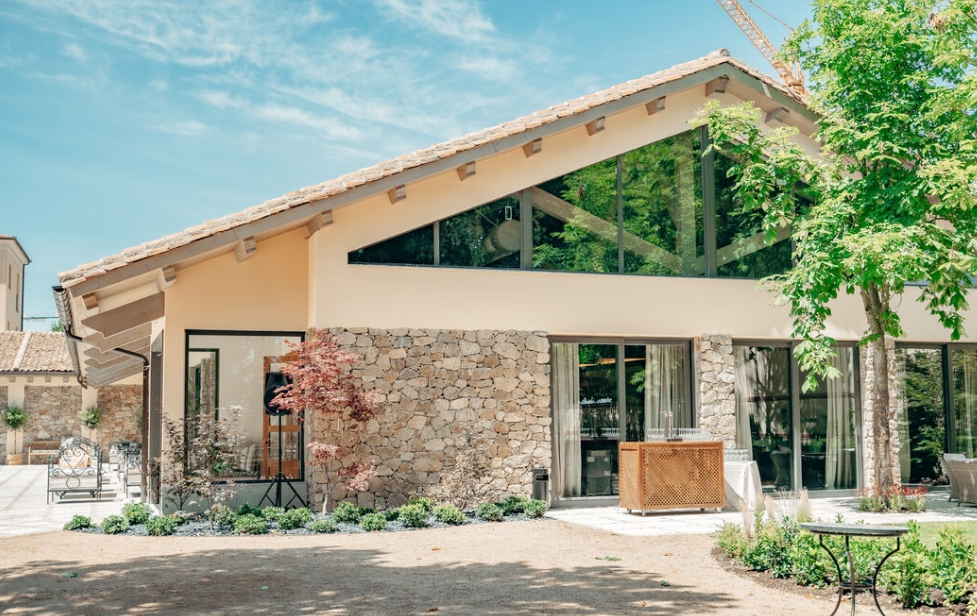 It is located in the heart of Segovia, just 5 minutes from the famous Segovia Bridge, next to the Hotel Candido, with spectacular views of the Alcazar on the horizon and 1 hour from the Adolfo Suarez airport. It is a new property but with more than 30 years of experience organizing events. It also has a hotel with spectacular views for guests and the possibility of dancing in the outdoor garden. Undoubtedly one of the best value for money options in Segovia, combining a privileged location and experience. 
La estación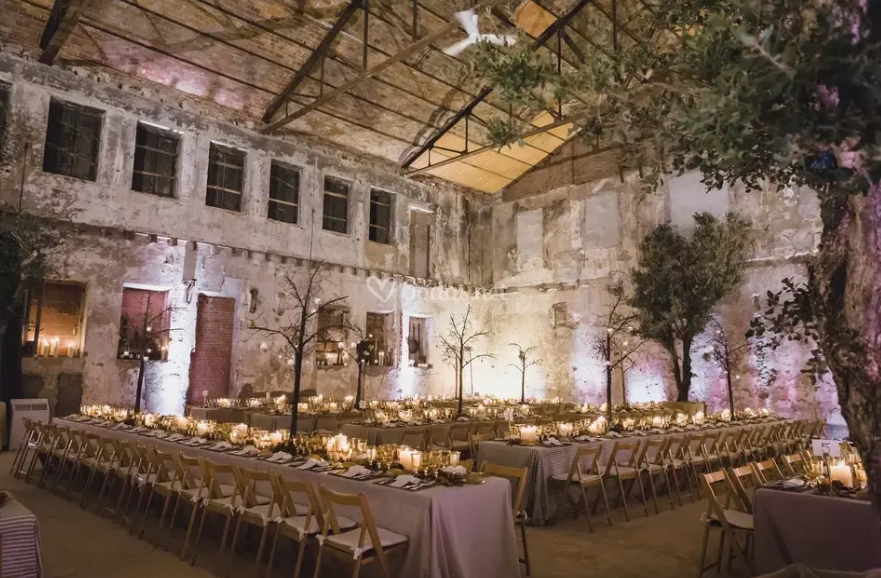 If you are looking for a versatile venue, this is the one for you. It is an old brick factory located in Otero de Herreros, 20 minutes from Segovia and just under 1 hour from Madrid Barajas airport, perfect for weddings with a lot of personality. In La Estación your imagination is the one that sets the limits and you can make this a day 100% designed by you. A custom wedding in which the staff will help you in everything you need to decorate and customize the space to your liking. Religious or civil marriage? You can have both because the property has a church and civil weddings can be held outdoors in the main courtyard or in the hydraulic floor room, perfect for autumn or winter celebrations. And it also has different rooms and outdoor and indoor patio perfect for different moments of the event.
Menu prices: from 155€.
Palacio de Esquileo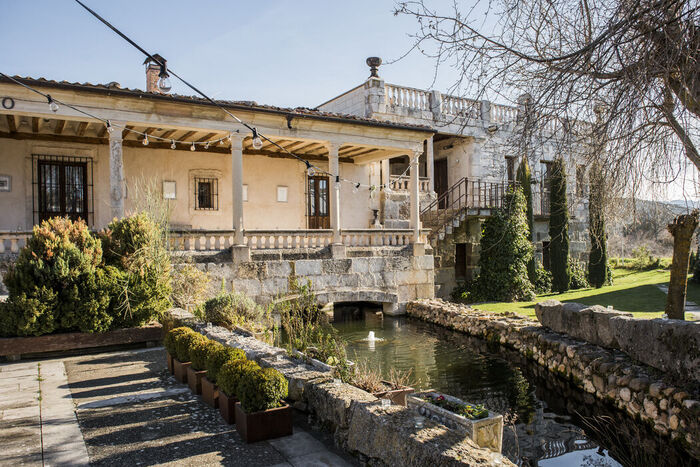 It is located near Riaza in Sotos de Sepulveda, nestled in a natural setting, suitable for hosting your guests. An old palace has been restored with all kinds of details, a beautiful garden and a natural pond. The Palacio de Esquileo welcomes both intimate weddings and weddings of up to 300 people, where you can celebrate the civil ceremony outdoors, in a beautiful and well-kept hall or indoors according to a plan B, if the weather conditions do not allow it. On the other hand, if your wedding is going to be of a religious nature, there are a number of churches just a few minutes from the palace, such as the Church of Duratón or the Romanesque Church of Soto de Sepulveda. They have their own kitchen, which combines international cuisine with the classic roasts of trout ceviche or suckling pig. This property for weddings in Segovia has a series of offers for both winter and summer weddings that are highly recommended. 
Menus: from 80€.
Finca el Rancho de la Aldegüela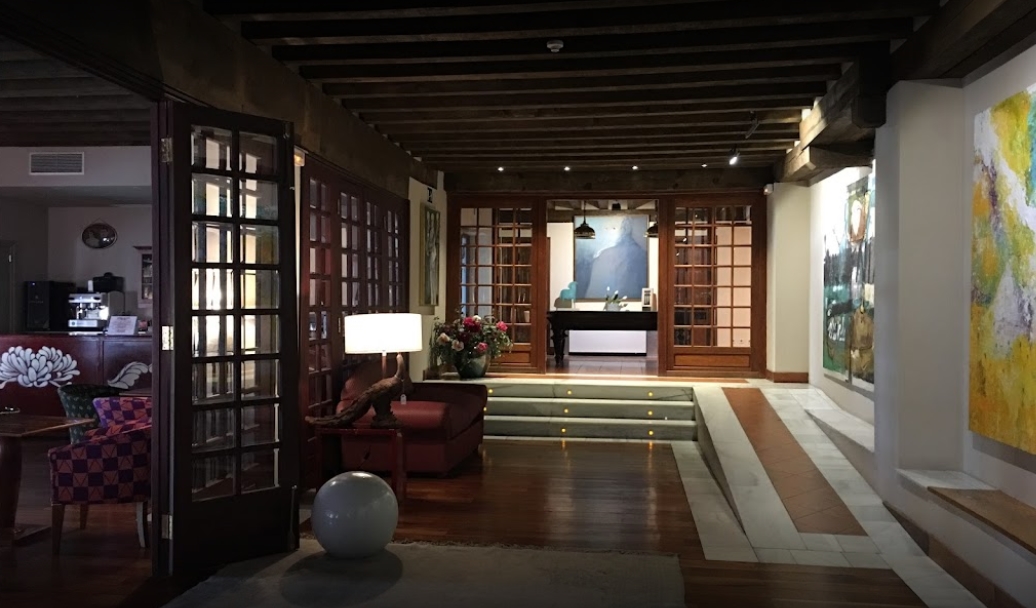 Located in Torrecaballeros, 14 km from the center of Segovia and 114km from Madrid airport, it is one of the oldest farms in the city and has a great experience in the sector.  It has several wedding halls, hotel for guests, gardens and swimming pool. If you do not mind sharing the farm with other weddings and want one at an affordable price but with the excellent experience and quality of their chefs in making lamb and roast suckling pig, it is one of the best options. With a very economical price in the wedding menu, it offers the bride and groom a suite for the wedding day at the Hotel SPA del Rancho with breakfast and champagne included.
Menus: from 55€.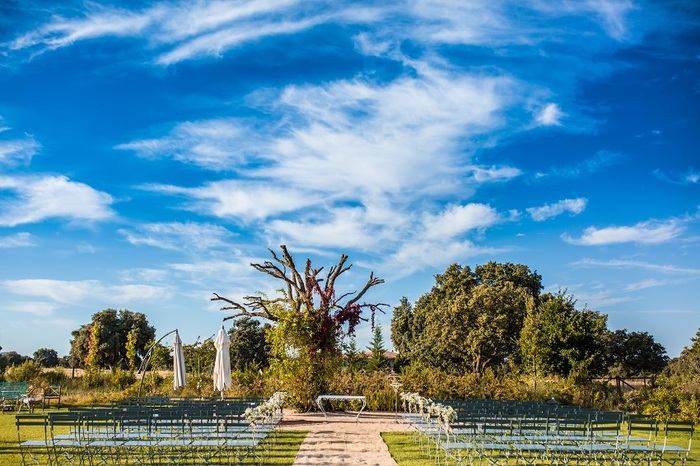 Only 75 km from Madrid and 20 km from Segovia, Aldeallana is the perfect place to celebrate civil and religious weddings within the property, since the Church of Santa Eulalia de Mérida is only 3 km away. Care, attention to detail, good taste and perfection are the motto of the team of this hotel, where you can enjoy a luxury wedding with all the charm of the countryside. In addition, the estate has its own kitchen with Ciboulette catering service that ensures an impeccable service and makes everything easier for you.
De Natura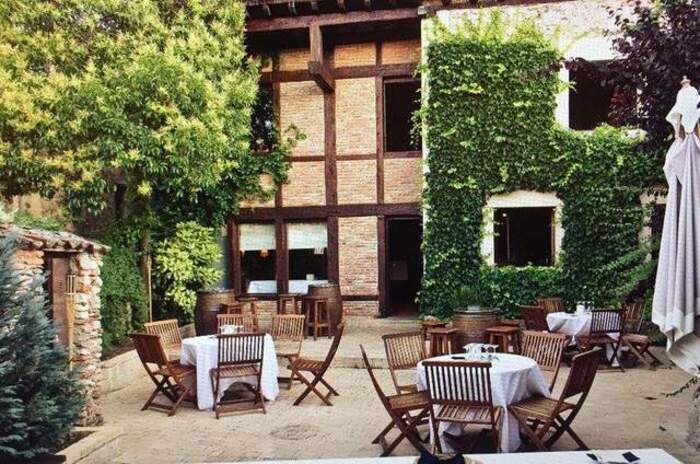 If you have ever been to Pedraza, you will surely have thought about getting married there. Anyone who sets foot in this place is trapped by its medieval beauty, perfect for a fairytale wedding. It is located in a 17th century palace that was restored in the 70's by the decorator Paco Muñoz. It currently has three open-plan floors, almost 1,000 meters high, and a garden with spectacular views. Its wooden structure, fireplace and terracotta floors make it the perfect place for a cozy family wedding without sacrificing charm. In addition, Samantha Vallejo-Nagera and Sabina Deroned, will take care of every detail of your wedding, giving a special touch to your big day. But although it is a little far from the airport (113km) and 40km from Segovia, it is certainly worth considering the idea of celebrating your wedding there.
Rent: from 3.500€.
Finca Lasmargas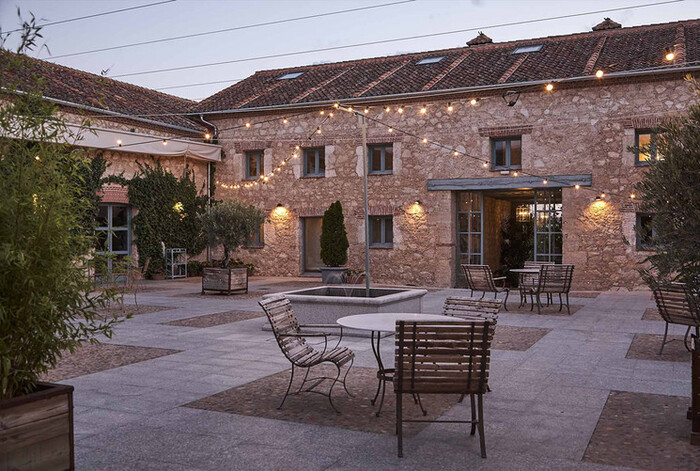 This old farmhouse converted into a charming hotel is located 7 km from Segovia and 90 km from Madrid airport. The structure of the building dates back to the 17th century and has two large halls, a central courtyard and wonderful gardens, making it perfect for hosting any event. The decoration and sophisticated taste are just some of the factors that make many couples choose this venue for their wedding. Their extensive experience in organizing weddings is a plus since they put at your disposal a team of professionals to ensure that everything goes according to your expectations. 
Abadía de Párraces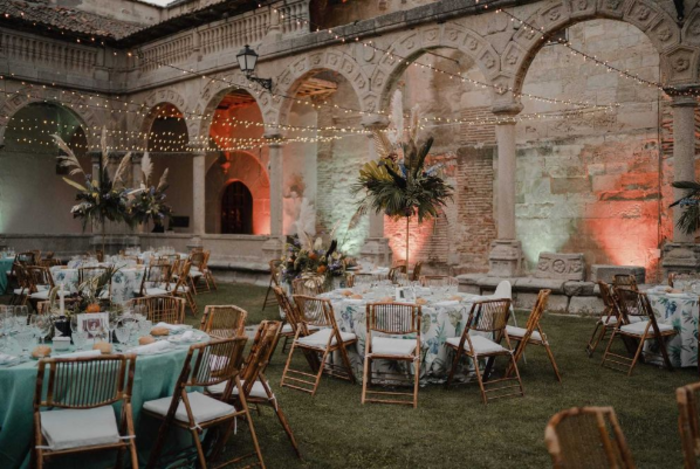 Another unique wedding venue in Segovia. In particular, it is a monastery dating from the sixteenth century, which has been classified as a cultural relic. It is located in Bercial, just 20 minutes from Segovia and 50 minutes from Madrid. Surrounded by picturesque gardens, it offers excellent views of the mountains. The highlight of the monastery, however, are its two halls, perfect for weddings (no matter how many guests there are). For indoor wedding banquets, the establishment has a hall for more than 500 people, decorated in a late 16th century Renaissance style. A charming choice, perfect for different weddings where tradition and modernity go hand in hand.
Menus: from 115€.
Finca de Duque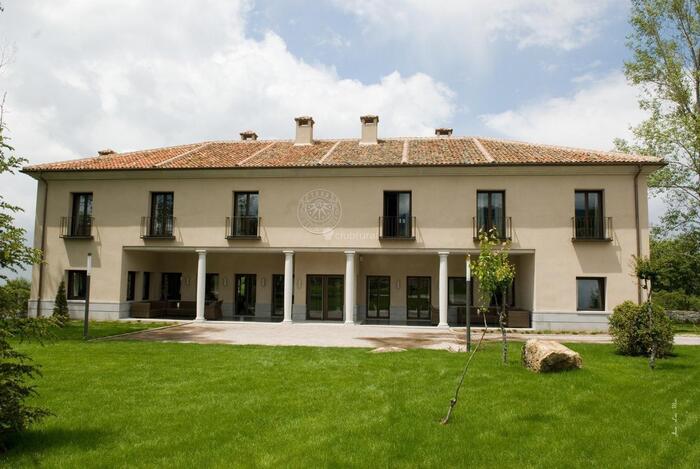 It is a versatile set that is a few kilometers from Segovia. Perfect for both civil and religious weddings, surrounded by a garden of 1500 square meters. It also has its own kitchen directed by Julián Duque. In this case we are not talking about a building steeped in history as in the previous cases, but modern amenities equipped to make your day absolutely perfect. A perfect property where you can celebrate the wedding of your dreams customizing every detail and playing with space and options.
Finca Prados Riveros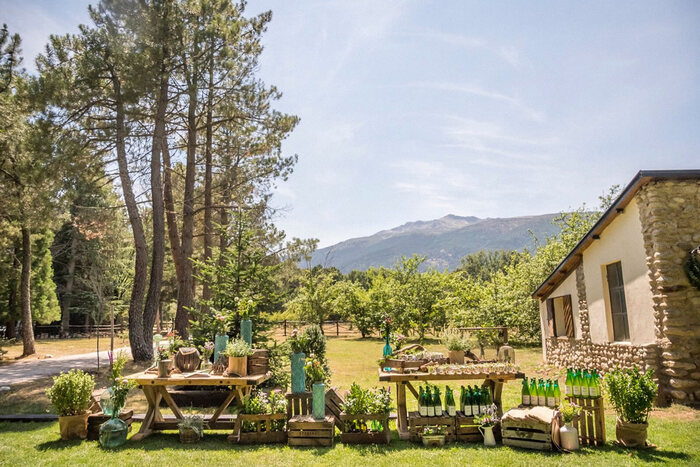 In Madrid, but very close to Segovia and 1 hour from Madrid-Barajas airport, is Prados Riveros, a 12-hectare estate located in the Natural Park of Peñalara. It reinvents the idea of country weddings, achieving unique, personalized and captivating weddings. An idyllic place among pastures, pine forests and oaks. The venue is suitable for both civil weddings, which can be held in the hotel facilities, and for religious weddings, since the Royal Monastery of Santa María del Paular is located nearby. Undoubtedly a recommendation for those who are looking for something different in a rustic and stylish version.
Menus: from 100€.
Villa Ángeles

It is located in the Asr golf course, inaugurated in May 2010, nestled in the natural environment of the Sierra de Guadarrama, 25 minutes from Segovia and 1 hour from the airport.  With a striking design, it is characterized by its integration with the natural environment. The spectacular oak grove, dotted with spectacular rock formations, cuts through the deep meander of the Moros River. The pavilion, located in the clubhouse of the golf course, is the perfect place for the wedding celebration, with a capacity for up to 500 people and large windows that let in light, creating a unique atmosphere. Its privileged location allows it to become the perfect vantage point to contemplate the natural spectacle that surrounds it.
Price: From 300€.
La Portada de Mediodía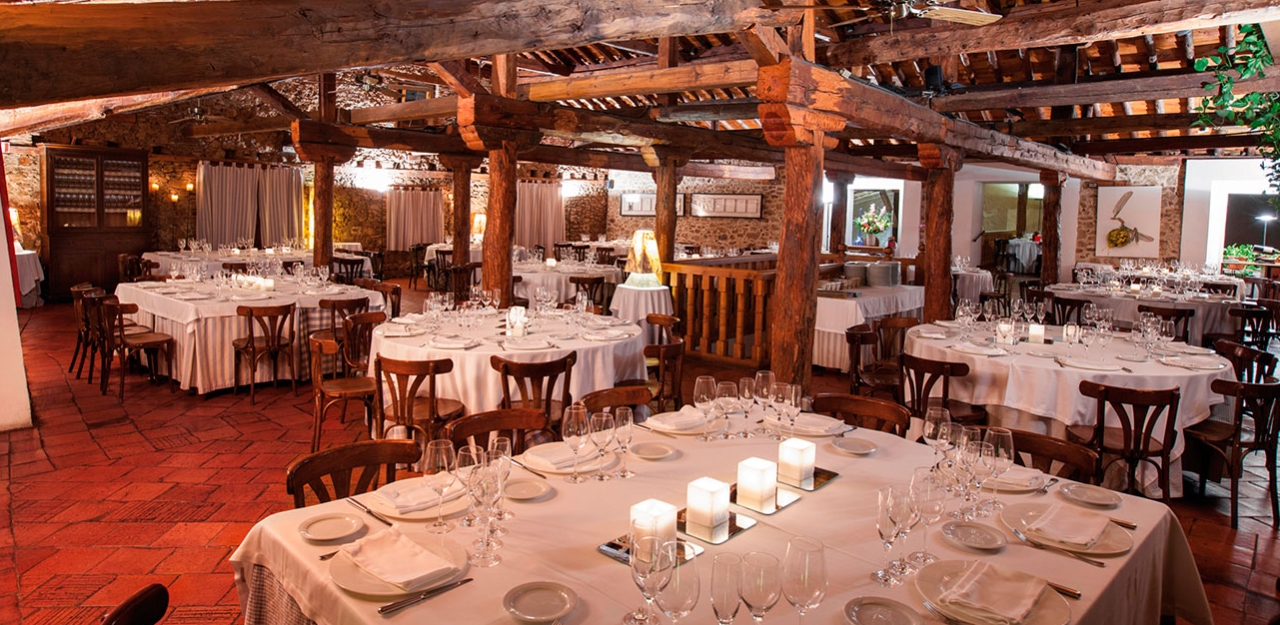 The former 16th century post house enjoys a privileged location guarded by the Romanesque church of San Nicolás de Bari at the entrance of Torrecaballeros, a town in the heart of the Sierra de Castilla, a few minutes from Segovia and just over forty minutes from Madrid. The main dining room with its original open wooden terrace is the perfect setting for a historical celebration. It can accommodate up to 200 guests and the atmosphere is incredibly cozy thanks to the indirect lighting with warm touches and a lot of details worthy of presentation. Candles, fresh flowers, works of art, a marvelous garden, etc. An unforgettable memory for such a special day.
Menus: from 70€.
La Tejera de Fausto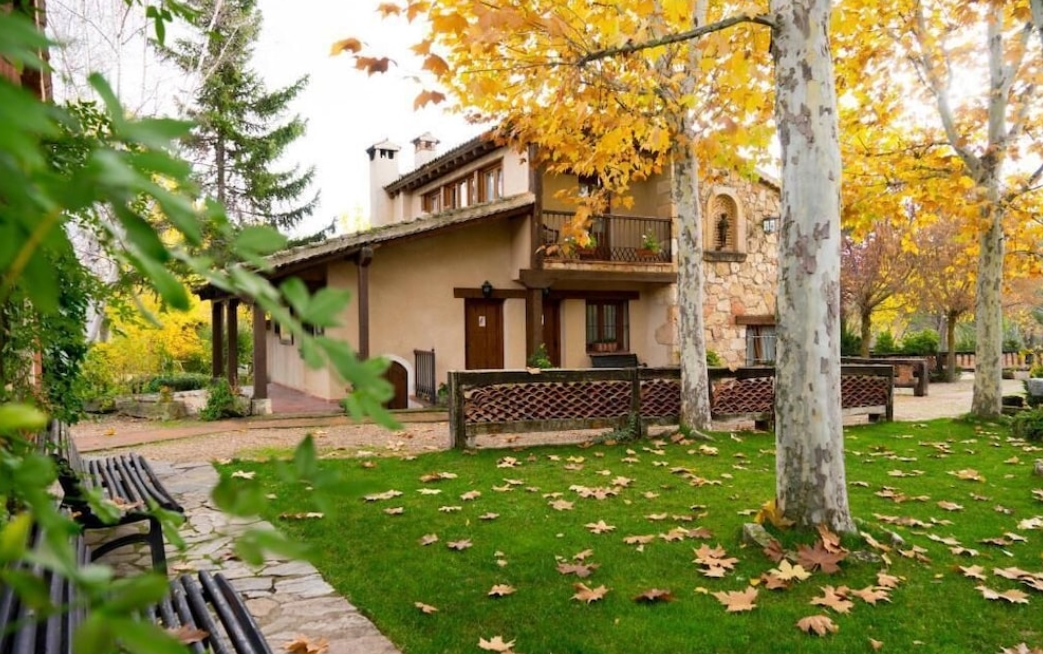 This beautiful restaurant enjoys a picturesque location, providing the perfect setting to celebrate your big day. It has a large covered hall and elegant tents in the garden with a maximum capacity of 100 and 250 guests respectively. Both spaces are beautiful, either because of their elegant decoration with rustic and elegant touches or because of the majesty of the vegetation and the different outdoor corners.
Menus: from 79€.
El Mirador del Botero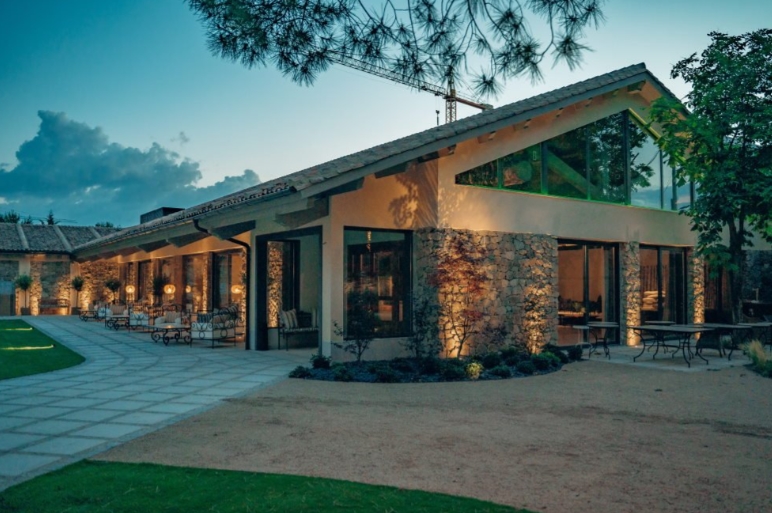 If you want to celebrate a civil ceremony right there… An iron arch, the sound of water from the fountain, a slender stone arch, the light filtering through the holes in the cobblestones and trees will give the ceremony a unique touch of romanticism. And you can also choose to have it outdoors, in a 20,000 square meter garden that invites you to stroll through it, enjoy cocktails on the terrace and have after-dinner conversation in the sofa area. On the other hand, if you want an indoor wedding or the weather permits, you will have a large glass room offering spectacular views of the Aion Mountains, the city and the garden with high beamed ceilings, a dance floor and a large bar with a mojito corner. You won't have to worry about the location either, as it is just over an hour from the city of Segovia and the Madrid airport.
Price: from 90€.
Estancia Macondo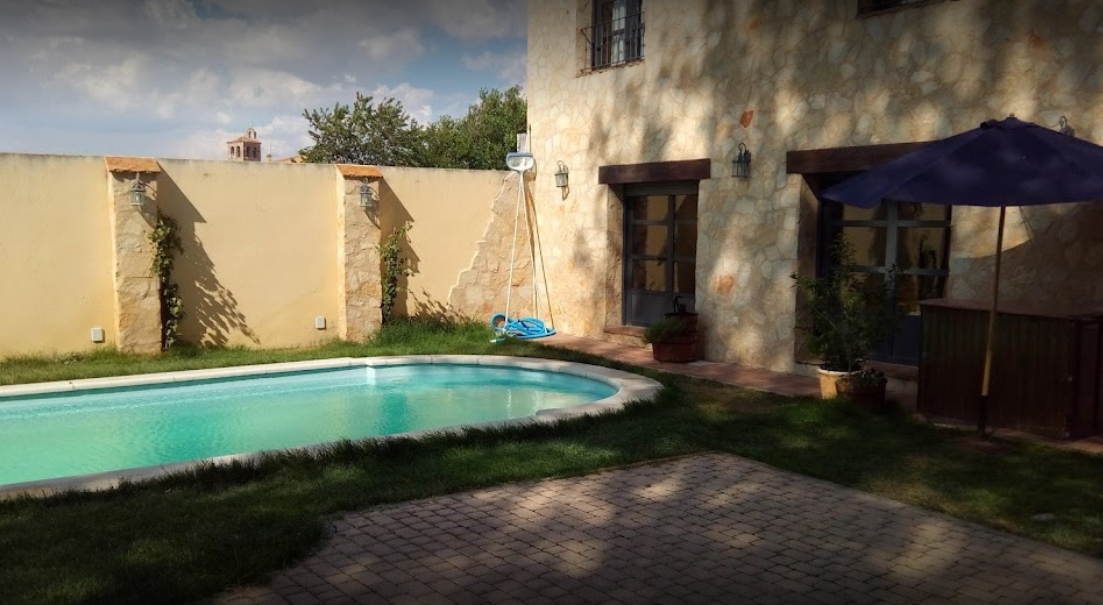 It is a rural tourism center, created and adapted for the celebration of events. If you are looking for a place where nature is mixed with a comfortable and versatile environment, this farm is a very good choice. You will be able to enjoy the party both outdoors and indoors. The day of your wedding you will have a series of spaces where you can celebrate the different moments of the event and which have a capacity of between 20 and 110 people. The Lounge, a cozy space where the tables will be arranged for you to enjoy the party, a garden with a swimming pool perfect for a welcome cocktail as well as for an outdoor party and finally a relaxing space, where you can relax with your friends and family while you have a drink. It is also only 20 minutes from the capital and about 1 hour from Adolfo Suarez airport.
Menus: from 45€.
Molino de la Ferrería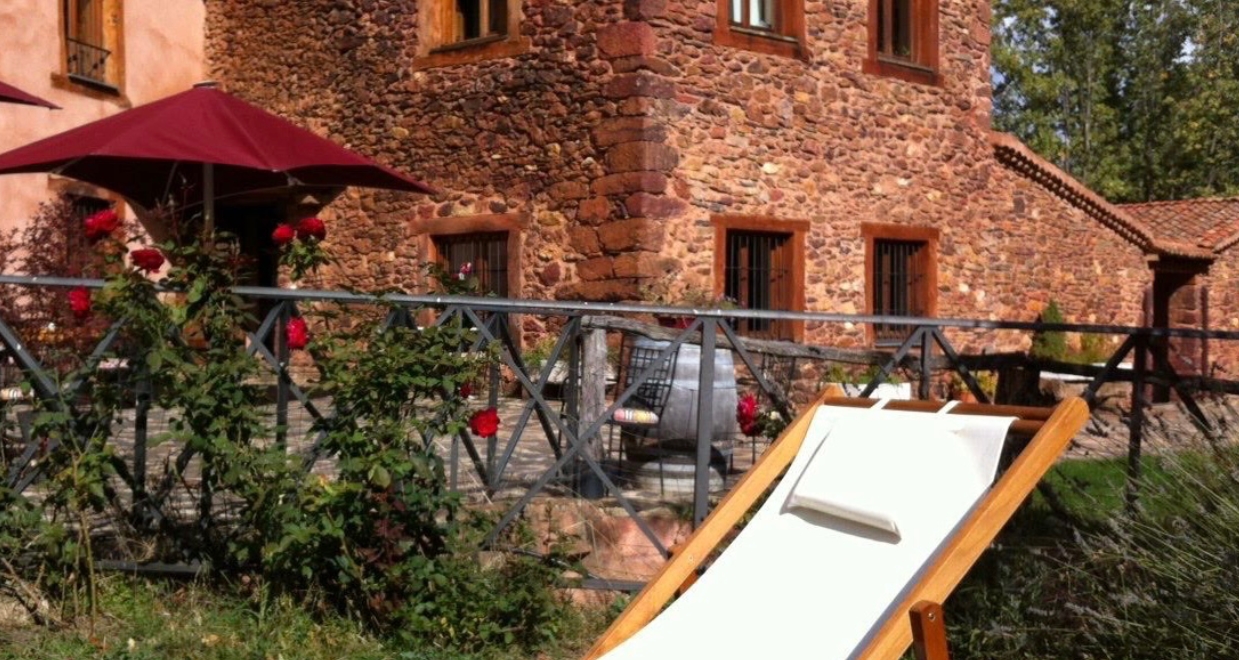 It is located in the countryside, surrounded by oak trees, in a beautiful area 10km from the city. El Molino de la Ferrería offers absolute tranquility and unbeatable quality, combining rural tradition with an unbeatable treatment from the staff. It also has a living room with antique furniture, fireplace and window overlooking the garden, where there are also tables if you prefer to celebrate the event outside.
Price: from 40€.
Parador del Duratón
It is an impressive 16th century stone building, fully restored with lots of charm, located on the banks of the Duratón River (just 8 minutes from the center of Segovia and 1 hour from Madrid airport) with an area of 60,000 square meters, where you can admire the extensive and well-kept gardens with ponds and ancient trees, outdoor terraces and a seasonal outdoor pool. The team of the Parador del Duratón y Convento de San Francisco will use its indoor and outdoor spaces for you to celebrate your big day. Impressive halls and outdoor gardens with different areas for each stage of the event will make the celebration unique and unforgettable. 
Rent: from 127,50€.
Restaurante Hotel Florida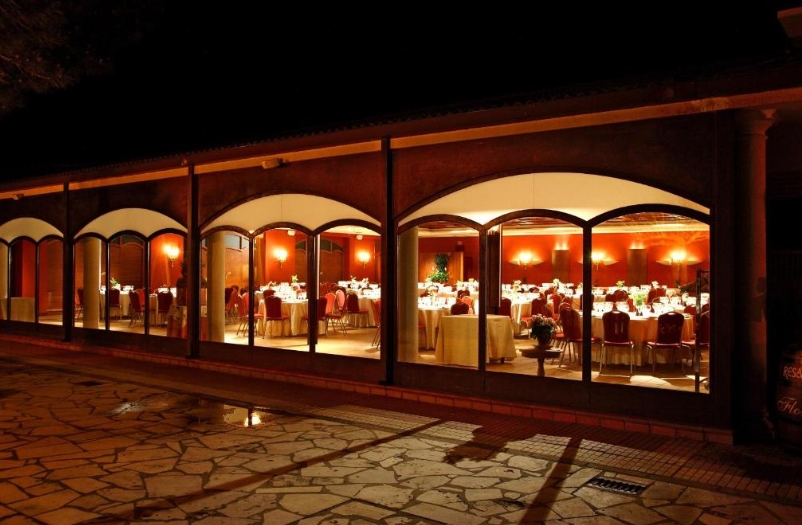 This charming hotel-restaurant combines art and nature to offer you a unique, warm and cozy atmosphere with the peace and privacy that you are surely looking for your big day. It has a privileged location, in Cuéllar, surrounded by perfect natural landscapes and only 30 minutes from the city center. You will enjoy both the beautiful garden and the hall. It has multiple rooms and halls with all the necessary equipment to make a celebration in style. It combines good taste with a warm and cozy atmosphere that invites you to walk around every corner. It has a private dining room with a capacity of up to 30 people; a main dining room for 75 people; the banquet hall, which accommodates up to 450 guests; the discotheque, where you can celebrate the party after the banquet and finally the garden, an idyllic place to enjoy a cocktail or aperitif, surrounded by beautiful views and greenery.
These are just some of the most impressive venues where you can celebrate weddings in Segovia, but if one in particular has caught your attention, just contact the venue and ask for more information.
If you want to know more about weddings, don't hesitate to visit professionals that are needed in a wedding and its organization. We hope we have helped you!