You will burst with joy and emotion when you walk down the aisle after saying "I do". Do the petals, the rice and the confetti seem like too much to you? Here we're giving you eight alternative options within the bridal world.
As with everything related to bridal wear, there are no set rules. You can choose the groom's suit, the shoes, the dress, the various accessories and the bouquet to suit your style, taste and preferences. We suggest a few so that you can evaluate the advantages and disadvantages before you make any decisions based on their meanings, charm and originality.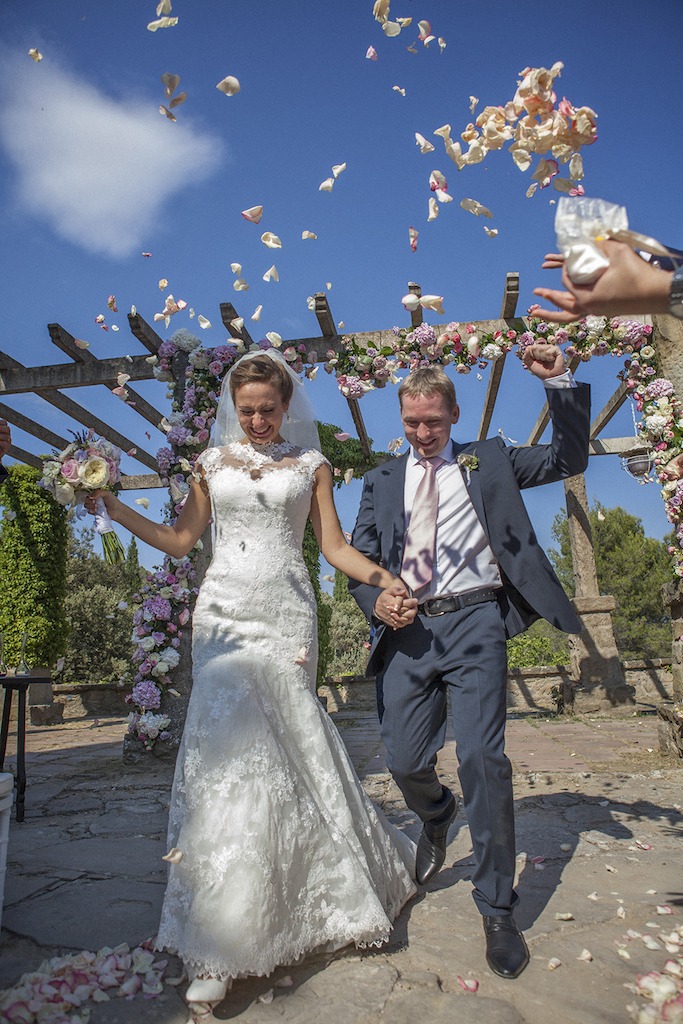 Photographer Patricia Knabe
Rice
Rice is the most traditional and classic option. It originates from a culture that was loaded with Oriental symbols, where rice was one of the main foods and began to be thrown on the couple in order to wish them prosperity and wealth.
Although many couples still choose the rice throwing option, it cannot be denied that it has some negatives, such as the possibility of hurting the bride and groom, attracting pigeons and other birds, and occasionally staining the wedding wear with traces of starch. If you're drawn to the symbolism and you'd enjoy being rained on with rice, the best option is vaporised, because it doesn't stain and can be dyed in various colours. What a fun idea for a wedding!
Confetti
Decide if you want it to be one colour or multicolored, if you want it to be a particular shape, what size you like best and how you want to deliver it to your family and friends.
You'll find a wide range of guns that can help the confetti fly higher, but if you're a DIY lover you can do it yourself, with a little dedication and patience. How? Choose your favourite paper and cut it – with scissors and a die-cutter, if you want it to have a particular shape. Also, you can take care of the cones, envelopes or bags to distribute it among the guests as if they were original details for weddings. Don't forget that both craft paper and wahsi tape are very fashionable to personalise bridal stationery items: from homemade wedding invitations in minutes, through the packaging of details like this.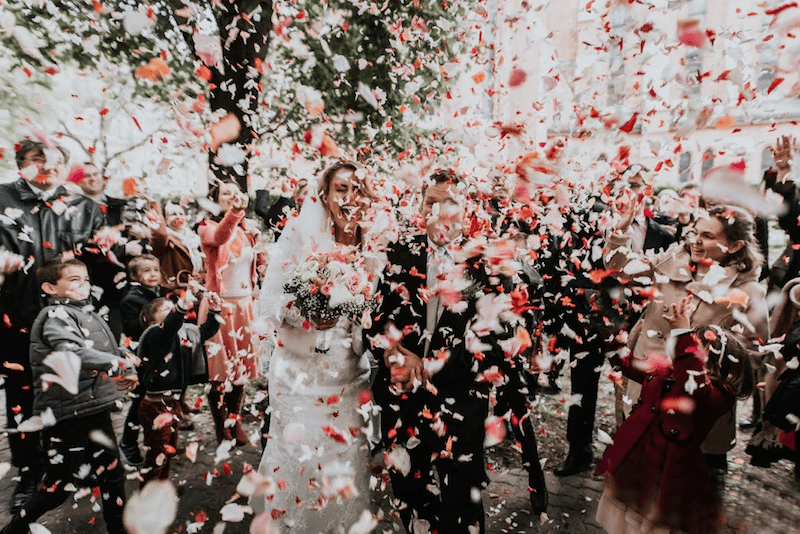 Photographer: Aljosa Petric
Petals
In recent years, petals have been replacing rice for a more delicate option. They fall more slowly, they're less annoying, and they look much better in photos. Furthermore, the petals have a hidden meaning within the symbolism of the wedding: they represent the purification of the union of the couple. Ideal if you're a romantic couple!
The trendiest alternatives!
Although the options mentioned above are the most frequently used, there are many other ways to commemorate the exit as husband and wife. As many as your imagination can create! Some of the most popular at the moment are the following: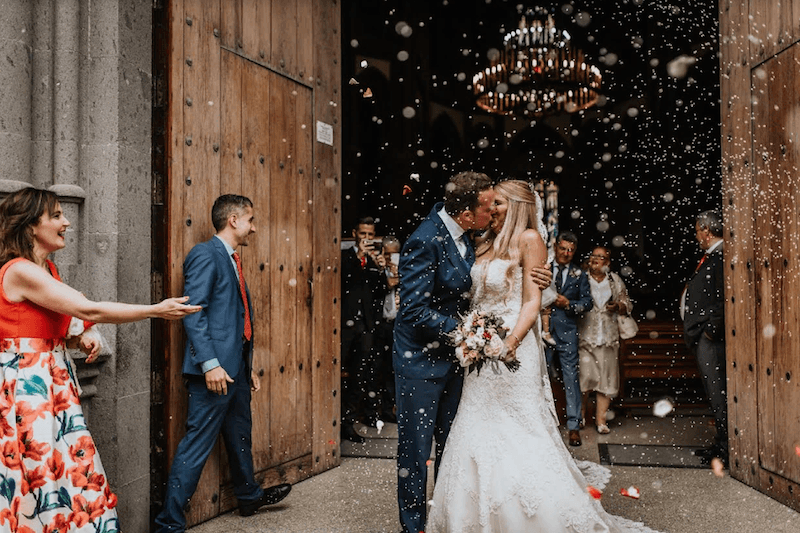 Photographer: Aljosa Petric
Lavender seeds or dried flowers
While these lavender seeds with their unique scent can resemble rice, the dried flowers and petals fall more slowly and allow the photographer some time to take more precise snapshots. Both are magical for spring time.
The olive tree came to the wedding scene relatively recently and it seems that it's here to stay. Their leaves are perfect for a natural outlet, as shown by florists who use them in bridal bouquets. Furthermore, you can access them throughout the year, so you won't have to consider seasonality.
Paper ribbons are similar to confetti, as both alternatives are often used in carnivals, Christmas and birthdays, and have been used in other types of events such as weddings, baptisms and communions. They are excellent for civil weddings! If you like them, you can give a festive touch to your new marriage with these strips of paper rolled on themselves. When everyone releases them from one end, they will create a very amusing visual effect.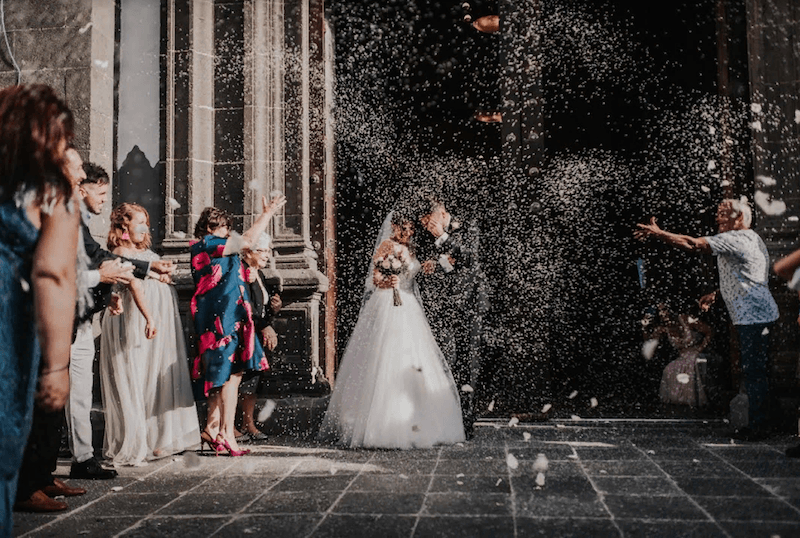 Photographer: Aljosa Petric
Origami is a handmade form of art. It consists of creating figures by folding paper without using scissors or glue. Flowers, bow ties, boats … you can impress all of your guests from the beginning and you'll also offer a memory of your wedding departure. However, this is a time consuming decision. It's a matter of getting down to work.
They are used a lot in scrapbooking crafts and they stick their heads out at wedding ceremonies timidly, because they can also be used to decorate gifts for wedding guests. With their delicacy, they will make a difference by being far more discreet.
A release of balloons will fill the sky with well wishes. It means prosperity and union, and it'll thrill both the older generation and the little ones. Don't forget to fill the balloons with helium, and start to think of what wish you'll make, in the same way that you throw a coin in a fountain for good luck.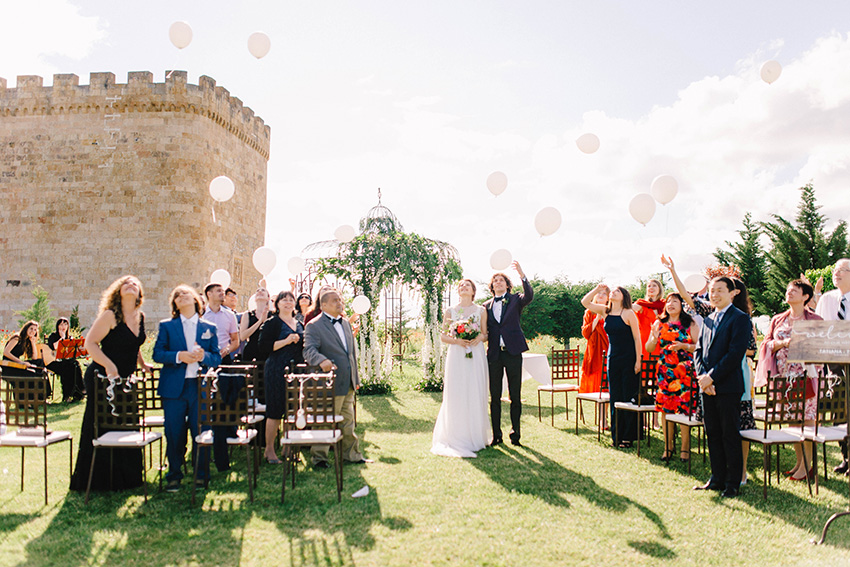 Photographer: Alla Iachkulo
The most ecologically friendly and clean option. Perfect for places where you're not allowed to throw rice or other products/materials that get dirty. The only potential problem will be the wind, but no need to worry. It will give a fanciful and eco-friendly touch!
They look best at night, so you should use them when it's time to hit the dance floor. Regardless of where you want them, make sure that your celebration venue allows them. Although they're great and they last long enough (a minute or so) to take some great photos, there are many catering companies that ban them in order to avoid injuries and accidents.
Butterflies represent transformation and evolution in life. Launched in unison, they create an enchanting moment when the butterflies are suspended in the air and then fall delicately. It is a moment full of magic that achieves wonderful photographs. To achieve the most beautiful effect, 8 to 10 boxes of 100 butterflies are recommended.
Don't forget that an original idea for a wedding would be to combine more than one of the above options. While the most classic choice is to combine rice and petals, and the party animals amongst us often go for confetti and paper streamers, if you're a romantic couple, you should go for some natural alternatives that will make your moment unique and unrepeatable. You must also deeply think about whether you want to choose a wedding song to play or if you'd prefer a theme that accurately represents you as a couple, in order to make the moment even more special, if that's even possible!