Liz and Nate are a couple who love to travel. Usually, they do 3 or 4 internationals travels a year despite  their busy schedules. This is why a destination wedding was expressively on top of the list, and it is the country of Marrakech they chose, in spite of the language difference and the fact that they had never been in Morocco. It was not easy to create a non-standard wedding, however, the honeymooners could enjoy every moment of the year-long planning and decorating. And even when the groom was awake at 3 a.m. on a weekday checking Pinterest or drafting ideas to his partner in Marrakech he would love to do it again and again. Indeed, he really appreciated how things in terms of wedding preparation came together in Marrakech to create the boho and exotic feel.
Liz could find a photographer, Stephanie of From the Daisies. Morocco just happened to be on Stephanie's bucket list, too. Anytime they spot an Amaroq Design crown, they were sure it was going to be a nice wedding!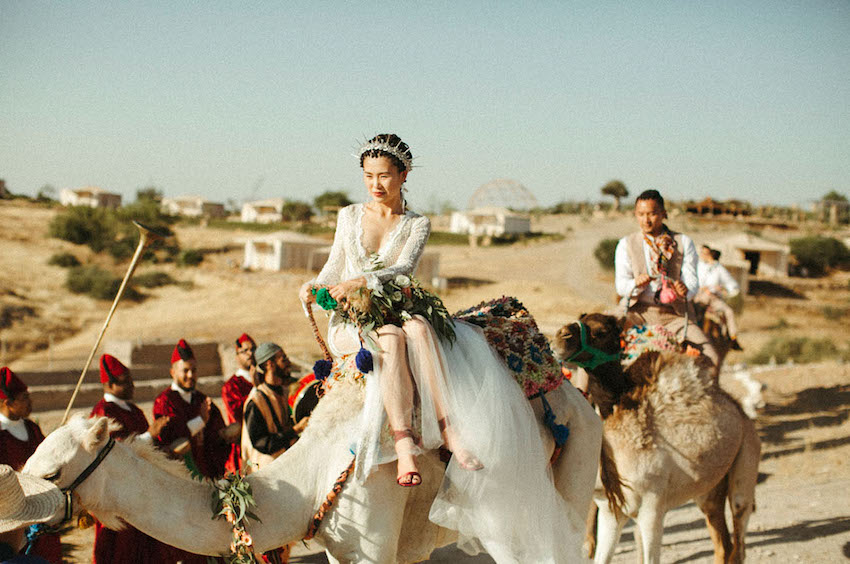 A desirable dress
For their perfect wedding in Marocco, Liz bought the dress of her dream, an Inbal Dror gown without even trying it on — it was sold by photos alone! The bride's dress and the groom's suit combined all white and beige colors, the two main colors which were used for the decoration wedding.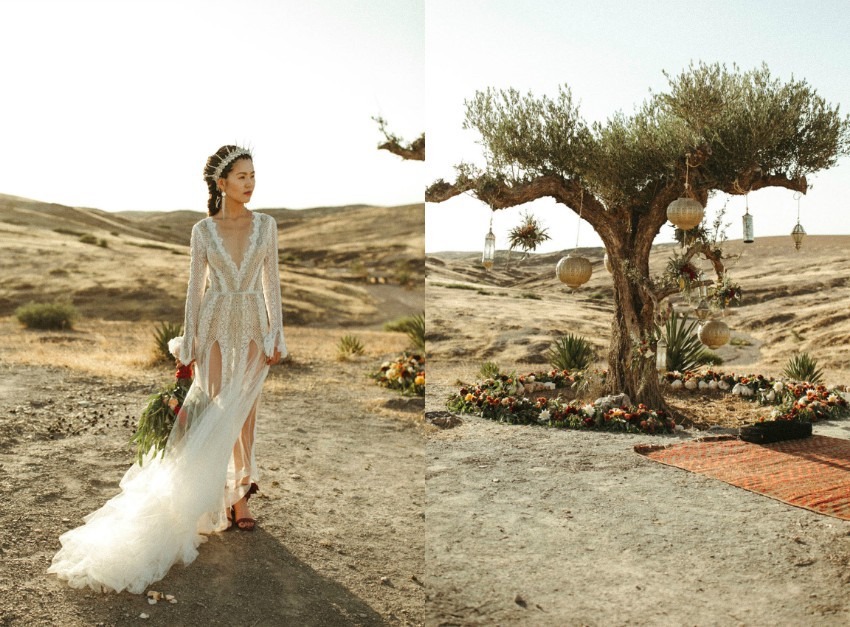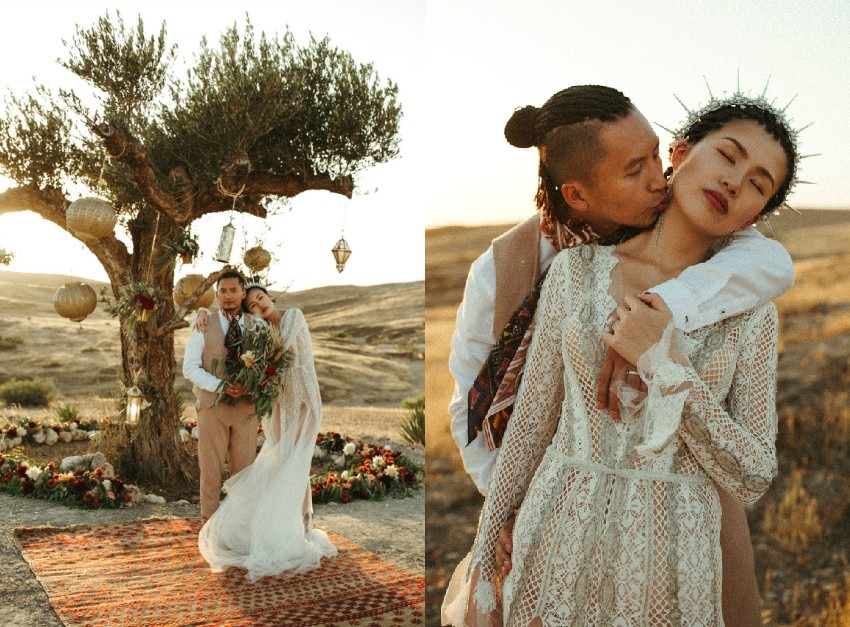 Favorite memory of the married couple from the wedding in Marocco
Everyone had to go over thousands of miles to this incredible desert to witness this magnificent wedding. Liz noticed that her mood finally started to build up the moment she put her crown in the tent and was ready to get on her camel girl. The Dakka Marrakchia band started their charming music and accompanied the bridal party on camels to the ceremony top. The moment she saw their statement trees, she was sure she was doing the right thing.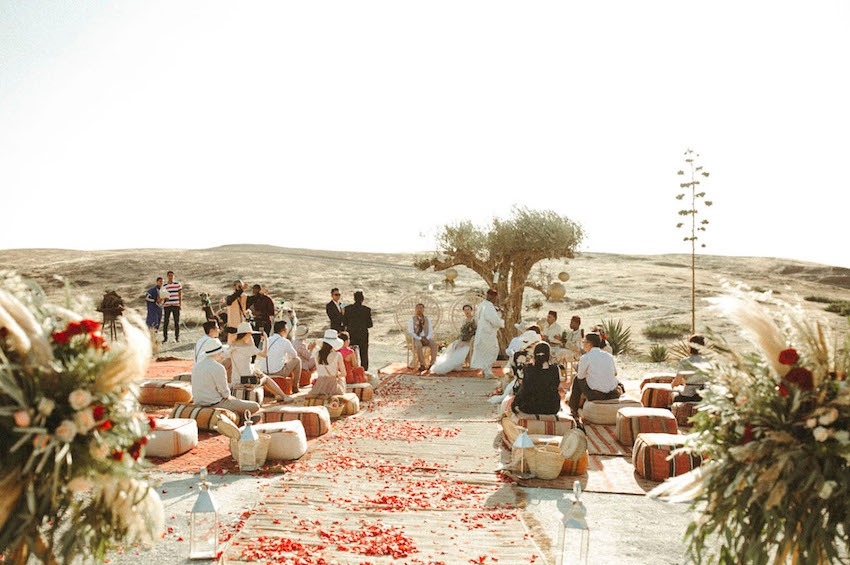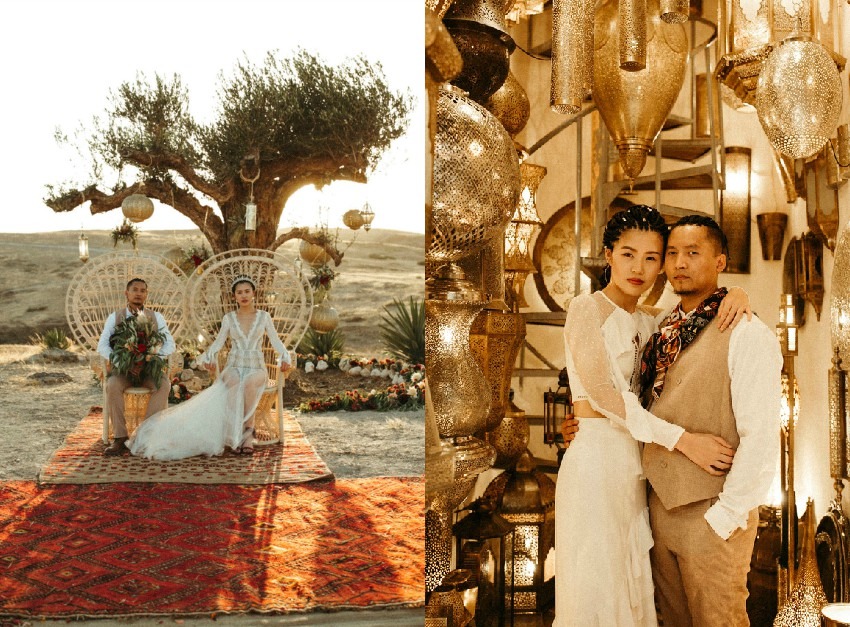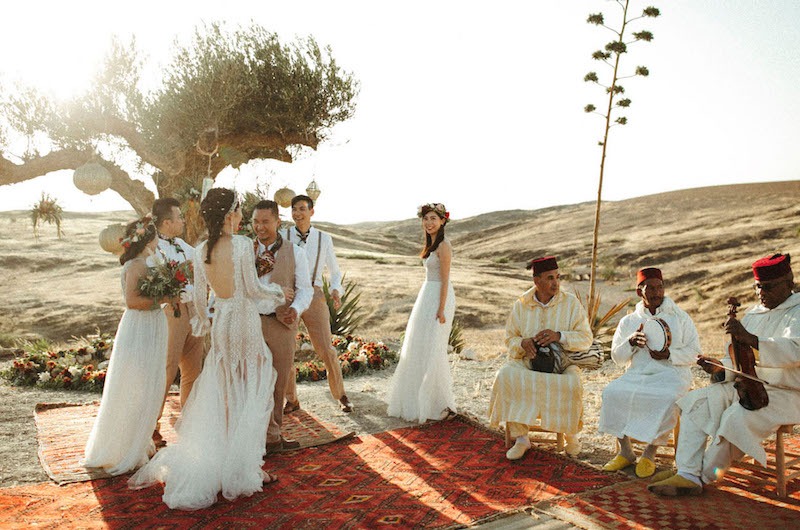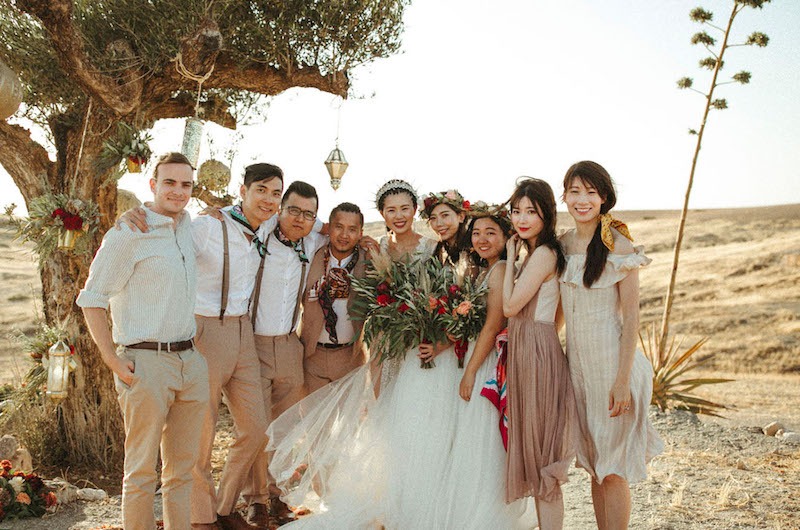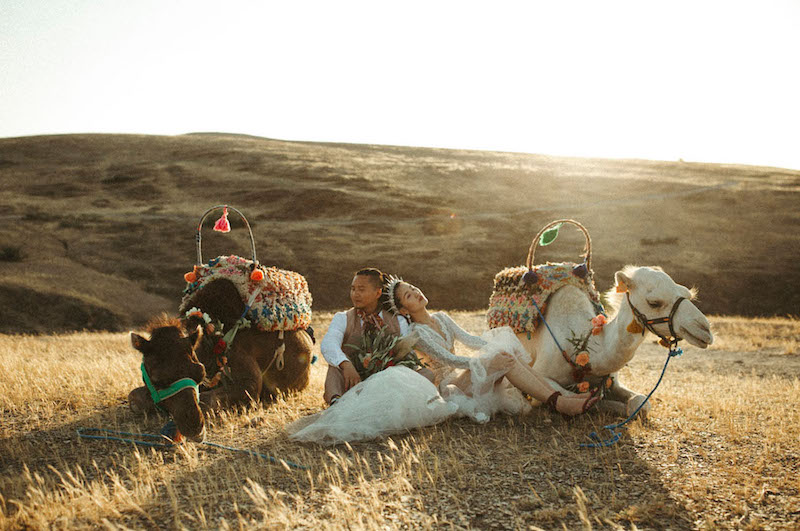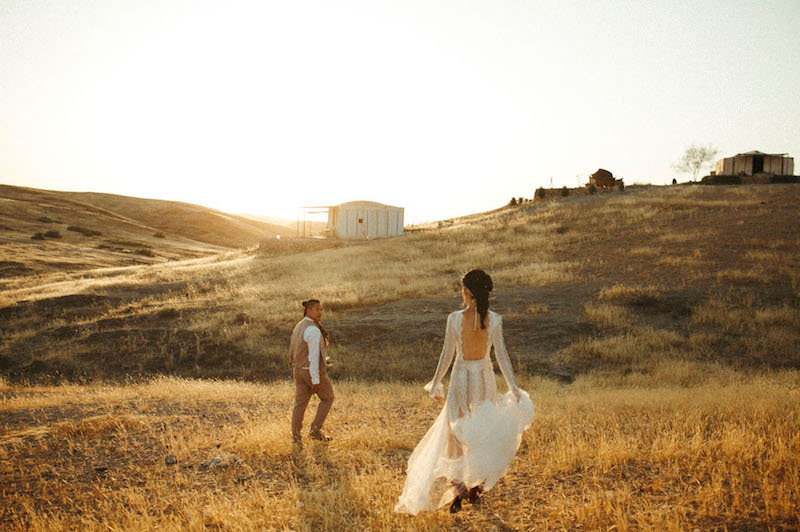 Wedding decoration
Liz and Nate found lanterns at the marketplace and filled in the alter with more traditional local goods like rugs & poufs. And we've got to tell you, we're still not over that ceremony alter. The florals by Le Kiosque a Fleurs created the perfect frame for the tree! They noted that it is not a bad location to camp for the weekend! They  also picked out tagine pots as guest favors, as well as red Fez Hats.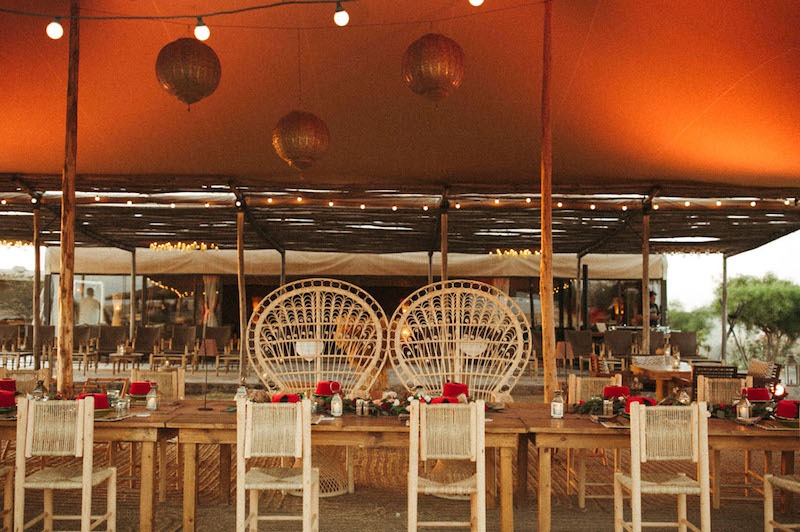 Musical accompaniment
Traditional music played an important role in the ceremony, with a Trio Andalusian band keeping the pace.
Reception on the Campgrounds
It is not easy to accommodate guests at the wedding ceremony in a desert, nevertheless they managed to handle it. When decorating the wedding zone, the newlyweds used a tent, wooden furniture, which complemented two chairs, reminiscent of the throne of the king and queen. For a more comfortable and relaxed stay of guests, a few puffs and carpets were placed in front of the wedding tent.

The final and impressing part of the wedding in Marocco
Liz and Nate used some elements of fire at the end of their fabulous day.

Would you also like to spend your special day in an unusual place, just like this couple did? If you have any questions or concerns regarding how to do it, write to us at info@perfectvenue.eu and we will gladly assist you to choose the perfect venue for your wedding.
Credits :
Photography: From the Daisies // Venue name: Terre Des Etoiles, Marrakech, Morocco // Event design: Liz Wang // Planning: Party Maroc // Florals: Le Kiosque a Fleurs // Wedding dress: Inbal Dror// Hairpiece: Amaroq Design // Bride's shoes: Lanvin // Bride's ring: Harry Winston // Bridesmaid dresses: Adrianna Papell and BHLDN // Groom attire: Zara and ASOS // Groom's ring: Harry Winston// Videography: Videal Production // Paper goods: mspl_studio // Bride's earrings: apm Monaco