Along with the wedding dress, hairstyle and shoes, the wedding jewellery is also one of the essential elements that you can't miss out. It's one of the elements to which we only need to dedicate a little bit of time, but we can get the best results.  
And, as always, to make things easier, we present to you a series of questions with which, after answering them, you too will have chosen the best jewellery to suit you.
With this post, learn how to choose your perfect jewellery without making any mistakes! You will look amazing!
1. What is the style of your wedding?
Vintage: Well, run to your mother or grandmother's jewellery box! And choose from there the pieces that go best with your outfit: From an elegant brooch to a pearl necklace or even a large ring with a precious stone.
Bohemia: For these brides, that usually have their hair half-up-half-down or down and loose with a lot of decoration, the best thing would be to wear simple and more discreet jewellery so that you don't overload the look. For example, copper-coloured bracelets or necklaces to give a more relaxed look to your jewellery.
Classic: For those that don't want to step away from the white dress with a long train, the best choice would be delicate and glamorous jewellery, with pearl and diamond detailing. Make sure it matches your style!
Princess: If you dream of a fairy tale wedding with a fantasy dress, you shouldn't overdo it with the jewellery as it will detract attention from the dress. Choose a basic rose gold or platinum necklace and you will look perfect without a doubt!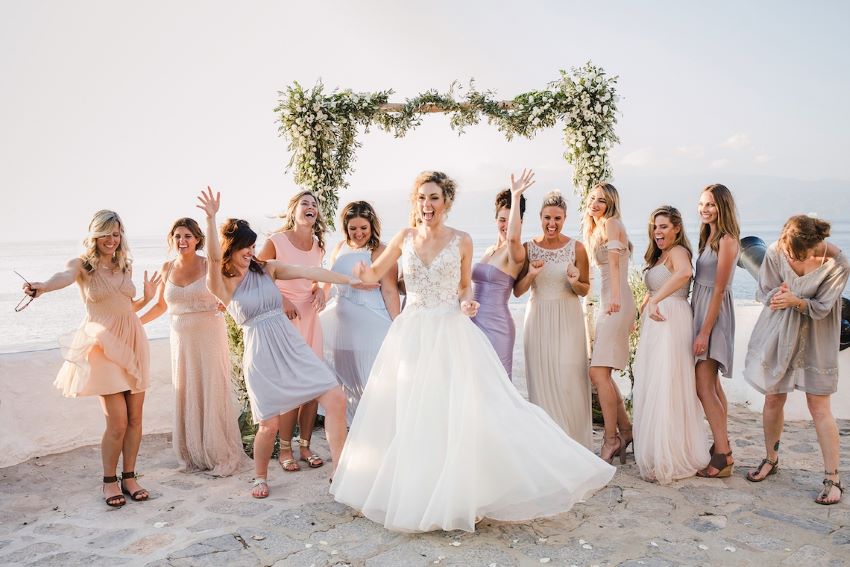 2. What type of neckline will you be wearing?
This is one of the first things that you need to consider, as jewellery will not suit a strapless dress in the same way that it suits a halterneck. Let's see what jewellery best matches your neckline!
       

Bardot:

With this type of neckline that is so open at the shoulders, the best choice would thin gold or silver chains, such as

gemstones, diamonds or small sparkles.

       

Strapless or Heart:

This neckline suits

almost any type of jewellery

; if the top part is very voluminous, choose small and thin jewellery, whilst, if you are going more tight fitted on the top, you could opt for more elaborate jewellery such as some matching earrings.

       

Halter:

This is of the most fashionable necklines, and with the chest covered,

wearing less jewellery or even no jewellery at all would work best

. It just isn't necessary! If not, you could always incorporate them into your veil.

       

Square:

Another neckline that allows you to combine

both thick, heavy necklaces as well as thinner and simpler ones

. If you can't find one that suits you, swap the necklace for some large earrings!
3. What colour is your dress?
Yes, it is necessary to know the colour of the dress, since the colour of your jewellery and the finishing touches must match the dress.
       

Nuclear white:

Choose sparkly metals such as

white gold or silver

, which you could combine with pearl detailing.

       

Diamond White: Yellow gold, rose gold, silver or pearls

are essential.

       

White Ivory:

With

gold

, white ivory will stand out. This is your colour!

       

Champagne:

With this colour, don't hesitate to wear

yellow gold, sterling silver or colourful precious stones

. You will shine!

       

Pink or Blue:

With a dress of this kind, so original and different, choose a platinum or even a

rose gold

. Like a ring on your finger!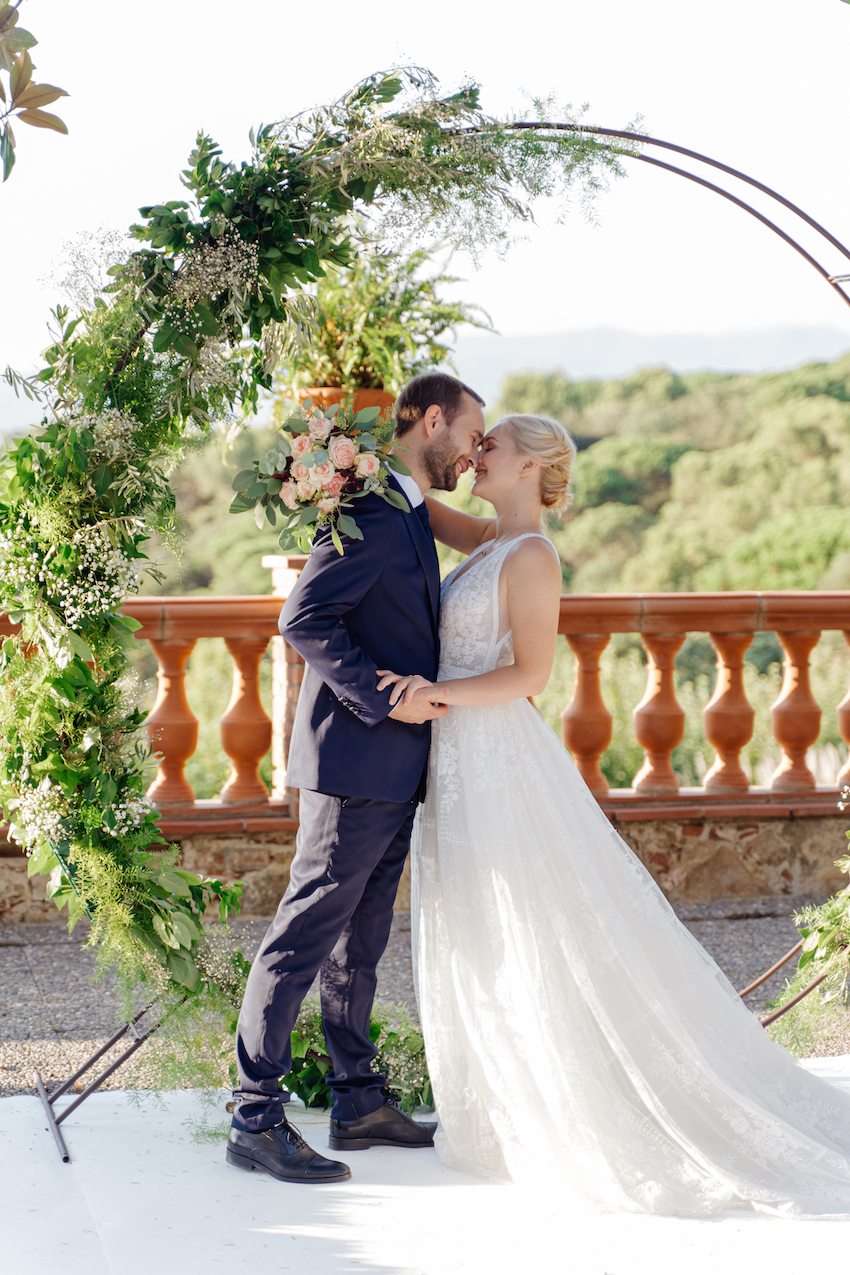 4. What kind of hairstyle will you have?
       

Hair down:

In order to not overcrowd your face, the best option would be

simpler, more basic jewellery.

       

A low bun or Half-up-half-down:

Your beauty will shine through the most when you wear

short and more rounded jewellery.

       

Short Hair:

Large earrings will make you look luxurious, such as

maxi-earrings

, since they will highlight your facial features.
5. What is my face structure?
       

Rounded:

You should choose

large earrings and long jewellery

so that they frame your face and perfect your features so that your face doesn't look rounded.  

       

Square:

Avoid jewellery that is symmetrical and has more obvious angles that are similar to your face, and choose jewellery with

smoother, more curved lines

.

       

Long:

Avoid large earrings and other jewellery, and substitute them for

wider, more weighted

earrings in order to balance out the length of your face.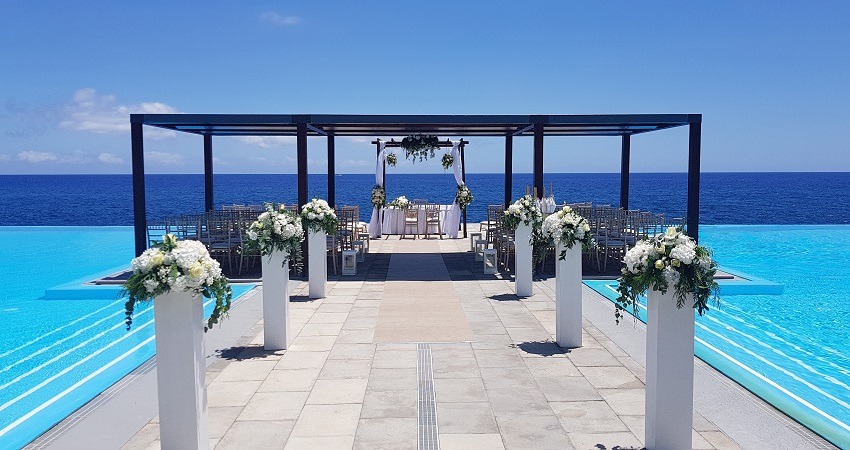 6. Where and when are you getting married?
Although it seems irrelevant, it really isn't, because if your wedding is during the day, the best jewellery would be thin and simple so that the day light reflects off of them, whereas if your wedding is at night, you could choose more ornamental and larger jewellery with colour.
The same thing applies for the wedding venue, given that in a more elegant hotel or reception room you could always choose classic, luxurious and beautiful pieces with golds, silvers and diamonds.
On the other hand, if your wedding is more relaxed and informal in a field, gardens or an old farmhouse, your jewellery should be more simple, vintage and copper-toned.
 Remember that all of the jewellery that you wear must balance each other out, do not mix tones or styles and cancel out the volume of the dress or the size of your accessories with your jewellery.
We are sure that everything is a lot clearer now, but if not, ask for advice from the Perfect Venue team!