Castles are the perfect choice of venue if you wish to feel like royalty on your big day. They are becoming an increasingly popular choice for brides who wish to fulfill their childhood dreams of becoming a princess for the day, and for couples who wish to have a magical, unforgettable wedding.
So, why get married in a castle? There are plenty of reasons! Firstly, castles give you the option to celebrate each part of your wedding in the same location without having to transport your guests from one place to another. Lots of castles also provide the option to accommodate your guests, so you can party all night without having to worry about getting home.
Secondly, you have the option to celebrate your wedding either outdoors or indoors, or both! If you plan to celebrate your wedding outside, yet the weather forecast is not looking good for your big day, you don't have to worry because it is usually possible to rearrange it to take place inside.
Another reason to have a castle wedding is of course the beautiful architecture and surroundings that castles tend to have. Both the interiors and exteriors of stunning castles make for the perfect wedding photoshoot! Additionally, many castles offer a destination wedding package which includes everything you need for your big day, food, accommodation, venue hire and so on, in one price.
Now we've given you some reasons to get married in a castle, let's show you some options!
This castle was founded in 1690 and is located in the Guilleries in front of the Montseny Natural Park, Girona. It is surrounded by breathtaking views which will make your wedding very picturesque if you choose to celebrate outdoors. Yet the interior is equally beautiful so you also have the option to celebrateindoors, why not make the most of both?
There is capacity for 200 guests, so you can invite as many or as few guests according to your wishes. Acommodation is also available – there are 26 accommodation places.
The price of the castle itself is from 1500-4600 euros depending on the season and you must rent it for at least two nights.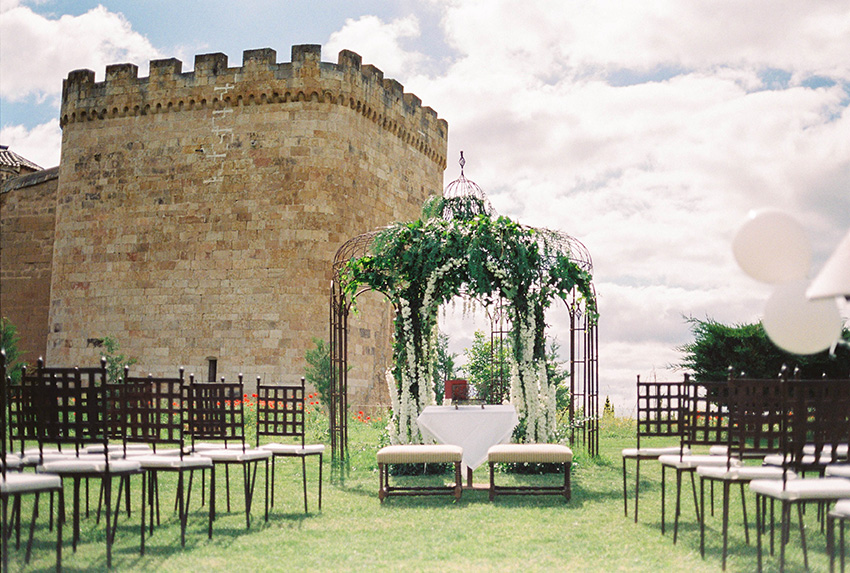 Photography: Buenas Photos / Organisation: Natalia Ortiz
This castle is the perfect mix of regal and romantic. It is located in Salamanca and it is believed to have been built at the start of the 13th century, so it has a very rich history. The castle has been renovated to host weddings, yet its traditional style is still retained today.
The surround are phenomenal, with views of the beautiful gardens and vineyards. It is completely secluded so you can enjoy a private day with your closest family and friends.
This castle also has accommodation for guests, with 40 luxurious rooms for rent – this is very convenient for your guests. You can choose to rent either half of the castle for 5000 euros for a night, or the full castle for 7000 euros per night, or 12000 euros for the weekend – perfect for a destination wedding!
This luxurious castle is found in Auvergne-Rhône-Alpes in France and was built in the 17th century. It is set in the mountains, which provide a spectacular setting for your special day, and the interior has a luxury country feel. The outside is equipped with a pool and a spa, as well as a lovely terrace.
If you are planning to spend a few days here for your castle wedding, you have the option to take part in winter sports such as skiing and sleigh rides, as well as golf and cycling, so you can be sure that you and your guests will have an unforgettable time!
This castle has 6 bedrooms and 6 bathrooms which can hold around 20 people, and it is possible to host 14 more in the annexed building and another 8 in another apartment.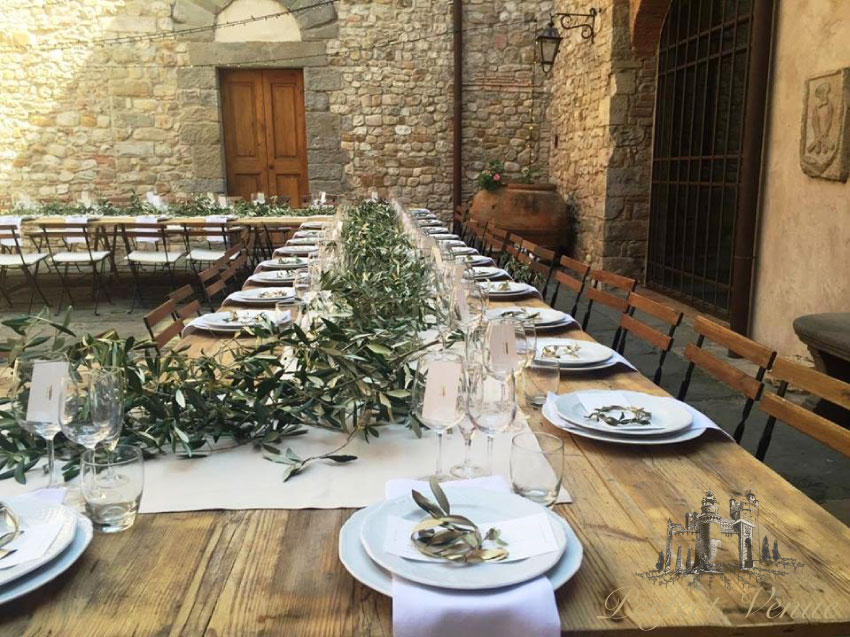 You can find the amazing Castle Bibbione in the Chianti region of Tuscany, Italy. It is a medieval style castle that was built in the 10th century and renovated to include all the modern comforts you'd expect for your guests.
The exterior of the castle has a fabulous terrace which you can use for a cocktail reception, and it is surrounded by spectacular scenery. It also has a swimming pool and a spa, and it can accommodate 8 people in the castle, with the option to accommodate more guests in the surrounding apartments and villas.
This castle is even animal friendly, perfect if you and your husband or wife to be don't want to leave a furry friend behind!
If this article has encouraged you to consider a castle for your wedding, you can write to us at info@perfectvenue.eu and we can help find the perfect one for you and your partner!