A bohemian decor style means something different to every couple; so no two boho weddings are the same! So if you're looking for unique wedding inspiration and don't know where to start, this is just the place for you! Most bohemian weddings share similar design elements that can act as the foundation for you to create your perfect day (did someone say pampas grass?) So… here's everything you'll need to get started on your boho wedding.
What is 'bohemian'?
This wedding trend started a few years ago, introducing us to flower crowns, earthy tones, different bridesmaids dresses, wildflowers and eclectic decor. A boho wedding is all about the atmosphere, so cares little that everything is matching, which means there's no need to worry about everything being perfect! Outdoor venues are extremely popular for bohemian weddings as they create that 'earthy' vibe, think forests, beaches or gardens, all of which are popular choices. This decor style can also be created at indoor or more casual venues, such as barns.
And remember, there's nothing in the wedding rule book that says you can't mix themes! So why not pair your bohemian theme with other aesthetics? Bohemian glam, bohemian rustic and bohemian beach themes all work great.
Bohemian wedding inspiration
So you've got your bohemian theme, now it's time for the fun part! Choosing your wedding decor, here's some of our favourite ideas.
Bohemian wedding invitations
The invites are the first glimpse your wedding guests will get of your big day, so why not tease them a little and add a bohemian flair to them? Set the tone for your boho inspired day with rounded invitations and artsy calligraphy.
Calligraphy vow books
Tearing the edges of your paper is another way to add a bohemian twist to your stationary. Why not try small keepsake vow books tied with a coloured ribbon?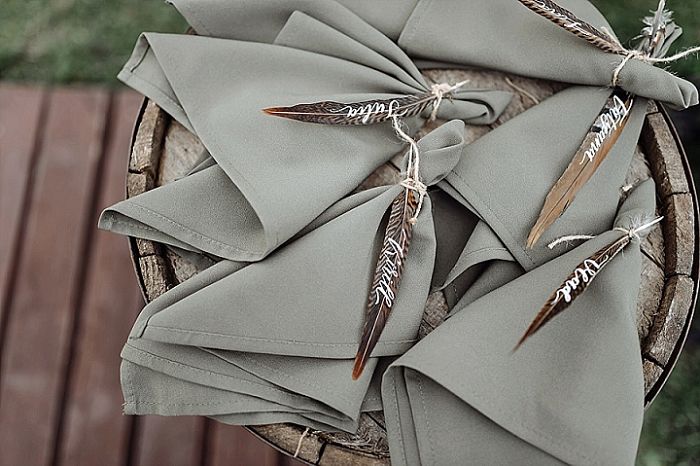 Crochet shoes
Whilst going barefoot is common-place at bohemian weddings, if you choose to wear shoes, it's best to keep them on the confortable side. For example, a pair of crochet sandals will compliment your flowy boho dress perfectly.
Natural makeup
Rosy pink, gold and peach tones work wonders for a boho bride's makeup, these colours will give your skin a sun-kissed glow. It's best to keep your makeup dewy and simple, especially if your weddings outside. These makeup looks are both beautiful and laid-back.
Boho wedding dress
For a boho-chic wedding dress you want to look for elements such as a loose fitting, bell sleeves, lace and off-shoulder necklines– just to name a few!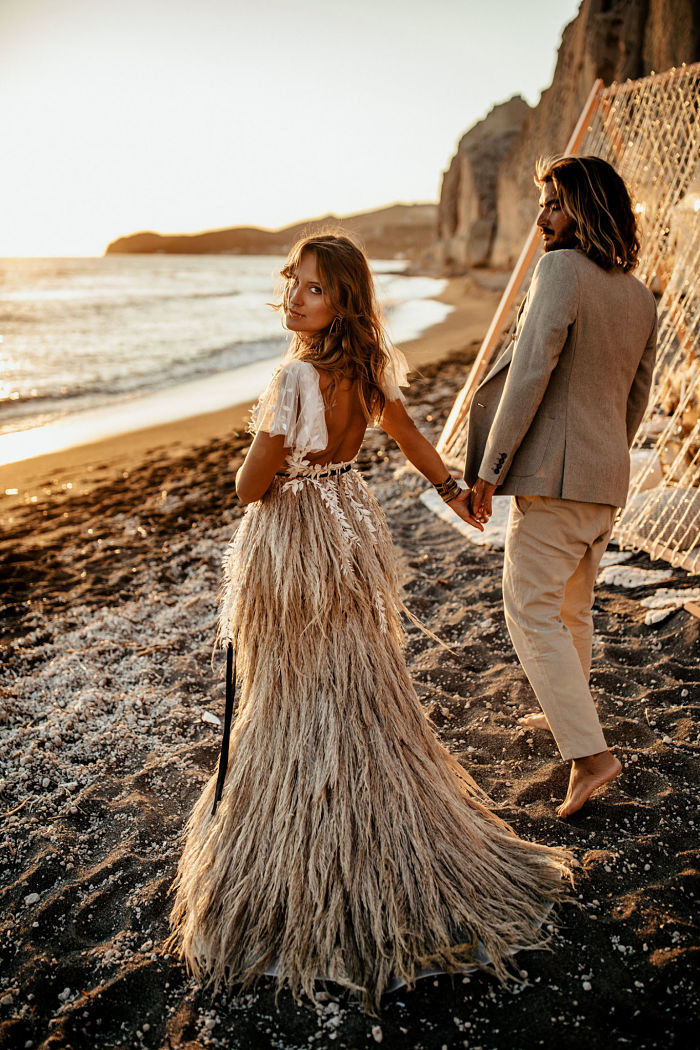 Colourful bridesmaids dresses
A bohemian theme is a great chance to experiment with bridesmaids dresses, whether they be brightly coloured, mix-matched or patterned! Pinks, florals and oranges work great, and if you don't want the dresses to be too loud, you can tone it down with pastel shades.
Bridal hats
Bridal accessories are super fun! And may we also mention… practical! If your wedding is at a hot outdoor venue, such as a beach, a wide-brimmed hat is perfect and makes for some cool wedding photos.
Larger than life boutonnieres
A bohemian wedding theme allows you to experiment and be bold with all the little details. Try using an oversized flower as the base of your boutonniere.
Patterned shirts
If you want to go for a more informal look on your wedding day, then hang up the shirt and tie and try a colourful patterned shirt instead. Floral prints work brilliantly for the groom who wants to make a statement.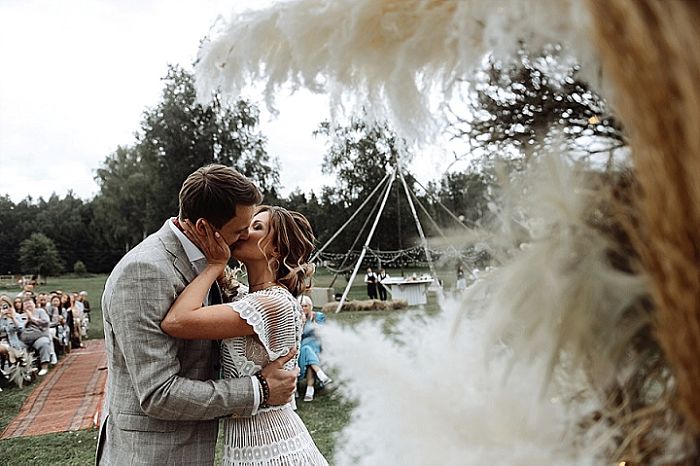 Wooden signs
Signage is very important as it provides your guests will all the important information about the day. But, they're also fun decor to play around with. A wooden sign is perfect for creating a relaxed, earthy atmosphere.
Bohemian ceremony backdrops
Large floral backdrops and greenery are a staple for any boho style wedding. Play around with shapes as well, especially if your venue is outdoors, these can help frame the beautiful scenery.
Mix and match your ceremony seating
A mix of vintage upholstered chairs, sofa seating and velvet armchairs are a stunning way to create a unique ceremony set-up. This creates a cosy, relaxed atmosphere, not to mention it looks absolutely beautiful.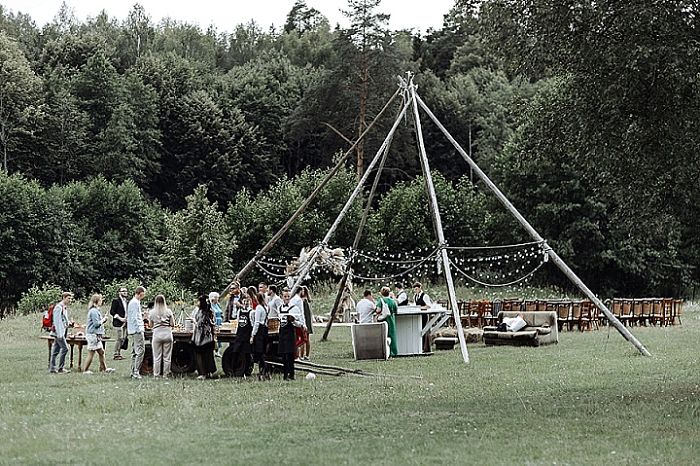 Add the plants
Succulents, cacti and other potted plants are a great way to enhance your boho theme. They can be used an centrepieces, aisle markers or even at the altar. Plus, after the celebrations, they make for super cute wedding favours for your guests to take home.
A wedding tent
Tents and teepees are staples of the bohemian style, and they're great for making a lounge area at your reception. Throw in some cosy patterned pillows and add some pampas grass to the exterior to make a chic hangout and stunning Instagram spot!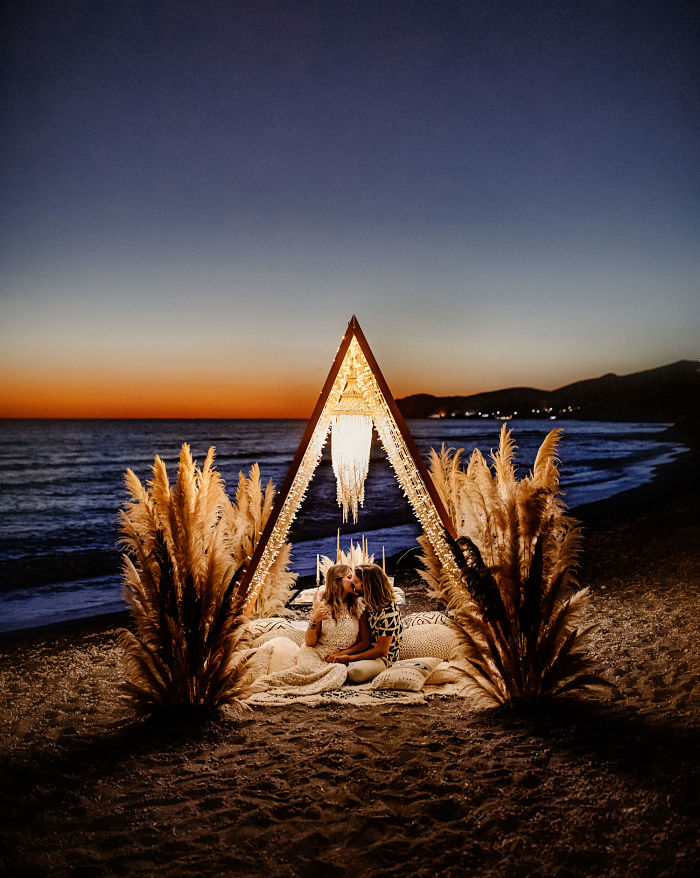 Rattan chairs
A touch of rattan, wicker or bamboo is essential at any bohemian wedding. For a fun, 70s style vibe, use rattan chairs for the reception seating.
Get creative with escort cards
Materials like crystals or geodes make for stunning decor, as well as bringing good energy to your big day. So why not get creative with them and use them as escort cards to help your guests find their seats.
Add some vintage with kilim rugs
Rugs can completely transform your wedding venue and make a big statement. Find a few vintage rugs and place them throughout your wedding space to add an instant hit of bohemian luxe.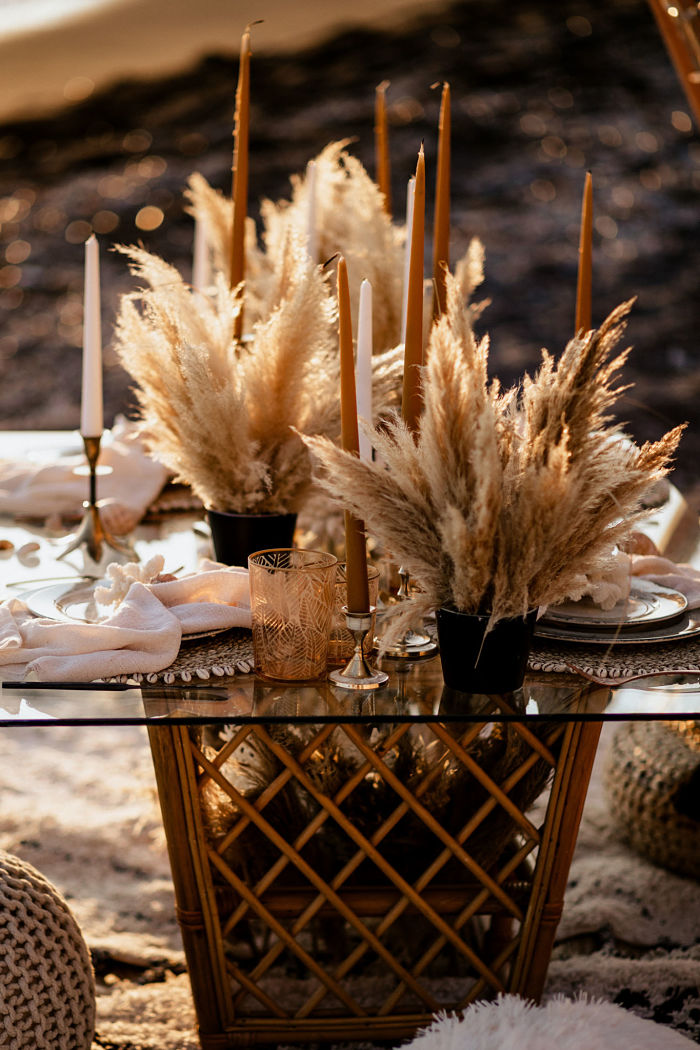 Hanging centrepieces
If you're going the non-traditional route, then why keep tradition with your centrepieces? Instead of placing them in the center of the reception tables, try hanging them from the ceiling. This technique looks especially stunning with greenery and pampas grass. Remember though, this will need more planning and logistics than traditional centrepieces, so be sure to check with the venue and florist to decide if this is possible.
Macramé table runners
Add macramé or crochet table runners to your reception tables to add an instant boho vibe. This looks especially stunning on wooden tables.
Boho wedding cake
A bohemian wedding wouldn't be complete without a cake to match! Adding greenery to wedding cakes has been a popular choice in recent years, however, we love the idea of using dried greenery to add your own unique twist to the trend.