Just like times change, weddings as well. And why should we stick to the olden guidelines? The wedding fashion trends will be reflected in all 2020 weddings. 
Couples are becoming more and more picky. Indeed, in a digital world full of social networks, they are looking for an experience in which the bride will not fall for a traditional dress, will chose a more casual hairstyle and a sustainable bouquet. The couples will take care of their decoration up to the slightest detail and always in an ecological way, will surprise everyone with the lenu, the space lighting and the celebration space. So, should we take a look at next year's new wedding trends? Let's go! 
Wedding dresses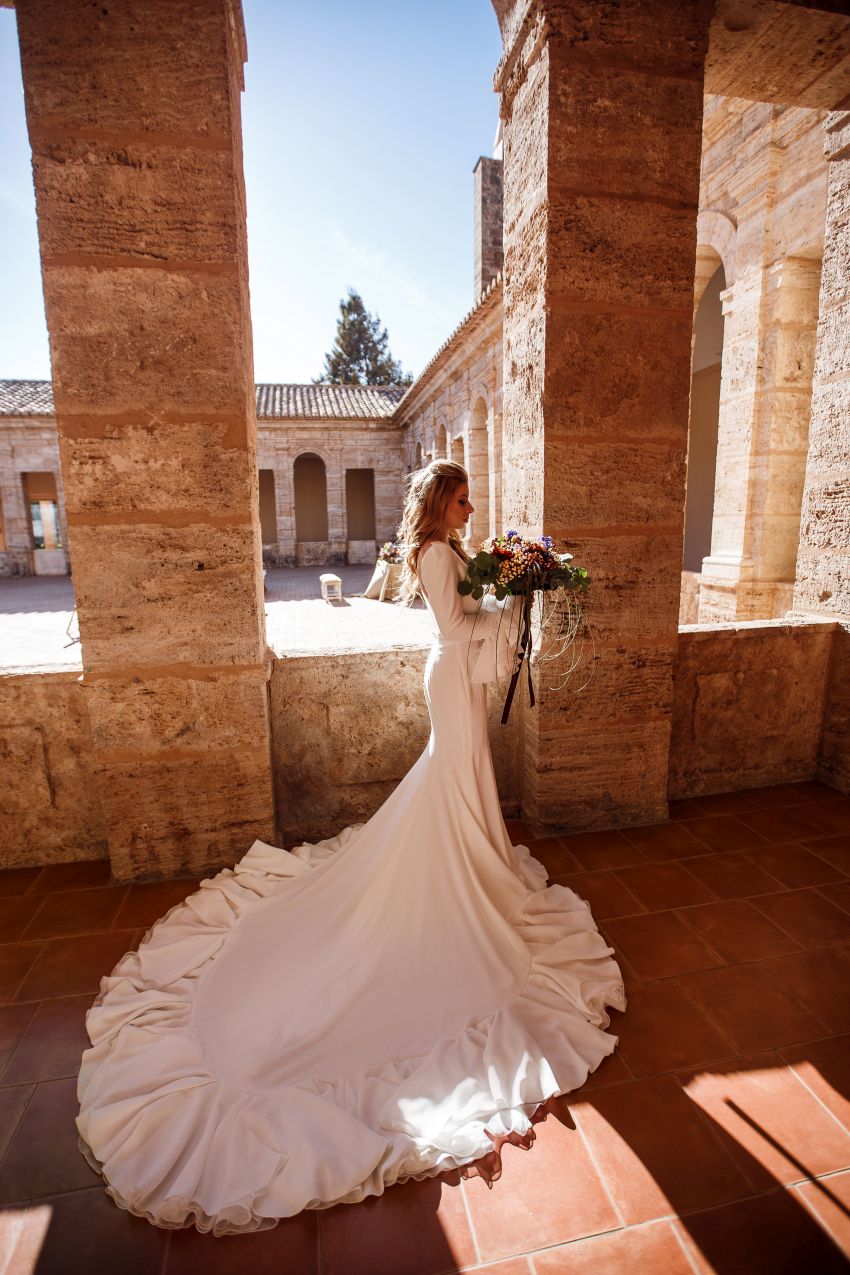 This is the element for which the wedding trends are the most important. Designers, catwalks and wedding brands are the ones who create the collections and dress patterns among which you will have to choose, later on. 
2020 will come full of surprises, leaving simplicity aside and focusing on modernity, creativity and difference, replacing the traditional wedding dress by jacket suits, trousers and jumpsuits. 
But classicism never gets out of trend, this is why lace, transparencies, embroideries, flowers and tulle never get out of style. The 70s, 80s and 90s inspiration also comes back via volumes, collars, countryside trousers, fringes, feathers, puffy sleeves and even corsets.
But this doesn't make it all, gold, champaign, creme and nude colors start predominating, sending the white color to the background. The brands that have adopted these trends are Vera Wang, Rosa Clará, Carolina Herrera, Pronovias, Ricca Sposa and Jimmy Choo, so you won't miss out of options when it comes to choosing what to wear in order to be at the latest of fashion trends. 
Also do not forget additional details! This year, the brides will wear large veils, turbans, strass tiaras, gloves, earrings, clasps and even hats. but if there's a detail that will play a major role in 2020, it will be beads. 
We will also start seeing something new: personalization. Via messages, dates, monograms or meaningful images placed on the veil, the shoes and the dress. Did you know that Angelina Jolie's dress featured some of her children's drawings?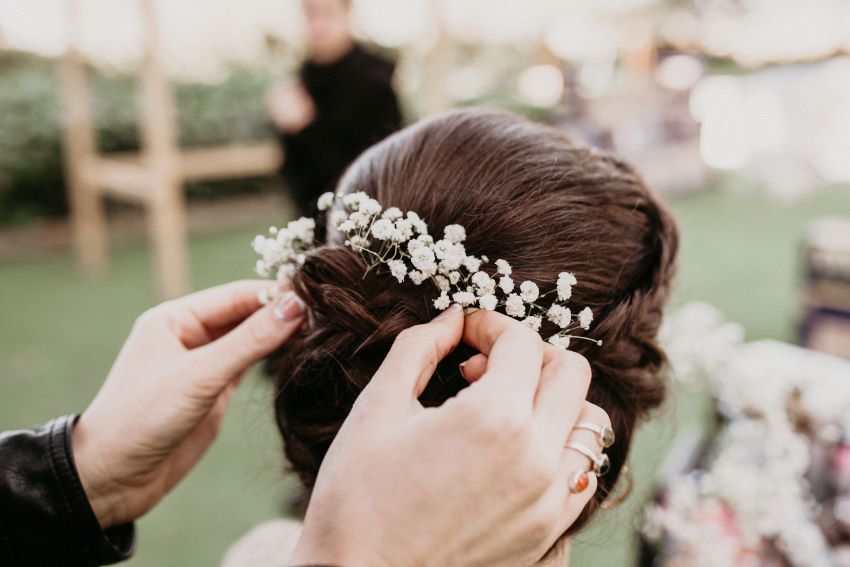 As for the hairstyle, it is based on the dress and the environment's style. According to whether the ceremony takes place on the beach, in the countryside or in the city, the hairstyle will vary and appear more wild, classical or modern…
It is true that this year, brides will present a more casual look with loose locks, braids and large waves, giving more lightness, naturalness and movement to the hairstyle. 
But if you're more of a traditional person, you can opt for a hairstyle featuring a low central or side ponytail or braid, headgear and clean waves. 
Wedding rings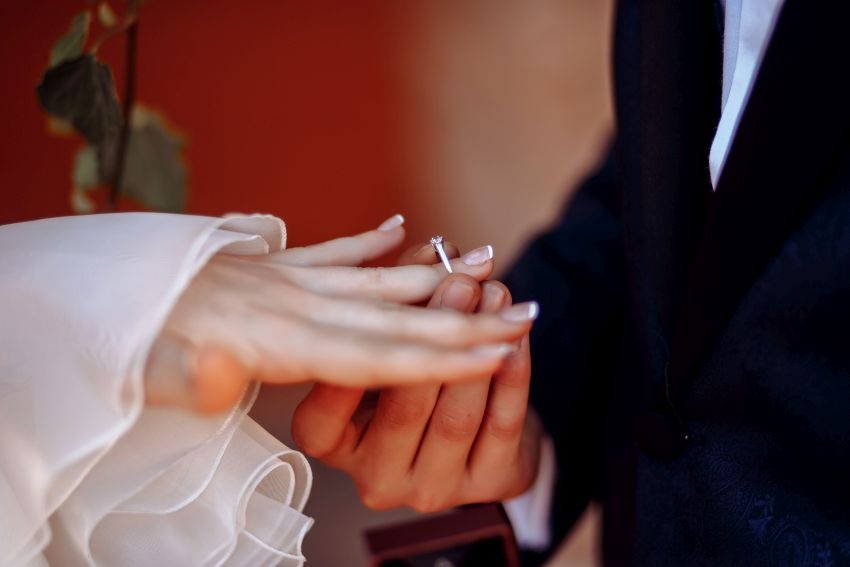 Olden gemstones, Baroque designs, olden precious metals and many colors will be the protagonists, because if there is a wedding ring style that will be predominant in 2020, it's the vintage. 
Run to the jeweller! Your mother, grandmother or great-grandmother can probably give you one of their rings. In addition, this one will be full of history, soul and stories. 
Another revolutionary trend for 2020 is that the couples will choose together both the engagement and the wedding rings since it it is essential that both sides like the jewel. Yellow gold will also predominating over traditional platinum. 
Did you know that there are professionals that dedicated themselves to purifying the energy footprint? What is all this about? Well, they are people who clean up any negative energy left by the previous weddings, whether it is in the rings or in the venue, if people estimate that they have to reset the stones and crystals for a new beginning. 
Bridesmaids' dress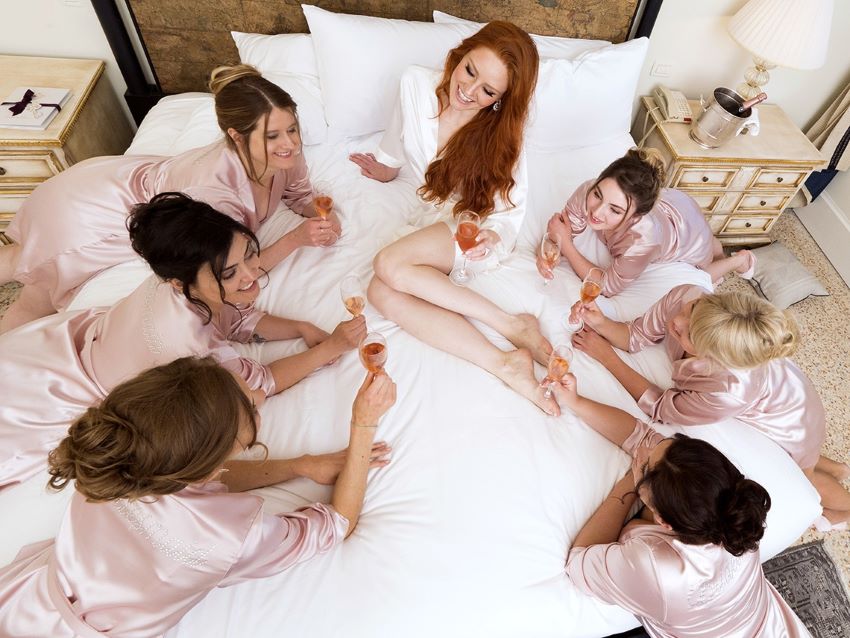 Having bridesmaids at your wedding is already a tradition, but the era of bridesmaids wearing the same dress as the bride is definitely over. This year will try to make everyone feel comfortable in their outfits, wearing something adapted to their body shapes and their skin complexion. Therefore, it won't seem weird at all to see the bridesmaids wear dresses with different cuts and different necklines. 
It is also true that the 2020 bride will allow its bridesmaids to choose among different colors previously defined to make everyone happy. 
And even if all of them wear the same color, convenience will be privileged, in order to for them to be able to reuse the dress for another occasion. The main colors for next season will be the ones that apply best to the environment and the venue, thus various pastel tonalities and a mix of contrasts and prints. 
Sustainable weddings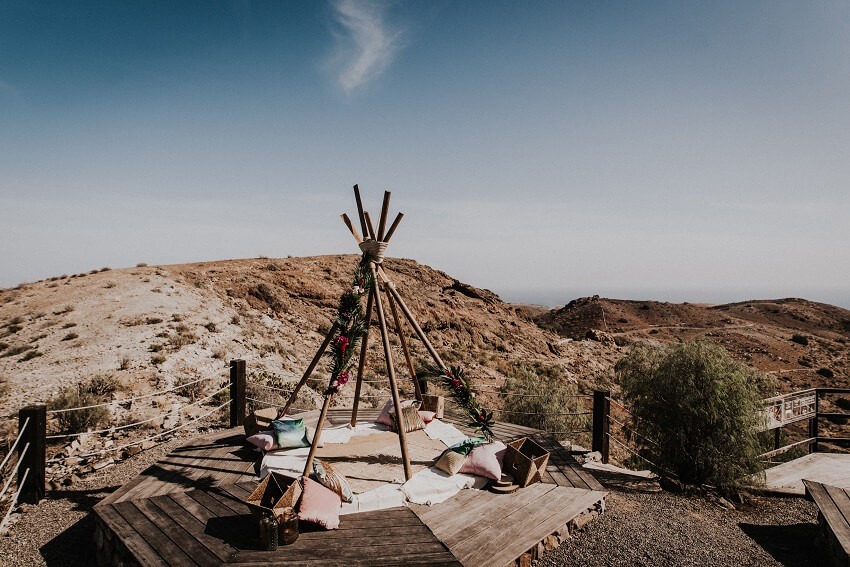 People's awareness of the environment's actual situation is always more and more present. You can make your wedding much more sustainable thanks to small gestures or details such as the use local sustainable products for the reception, with a vegan and ecological menu and by giving out the leftover food to those who need it. 
Using recycled paper for the invitations and reusing the flowers after the wedding by offering them to the guests so that they can enjoy them in their own houses is also a way to turn your wedding into a sustainable event.
Flowers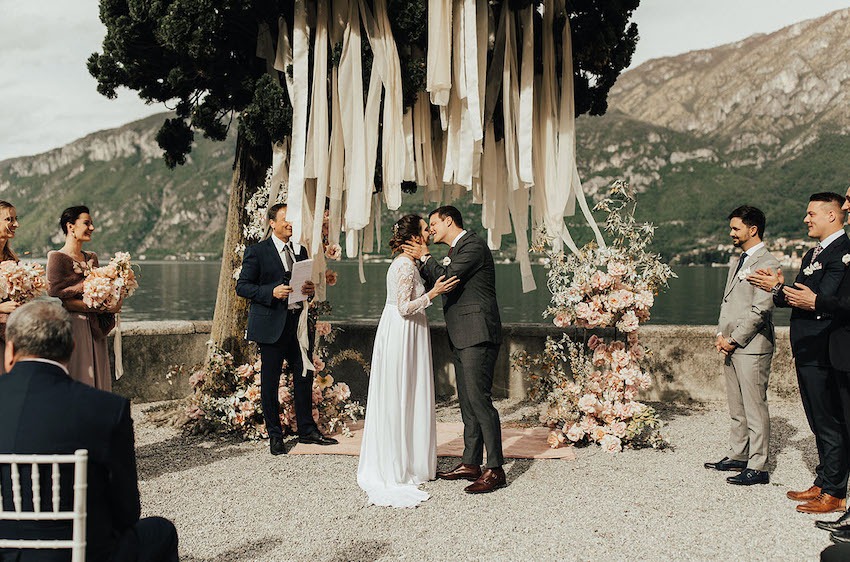 We all know that there couldn't be a wedding without any flowers, but it is true that the more sumptuous, exaggerated and opulent flowers are no longer quintessential: simplicity and small details will be more appreciated. 
Whether it is for the bouquet or the table centerpieces, the natural aspect is now very trending: wild flowers, mousse, flowers in vases, pampas grass and dry flowers. A simple, yet elegant alternative. 
For many occasions, the couples choose to plant their own flowers and get married directly in their garden, decorating them with arches with their own flowers, therefore causing less environmental damage. The predominating colors this year will be purple, copper, pure white and pink among others, while the main flowers will be hydrangeas, peonies and roses.
Another new trend in 2020 will be incorporating in the flower bouquet several meaningful objects and not only flowers, but also pine cones, ears,  of corn, sea elements such as shells or sea stars, bird feathers and even pearls.
Decorations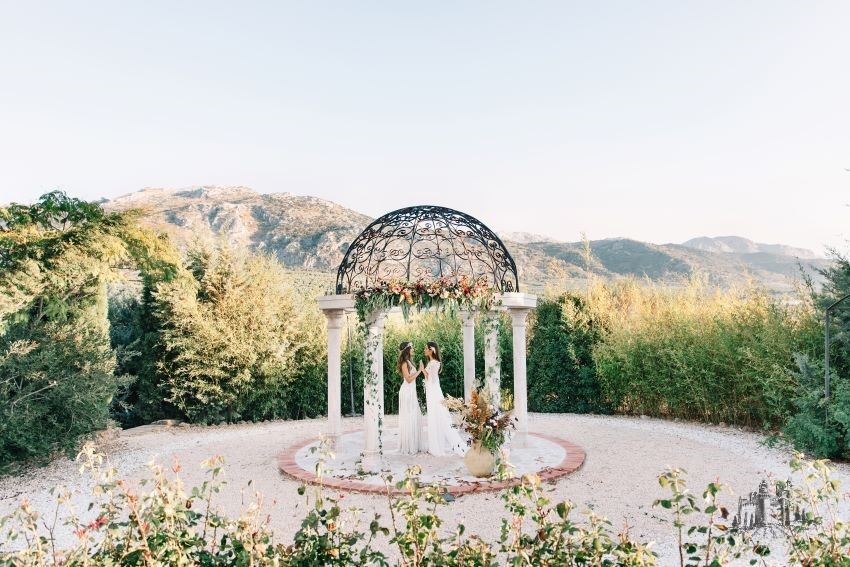 The decorations should always match the theme of the wedding, using a a range of colors and respecting it for all the decorative elements : invitations, flowers, vases, chandeliers, napkins, cutlery, seats, etc. Everything can match the space and the theme. 
The trending colors this season will be the blue and green tones such as aquamarine, turquoise and mint, but also yellow, oranges and mustard tones, and blacks, reds, caramel and violets, both in solid color and in different prints and textures.
The decoration will be inspired of tropical and desert landscapes, as well as the seventies and other countries' cultures, such as Italy or Morocco. The couples will choose a wedding inspired by a place they like. 
One trend that will remain is to keep inner corners on the outside, like the chill out spaces with Chester sofas. On the tables, the details will also play an important role, creating a warm and accurate decoration combining flowers with candles and fruits arranged on wood, glass or tin. 
Lights are also quintessential this year, so in 2020, you will see them both inside and outside, in the ceilings, in the curtains, as garlands, around trees, in balloons, as the initials of the newlyweds, etc to create a romantic and welcoming atmosphere. Millions of lightbulbs will illuminate the place! 
Menu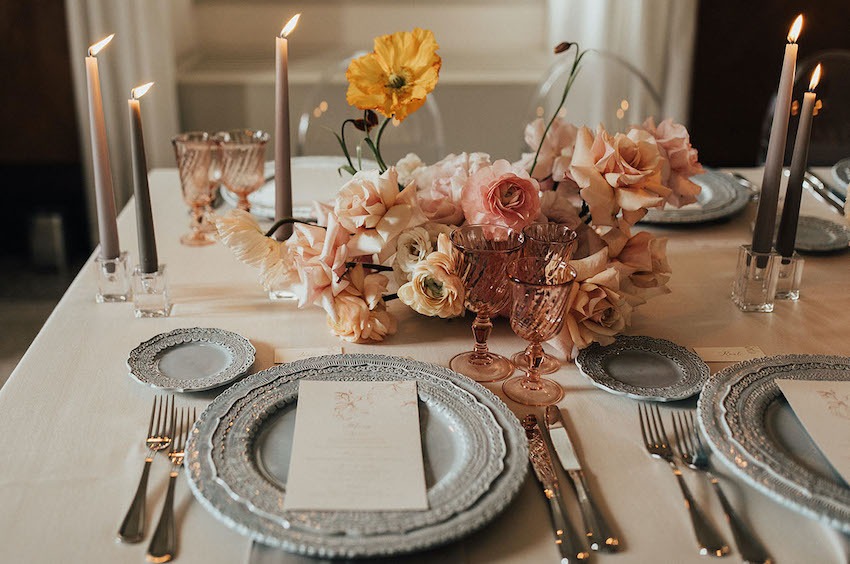 Eating habits have completely changed recently, and this is reflected in wedding menus, as menus appear increasingly healthy, vegan, vegetarian and informal. But always fully customizable.
Even the newlyweds abandon tradition and bet on riskier dishes. As far as drinks are concerned, craft beers, wines and coffees will become very important. The open bar and welcome cocktail are also a must! 
Wedding cakes have also changed. Nowadays, we find cakes filled with dark chocolate, fantasy writing, enamels and edible objects painted with a brush. 
Far from the enormous cakes featuring many levels, simplicity and creativity will prevail, with single level-cakes in white, pink and golden colors….
Spaces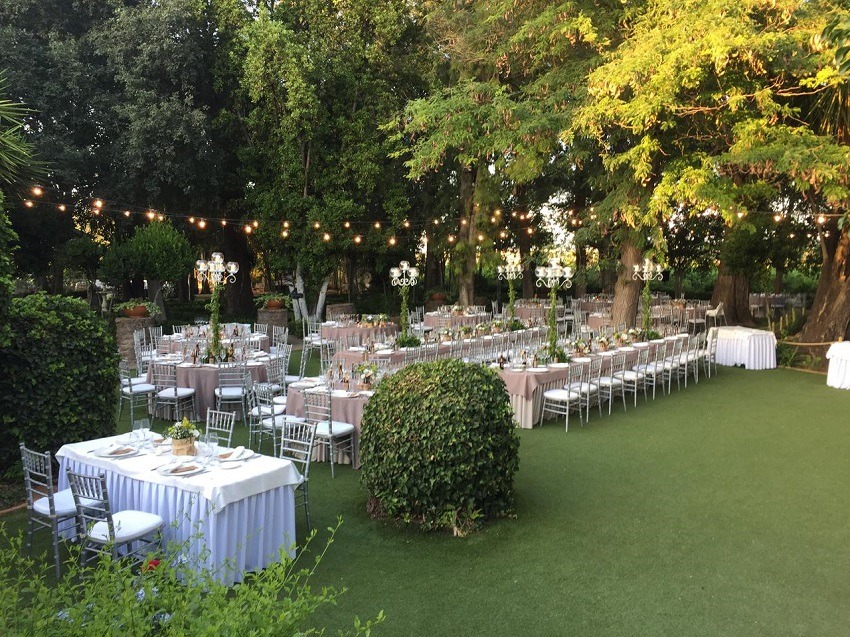 Villa Delia, Valencia, Spain
In the 21st century, we are looking for new experiences, authentic and original places to celebrate the big day, and, above all, places that mean something to the couple.
Exotic places, castles, country houses, farms, estates, palaces, with views of the mountains or in the middle of the beach, any place is good, and this means that destination weddings will boom in 2020. Even in abandoned places!
Make your space completely personalized, create a theme and decorate it according to your tastes. A safe bet for 2020 to leave an unforgettable memory in the memory of your guests. 
At Perfect Venue, we are already applying all these trends so that in 2020 you will have the most enviable wedding of all time! Let's go, we want to start your preparations as soon as possible!
_______________________________________________________________________________________
Photo1,3: Ekaterina Hudyakova photo, Photo2: Cotton Blue, Photo4: Chris Singer, Photo5: Aljosa Petric,  Photo6, 8: Lauren Nicole Photography , Photo7: Goranna